Mainstream Media Catching on to the Commodities Supercycle
Published 05-MAR-2022 11:08 A.M.
It looks like the commodities supercycle we have been predicting is now underway.
We've been saying it's coming for a long time but are now seeing firm evidence that it's here across further recent commodity price spikes and mainstream media reports.
Our thesis around the commodities super cycle has been primarily based on:
Rising inflation from COVID era monetary policy
Surging demand in new energy materials for decarbonisation (battery metals)
Countries rushing to secure their own supply of critical commodities
and general underinvestment in exploration and development of mining projects over the last 10 years.
The recent geopolitical flare ups have fast-tracked what we believed would happen anyway - a surge in commodity prices that should drive up the share prices of mining/energy companies, explorers and mine developers.
We have been positioning our portfolio to be overweight in commodities companies, specifically at exploration stage and pre-mine development stage, which is in line with our risk profile - we invest for 1,000% gains, but these investments are high risk and many will fail, hopefully to be offset by a couple of outsized winners.
Here are some mainstream media headlines from the last 48 hours:


We think our portfolio construction strategy will deliver as commodities push to new heights. Take these few examples of what's happening in commodities:
Lithium prices are up more than 700% in the last 12 months
Nickel is at ~10 year highs
Copper is just a fraction off all-time highs
You name the commodity and most likely it's moving up - and we think there's a long way to go for the commodity bull.
The supercycle is an all encompassing narrative that touches battery metals, green energy, industrial metals, precious metals, traditional oil & gas.
So we've put together our "commodity supercycle portfolio" of our investments which you can see below.
We hold investments in each of these companies (across our main portfolios), and will be sharing our commentary on each companies progress over the next few years, using our "investment memo" format, which is 1-2 page summary of why we invested, what we expect each company to deliver over 12 months, the risks and our investment strategy.
So here is our "commodities supercycle portfolio" - click on the links to see our 2022 investment memo for that company:
Vulcan Energy Resources (ASX:VUL)
Zero Carbon Lithium, Development stage, European Union (Germany)
Zero Carbon Copper, nickel, cobalt and lithium, Exploration stage, European Union (Norway)
High purity manganese, Development stage, European Union (Czech Republic)
Grand Gulf Energy (ASX:GGE) - Catalyst Hunter portfolio
Helium, Exploration stage, North-america (USA)
Evolution Energy Minerals (ASX: EV1) - Wise Owl portfolio
Graphite, Development stage, Africa (Tanzania)
Uranium, Exploration stage, North America (USA).
Iron Ore (steel) + poly metals, manganese, lead-zinc, Exploration stage, WA (Australia)
Lead-Zinc, Exploration stage, WA (Australia)
Nickel-Copper-PGE, Exploration Stage, WA (Australia)
European Metals Holdings (ASX: EMH) - Wise Owl portfolio
Lithium, Development stage, European Union (Czech Republic)
Silver, Development stage, NSW (Australia)
Natural gas, Exploration Stage (Zimbabwe)
Oil & gas, Exploration Stage (Alaska)
Canyon Resources (ASX:CAY) - Wise Owl Portfolio
Bauxite (aluminium), Development Stage (Cameroon)
Frontier Resources (ASX:FNT) - Catalyst Hunter Portfolio
Rare Earths, Exploration Stage WA (Australia)
Ragusa Minerals (ASX:RAS) - Catalyst Hunter Portfolio
Gold, Halloysite Exploration Stage WA (Australia and Alaska)
Latin Resources (ASX:LRS) - Catalyst Hunter Portfolio
Halloysite, Lithium, Exploration Stage WA (Australia, Brazil)
Auking Mining (ASX:AKN) - Catalyst Hunter Portfolio
Copper, Exploration Stage, WA (Australia)
Green Hydrogen, Early stage WA (Australia)
Gold, Exploration Stage (Canada, Ecuador)
Gold, Exploration Stage (Colombia)
Gold, Exploration Stage (Ecuador)
Elixir Energy (ASX:EXR) - memo coming this week
Natural Gas, Green Hydrogen Exploration Stage (Mongolia)
Pursuit Minerals (ASX:PUR) - memo coming soon
Platinum group elements, Nickel and Copper Exploration stage (Australia)
Minbos Resources (ASX:MNB) - memo coming this week
Phosphate, green ammonia, Development Stage (Angola)
Mandrake Resources (ASX: MAN) - Catalyst Hunter Portfolio, memo coming soon
Nickel-Copper-PGE, Exploration Stage, WA (Australia)
FYI Resources (ASX:FYI) - Wise Owl portfolio, memo coming soon
High Purity Alumina, Development Stage, WA (Australia)
Pursuit Minerals (ASX: PUR) - memo coming soon
Nickel-Copper-PGE, Exploration Stage, WA (Australia)
TechGen Metals (ASX:TG1) - Catalyst Hunter portfolio, memo coming soon
Copper, Exploration Stage, WA (Australia)
Auroch Minerals (ASX: AOU) - Wise Owl portfolio, memo coming soon
Nickel, Exploration Stage, WA (Australia)
Aldoro Resources (ASX:ARN) - Catalyst Hunter portfolio, memo coming soon
Nickel-PGE and Lithium, Exploration stage, WA (Australia)
Iron Road (ASX:IRD) - Wise Owl portfolio, memo coming soon
Iron Ore (steel), Development Stage, SA (Australia)
(We expect to have the rest of our 2022 investment memos finished this month.)
While all our above investments are in the commodities theme, they are at different stages of the development cycle.
The "exploration stage" companies are essentially "bets" that we have placed in the hope their drilling will deliver a new discovery - an exploration discovery should be very well received by investors during a commodities boom.
The "development stage" companies already have a proven resource and are generally in the process of studies to see if it is economical to build, or trying to raise money for construction... or even in the process of building their mine - "first production" is a big milestone and should be very well received by investors during a commodities boom.
We want to see a couple of our companies go into first production during this commodities boom - we reckon MNB will be the first of our group to produce its product - in our MNB investment memo coming out shortly we think first production could be this calendar year, great timing with fertiliser prices through the roof.
A good graphic which shows various commodities companies in our portfolio and where they are in the their lifecycle: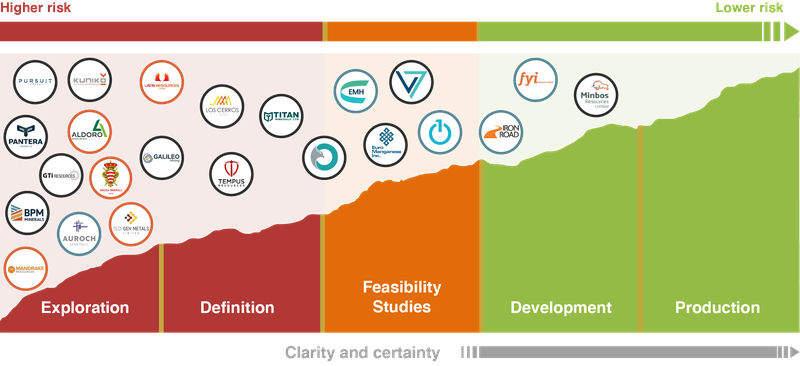 Click on the above image to learn about the different stages of the mining investment or you can check back to our mining and commodities portfolio at any timehere.
One more thing before we get into what happened across our portfolios last week...
Are you a tech genius/DevOps engineer/full stack developer who loves the small cap stock market?
We are looking for a new person to join our small team of nine to fast track our technology roadmap. It's a senior role, ideally you have had senior/founder experience in tech startups, experience with web development / content management systems.
You'll be able to figure out the stack we are on from our public site. Reply to this email to express your interest with a CV, linkedin profile or couple of sentences about yourself.
📰 This week on Next Investors
To start the week we put out an update on our "2021 Biotech Pick of the Year" Dimerix (ASX: DXB).
Our 'main bet' for DXB has always been the development of its treatment for a nasty kidney disease called FSGS.
Just last week, DXB revealed some key new information in its most recent investor presentation including the news that they had secured ethics approval in FOUR new jurisdictions for its FSGS clinical trial (Argentina, France, New Zealand and Taiwan).
At the same time, on Monday we saw DXB announce that recruitment for 'side bet' #2 aimed at COVID patients was temporarily paused due to safety concerns. This is a common occurrence for biotechs doing frontier research and being one of our side-bets we weren't phased when the announcement came out.
With ethics or regulatory approvals in six of the twelve anticipated countries, DXB has set a target of H1 2023 for the interim results from the FSGS clinical trials and we believe that in the biotech world that's a remarkably near-term catalyst for a major re-rate.
📰 Read the full breakdown: DXB: Making Strong Progress on "Main Bet," Side Bet #2 Paused
Earlier this week Our "2021 Small Cap Pick of the Year" Province Resources (ASX: PRL) released its much anticipated Scoping Study.
PRL's Scoping Study was the critical step needed before PRL's potential development partner TOTAL Eren signs off on a "Joint Development Agreement". With the Scoping Study released, PRL also announced that negotiations with TOTAL Eren on the JDA was now underway.
In our note on the Scoping Study, we did some back of the envelope calculations to try and get a better understanding of what PRL and TOTAL Eren would be basing their negotiations over.
Of course, our calculations were very high level and unlikely to be representative of the actual Scoping Study.
📰 Read the full breakdown: PRL Announces Scoping Study, 550kt per annum of Green Hydrogen
Earlier in the week our gold exploration investment Titan Minerals (ASX: TTM) announced a batch of assay results at its gold project in Ecuador as part of the drilling program focussed on converting its foreign resource estimate into a JORC resource.
The highlight intercept from the batch of assays was:
102.7m @ 1.48g/t gold, including a high grade section of 14.14m @ 6.42g/t gold with 16.4g/t silver.
TTM has a foreign resource estimate of 2.1Moz Au at an average 4.5g/t gold grade but importantly the current foreign resource only encapsulates drilling down to 150 metres depth.
TTM's drilling results are so far showing us high grade structures down dip to about 300 metres in depth and confirmations that the gold veins are extending along strike.
With the ultimate aim of the drilling program being to get the resource up into JORC standards, we think that this bodes very well for what is looking like it could potentially be a bigger JORC resource down the track.
📰 Read the full breakdown: TTM was sitting on prime Ecuador gold assets before they were cool
This week our long term exploration investment Galileo Mining (ASX: GAL) put out announcements across both its Fraser Range and Norseman projects as it fired up its 2022 drilling program with the goal of delivering palladium and nickel discoveries.
The first of the announcements was regarding the commencement of a 1,000m RC drilling program over its Fraser Range nickel project, with the program aimed at testing three EM conductors and two other targets identified during the last round of air core drilling at the project.
As for the Norseman project, the assays released this week confirmed the widespread presence of both palladium and nickel with peak results received right on top of a cluster of EM conductors.
With Russia accounting for 40% of global palladium supply, palladium prices were trading at 6-month highs of US$2,500 per ounce making it the perfect time for GAL to be exploring its Norseman project.
On Friday we also saw the spot price for nickel jump almost 8% reaching ~US$26,500 per tonne. We think GAL is taking shots on goal at a new discovery at the perfect time.
📰 Read the full breakdown: GAL closes in on a palladium - RC Drilling in April
In our other portfolios 🧬 🦉 🏹
🦉 Wise-Owl
On Monday the latest investment in our Wise-Owl portfolio Canyon Resources (ASX: CAY) emerged from a 7-day trading halt announcing the granting of a 2-year extension to two of the three permits that make up its bauxite project.
These research permits don't actually contain any defined bauxite resources yet, these are more related to the exploration potential for CAY's project.
The key takeaway for us from Monday's announcement was that CAY had received signatures from over 15 of the relevant ministries approving the negotiated Mining Convention agreement over the "Minim Martap" Permit which contains all of CAY's 1 billion tonne JORC resource.
With the miscommunications between the Cameroon government and the national mining company Sonamines resolved, we think there is a good chance that the Mining Convention is hopefully right at the top of the pile of documents that are on the Minister for Mines desk.
We will be looking forward to news on this front as the next key catalyst for CAY.
📰 Read the full breakdown: 15 Ministries now signed off on CAY's Mining Convention – Final Sign off by Government Next
🏹 Catalyst Hunter
On Thursday our exploration investment Latin Resources (ASX: LRS) announced that it had intercepted a monster 16m spodumene intercept at its Brazilian lithium project.
With three drill holes now completed, LRS confirmed that all three had intercepted spodumene bearing pegmatites which could end up proving to be signs of lithium mineralisation.
The highlight intercept of 16.2m of spodumene bearing pegmatites came ~180m along strike to the south of its last intercept, indicating to us that the strike length for the structure LRS has hit is growing.
At the same time, LRS also confirmed down dip extensions to its initial intercept with another 9m spodumene right on top of the two high grade rock chip samples (2.71% and 1.45% lithium oxide).
With a $2.5M financing package announced earlier in the week, LRS also announced a planned extension to the drilling program from 2,000m to a total of 5,000m drilling with the ultimate aim of putting together a maiden JORC resource.
📰 Read the full breakdown: LRS Keeps Showing Us More Spodumene
🗣️ Quick takes
NEW: We are now releasing our quicktake opinions as they happen so you don't have to wait until the weekend to see them.
Bookmark our LIVE Quicktakes page here.
PRL: Drilling completed at nickel/copper project (04/03/2022)
To end the week PRL announced that its RC drilling program at its nickel/copper project had been completed.
Assays are expected to take 6-8 weeks but in the meantime PRL will be running downhole EM surveys to see if they can locate any conductors that warrant follow up drilling.
This sits outside of our 2022 PRL Investment Memo as we are more focussed on seeing PRL develop its Zero carbon Hydrogen project in WA.
After recently releasing its scoping study, we want to see PRL get a firm commitment from its JV partner TOTAL Eren via the signing of a Joint Development Agreement.
You can read more about the scoping study and the JDA in our last note here.
AKN: Final assays from infill drilling program received - Catalyst Hunter portfolio (02/03/2022)
On Wednesday AKN released the final assay results from its infill drilling program at its Onedin deposit.
With the drilling program mostly focussed on gathering samples to be used in the upcoming metallurgical testing program AKN delivered some decent copper hits as expected.
66m @ 1.67% copper from 77m
82m @ 0.46% copper from 98m
60m @ 1.04% copper from 92m
Our key objective for our 2022 AKN Investment Memo is to see AKN get its metallurgical testwork done and see if a processing solution can be found for the shallow JORC resource at the Onedin deposit.
AKN is expecting stage 1 of the metallurgical testing to take ~6-8 weeks to complete, with the results expected in April.
VN8 - Vonex half year results announced (01/03/2022)
Our telco investment Vonex is in the midst of an acquisition phase, having acquired four complementary businesses over the past 2 years. This has helped VN8 deliver a strong financial performance over the half-year ending 31 December 2021.
We liked that group revenue increased to $15m, up 54% year-on-year (YoY). Gross profit was also up significantly to $7.5m, up 174% YoY. Underlying EBITDA was up to $3.3m for the half year, versus $0.2m in H1 FY21.
The acquisitions have rapidly expanded VN8's customer base, with PBX users now exceeding 90,000. This has led to a 104% growth in annual recurring revenue to $34.5M - which we think is quite solid for a company with a market capitalisation of ~ $32M.
The flip side to the acquisitions is that VN8 currently has a high level of net debt ($11.9M) - but given its strong cashflow, we expect most of the debt to be paid back this year. This will free up cash for further acquisitions and possible dividends down the track.
We're keen to see VN8 continue to grow on several key financial and operating metrics in 2022, whilst fully integrating the most recent acquisitions into its business.
EXR: 2022 Drilling program kicks off (28/02/2022)
On Monday, EXR announced that it had started drilling the first of a total 24 well drilling program planned for 2022.
The first of these wells sits right on the border of the tenements that make up the Oyu Tolgoi mine owned by Rio Tinto and will be drilled to a planned total depth of ~700m.
This year, we want to see EXR complete the pilot production program off the back of last year's drilling program.
EXR confirmed that the 2 well extended pilot production program was scheduled to commence around ~mid year. With gas becoming a talking point off the back of the Russia/Ukraine conflict we are eagerly waiting to see if EXR can confirm economic flow rates at its project.
IVZ: Final Processed Seismic Data Received (28/02/2022)
On Monday IVZ announced that the datasets from its 2021 2D seismic survey and the re-processing of the US$30M legacy dataset left over by Mobil had largely been received from the 2D seismic consultants.
Next, IVZ will continue with its internal interpretation of the datasets before ranking the anomalies picked up from most interesting to least, so as to finalise the locations for its drilling program now expected to be spud in June 2022.
In our 2022 investment memo we put the "detailed interpretation of seismic data" and final identification of the drilling locations as objective #1. Once this is out of the way, IVZ can shift its focus to the maiden drilling program.
LRS: $2.5M funding package + drilling program expanded to 5,000m - Catalyst Hunter portfolio (28/02/2022)
On Monday LRS announced a $2.5M financing package signed with Lind Asset Management over a 14 month loan term.
With fresh funding secured, LRS also announced that the 2,000m drilling program at its Lithium project in Brazil would be expanded to 5,000m with the ultimate aim of putting together a maiden JORC resource.
The terms of the funding facility are as follows:
$2.75M face value loan, repayable over a 14 month period.
LRS to issue Lind 35 million unlisted options with an exercise price of 5c, expiring March 2026.
LRS to pay Lind a $75k commitment fee.
Funds raised from "in the money" options being exercised must be used to repay the principal of the loan.
So in total over the 14 month loan term, LRS is paying $325k in loan fees and 35m in unlisted options exercisable @ 5c.
In our last note, where we covered LRS' first spodumene intercept from its drilling program at its Brazilian lithium project, we mentioned we wanted to see LRS shore up its balance sheet so we welcome the news from Monday.
88E: Drill rig mobilised on site at the Merlin-2 appraisal well (01/03/2022)
On Tuesday 88E announced that the mobilisation of the Arctic Fox drill rig had been completed ahead of the Merlin-2 appraisal well's anticipated spud date next week.
The Merlin-2 appraisal well is fully permitted to a total depth of ~8,000 feet which 88E expects will take ~4-5 weeks.
88E also confirmed it would have production testing equipment on stand-by should the drilling program successfully intercept oil paying zones.
With drilling now only ~1 week away, our recent update note is worth reading as it sets the scene for what Merlin-2 could mean for 88E and our expectations from the drilling program.
We think success with the Merlin-2 appraisal well would look something like:
Net oil paying zones (Thickness) across the three reservoirs >41 feet (this is the reservoir thickness intercepted in the Merlin-1 well - so we want to see the same or better).
Drilling program is successful enough to warrant production testing.
Production tests confirm light oil and high flow rates.
One or all of the above is what we would like to see from the Merlin-2 drilling, and that would deem Merlin-2 a success.
88E: Company and projects update (04/03/2022)
88E closed out the week by providing an update on the exploration work its neighbour (London listed Pantheon Resources - currently capped at £1 billion) has been doing.
In Q2021, Pantheon drilled the "Talitha-A" well, ~4.5km to the north of 88E's Project Icewine permit boundary.
Pantheon recently re-entered that same well and completed a production testing program - confirming light oil flows over a 3 day testing period.
For us the key takeaway from the work Pantheon did at Talitha-1 was Pantheon's commentary around the formations from which the light oil was recovered all extending down into 88E's Project Icewine.
88E also confirmed that it would use the data Pantheon had gathered to put together a prospective resource for Project Icewine, focused on the eastern parts of the permits, before the end of the June quarter.
In our latest note we mentioned that once the drilling at Merlin-2 was completed that we would expect 88E to go back into its Project Icewine some time this year. With Pantheon's share price going from 35p to now £1.40, clearly there is market interest for exploration in and around 88E's Project Icewine permits.
We haven't included Project Icewine in our 2022 Investment Memo as yet because all of our focus for the time being is on the Merlin-2 appraisal well which 88E expects to be spudding next week. After Merlin-2 is drilled we will look to update our investment memo based on the results.
With the oil price trading at near 10 year highs of US$110/barrel, 88E could not have picked a better time to take a swing for the fences on a potential company making oil and gas discovery. Click here to read our latest note which sets the scene for the Merlin-2 well.
TMZ: MRE for Texas Silver District (01/03/2022)
It's a positive that TMZ got its Texas updated JORC 2012 MRE out on time for Texas.
It now means that TMZ has 40.2 Moz AgEq combined after the Conrad MRE which had 20.7 Moz AgEq.
We're looking for the completion of the remaining MRE update for Webbs and we think TMZ may now need to drill to hit the 100Moz AgEq mark to do so.
That 100Moz AgEq threshold forms Key Objective #1 in our TMZ Investment Memo.
TMZ has flagged a geophysics program is advancing at Texas so we believe there could be some drilling upside to come there.
TMZ moves methodically, but it's our view that this is necessary to advance Australia's highest grade undeveloped silver resource.
The silver price got as high as US$25.60 an ounce on February 24.
FYI: Latest appointment further bolsters team - Wise-Owl portfolio (03/03/2022)
On Thursday, our high purity alumina (HPA) investment FYI added an impressive industry veteran to their team.
Mr. Phil Thick has been appointed as a strategic advisor to FYI's Board, having previously held senior positions at Tianqi Lithium, Shell Australia, Coogee Chemicals and Alcoa Australia. His impressive track record includes instrumental roles in several developments within battery and energy related industries, which certainly fit FYI's downstream and value-add battery mineral business.
We like this addition to the team, and suspect that Phil's previous role at Alcoa Australia can only benefit the FYI- Alcoa joint venture.
RAS: Desktop reviews completed at RAS' Alaskan gold project - Catalyst Hunter portfolio (01/03/2022)
On Tuesday, RAS announced that it had identified four historical gold-copper prospects which could be priority exploration targets at its Alaskan gold project.
The four targets came about as RAS completed initial desktop reviews across the entire project area.
The key targets seem to have been identified by RAS based on historical rock chip samples and a combination of regional magnetic surveys. The targets are at a really early stage and look to us like RAS will need to further develop these with more detailed geophysical and geochemical surveying.
Our focus for us in the short term with RAS is on its upcoming halloysite drilling program with strong neurology indications, this is the #1 objective in our 2022 investment memo for RAS.
To see all of the other objectives we want RAS to deliver in 2022 check out our 2022 Investment Memo here.
FNT: Gold project maiden resource estimate - Catalyst Hunter portfolio
On Monday, FNT announced a maiden JORC resource of 2mt @2g/t gold for 128k ounces of gold at its gold project in Papua New Guinea.
Putting a JORC resource behind the project should mean the project now has a base case valuation and isn't just an exploration project.
The gold project sits outside of our 2022 Investment Memo with the primary reason for our investment in FNT being its rare earths project next door to Hastings Technology's project in WA.
To see why we are invested in FNT, what we want to see FNT achieve in 2022 and the key risks to our investment thesis check out our 2022 Investment Memo.
FNT: More outcropping ironstones found at its REE project - Catalyst Hunter portfolio (03/03/2022)
Today FNT's field sampling program yielded what we think are good early signs that Rare Earths could be present on their tenements.
154 rock chip samples were taken and have been sent to the lab for assays.
FNT is getting the rocks classified into potential groupings of monazite, carbonatite and ironstone.
Ironstone is particularly interesting, as ironstones played a key role in the discovery that ~$500M market capped Hastings Technology Metals made at the next door Yangibana project.
The presence of carbonatite is also worth noting as Australia's only Rare Earths producer, ~$10B market capped Lynas Corp, found their massive Mt Weld discovery in carbonatite.
For conext, the total grade of Rare Earths across Hasting's project is ~1% and the nearby Dreadnought Resources re-rated in June-July 2021, in part, on the back of ironstone rock chip sample assays of 11.2% Total Rare Earth Oxide ("TREO").
We think FNT is well placed in an emerging major Rare Earths district in WA, and we're looking forward to what they come back with in terms of assays from the labs.
We wanted to see FNT advance their Rare Earth's project by drilling (Key Objective #2) - and we now know that FNT is planning drilling for Q2 2022, which is just around the corner.
Here is why we invested in FNT and what we expect them to achieve in 2022 - FNT Investment Memo.
TG1: Company and projects update - Catalyst Hunter portfolio (03/03/2022)
On Thursday TG1 put out an update across its portfolio of projects.
First was the booking of some geophysical survey work over its Ashburton projects which is being done over the area where TG1 found a high grade rock chip returning 54.7% copper and 257g/t silver.
TG1 also announced the RC drilling results from its other Ashburton basin project (Blue Rock Valley). The drilling program was for a total of 7 holes over 1,153m with a peak intercept of 4m @1.02% copper. All of this is due to be followed up with Geochemical sampling in April/May.
More importantly TG1 also confirmed that it plans to commence drilling at its Mt Bogolla copper project in Q2.
We are yet to release our 2022 TG1 Investment Memo. We plan to launch this in the coming weeks.
ARN: Wyemandoo pegmatite rock chip samples - Catalyst Hunter portfolio (28/02/2022)
On Monday ARN announced assay results from its last round of rock chip sampling at the Wyemandoo lithium/rubidium project.
Out of a total of 188 assays received by the company, ARN reported a peak result of 1.24% rubidium and in a separate assay a peak grade of 1.05% lithium.
This forms the basis for the geochemical sampling program ARN are using to define drill targets, which it will be following up as soon as the drill rigs are done at the companies Niobe project.
At the moment we are waiting on the assays from all of the pegmatite intercepts ARN has made whilst drilling Niobe.
ARN: Assays received from Nickel project - Catalyst Hunter portfolio (04/03/2022)
ARN ended the week with some of the final assays from the drilling program completed at its last Nickel project at the back end of 2021.
Peak results from the program were as follows:
7.86m at 0.53% Nickel from 269.5m
4.26m at 1.22% Nickel from 277.14m
The positives from the drilling program is that ARN has managed to intersect massive sulphides and confirmed there is nickel in them. However, the market didn't seem to react to the results, we think because of the nickel grades.
With nickel now trading at US$28,000 per tonne we think that the market may at some stage start to take an interest in these types of results.
Our focus for ARN in our 2022 Investment Memo (coming soon) is around the rubidium/lithium project where ARN is currently in the middle of a drilling program. Be on the lookout for our memo launch in the coming weeks.
🌎 Mainstream Media:
Commodities supercycle:
China moves to secure commodities rocked by Ukraine war (Mining.com)
Gas and aluminium hit fresh records; oil, wheat soar on supply turmoil (Reuters)
The opportunity to buy commodities has 'rarely been better' (AFR)
Ukraine Crisis/Cybersecurity:
Europe's Largest Nuclear Power Plant on Fire as Russia Attacks (Bloomberg)
The Fog of Cyberwar Descends on Ukraine and Russia (Bloomberg)
Companies rush to build cyber defences in wake of Ukraine-Russia conflict (FT)
Gazprom Paves Way to New China Gas Deal as Sanctions Hit Russia (Bloomberg)
Have a great weekend,
Next Investors
---