88E's $1.55 billion neighbour strikes oil
ASX:88E
Aug 02, 2022
Investment Memo: 88E IM-2022
Investment Thesis 1: North Slope in Alaska - one of the most oil rich places on the planet
Investment Thesis 2: Nearology to Pantheon Resources

---
Over the weekend London listed Pantheon Resources (capped at $1.55 billion) put out an update on the drilling of its first horizontal production well adjacent to the ground held by our oil and gas exploration Investment 88 Energy (ASX: 88E).
Pantheon's Alkaid #2 well was drilled to a total depth of 8,950 feet, hitting oil across all three formations it was targeting:
The Shelf Margin Deltaic - Net ~83m oil bearing reservoir encountered which was thicker and of better reservoir quality than pre-drill estimates.


The Alkaid anomaly - Net ~47m oil bearing reservoir encountered with the interception exceeding pre-drill expectations of reservoir thickness and quality.


The Alkaid Deep anomaly - Reservoir quality encountered was better than pre-drill expectations. Analysis is currently underway to determine net reservoir thickness.
The connection to 88E is that the reservoir that Pantheon is intercepting are the same ones that extend into 88E's ground to the south.
Interestingly the London markets liked Pantheon's initial results, with Pantheon's share price up ~20%, adding a total of ~$300M to Pantheon's market cap.
Pantheon is now preparing to drill horizontally to get a flow test for the well which will ultimately determine whether or not the project can produce economically.
If Pantheon puts out commercially viable flow rates, we suspect the market will start to show an interest in 88E, speculating on the probability of the reservoirs extending into 88E's ground.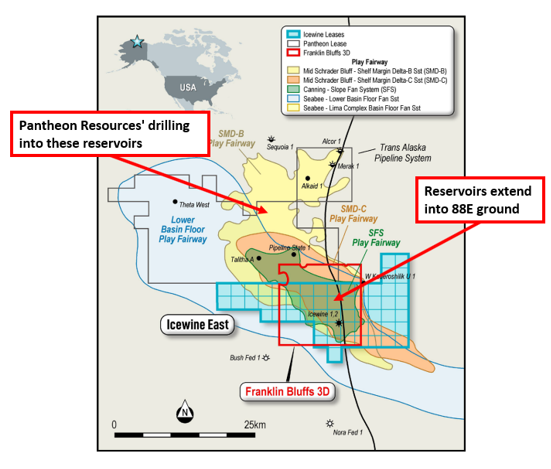 ---