Acreage acquired near the USA's biggest ever oil discovery
ASX:88E
Nov 10, 2022
Announcement
Investment Memo: 88E IM2
Investment Thesis 1: North Slope in Alaska - one of the most oil rich places on the planet

---
This morning our oil and gas exploration Investment 88 Energy (ASX: 88E) expanded its acreage in the North Slope of Alaska, USA.
The ground acquired covers ~25,600 acres and sits immediately south of Prudhoe Bay, the USA's biggest-ever oil discovery.
The acreage is already covered by existing 3D seismic data, and a historical well was drilled back in 1985 (Hemi Springs Unit #3), which at the time was targeting deeper-lying reservoirs similar to the ones being produced out at Prudhoe Bay.
Rather than taking these leases and drilling the same reservoir units, 88E is looking at the shallower "Upper Schrader Bluff (USB) reservoir".
88E said an initial review had shown a ~100-foot column "with good porosity and oil shows".
88E also noted that the seismic data indicates that the prospect sits between faults on either side, which may be the important "traps" for any oil/gas reservoir here.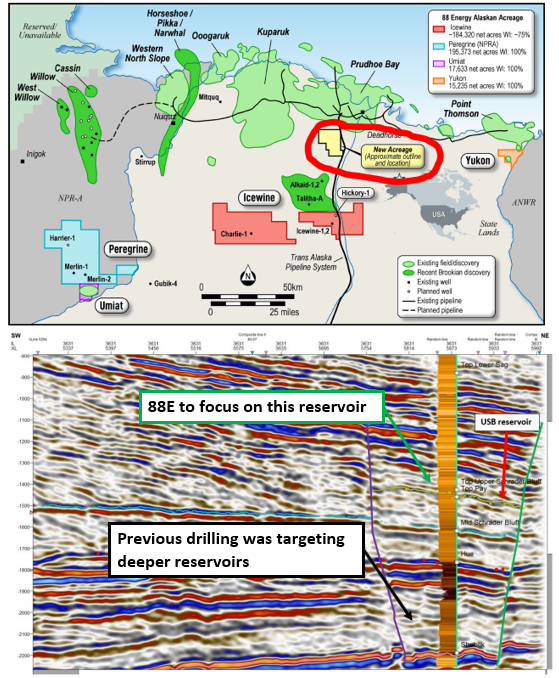 What is 88E's plan?
88E confirmed that it would further analyse all the data available over acreage before putting together a potential exploration program for the project. It looks like most of this work will focus on that USB reservoir target.
We will wait and see what comes of this work at this stage.
---