First look at hub and spoke strategy economics
ASX:TMZ
Oct 07, 2022
Announcement
Investment Memo: TMZ IM-2022
Objective 1: Move to Scoping Study/Pre-Feasibility stage
Risk 1: Development risk

---
Our silver exploration Investment Thomson Resources (ASX: TMZ) has released details on the financials behind its "hub and spoke" central processing strategy.
Importantly, this was the first time we got a look at the potential project economics' benefits as part of TMZ's overall strategy to put its multiple deposits into production through a central processing facility, a "Hub and Spoke" strategy.
Our key takeaways:
Modelling is showing a positive cashflow over the 8-year project life of A$334M - this assumes a silver price of A$28/oz.
Modelling shows positive cashflow of $425M over 11 years - this assumes a silver price of $34/oz.
At this stage, TMZ has announced only really high level numbers and has no net present value (NPV), capital expenditure numbers, or an internal rate of return (IRR) to add further depth to this week's announcement.
TMZ will need to keep working on its project before a more detailed scoping study can be put together.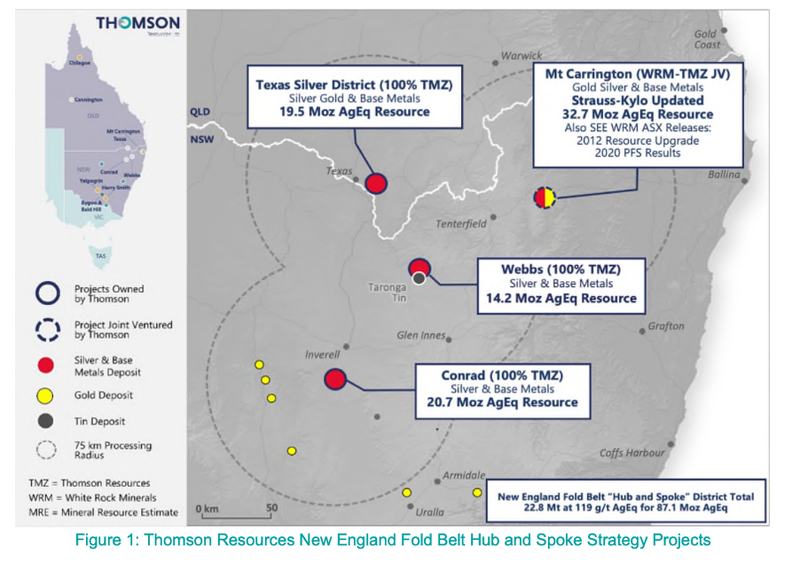 We also noted TMZ's commentary on overall project economics with the silver price where it is today.
TMZ didn't include its Texas deposit in the study because it wasn't considered commercially viable at current metals prices. The study showed thin operating margins and capital costs that are above where the company needs them to be.
This doesn't come as a surprise to us, given a large part of the TMZ story is to Invest now and wait for the silver price to run, which would make its project's a whole lot more valuable.
---