Experts Re-Analyse TMZ's Historical Silver Assets
Today our silver investment Thomson Resources (ASX:TMZ) has announced a group of experts are re-analysing historical data from its multiple silver projects in order to re-model the silver resource size.
And early indications are that TMZ's assets look bigger than they used to...
Meanwhile, the silver price continues its strong performance and appears to be tracking with inflation. The precious metal captured everyone's imagination during a "silver squeeze" that came and went back in early 2021.
The silver price has been creeping upwards ever since and is now trading steadily around the price it was at "peak-squeeze".
The silver price is the highest it's ever been aside from peaks in 1980 and around 2011 and we expect it to keep rising.
Our only investment in silver is in Thomson Resources (ASX:TMZ).
TMZ was acquiring a bunch of historical silver mines and projects before the silver price started running.
TMZ is currently combining all of these nearby projects into one "global resource", which it wants to be the largest silver resource base on the ASX.
TMZ is targeting a global resource of 100 million ounces of silver.
Today TMZ announced that a group of technical consultants have been engaged to re-analyse all the historical data that came with each acquisition.
The early indications are that new mine modelling, assumptions and a running silver price is going to result in larger silver resources than reported years ago by previous owners.
We first invested in TMZ in December 2020. We like the upside in TMZ compared to its bigger ASX silver peers as it grows its silver resource base.
We are hoping once its silver JORC resource estimates are rolled out, TMZ valuation will start to catch up to its peers.
TMZ's share price has slowly crept up since an April low of 10c, and is now consolidating around the 13-14c mark.
Based on two recent ASX "change in substantial holder announcements", Silver Mines Ltd (one of TMZ's major shareholders) has been reducing its position in TMZ. Our opinion is that this selling is currently keeping a lid on the TMZ share price (despite company progress and positive macro factors). We expect the TMZ price to run up once this selling stops.
We are also waiting for TMZ's tin drilling assay results, which should be due any week now. The tin price rose to 10 year highs a few weeks ago - read more about TMZ's tin asset here. Any solid tin intercepts would be welcome, and complement TMZ's main silver strategy.
TMZ's Silver Strategy
TMZ has been busy working on its silver strategy over recent months by acquiring a bunch of silver projects in NSW and Queensland.
The next steps for TMZ are to pull them all into one global JORC resource, which will allow the market to easily compare its valuation to other ASX silver peers.
TMZ wants to produce new resource estimates or re-estimates that are JORC 2012 compliant, leveraging existing drilling combined with innovative geological models, metallurgical technologies, mining methodologies and current metal prices.
Beyond the new resource calculations, TMZ has devised a "Hub and Spoke" strategy - which involves a central processing facility that receives mined ore from its nearby projects.
Here you can see where TMZ's projects sit on the map:
TMZ has 100% ownership of the Conrad, Silver Spur, Webbs and Texas projects plus TMZ is earning into the Mt Carrington project in a JV with White Rock Minerals.
TMZ's first new JORC resource to be delivered by next quarter
TMZ has hired an external consultant to undertake systematic resource re-estimations for all of its newly acquired silver projects.
TMZ is going to deliver its first JORC resource estimate next quarter, starting with its Conrad Project.
TMZ's Conrad silver project is historically the largest silver producer in the NSW section of the New England Fold Belt, producing 3.5 million ounces of silver at a grade of 600 g/tonne.
TMZ is running some 3D lode models that suggest that significantly more tonnes of mineralisation will be considered in the new resource estimate.
Together with its technical consultant, TMZ has identified significant exploration potential based on new modelling based on true lode width versus the previously artificially constrained mining widths.
[NEW] Here are TMZ's Company Milestones as we see them
Here is our milestone summary and what TMZ has achieved since our last commentary .
This is a new feature we are working on and will soon be rolled out to all portfolio companies, please reply to this email with any feedback/suggestions.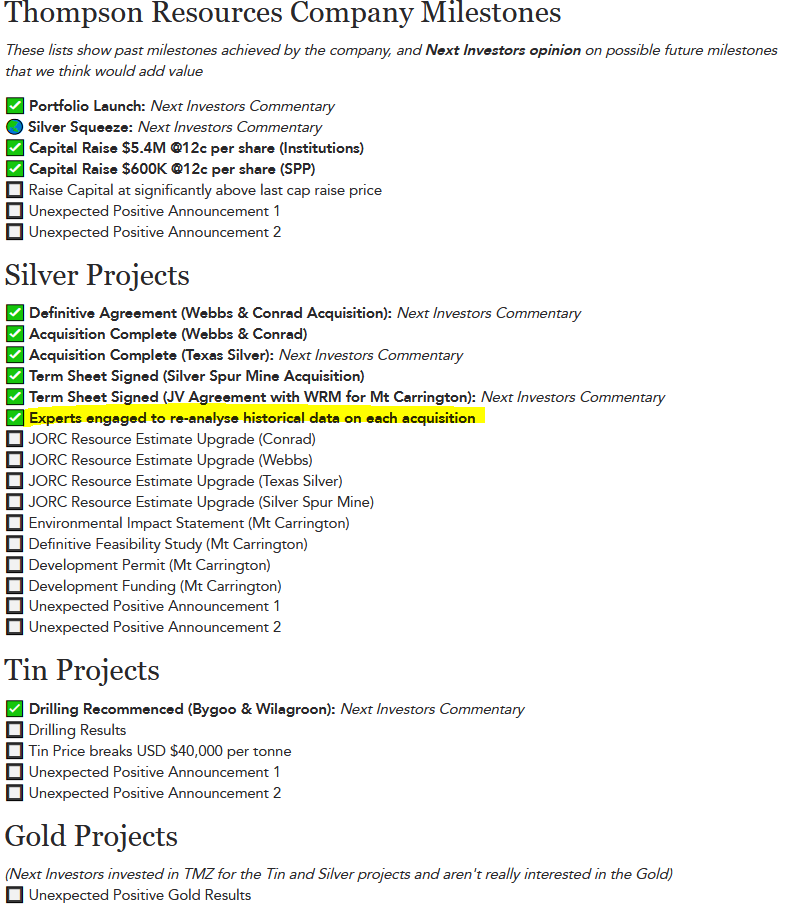 [NEW] Here is our TMZ investment strategy
Here are our investment milestones for TMZ.
Our investment milestones are a new feature we are rolling out to all portfolio company pages. Again, please reply to this email with any feedback/suggestions.

Here is our past commentary on TMZ

---