Our Latest Portfolio Addition: Australia's Highest Grade Undeveloped Silver Asset
The prices of precious metals (gold and silver), have pulled back somewhat in recent months.
So for us, it's just the right time to be buying the early stage stocks that have compelling leverage to them.
We have been reviewing dozens of companies over recent weeks, scouring the market in order to find the best small cap stocks with the ability to give us long term growth - that have the potential for large % gains, just like our other portfolio picks.
We have finally found a new addition to the portfolio - and we have just made a large investment.
We are very bullish about its growth prospects going into 2021 across a number of compelling silver and gold assets.
We think the price of silver might be poised for a run next year, and this is the first addition to our investment portfolio with high leverage to silver.
This company is set to acquire 100% of two transformational silver assets in the first months of 2021, with due diligence to be completed by January.
One is Australia's highest grade undeveloped silver asset.
The second has a very large "in ground value" - in our own research into the stock, we found a 2011 ASX announcement from a previous owner that demonstrated an in ground value of almost one billion dollars - so it is clear that there remains significant value waiting to be unlocked by our portfolio stock.
Combined, this company is acquiring over 30 million ounces of silver equivalent resources.
If the silver price surges in 2021, this will provide all the more interest in this stock.
There is an experienced management team driving TMZ forward, strengthened by the engagement of Global Ore Discovery, led by Stephen Nano to assist with running the due diligence process of on the silver assets. Global Ore Discovery has a history of silver project generations that lead to takeovers.
The company is aiming to start aggressively expanding its silver resource base over the coming months, both organically and via acquisitions. As investors we are looking forward to seeing this growth strategy roll out.
Aside from silver, the company has a number of quality intrusion related gold systems in NSW and Queensland that it is undertaking extensive rolling drilling programs that build on previous high grade results.
This gold drilling programme provides a significant number of near term catalysts.
The company has a $30M market cap, and recently raised $6M, so appears well funded for near term exploration.
We are looking forward to the market fully getting to grips with the value in the ground on these assets, and we will be keeping an eye on the silver price in the coming months.
The latest company we have added to our portfolio is:

In this article, we will explain why we have invested in TMZ and the upside we see in this stock. Here are the basics as to why we have invested:
Severely underdeveloped compared to its peers on a market cap vs silver grade basis - we expect TMZ will catch up once the transaction is completed and the resource inventory grows.
In-situ value of resources in the ground hasn't been fully realised - yet.
"Potential" extensions to the silver resource have been announced - just wait until they are drill tested.
Strong, experienced management team
Appointment of Global Ore Discovery to assist DD, which has history with silver company takeovers.
Complementary gold assets, Harry Smith, Hortons and Yalgogrin and Chillagoe means it is well leveraged to precious metals.
Gold drilling results due in the coming weeks provides near term catalysts.
Silver projects could be a game changer for TMZ
In November this year, Thomson Resources (ASX:TMZ) announced it was to acquire 100% interest in the Webbs Silver Project and Conrad Silver Project in the New England Fold belt in NSW.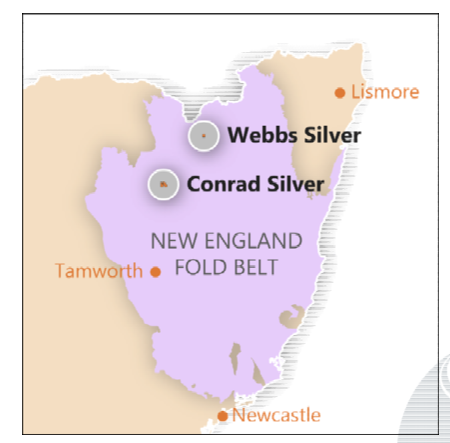 Both projects have seen historic silver production and have a resource defined compliant with the JORC Code 2004 as follows:
Webbs: 1.5Mt @ 345g/t Ag Eq – 16.5 million ounces Ag Eq
Conrad: 2.65Mt @ 206g/t Ag Eq – 17.5 million ounces Ag Eq
The projects will be acquired from the $207M capped Silver Mines Ltd (ASX: SVL), and as part of the acquisition, Silver Mines will hold ~ 19% of the issued shares of TMZ, which will be escrowed for 12 months. Silver Mines Managing Director Anthony McClure will take a board seat as a Non Exec Director.
Silver Mines's primary focus is elsewhere, and knowing that TMZ is a smaller company it will be better placed to give these assets concentrated development attention.
Silver Mines obviously still think these are high quality assets, given the equity exposure it will have, and a board position.
Silver stocks on the ASX - why we are backing TMZ
We think the early stage nature of TMZ's silver ambitions and its current $30M market cap ($24M Enterprise Value) provides significant leverage to silver heading into 2021, and compares favourably with other ASX listed silver stocks.
The TMZ peers provide a pathway to growth as well - indicating how the market values silver ounces in the ground.
Silver Mines Ltd (ASX: SVL), the company TMZ is acquiring its silver assets from, has a market cap of $207M. SVL is focused on developing the Bowdens Silver Project, which has a mineral resource of 275 million ounces silver equivalent.
Investigator Resources (ASX: IVR) is currently capped at $63M, and its South Australian Paris Silver Project has a resource of 9.3 million tonnes at an average 139 grams per tonne of silver and 0.6% lead for a contained 42 million ounces of silver and 55,000t of lead.
With TMZ set to acquire over 30 million ounces (combined) of silver equivalent resources, including the highest grade undeveloped silver project in Australia, we are hoping TMZ can soon catch up to those higher valued peers.
Webbs - some of the highest grades of any undeveloped silver project in Australia
Webbs is the more advanced of the two projects TMZ is set to acquire from SVL, and contains a very high-grade silver bearing lode system.
There is a long history at Webbs, with silver mineralisation first discovered in 1884. From 1884 to 1901 approximately 55,000t of ore was mined at an average grade of at least 23oz/t silver.
At Webb's Main, mining reached 210m below surface and extracted a high grade south plunging chute. Numerous shafts some up to 50m deep and smaller prospecting pits occur along the 2km long trend.
Silver Mines Ltd acquired the project in 2006 and subsequently conducted aggressive drilling campaigns for a total of approximately 30,000m in 314 holes.
GeoRes Pty Ltd completed the most recent resource estimate for Silver Mines in 2012. A total of 255 drill holes were used in the resource estimate, with 80% of the overall resource found within 120 metres of the surface.
The Resource breakdown is as follows:

Conrad - large in ground value with significant expansion potential
The Conrad Mine is a polymetallic exploration and mining opportunity located in northern New South Wales, with existing resources of high grade silver, lead, zinc, copper, tin and indium.
Like Webb, Conrad holds historical significance and was one of the largest silver producers in the New England region, with about 3.5 million ounces of silver production recorded from around 175,000 tonnes of ore, together with by-product lead, zinc, copper and tin.
Production commenced in 1891 and continued until 1912. It resumed in 1947, when further production took place from 1955 to 1957.
Recorded average grades were of the order of 600g/t Ag, 8% Pb, 4% Zn, 1.5% Cu and 1.5% Sn. The lodes were worked over a 1.4km strike length to a maximum depth of 267m.
The line of lode of the ore system extends south-eastwards for at least a further 2000 metres and there is considerable exploration potential throughout the granites.
In more recent times, Malachite Resources NL focused on the King Conrad, Conrad and Greisen Zones, with very little exploration drilling outside of the main line of lodes.
We managed to dig up a Feb 2011 ASX announcement from Malachite Resources NL, when the silver price was A$30.70/oz. Notably at the time, there was parity with the USD and the AUD - unlike today.
The gross contained metal value of the resource was almost one billion dollars: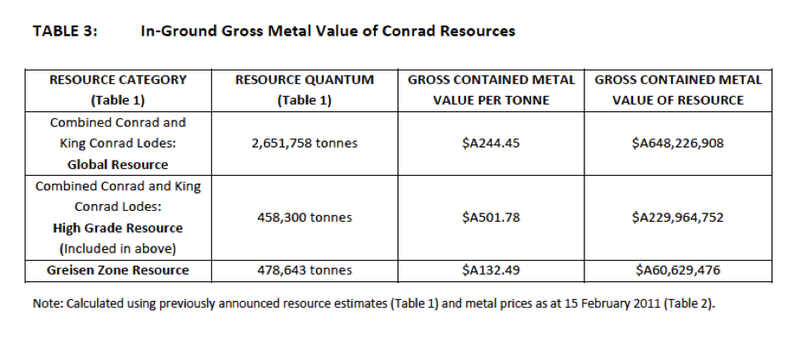 With the silver price surging since mid 2020, are we seeing a temporary pause in recent weeks before another leg up back to 2011 prices?

Malachite, now Pacific Nickel Mines Limited (ASX: PNM) undertook an extensive exploration program initially aiming to delineate resources within the Conrad lode, King Conrad lode and Greisen Zone that would justify the re-development of a mining and processing operation.
You can see where PNM drilled in the illustration below: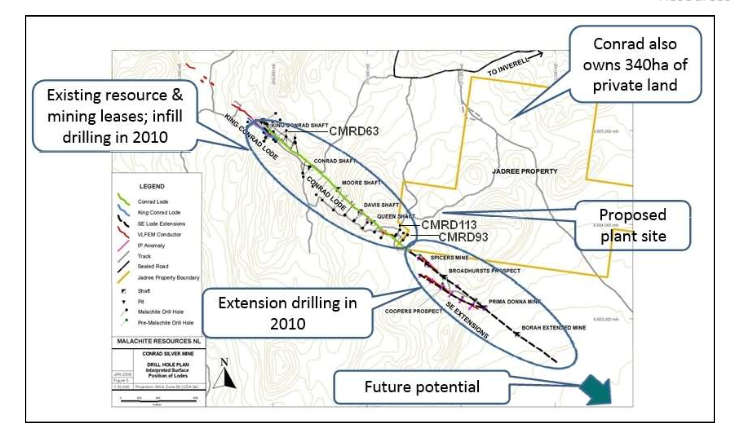 You can read about the finer details of the drilling in TMZ's 9 December announcement.
One of the best results came in 2010, when Pacific Nickel stepped out from the main area of focus along the Conrad Lode to what was referred to as the Princess Shoot with a best intersection of 1.6m @ 819g/t Ag, 0.59% Cu, 0.71% Sn and 8.35% Pb in drill hole CMDD113.
Pacific Nickels MD Gary Lowder was optimistic about Conrad's potential saying, "The existing high grade resource at Conrad may well represent a viable project in its own right. Boosting the available tonnes with additional high grade resources from the Princess Shoot can only improve the outlook."
Silver Mines acquired the project in 2015/16 and between Pacific and Silver Mines have conducted over 25,000 metres of predominantly diamond drilling.
The most recent resource estimate was completed by Hellman & Schofield Consultants in 2008:

TMZ will finalise its due diligence in the next few weeks, and we are looking forward to seeing what else the company can uncover.
Silver set to boom?
Several analysts are predicting the silver price to head well over $30 per ounce next year.
Analysts at UK research firm Metals Focus said, "The white metal's failure to break through the psychologically important $30 level initially prompted some profit-taking in late August and early September. As we write, however, much of this outflow has already been reversed, leaving global holdings now only a fraction below their August peak. With 2020-to-date inflows standing at some 316Moz, silver ETPs are on track to record their highest ever annual growth."
As we stated earlier, large-scale fiscal and monetary stimuli will continue to be applied by hard hit COVID-19 economies. Thus the uncertainty of the economic recovery in the US and in Europe, where record infections and new lockdown measures have also taken their toll, make a strong case for silver (and gold)."
According to Kitco analyst Peter Hug, "Once industrial demand picks up, more tailwinds for silver will push the metal closer to the $35 to $40 an ounce range next year."
Here is Hug speaking about where silver could go in 2021.
Note, respected analyst, Far East Capital's Warwick Grigor recently commented about silver: "One of the problems with the silver sector is that there are so few vehicles in which to invest."
Now is the perfect time to be looking at assets that have all the fundamentals, and a whole lot of upside. TMZ fits the profile, especially with gold set to come back as well.
TMZ's gold assets
We have alluded to the fact that gold should also rediscover its mojo in 2021 and TMZ has several gold projects to capitalize on any movement.
In fact, TMZ has a significant gold portfolio that has produced great intercepts across numerous historic gold workings. Highlights of which include:
Harry Smith recorded 9m at 9.2g/t Au. Further drilling is now underway.
Yalgogrin Gold Field recent drilling 5m at 10.3 g/t Au. Follow up drilling has just been completed.
New Lachlan Fold Belt EL applications with historic drilling up to 2m at 13.7 g/t Au in the Kildary Gold Field
Hortons project in New England – historic drilling up to 30m at 8.6 g/t Au
Chillagoe gold project, Queensland: auger drilling program now completed
The company's recent focus has been on Yalgogrin and Harry Smith.
TMZ recently completed its Phase-2 drilling program at the Yalgogrin Gold Project where it completed a 720 metres reverse circulation (RC) drilling over 6 holes.
This drilling followed up on July 2020 Phase-1 results in which TMZ found significant intercepts including:
TGRC08: 2m at 7.5 g/t Au from 34m depth in an overall intercept of 50m at 0.5g/t Au from surface; and
TGRC06: 5m at 10.3 g/t Au from 92m depth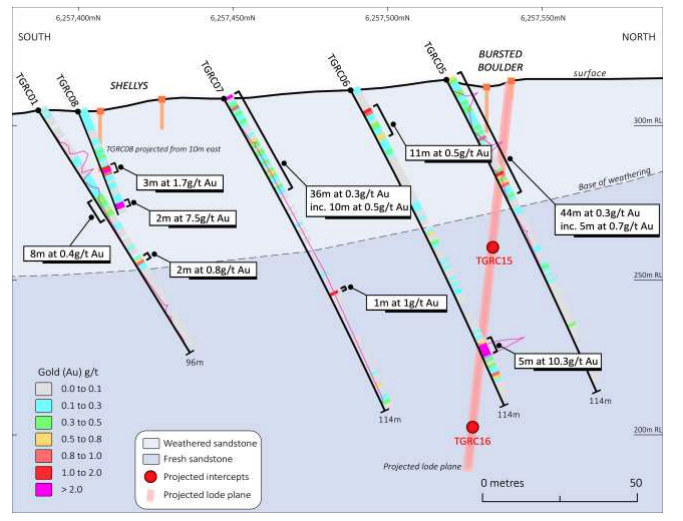 Results for Phase 2 drilling will be released shortly.
Meanwhile, the company mobilised the drill rig to its Harry Smith gold project where drilling commenced on Saturday 5 December.
Drilling at Harry Smith is planned to be approximately 2,000 metres of RC drilling to test various targets including:
800m strike gold potential targeted; and
follow up previous high grade results including, 17m at 5.2 g/t Au from 28m (inc 9m @ 9g/t Au).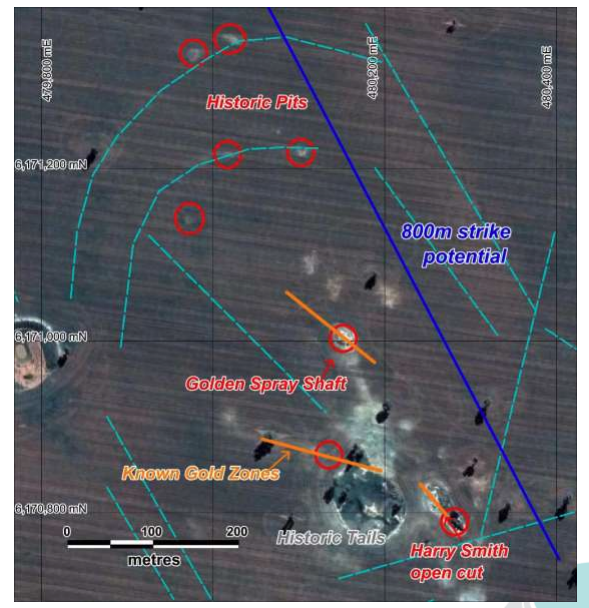 Again, results of this program will come to light shortly - providing the next short term catalyst for TMZ.
The third gold project in the current frame is the Chillagoe project.
TMZ conducted auger drill sampling in October. A total of 465 samples were obtained from 10 prospect areas and samples have been sent off for assaying, with analysis expected later this month.
Silver, with a side of gold makes TMZ a strong prospect
TMZ is focused on building a significant silver resource base in 2021, and is supported by existing gold assets as well.
We have made a large investment in this company, for the following reasons:
● TMZ provides an excellent early stage precious metals play, in a year - 2021- where we think silver and gold are set to rise. In essence, it has diversified assets that will enable it to capitalise on a return to form of precious metals
● In the coming weeks the company is set to complete its due diligence to acquire high grade, undeveloped silver assets, with the acquisition to be completed early in 2021.
We think TMZ is undervalued compared with its silver peers and are looking forward to it starting to catch up.
There's definitely a lot to like about TMZ, and as long term holders, we believe this company has a lot of upside moving into the new year.
---