TMZ closes in on silver production — we increased our position at 10¢
Our investment, Thomson Resources (ASX:TMZ) has been busy this year working on its silver strategy, acquiring a bunch of "close together" silver projects and combining them into one "global resource" in the New England Fold Belt on the NSW-Qld border.
Here, TMZ is targeting a global resource of 100Moz of silver equiv. and plans to be the largest silver resource base on the ASX.
We are big believers in silver (regular readers know we bought a few kgs of physical silver during the "silver squeeze" earlier this year that we still hold). We expect silver to remain in demand over the coming decade, driven by increasing demand for industrial uses — largely its use in solar panels and electric vehicles.
TMZ is the only ASX listed silver play that we hold in our portfolio and we recently increased our position at 10¢.
In the last couple of weeks, TMZ has completed its acquisition of the Texas Silver Mine (called Texas, not IN Texas... it's in QLD), completed initial metallurgical testwork that demonstrated strong silver and zinc output from the Silver Spur deposit, and confirmed an exploration program for its gold and tin projects.
Given the pace of the company's progress, chairman David Williams is now in the US presenting to potential future institutional investors, while the growing interest from international investors has also led to TMZ applying for quotation of its shares on the US over-the-counter market (OTCQB) — giving it access to the much bigger US retail investor market. The last quarterly report states that TMZ has over $6.7M in the bank so we aren't expecting TMZ to need a cap raise any time soon.
Behind all of this is the company's clear goal: to reach silver production.
It was this goal and the company's aggressive growth strategy, along with the bullish silver outlook, that first brought TMZ to our attention. We added TMZ to the Next Investors portfolio in December 2020, taking a position at 8.8¢ per share. We recently increased our position at 10¢ as we like TMZ's long term strategy of having the largest silver resource base on the ASX.
TMZ is a long term (multi year) hold for us, it is not an "exploration strategy" like some of our other investments, we want to see TMZ produce silver.
Since we first invested, TMZ has been busy working towards silver production by implementing a Hub and Spoke strategy. Under this model, TMZ is targeting previously owned silver assets with in-ground infrastructure and bringing together projects that might be difficult individually but TOGETHER they work.
Each of the individual projects have a track record of producing, but were generally, on their own, of insufficient scale to be economic.
By acquiring a variety of different deposits provides optionality, flexibility and scale — each deposit has a different mineral composition and location, and each has been worked before so can be worked again.
These silver assets will be close to a central processing facility as part of TMZ's Hub and Spoke strategy for the region.
This makes the pathway to production more certain, much easier to achieve, and faster to execute.
The recent completion of the Texas Silver Mine acquisition, and closing in on the completion of the Silver Spur mine acquisition, marks the first time all the projects comprising the New England Hub and Spoke Strategy have been held by the one entity.
TMZ's New England Fold Belt Hub and Spoke Portfolio
TMZ holds a portfolio of gold, silver and tin tenements across NSW and Queensland. But its primary focus is its silver Hub and Spoke consolidation strategy in the New England Fold Belt, on the NSW and Qld border.
The strategy has been designed and executed to create a large silver resources hub (plus gold, zinc, lead, copper, tin) with a central processing facility.
TMZ has taken an aggressive and strategic approach, acquiring a hub of key projects that underpin the strategy in only a four month period. These projects can be seen on the map below: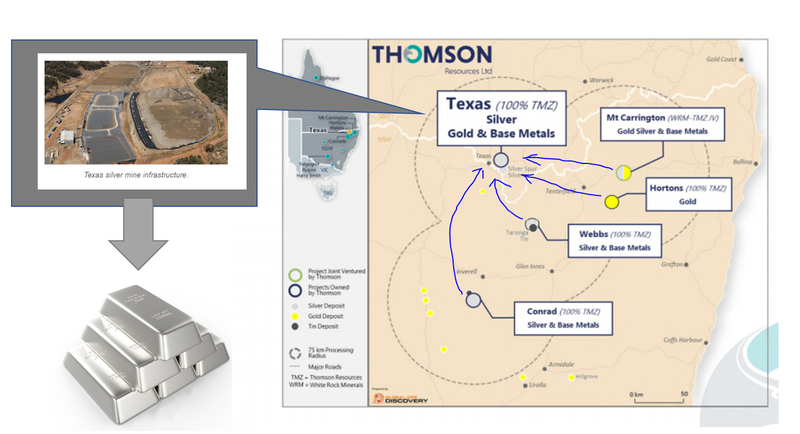 TMZ is now progressing technical studies to create a significant silver producing hub. It is targeting a total of 100 million ounces of silver equivalent in ground material that will be available to a central processing facility.
Silver Spur deposit update
The historic high-grade silver polymetallic mine, Silver Spur, is located in TMZ's Texas Silver District — a key project in the company's New England Fold Belt (NEFB) Hub and Spoke central processing strategy.
TMZ this week provided an update on the work it has been undertaking on the Silver Spur project, as it closes in on completing its acquisition of the project.
TMZ has been undertaking extensive work on the project and initial metallurgical testing of its sulphide mineralisation is delivering good recoveries and high grade of silver and zinc, as well as lead and copper.
Compositing of drill intersections — from historic drilling completed over a 40-year period — shows that the Silver Spur mineralisation contains significant silver and zinc intersections. Silver Spur historically produced 2.19 Moz silver at an average grade of 800 g/t Ag, as well as 690t of zinc, as well as lead, copper, and a gold by-product.
Approximately 63kgs of historic mineralised diamond drill core was analysed in three composite samples. Initial results showed the mineralisation contains significant silver and zinc recoveries and grade in concentrate of more than 80% silver and 90% zinc.
The recent testwork was a first step in an integrated test program to evaluate the potential to produce a sulphide concentrate for sale and to test an alternate processing pathway to produce higher value silver, plus zinc and copper for sale.
Further metallurgical test work is in progress on the Silver Spur mineralisation, but this initial work and study of the historic drill core reinforces the potential for the area to be a key deposit in TMZ's Hub and Spoke strategy.
Silver acquisition strategy
TMZ last month completed the acquisition of 100% of the Texas Silver Project for a total of approximately A$2.5M.
Its acquisition marks another key milestone for TMZ and the consolidation of this significant silver district. This project is a vital Hub and Spoke asset, having significant JORC silver resources and excellent exploration potential.
With this acquisition, TMZ could be producing silver as soon as next year. However, the Board has decided against this as it wants to deliver an optimal, sustainable and long term outcome via its Hub and Spoke model.
This acquisition, along with the recent execution of the definitive agreement for the acquisition of the Silver Spur deposit, cements TMZ's 100% control of the Texas Silver district — a key district in the company's New England Fold Belt Hub and Spoke central processing strategy.
The next step for TMZ is to pull them all into one global JORC resource, which will allow the market to easily compare its valuation to other ASX silver peers.
For now, here is a comparison of TMZ and its ASX silver peers, Silver Mines and Investigator Resources, by Pitt Street Research:

As you can see, there is considerable upside potential for TMZ as it progresses its New England Fold Belt Silver Projects.
Silver outlook
After an exciting start to the year for silver, where investors piled into physical silver and on the "silver squeeze" narrative, attention on the precious metal has since cooled.
While not traditionally "physical metals" investors, you might remember that we got swept up in all the silver squeeze excitement and YOLO'd into some physical silver ourselves so we could say we were part of the silver squeeze...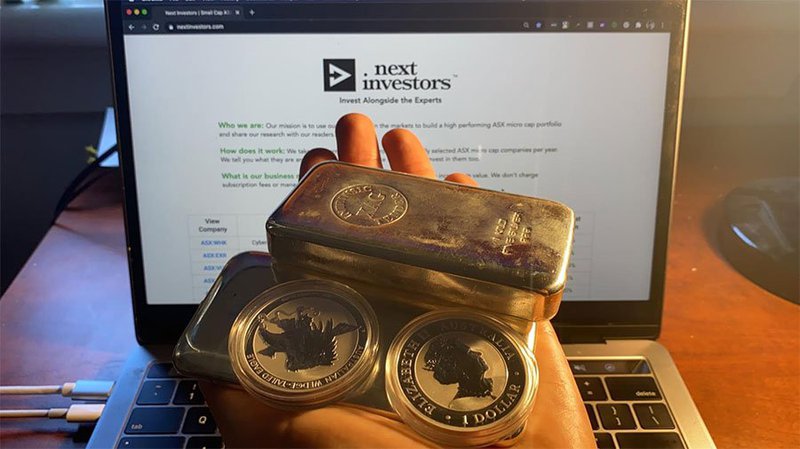 We are still holding our physical silver (under the bed)
While no longer at its recent highs, the silver price remains well above its 5-year average:
And looking ahead, the outlook remains positive. Driven by expected industrial demand — mainly from its use in solar panels and electric vehicles — Precious Metals Weekly says that we can expect 8% year on year growth for the metal.
Now at around US$24/t.oz, silver is predicted to head back towards US$32. That's great news for TMZ as a higher silver price will only work to lift its profit margins once it reaches production.
TMZ attracting overseas institutional investors
TMZ released a new investor presentation today. The presentation will assist Executive Chairman David Williams as he meets with a number of potential future institutional investors this week at the Precious Metal Conference in Beaver Creek, Colorado.
Williams plans to then hold further meetings in the USA, UK and Europe, having been assisted with these introductions by Roth Capital Partners and Kariba Capital.
Given the growing interest from US investors, TMZ has also applied for quotation of its ordinary shares on the US over-the-counter market (OTCQB).
New to TMZ? Our journey with TMZ to date:
TMZ was added to our portfolio in December 2020 ahead of its acquisition of the Webbs Silver Project and the Conrad Silver Project in the northeast corner of NSW. Our view was that it offered possibly the best exposure to silver on the ASX.
In February, TMZ added to its portfolio of silver projects, signing a term sheet to take a 70% stake in the 23Moz Mt Carrington silver project.
TMZ's aggressive expansion strategy continued in March, when it added a further project to its arsenal: The Texas Silver Project in Queensland. This was a major step in the company's consolidation of a large silver dominant resource in the NSW and QLD border region. That acquisition was then recently completed in August.
The doubling of the tin price in the months leading up to May 2021 encouraged TMZ to send a drill rig to its high grade tin project to see what it could find. The project had been pushed aside as TMZ went on its silver acquisition spree, but with the tin project economics looking favourable it revisited drilling.
As the silver price continued to creep upwards and in June, TMZ reanalysed historical data from its multiple silver projects in order to remodel the silver resource size and pull all of its silver assets into one global JORC resource.
Since then, TMZ has completed the Texas Silver Project acquisition, completed initial metallurgical testwork that demonstrated strong silver and zinc output from the Silver Spur deposit, and confirmed an exploration program for its Lachlan Fold Belt gold and tin projects.
TMZ Company Milestones
✅ Next Investors Portfolio Launch
🌏 Silver 'Short' Squeeze
✅ $6M Cap Raise @ 12c ($5.4M Institutional Investors, $600K SPP)
🔲 [NEW] International Institutional Investor on Register
🔲 Raise Capital at significantly above last cap raise price
🔲 Unexpected Announcement 1
🔲 Unexpected Announcement 2
Silver Projects Milestones
✅ Definitive Agreement (Webbs & Conrad Acquisition)
✅ Acquisition Complete (Webbs & Conrad)
✅ Binding Mine Sale Agreement (Texas Silver)
✅ Term Sheet Signed (Silver Spur Mine Acquisition)
✅ Term Sheet Signed (JV Agreement with WRM for Mt Carrington)
✅ Experts engaged to re-analyse historical data on each acquisition:
🔄 Acquisition Complete (Silver Spur Mine)
✅ Acquisition Complete (Texas Silver)
✅ JORC Resource Estimate Upgrade (Conrad)
🔲 JORC Resource Estimate Upgrade (Webbs)
🔲 JORC Resource Estimate Upgrade (Texas Silver)
🔲 JORC Resource Estimate Upgrade (Silver Spur Mine)
✅ [NEW] Metallurgy and Process Engineering Consultants Engaged
🔄 [NEW] Metallurgy Studies at Silver Spur Mines
🔲 [NEW] Metallurgical processing "order of magnitude" concept developed
🔲 Environmental Impact Statement (Mt Carrington)
🔲 Definitive Feasibility Study (Mt Carrington)
🔲 Development Permit (Mt Carrington)
🔲 Development Funding (Mt Carrington)
🔲 Silver Production Commences
TMZ Investment Milestones
✅ Initial Investment: @8.8c
✅ Increase Investment @10c
🔲 Increase Investment
🔲 Price increases 500% from initial entry
🔲 Price increases 1000% from initial entry
🔲 Price increases 2000% from initial entry
🔲 12 Month Capital Gain Discount
🔲 Free Carry
🔲 Take Profit
🔲 Hold remaining Position for next 2+ years
---