Thomson Resources Set to Surge on Savage Silver Squeeze?
Let us get straight to the point.
In the last 36 hours a global, online army of retail investors is rapidly building to try and push the silver commodity price up from $26 per ounce to $1,000 per ounce.
We've never seen anything like it.
We recently invested in an ASX listed silver stock called Thomson Resources (ASX:TMZ).
TMZ has just executed Definitive Agreements on "a combined 30 million+ ounces of silver equivalent resources".
Perfect timing by TMZ and blind luck by us for investing when we did... If the online silver price hysteria continues and there is a corresponding run on TMZ shares.
Thomson Resources
ASX:TMZ
But let's start from the beginning... at a US company called Gamestop.
You have probably seen it all over the global news.
Some hedge funds were betting that the Gamestop share price would fall and created financial instruments to make huge amounts of cash if it did (this is called "short selling" or shorting)
The hedge funds then started promoting negative analysis to try and push the Gamestop share price down.
Word got out on social media. Retail investors organised into huge groups using online chat sites and devised a way to burn these hedge funds.
The retail investors purposely bought Gamestop shares and held on to push the share price up thousands of percent, costing the hedge funds billions of dollars and near ruin.
Cool story, but how is this going to affect TMZ tomorrow?
Well, the next "Gamestop" in their sights to drive up the price is the commodity silver.
This global army of retail investors has now identified silver as "the most shorted commodity on earth" and by pushing up the silver price, millions of retail investors believe they can burn even more hedge funds - and they are loving every minute of it.
About 36 hours ago an online movement started with the goal to push silver from $26 per ounce to $1,000 per ounce and is growing at an alarming pace - just google "Silver Short Squeeze" and see for yourself.
Obviously silver rising to $1,000 per ounce is outrageous. Even silver rising to from $26 to $100 per ounce would be ridiculous, let alone $1,000.
Naturally, a sudden and aggressive silver price surge will spark a run on ASX listed silver stocks like TMZ.
We have been watching closely over the last 24 hours and the online #SILVERSQUEEZE movement is getting momentum, on reddit's wallstreetbets, on Twitter and on mainstream media.

Armies of retail investors sending Gamestop shares up thousands of percent was unprecedented - now with silver in their sights who knows what might happen to the silver price or to TMZ - we certainly don't.
So what to look out for over the next 24 hours?
In December 2020 we invested in TMZ because we had been looking for a silver focused stock to add to our portfolio of long term investments. We like the projects they are acquiring with 30 million + ounces silver equivalent, and silver prices were soft at the time so we thought it was a good time to invest.
You can read our initial TMZ analysis and why we invested here.
At Next Investors we are long term investors and take positions in companies that we intend to hold for the long term (3 to 5 years).
The online hysteria over last 36 hours around the #SilverSqueeze movement is astounding - we have never seen anything like it.
This is all just a bit nuts - we won't even attempt to predict what is going to happen this week.
Our intent is to hold a long term position in TMZ as it explores and develops its silver projects
But...
If this silver hysteria does take over like it did with Gamestop and lets say TMZ runs up hundreds of percent over the next few weeks... if TMZ trades above 50c we will likely look to sell around 30% of our position.
Again - we have no idea how this astonishing scenario will play out but we are watching with great interest to see what happens when the Silver markets open this week and how TMZ will react if the Silver price surges.
Read all the latest on the "Silver Short Squeeze" story (click images to read):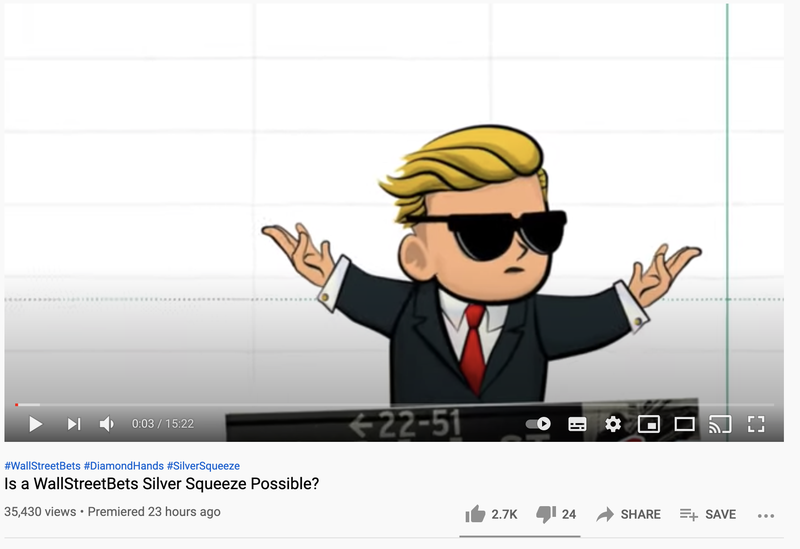 ---