TMZ's Tin Asset is Suddenly Very Interesting.
PUBLISHED: 03-05-2021 10:09 a.m.
We are long term investors in Thomson Resources (ASX:TMZ) hoping they can achieve their goal of becoming Australia's largest and most profitable silver producer.
Before going on its silver acquisition spree over the last 6 months, TMZ originally owned some gold and tin projects that we didn't really care about that much.
That is until the tin price sky-rocketed in the last few months - it's more than doubled over the last 12 months.
Suddenly TMZ's original tin asset is looking very interesting for a potential sale, spinout or some drilling - whatever happens we think it will get the markets attention on TMZ given anything tin is red hot right now.
We are here for the silver but we always like a surprise bonus in our investments.
Tin Win for TMZ
We are invested for TMZ's long term silver strategy of building a large silver resource base in NSW - however the doubling of the tin price over recent months encouraged TMZ to send a drill rig to its high grade tin project to see what it could find.
TMZ has a high grade tin project surrounded by the highest grade tin mine ever mined on mainland Australia.
TMZ's tin drill results are due in the coming weeks.
We expect to see an increase of interest in TMZ in the lead up to its tin drilling results, and more if it can hit a large, high grade tin intercept in the coming weeks.
We are invested in TMZ for the silver...
Since we invested, TMZ continued its silver acquisition spree picking up more silver assets all located in the same region in NSW.
TMZ is aiming to build a 100 million ounce silver equivalent resource base in NSW and process it at a central facility.
Now that the acquisitions are complete, TMZ is cheaper than its ASX silver peers on a silver equivalent resource basis.
Our strategy is to hold TMZ for the long term - we held on during the TMZ silver squeeze share price spike up and continue to hold even as it gradually came back down - we are not traders and prefer to hang on for the 12 months capital gains tax discount and for the company to execute on its strategy.
TMZ has a decent amount of cash, with $8.8M in the bank at March 31st, having raised $5.4M at 12c in March (a large part from North American institutions). That placement price is roughly the same price as where TMZ is sitting right now.
As we have all now seen with many placements we have followed in our portfolio companies, it takes some time for the share price to digest the placement stock, but it's better for the company to have cash in the bank to fund activities that will allow for the next leg up in valuation.
TMZ does have a lot of projects on the go, and whilst we aren't as interested in its gold projects as we are in the silver, for now it's TMZ's tin asset that has just caught our eye, with the tin price soaring.
Thomson Resources
ASX:TMZ
Why we are looking forward to TMZ's tin results in the coming weeks:
Tin price is going bonkers - follow the tin price here.
In the last 12 months or so, the tin price has doubled, hitting prices not seen since 2011: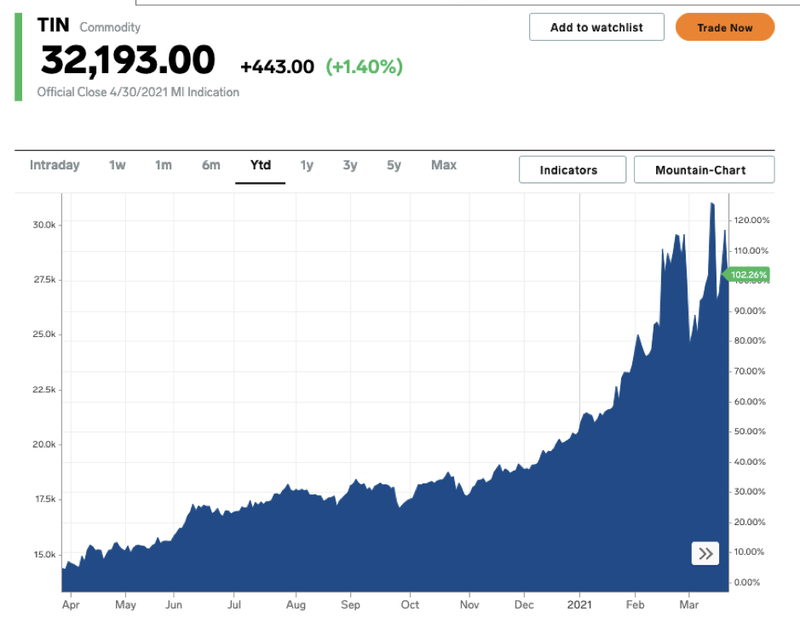 It's therefore a great time to release some high grade tin results to the market...
2. TMZ is surrounded by one of the world's high grade tin mines
TMZ's tin project is surrounded by one of the world's highest-grade tin mines that produced over 30,000 tonnes of tin until 1986 - the highest of any Australian mainland tin mine...
It's therefore a great place to be looking for tin.
3. Previous drilling hit 2.1% Sn (tin) - that's extremely high grade for tin
Here's a selection of some of the previous drill results hit at TMZ's project:

2.1% Sn (tin) is extremely high grade for tin and some of the highest grades encountered on the ASX. That grade was hit from a 50m depth downhole and is open in all directions.
The 1.2% grade is also a very high tin grade.
This previously drilling means there is likely to be more tin in all directions - and hopefully in the coming weeks we find out that it's just as high grade as the previous drilling.
4. TMZ drill results are only a few weeks away
TMZ's drilling is halfway through now, with another 1,500m to go.
First assay results are now a few weeks away providing a great catalyst to look out for - we are looking out for anything high grade, say over 1% over some distance.
What to watch out for next - tin and silver news
Tin drilling results in next few weeks - 1% grades or higher would be huge.
Share price to finish working through 12c level for next leg up.
Silver price to move up.
Silver resources to be converted to JORC 2012 reporting standard - allowing the company to be evaluated at this level against its ASX peers.
Our past commentary on TMZ: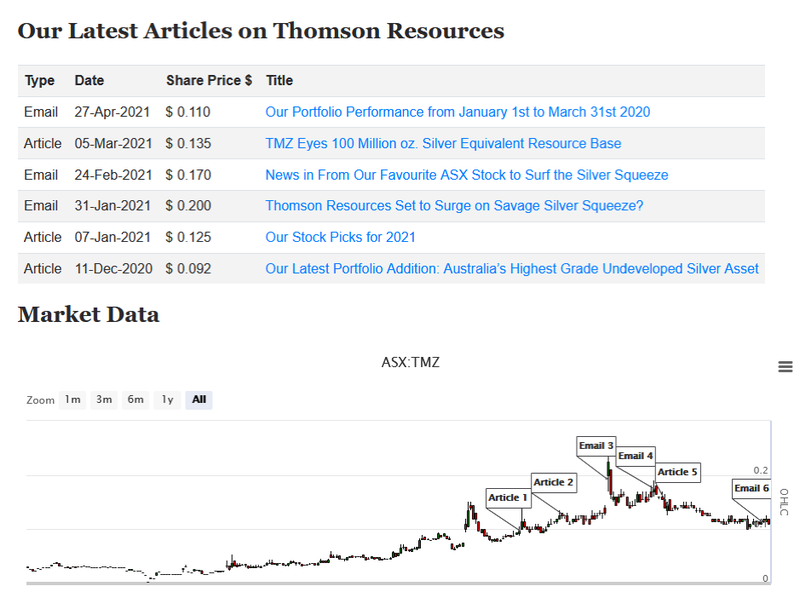 ---