Multiple rigs drilling now
ASX:EXR
May 06, 2022
Announcement
Elixir Energy Ltd (ASX:EXR) has provided an update on the coal bed methane (CBM) exploration/appraisal program underway across its 100% owned Nomgon IX Coal CBM Production Sharing Contract (PSC).
With the arrival of the Mongolian spring season, EXR has been able to accelerate its multiple well program for 2022 and now has two rigs operating.
EXR reported that it recently finished drilling the Tim-2 appraisal well – a follow on from the successful Tim-1S exploration well drilled earlier this year that opened up a new sub-basin for EXR.
Tim-2 was drilled to a total depth of 1,020 metres – the deepest well EXR has drilled in Mongolia to date — logging 3 metres of coal and 5 metres of silty coal. There was a decrease in coal thickness from the initial Tim-1 well to this Tim-2 well, attributed to localised faulting.
EXR will now integrate the Tim-2 results with geological mapping, age dating, and potentially new seismic to better define this coal bearing sub-basin.
The location of Tim-2 (right on the Tavan Tolgoi border) can be seen on the map below, as can the recently spudded Yangir-4 appraisal well, and the Bulag Suuj-1S exploration well that is due to be spudded imminently.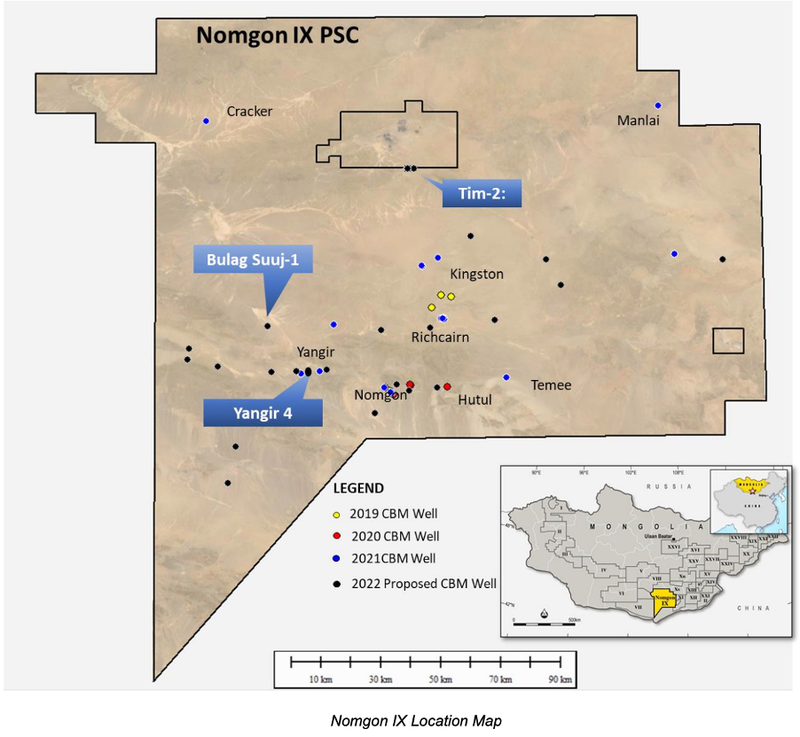 The Top Diamond Drilling LLC rig, which drilled Tim-2, has now mobilised to a new potential sub-basin in the west of the PSC. Here it is due to spud the Bulag Suuj -1 well later this week.
The Yangir-4 appraisal well, in the previously identified coal bearing Yangir sub-basin, can also be seen within EXR's giant landholding. Yangir-4 was recently spudded by EXR's newly hired drilling contractor, Ellecohr LLC.
These wells are part of the ~20 wells that we said that we wanted to see EXR drill throughout 2022, a key objective in our EXR Investment Memo.
EXR also notes that the extended pilot production testing that's planned for mid-year continues to progress. This initial pilot program, the first in the country, is on track to meet its mid-year target. A commercial flow rate would be a significant event for EXR and its shareholders and given the relatively low costs involved in Mongolian, that hurdle shouldn't be too high.
EXR explained that the tendering process for the program's civil works is well advanced, and a contractor is expected to be hired shortly.
This is promising news as pilot production program was the #1 key objective that we wanted to see EXR achieve this year at the Nomgon PSC, as per our EXR Investment Memo.
EXR also reported that its 2022 2D seismic acquisition program is proceeding as planned, with 223 kilometres (out of a total of 322 kilometres) acquired to date.
---