EXR raises $7M to fund QLD gas drilling
Shares Held: 4,937,858
Options Held: 0
---
Our energy Investment Elixir Energy (ASX: EXR) just raised $7M at 7c per share to fund its upcoming drill program at its QLD gas project.
EXR raised $7M via a placement at 7c per share - EXR's board of directors took up $150k of the raise.
The placement also came with 1 free 12c option for every two shares taken up in the raise.
The shares from the placement are expected to be issued on tomorrow (5 September 2023).
After last weeks capital raise EXR should have ~16.5M in cash in the bank - $9.5M at 30 June 2023 + $7M raised.
On top of that, EXR also has R&D grant funding in place with the Aus government for 48.5% of the total costs of its upcoming drill program.
EXR expects to be drilling its QLD gas project in the last week of October.
What is EXR drilling and what is the goal?
EXR's Daydream-2 well is an appraisal well targeting a ~395 billion cubic feet contingent resource.
EXR is drilling an appraisal well which means the company is targeting an already discovered hydrocarbon system to try and book a maiden reserve number.
A reserve is typically the last step before a discovery can be commercialised.
🎓 To see the stages of an oil and gas resource check out the following: How to Read Oil & Gas Resources
EXR's appraisal well will be aiming to:
Prove commercially viable flow rates
Increase EXR's already large 395 bcf contingent resource.
Book the project's first gas reserves (converting contingent resources into reserves).
EXR recently put out a video which tells the full story pretty well, check out that video below: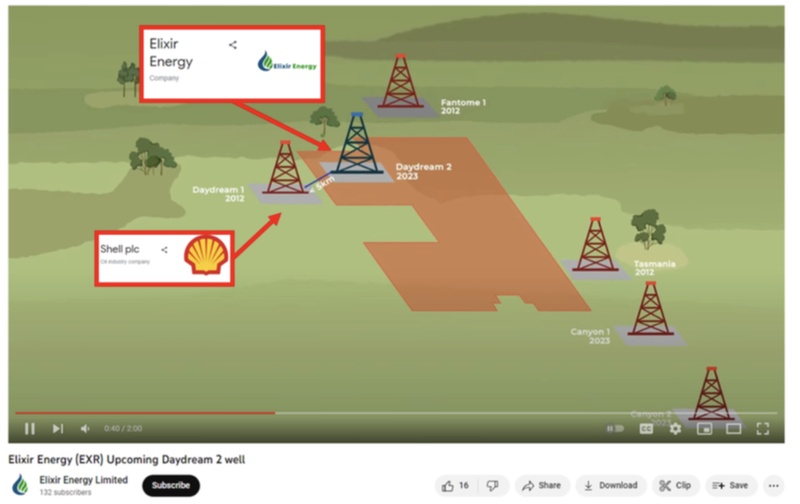 (Source)
What's next for EXR?
Ordering of long lead items for the drill program.
Wellpad construction (being completed this month).
Rig Mobilisation on site.
Selection of contractors to run the program.