Increases stake to 80% of flagship Koongie Park project, WA
ASX:AKN
Sep 20, 2022
Announcement
Investment Memo: AKN IM-2022

---
Earlier today, our base metals junior Investment AuKing Mining (ASX:AKN) announced that it had increased its ownership stake of the Koongie Park base metals project in WA from 75% to 80%.
Located in the Hall Creek mining district, Koongie Park hosts a resource of 8.9Mt, containing 1.01% copper, 3.67% zinc, 0.77% lead, 0.16g/t gold, and 26g/t silver. This is set to increase once the resource from the Emull prospect is incorporated, likely in the next few months.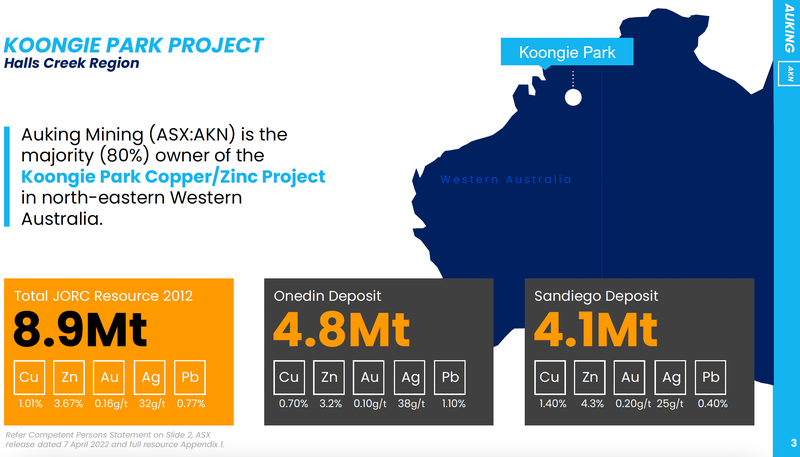 AKN's increased stake is as a result of their fully funding exploration expenditure, with joint-venture partner Astral Resources diminishing their position from 25% to now 20%. With Astral indicating it does not intend to spend further on advancing the joint venture, it is likely that their position will revert to a 1% net smelter royalty in the year ahead, with AKN ultimately moving to full ownership.
Broadly, we are fans of our investments taking bigger positions in their flagship projects, given that management has inside knowledge of the asset, and are betting on themselves to deliver shareholder value - it is a sign of confidence in what they are advancing.
AKN's balance sheet has also improved via $556,911 cash injection via a refund in Commonwealth R&D funding last month.
The company also is presenting at the New World Metals 2022 investment conference in Sydney today, and Melbourne tomorrow - here is a link to the presentation.
Coming up, we are awaiting the commencement of follow up drilling at the Emull prospect, as well as an updated JORC resource for Koongie Park.
---