AKN - new license, drilling to start in Tanzania
Shares Held: 1,515,152
Options Held: 0
---
This morning our uranium and copper Investment, Auking Mining (ASX:AKN) put out an update on its Tanzanian uranium projects stating that drilling will start at a newly granted prospecting licence.
The Itigi Uranium Project lies 80kms west of Manyoni in central Tanzania: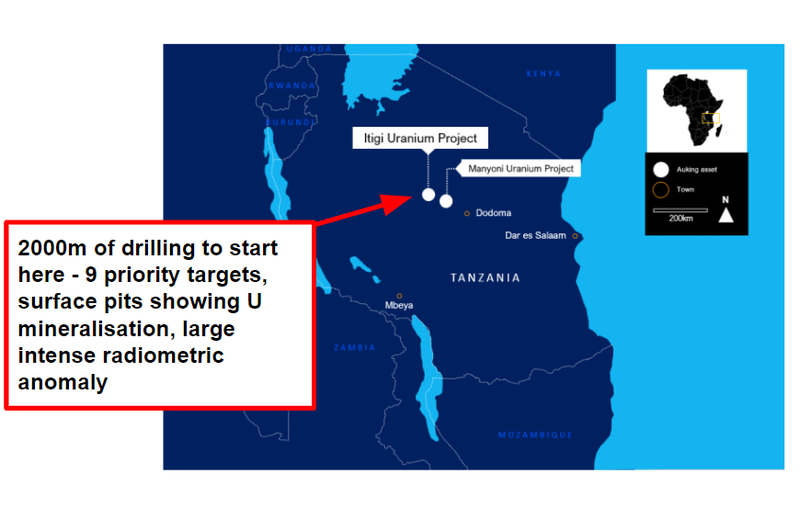 This is what the radiometric anomaly looks like: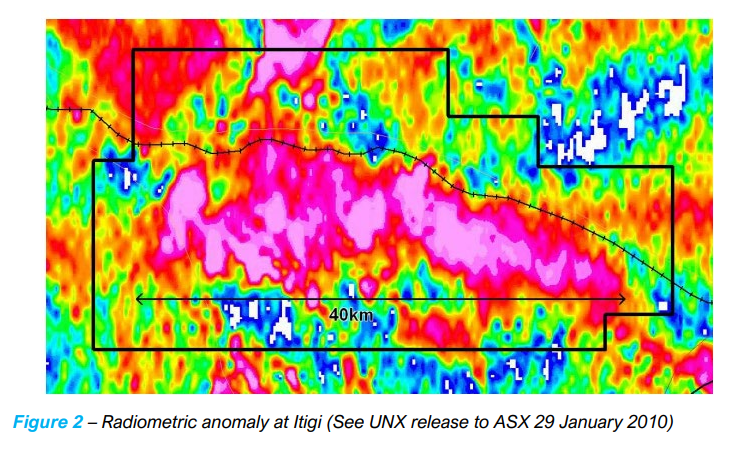 Roughly 40kms in length, this leaves AKN with a significant swathe of ground to test.
AKN is looking to follow up over 400 exploration pits at Itigi which have returned XRF results of up to 304ppm (0.03%) uranium, with 9 high priority targets in hand.
And while that is a relatively low grade, we note that these results are from what is basically surface sampling.
So we're hoping that given the scale of the anomaly and the planned 2000m drilling program, AKN can prove out a large deposit and find more, higher grade uranium at depth.
What's next for AKN?
AKN flagged in its most recent presentation that a Scoping Study at its Koongie Park copper zinc project in the Halls Creek region is due this month.
While AKN pursues development pathways for that project, it's good to see today's initial foray into Tanzania.
We see Tanzania as a rapidly emerging mining jurisdiction and will be watching for what drilling results Itangi can produce.