DXB: Making Strong Progress on "Main Bet," Side Bet #2 Paused
Disclosure: The authors of this article and owners of Finfeed , S3 Consortium Pty Ltd, and associated entities, own 2,825,000 DXB shares at the time of writing. S3 Consortium Pty Ltd has been engaged by DXB to share our commentary on the progress of our investment in DXB over time.
Our 2021 Biotech Pick of the Year Dimerix (ASX:DXB) released its half year report last Thursday, updating investors on ethics approvals for its Phase III clinical trial for FSGS (a rare kidney disease) and closing in on important milestones for TWO of its Phase III COVID-19 studies.
Regular readers will know that our 'main bet' is DXB's treatment for a nasty kidney disease called FSGS, while our two 'side bets' are for applications of this same treatment in COVID-19 patients.
This morning, DXB announced that recruitment for 'side bet' #2 on critically ill COVID patients was temporarily paused due to safety concerns.
It is not uncommon in the biotech world for trials to be paused pending safety analysis. This is one of the key risks we highlighted in our DXB Investment Memo.
Our main bet with DXB is for its FSGS trial which is unrelated to COVID, and our other side bet, to treat MILD cases of COVID, remains in place.
After a knee-jerk market reaction this morning, DXB shares have bounced back and are now sitting just below our initial entry price of 20¢.
We suspect some holders may have been spooked thinking the 'COVID trial pause' is somehow related to DXB's treatment in general - this is not the case.
As long-term holders we think the next 12 months should have a number of catalysts for a re-rate in DXB - especially with our 'main bet' FSGS trial starting to tick the necessary boxes.
FSGS is a rare kidney disease characterised by a dysfunction in the part of the kidney that filters blood - it affects 210,000 people around the world and can frequently lead to kidney failure and the need for a kidney transplant.
Last week, DXB revealed key new information in its most recent investor presentation released on Thursday including the news that they had secured ethics approval in FOUR new jurisdictions for its FSGS clinical trial, including Argentina, France, New Zealand and Taiwan.
This is in addition to the ethics approval granted in Australia earlier this year and most recently Denmark - the first approvals in Europe.
As for the FSGS trial (main bet), the previously mentioned extra jurisdictional approvals for the trial are a big highlight for us.
Because FSGS is so rare, DXB needs to conduct its clinical trials in a large number of jurisdictions so that it can recruit the ~72 patients needed to take the trial through to interim results.
Each jurisdiction has its own regulatory body, approval process and safety requirements, which DXB has navigated through to secure approvals.
DXB has now secured ethics or regulatory approvals in six of the twelve anticipated countries, a big milestone in its journey to complete the clinical trial.
Interim results from the FSGS clinical trial are expected in H1 2023 and we believe that in the biotech world that's a remarkably near-term catalyst for a major re-rate.
DXB has 'Orphan Drug Designation' in the US where more than a third of FSGS patients reside. This designation means that commercial approval for DXB's treatment can be fast tracked, as well as receive tax and other concessions (such as the 7 year exclusivity arrangement) to help it get to market.
There are currently no approved therapies of FSGS and the market for a therapy is in excess of $1B - this is our 'main bet' for DXB and the most proximal source of revenue for the company.
Our DXB 'side bets' consist of two different studies for COVID-19 (one of which was paused today).
Here's how we'll breakdown the new information about our 'side bet' and the key information in the half-yearly and investor presentation:
Main Bet: New FSGS Progressing in four new countries
Side Bet #2 COVID-19 for intensive care patients paused
Side Bet #1: Other New COVID-19 Studies Information + The Rise of Therapies
For a quick high level summary of what DXB does, what key objectives we expect DXB to complete in 2022, risks and our investment plan:

Main Bet: FSGS Progressing in Four New Countries
Our number one objective for DXB in 2022 is to progress its Phase III clinical trials for FSGS.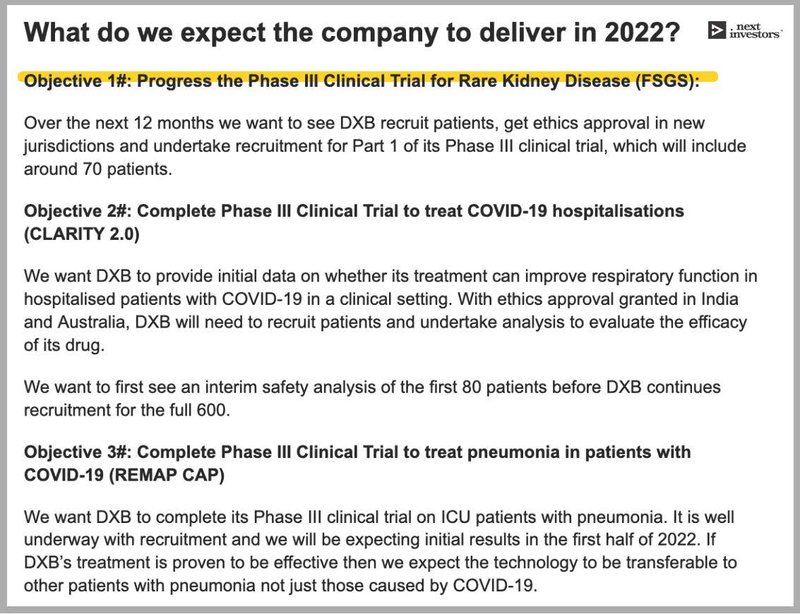 In the presentation that DXB released last week, DXB updated investors with the FSGS trial progress, revealing FOUR new jurisdictions where ethics approval was granted.
DXB secured regulatory approval in New Zealand, Argentina, France and Taiwan - marking the first regulatory approval in both Asia and Latin America.
This is in addition to the regulatory approval granted in Denmark and ethics approval in Australia.
The next major jurisdictions that we want to see regulatory approval granted is the US and the UK. These will be major milestones for DXB.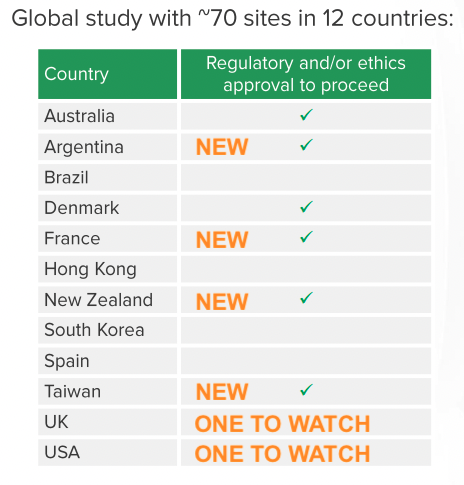 Securing ethics approval can be tricky, as each jurisdiction has its own regulatory body, approval process and safety requirements.
However, we think the speed at which DXB has navigated these approvals is very promising for investors.
The next stage for DXB will be to initiate sites where the clinical studies will be held.
In general terms, this means that DXB will train the hospital staff to administer the FSGS treatment and record the patient's data and results.
Whilst sites are being initiated, DXB will begin recruiting patients with FSGS, which can take time given the rarity of the disease.
DXB is in a critical recruitment window as there are no other global FSGS studies underway.

DXB anticipates the first interim data to be ready by the first half of 2023 (assuming that recruitment moves smoothly), however given that recruiting for a disease like FSGS can be difficult, this may take more time.
The timeline for the trial was also announced, from when a patient is first recruited, to when the results will be recorded for interim analysis - around 41 weeks.

This means that DXB will need to recruit around 72 patients by October / November this year to meet its anticipated timeline for interim results.
DXB has Orphan Drug Designation for its FSGS treatment, which means that it is eligible for accelerated approvals.
This is one of the key reasons why we invested in DXB.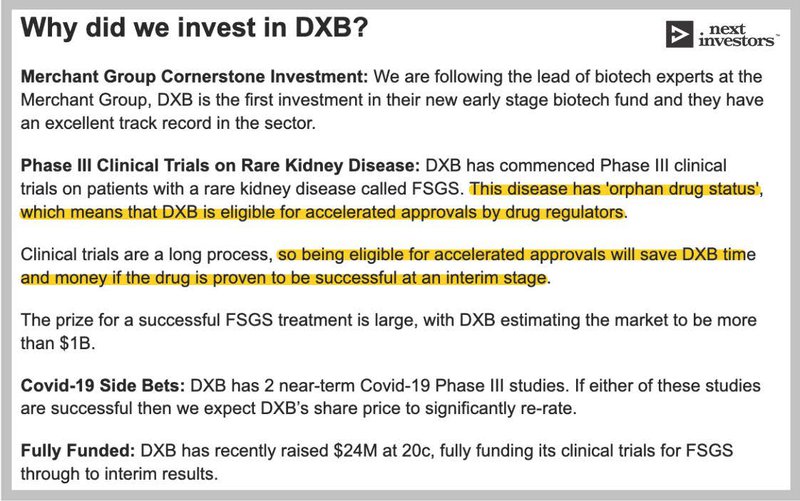 Orphan Drug Designation means that if DXB's treatment is proven to be SAFE and EFFECTIVE at the interim stage, DXB can commercialise its product quickly.
Clinical trials are a long process, so being eligible for accelerated approvals will save DXB time and money.
DXB anticipates the market for FSGS to be around the $1BN mark (source).
Each year, 1000 people each receive kidney transplants for FSGS (source), although up to 60% of patients will have recurrent FSGS after a kidney transplant (source).
And although the cost of treatment for orphan drugs is expensive (roughly $84K per year), it is often paid for by the insurance companies and much cheaper and more reliable than a kidney transplant.
We think that if DXB can prove that its treatment is both SAFE and EFFECTIVE at treating FSGS, not only will it be lucrative for the company which is currently capped at ~$70M, but also help a lot of people suffering from this debilitating disease.
Side Bet #2 COVID-19 for intensive care patients paused
DXB ran into a temporary roadblock with one of its two COVID-19 trials today.
Specifically, we learnt today that its COVID-19 trial for severely ill patients, REMAP-CAP, had been paused due to a safety signal in the study arms where the patient receives angiotensin receptor blockers (ARB).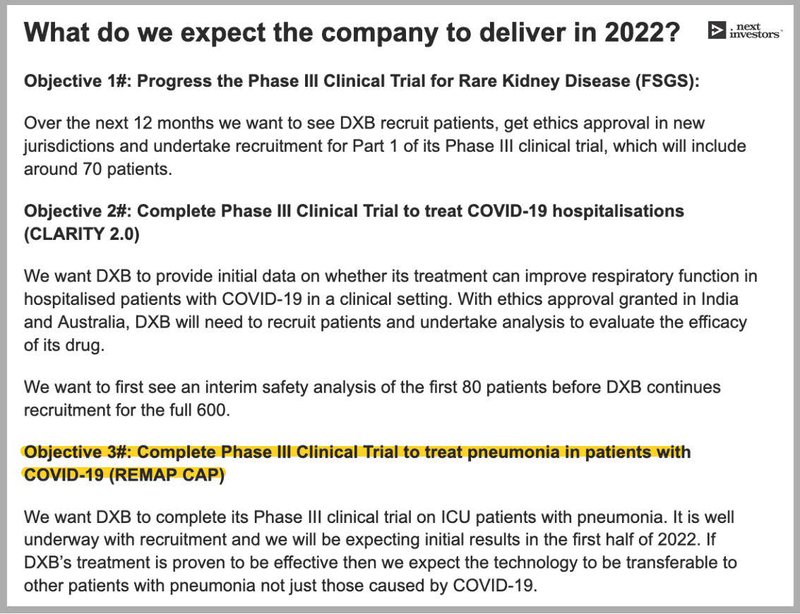 These kinds of events are relatively common in small-cap biotechs.
Today we want to highlight:
As DXB's patented treatment is given together with ARB, today's safety results are not specifically related to DXB's treatment
The safety signal has triggered a pause, rather than a cancellation of the trial
We believe DXB's second COVID-19 trial should be unaffected by today's announcement
There may be additional efficacy results news flow regarding DXB's treatment to come for the trial targeting severely ill COVID-19 patients
The REMAP-CAP trial is not the primary reason we hold DXB, and DXB's other two Phase III clinical trials are progressing well.
If there's one key takeaway from our coverage of DXB today, we believe it's this:
Today's announcement does not impact the company's long-term prospects. DXB remains well-funded with $16.2M in cash as of 31 December 2021 and our 'main bet' (FSGS treatment) for DXB is making good progress.
Here's what happened...
The Independet Data Safety and Monitoring Board (an independent body that reviews safety and efficacy of the trial) communicated safety issues with both ARB and ACE inhibitors, suspending recruitment for severely ill patients and pausing recruitment for moderately ill patients.
We expect recruitment for moderately ill patients to commence again shortly.
Unlike regular clinical trials, this is an adaptive analysis.
This means that the data is periodically analysed to assess if the treatment is safe and effective, and then the trial is adapted based on this new information.
And today that seems to be what played out.
DXB's treatment, DMX-200, was used together with ARB to assess whether it could improve the condition of critically ill patients with pneumonia and COVID-19.
The ARB and ACE inhibitors were determined to be potentially unsafe in severely ill patients, with recruitment to likely only continue in moderately ill patients after a safety assessment of the data.
The patients in the study randomly received one of four treatments:
Angiotensin Receptor Blocker (ARB)
Angiotensin converting enzyme (ACE) inhibitor
ARB + DMX-200
No RAS inhibitor (control group)
Although DXB's treatment, DMX-200, was not considered unsafe, because ARB was determined to be unsafe in critically ill patients, recruitment for trial was paused pending further data analysis.
DXB's treatment was unfortunate collateral damage in this situation.
Some more important things to note:
We are still waiting on the efficacy data - the key to determining if the DMX-200 treatment is effective at treating COVID-19 patients with pneumonia
This outcome does not affect the second COVID-19 "side bet", DXB's solution for mild COVID-19 cases
This in no way affects the FSGS clinical trial currently underway
When things like this happen, it is important to reflect on the risks associated with the investment.
These are risks that can be mitigated by the company, but are common in early stage biotech companies.
In particular, the risk that manifested today was that one of DXB's trials was paused for safety concerns, and will hopefully the trial will be adapted to focus on patients with moderate COVID-19.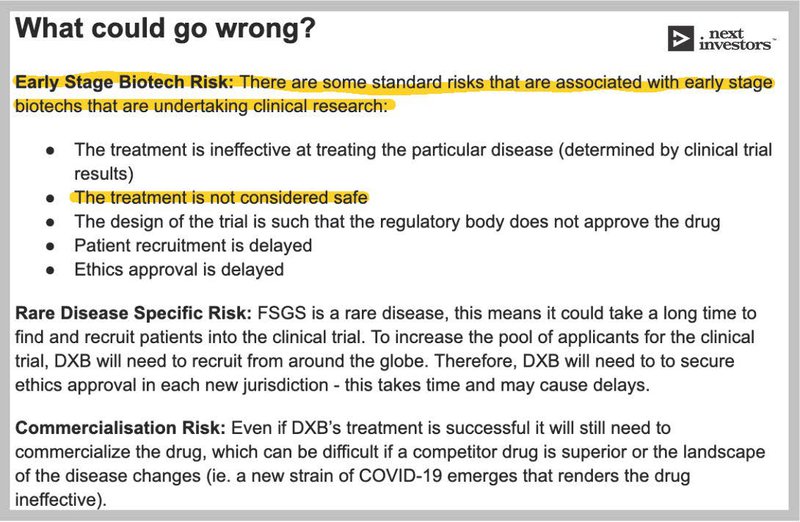 The key reasons we invested in DXB still remain, with our number one focus for the company - our main bet for FSGS progressing well.
Just for clarity, DXB uses ARB in its FSGS treatment, ARB is considered very safe for people with FSGS and is the current 'standard of care' for FSGS.
Side Bets: Other New COVID-19 Studies Information + The Rise of Therapies
As the COVID situation around the world shifts from 'pandemic' to 'endemic', governments will need to look at alternative measures to 'live with the virus' outside of lockdowns or booster vaccines every few months.
We think that DXB is well placed to capitalise on this shift from prevention to therapeutics through its oral covid treatment.
So what is new from last week?
DXB expects as early as this quarter:
Interim safety data on the first 80 patients with COVID-19 hospitalisation (CLARITY 2.0 Study)
Efficacy data for patients in ICU with late COVID pneumonia (REMAP-CAP Study)
That means that DXB could potentially have key results to announce from TWO Phase-III clinical trials by the end of next month, and although recruitment for REMAP-CAP has been paused, we still want to see the interim efficacy data.
These studies are investigator lead studies, meaning that timelines are set by the organisation undertaking the studies and not DXB themselves - just something to be aware of when reading timeframes announced by DXB.
The two existing COVID-19 pills on the market are both antiviral and very lucrative, with Pfizer estimating $22 billion in revenue from the treatment alone (source).
Crucially, DXB's COVID-19 pill is not an antiviral treatment - it is an anti-inflammatory treatment.
This means that it could be used as part of a cocktail - 'throw everything at it' treatment approach.
What's more, because of its unique action, DXB's COVID treatment doesn't need to be fine tuned for new strains of the virus - it should work across any COVID strain that comes out.
You can see a quick summary of these points below: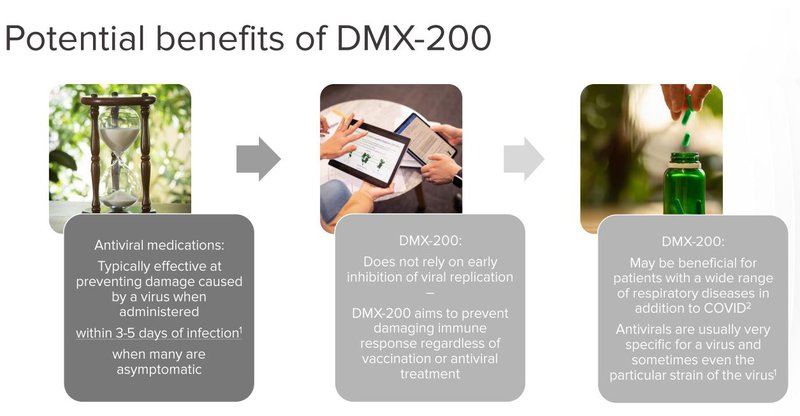 Given Australia's now long history in failing to get COVID treatments and supplies in a prompt fashion, and the competitive nature of acquiring the Pfizer and Merck pills in the market, we think it's a good thing that DXB could have the Aussie solution to the problem.
It's our view that domestic production of a COVID therapy would be a major breakthrough for Australia and it's possible that DXB can play a role in that.
Our DXB investment memo
We note that ~$70M market capped DXB is well funded, with ~$16.2M in cash - a good position for a biotech that has so many late stage clinical trials in the pipeline.
Again, for a quick high level summary of what DXB does, what we key objectives we expect it to complete in 2022, risks and our investment plan:

---