Earlier than Expected - DXB Gets First Regulatory Approval in Europe.
Disclosure: The authors of this article and owners of Finfeed, S3 Consortium Pty Ltd, and associated entities, own 2,825,000 DXB shares at the time of writing this article. S3 Consortium Pty Ltd has been engaged by DXB to share our commentary on the progress of our investment in DXB over time.
Our 2021 Biotech Pick of the Year Dimerix (ASX:DXB) has developed a treatment for inflammatory diseases, such as kidney and respiratory diseases, with potential applications to treat COVID.
We invested in DXB in August last year when it raised $24M at 20c to fully fund its Phase III clinical trials for FSGS (which is a rare but debilitating kidney disease). There are no currently approved therapies for FSGS, and it's a $1B plus addressable market.
Treatment of certain rare diseases (also known as orphan diseases) do provide a lucrative market, but most importantly generally receive rapid approval for sale IF phase III trials are successful AND come with an near 10 year exclusivity period for sale of the drug.
The phase III trials of FSGS are our "main bet" with DXB and is our key reason for investing in DXB and calling it our biotech top pick of the year.
DXB just delivered significant progress on our "main bet" front, with the first EU regulatory approval given for DXB's kidney disease study in Denmark - earlier than expected.
We think this is a big deal because it is the first regulatory approval given for DXB's trials outside of Australia/NZ, and it effectively moves the timeframes for subsequent milestones forward by around a month.
We also note that this approval has been delivered faster than we expected, which as we all know almost never happens anywhere in small cap investing - everything usually takes LONGER than expected.
This first (and fast) approval outside of Australia/NZ significantly de-risks the entire phase III process for DXB's FSGS treatment.
We think this "earlier than expected" approval is likely because the approval submission was well constructed and positively received by the regulator, which bodes very well for all of DXB's applications in other countries being quickly approved, further speeding up the process to get to a phase III result.
In early stage biotech investing, the lead up to initial phase III trial results is where investors can expect to see positive share price action as speculators enter the stock on expectation of a positive result, similar to what we usually see in our exploration stocks prior to long awaited drill results.
Like with all our early stage investments, we invest early and wait patiently for the share price catalyst event.
The next thing we want to see from DXB is announcements of first patient recruitment (meaning they have found and recruited their first patients to test the treatment) and also regulatory approval to conduct trials in another major country (which will speed up the completion of the phase III trial and the release of the initial results).
Aside from FSGS treatment, DXB is also in advanced phase III trials to test two treatments for COVID, with results expected in the near term (this quarter) - these COVID treatments are our DXB "side bets".
With the emergence of the Omicron variant, some experts argue that therapeutics could be key to learning to live with the virus as we transition to an endemic phase. This means that treatments will become more and more important as large scale vaccination uptake wanes.
We expect initial results of DXB's phase III trials targeting COVID this quarter - We'll discuss DXB's potential role in developing Aussie-made COVID-19 therapeutics in a moment.
For a quick high-level overview of why we continue to hold DXB, key objectives for 2022, risks and our investment plan make sure to check out our DXB investment memo:
Approvals for FSGS Trial in Europe
The primary reason we invested in DXB was to see it complete its phase III clinical trials for FSGS.
We also set this as one of three primary objectives in our 2022 investment memo, which we will be using to track the progress of and evaluate the performance of all of our portfolio companies.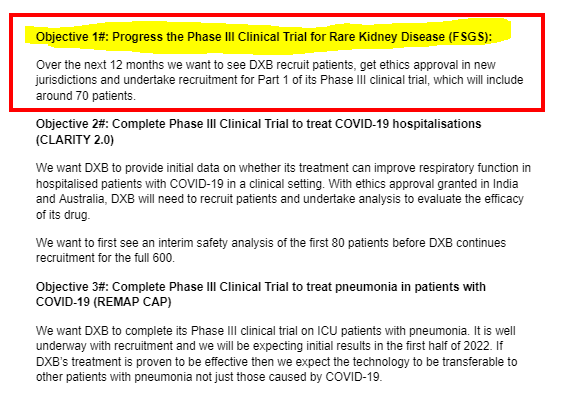 Today, DXB announced it received the first European regulatory approvals received for the Phase III FSGS study which will take place in Denmark.
These approvals mark the first Euozone entry for DXB, and paves the way for the DMX-200 drug to be given to kidney patients outside of AUS/NZ meaning that DXB's FSGS clinical trials have officially reached the world stage.
DXB also confirmed that at present they had selected 73 of the planned 75 global sites (97%) across 12 different countries to conduct part 1 of the phase III study.
Of the 75 sites globally today's approvals gives DXB access to the 15 of these sites which were planned to be in Europe, this is in addition to the 5 sites to be set up in Australia.
Today's approval is significant because it is in an entirely different jurisdiction and fastracks the recruitment process towards the ~70 patients required for the first part of the study.
After securing ethics approval in Australia in December, we expected regulatory approvals in the next major jurisdiction to take longer (especially considering the holiday period), but it appears that DXB's robust trial design and application has streamlined this process.
DXB will now be moving into that mobilisation stage with ethics approvals pending, patient recruitment, site initiation, and staff training in Denmark the next steps towards getting the trial started.
Today's news also follows up on DXB's announcement from October last year when DXB received the first ethics and regulatory approvals for the study in Australia.
Australia represents five of the ~75 global sites where DXB is planning to conduct Part 1 of the Phase 3 study and so together with the approvals in Europe, DXB is now 27% of the way towards the site initiation stage.
We like that DXB has opted to concurrently run through this process, meaning they have applied in advance for approvals in several jurisdictions including the US/UK which are pending approvals.
This means that once these approvals come in, DXB can quickly start all of the pre-trial works including site set-up, patient recruitment and data analysis.
What's Next with the Phase III FSGS Studies?
With DXB securing regulatory approval across two jurisdictions we want to see the regulatory approvals come in for other major markets like the US and the UK.
Concurrently, DXB will be setting up each site, training the staff to administer drugs and undertake the clinical trial.
Once each site is set up, patient recruitment can begin.
For an orphan disease like FSGS, recruitment can be very competitive. The rare nature of the disease makes it such that getting enough patients to conduct phase III clinical trials can make or break a project.
DXB is in a critical window for patient recruitment as there are no other global FSGS studies underway.

Once each patient is recruited it will take ~10-months to gather data and analysis on the patient's health.
We are hoping that the first 70 patients will be recruited by this time next year, with many patients well underway in the trial.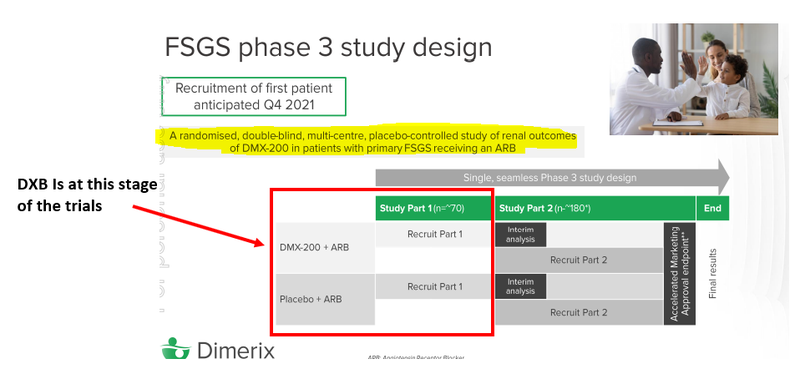 So what is the FSGS and what is DXB's trial aiming to do?
Focal Segmental Glomerulosclerosis (FSGS) is a rare kidney disease (orphan disease) characterised by inflammation and scarring of the kidney's filtration unit.
There are currently no FDA approved therapies, and the only solution for people with this debilitating kidney disease is a kidney transplant (which is very expensive and requires a long waiting-list).
There are 210,000 global sufferers of FSGS, it's estimated that 80,000 of those live in the United States with an addressable market size of over US$1 billion.
The Phase III clinical study being run by DXB is focussed on the efficacy and safety of the DMX-200 drug in patients with FSGS.
The study works by patients receiving a stable dose of an angiotensin II receptor
blocker (ARB) and after a 2-3 month dosage period of ARB patients move into using DMX-200 or placebo.
DXB's DMX-200 drug has already received "Orphan Drug Designation" in both the USA and Europe as well as the equivalent accelerated licensing pathway (ILAP) designation in the UK for the treatment of FSGS.
These basically provide DXB with accelerated regulatory approvals and other financial benefits like grants so that they can bring a new drug to market faster, at reduced fees during the development phase and with direct consultation rights with regulatory authorities.
Essentially this orphan drug status means DXB can develop the drug in the most time and cost effective manner.
Importantly it also gives DXB 7-year (US) and 10-year (Europe) market exclusivity following product approval.
These countries clearly recognise there is clear demand for treatment of FSGS and are giving DXB every pathway available to them to quickly commercialise its product - assuming the trials are successful.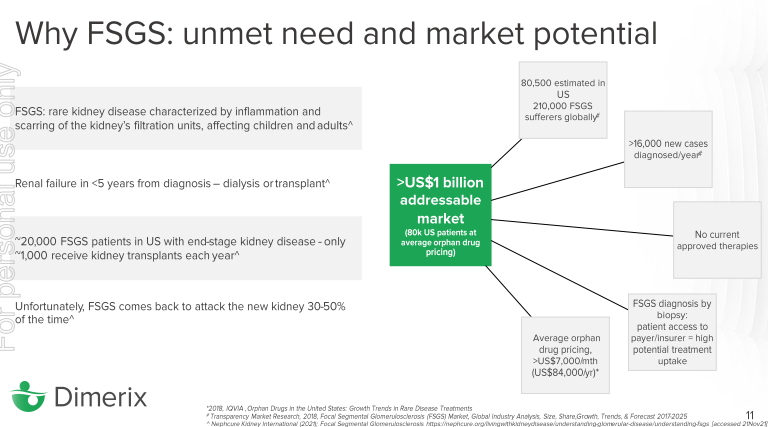 To see our deep-dive into what the FSGS trial is all about you can check-out our initiation note for DXB here.
COVID-19 "Side Bet" - Two Trials - One Pill
There's a global race on to commercialise novel therapeutics for COVID-19, as demonstrated by the emergence of the Merck and Pfizer treatments, which have already earned these companies billions in revenue.
While Pfizer is now the clearly preferred option given the questionable safety profile of Merck's solution, DXB's COVID-19 pill has what we believe is a significant window of opportunity.
That's because DXB's pill works in a different way to the Merck and Pfizer pills - these are antiviral pills that essentially scramble the virus' DNA so it struggles to replicate in the patient.
DXB's pill however, aims to prevent the damaging immune response and lung flooding regardless of the virus - making it strain agnostic.
This is a fancy way of saying that DXB's pill doesn't need to be updated to match new variants.
Simply put, DXB treats the symptoms of the virus instead of attacking the virus its self.
A quick science lesson on how DXB's treatment works
As the coronavirus enters the lung, the human immune system invites inflammatory cells to the lungs, causing a nasty feedback loop that results in scarring of the lung tissue which floods the lungs - this is why you feel so sick when you get COVID.
DXB's pill is anti-inflammatory, which means that it inhibits your own body's immune response to ensure that it doesn't go overboard and damage its own lung tissue.
While we are not infectious disease experts - the fact that DXB's pill has a different approach to managing the disease, means that it could have certain competitive advantages in the market.
What's more the pill could be useful as part of a cocktail of drugs - as in you get the vaccine, then the Pfizer pill and then if things get worse and you wind up in hospital you get DXB's pill.
In other words, if the Pfizer pill is shown to be useful at a large scale - this doesn't mean DXB's pill can't also be useful. One doesn't cancel out the other.
It could turn out that DXB's pill is more effective at different stages of the disease, and with this in mind, DXB is running two different trials targeting two different types of COVID-19 patients.
Here's a quick rundown of the two different trials DXB is running.
COVID-19 Trial 1: CLARITY 2.0
The CLARITY 2.0 Study will evaluate whether DXB's drug DMX-200 will be able to treat patients diagnosed with COVID-19 who are intended for hospital admission.
To evaluate the success, DXB's drug will be measured on a 8 point scale which is set out by the World Health Organisation, and benchmarked against the effects of the placebo in 600 COVID-19 patients in India and Australia.
Interim safety analysis of the first 80 patients to be completed soon before DXB continues recruitment for the full 600.
DXB has ethics approval for this trial in both Australia and India, with the first patient dosed earlier this year.
For this trial, DXB is looking for a statistically significant result between DMX-200 and the placebo. The primary endpoint for DXB is that the DMX-200 drug needs to be 2 points higher than the placebo on the scale.
Here is an example of the seven point scale, which has been updated to 8 points for this particular trial: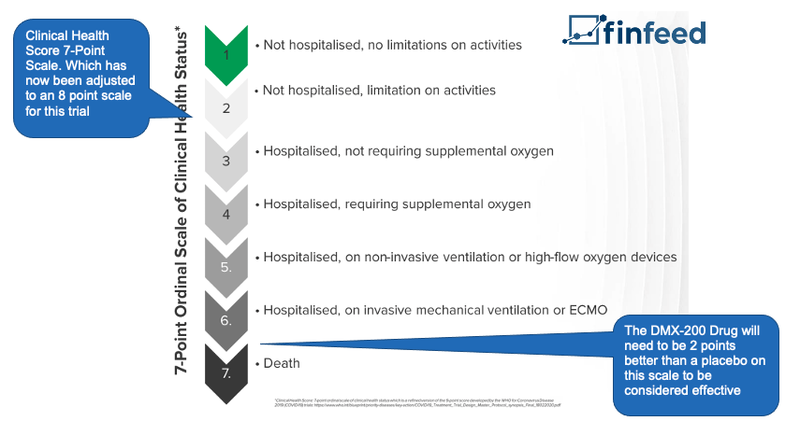 The CLARITY study is targeted at patients with hospital admissions for COVID-19, and with the Omicron variant tearing through Australia, we think that DXB is in the right place at the right time to undertake this trial.
We expect the interim analysis to be complete in the first half of this year with the full 600 patients recruited by the end of the year.
COVID-19 Trial 2: REMAP CAP
The REMAP-CAP study is an investigator-led study in patients hospitalised with moderate to severe COVID-19 pneumonia or in ICU.
This is part of a very large study in Europe looking at three different domains of COVID-19 treatment, which includes antiviral pills (like Pfizer and Merek) and anti-inflammatory pills (like DMX-200).
Importantly for DXB is that there are 740 patients recruited into the study that evaluates the effectiveness of its COVID-19 treatment.
In 2020 DXB was awarded a $1M grant by the Australian Government to participate in this study.
DXB shareholders should expect that the results from this COVID-19 "side-bet" will be released before June - a short wait for a phase III trial outcome.
Biotech results, at a Phase III level, are generally binary - the study needs to show that the drug is safe and effective at treating COVID-19 pneumonia with a certain level of statistical significance to progress towards approval and commercialisation.
As the company edges closer towards clinical trial results, we often see an active participation by traders who like to speculate on the outcome of the trial.
Whatever the results, good or bad, we'll provide comprehensive coverage and what it means for our investment in DXB going forward.
Remember, with DXB there are a number of shots on goal - with the main target being the FSGS clinical trials.
Keep that in mind when tracking DXB's involvement in the COVID-19 studies.
Our DXB Investment Memo for 2022
We've been rolling out Investment Memos across our portfolio in order to better track companies.
An "investment memo" is a short, high-level summary of why we continue to hold ONE and what we expect the company to deliver in 2022. The purpose is to record our current thinking as a benchmark to assess the company's performance against our expectations 12 months from now.
In our DXB Investment Memo you'll find:
Key objectives for DXB in 2022
Why we continue to hold DXB
Risks
Our investment plan
Click here to read the DXB Investment Memo.
Disclosure: The authors of this article and owners of Finfeed, S3 Consortium Pty Ltd, and associated entities, own 2,825,000 DXB shares at the time of writing this article. S3 Consortium Pty Ltd has been engaged by DXB to share our commentary on the progress of our investment in DXB over time.
---