DXB signs $230M Commercialisation Deal for ~20% of the global market
Disclosure: S3 Consortium Pty Ltd (the Company) and Associated Entities own 2,753,334 DXB shares and 1,278,334 DXB options at the time of publication. The Company has been engaged by DXB to share our commentary on the progress of our Investment in DXB over time.
The first in a string of deals?
Today our 2021 Biotech Pick of the Year Dimerix (ASX:DXB) announced that it has signed a commercialisation deal with Advanz Pharmaceutical for up to $230M.
The deal Includes a $10.8M cash upfront payment to $26M market cap DXB.
Advanz is a large UK-based multinational pharmaceutical company that has a particular focus on rare diseases and experience in bringing drugs to market.
DXB is at an advanced stage in the development of its drug, currently conducting Phase 3 clinical trials for FSGS (inflammation of the kidney).
DXB's interim Phase 3 trial results are expected in March 2024 - meaning this deal and upfront cash payment have been signed BEFORE DXB's Phase 3 results are out.
We think today's deal will likely make the DXB share price run up in the lead up Phase 3 trial results in March 2024 quite interesting given now there is almost guaranteed hundreds of millions of dollars at stake on a successful trial result.
There are no drugs specifically approved for FSGS.
Which makes today's news that much more remarkable - a totally open market to capture,
...and today's deal does NOT include the USA, one of the biggest markets.
A deal for the US market is still to come...
Key terms of today's DXB's deal with Advanz include:
Upfront payment of A$10.8M (payment within 30 days)
Earn up to another ~$220M in royalty payments on net sales
Exclusive partnership in Europe, UK, Canada, Australia and New Zealand
DXB retains the rights to commercialise its products in other jurisdictions (including China and the holy grail - the US).
DXB retains the rights to its other treatments (including Diabetic Kidney Disease)
We think that the ADVANZ licensed territories represent just ~20-25% of the 10 major markets FSGS population and ~7.5% of the global FSGS population - but it's hard to know for sure as the epidemiology of FSGS is tricky.
So DXB gets a precious cash injection and experienced, connected partner to distribute its treatment IF the Phase 3 trial is successful.
Interim Phase 3 trial results from DXB are expected in March 2024 - this is going to be the big result everyone is watching for.
We think today's deal also leaves plenty of future upside for DXB as this deal could encourage more potential licensing/partnership parties to come forward with their own offers for other jurisdictions.
And eventually we hope a deal for the lucrative US healthcare market materialises.
While we wait on more potential deals though - DXB's focus on selecting partners for the company's FSGS treatment has always been on how its product actually makes it into the hands of patients.
In a presentation at Bioshares earlier this year, DXB said that the ideal partner would have the "regulatory expertise in the proposed territory" and "sales/marketing infrastructure to support the indication".
We think that Advanz Pharmaceuticals provides this and more.
Advanz has a particular focus on rare diseases and experience in bringing drugs to market.
The company has commercial sales in 90 countries, through similar licensing deals like the one signed with DXB today, and direct commercial presence in 20 countries.
Advanz Pharma was a publicly traded company on the TSX, but was taken private after the Private Equity firm - Nordic Capital (~$50BN of assets under management) - purchased the company for ~US$846M in 2021.
Importantly, Advanz has the ambition to be the partner of choice for commercialisation of specialty, hospital and rare disease medicines in Europe, Australia and Canada.
This company ethos aligns perfectly with DXB's product (being an orphan drug) which we think will provide a strong launch point for more commercialisation deals.
Dimerix
DXB is currently in the thick of a Phase 3 clinical trial for FSGS.
"Interim analysis" results for the first 72 patients are due in March next year.
This is the big catalyst for DXB and will have a binary result.
This interim analysis result will be a committee that has access to the (blind) data on the trial and says, "yes keep going, DXB's treatment is working and safe" or a "no stop, it isn't working or isn't safe".
A "yes" to continue the clinical trial, significantly de-risk the project - for both investors and commercial partners.
What today's new signals is the first proper glimpse into what DXB's treatment could be worth on the market.
And importantly it was done BEFORE the data was released, with a $10.8M upfront payment.
This means DXB's new partner Advanz has reviewed DXB's data and is comfortable taking this "punt" on the outcome of the interim analysis results.
The "interim analysis" results are a big catalyst for DXB and will have a binary outcome.
We have speculated in the past about the value of DXB's product, pointing to other adjacent diseases and commercial deals - but with this deal in hand, we can establish what this could be worth if DXB is able to sell into other regions like China and the US.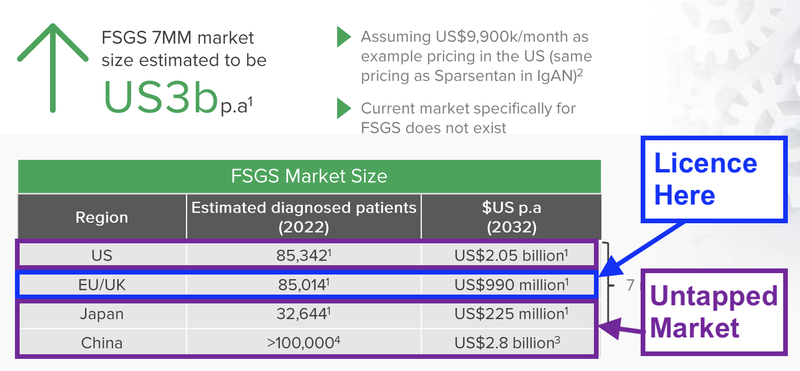 DXB licence agreement covers Europe, Canada, Australia and New Zealand.
This represents ~20-25% of the FSGS market.
DXB still had other key markets to licence its product to including China, Japan and importantly the US.
The US is the "holy grail" market for biotech stocks, in particular orphan drugs, as the drug pricing in the US (paid for by insurance companies and subsidised by governments) is high.
Earlier this another kidney treatment for an adjacent rare disease revealed pricing for its drug of US$120,000 per year per patient.
We covered this in a previous note here: What could commercialisation actually look like for DXB?
In its back pocket DXB still retains the option to licence its product for sale in the US - which could net significantly more revenue than this current deal, leaving the company open to the upside potential.
The simplest of the back of the napkin calculations for us is that DXB's deal is for up to $230M, which represents roughly 20%-25% of the FSGS market, and so 100% capture of this market would be over $1BN+.
But, we think that the opportunity could be even more than this, given the market in the US is projected to capture much of the value over the next few years: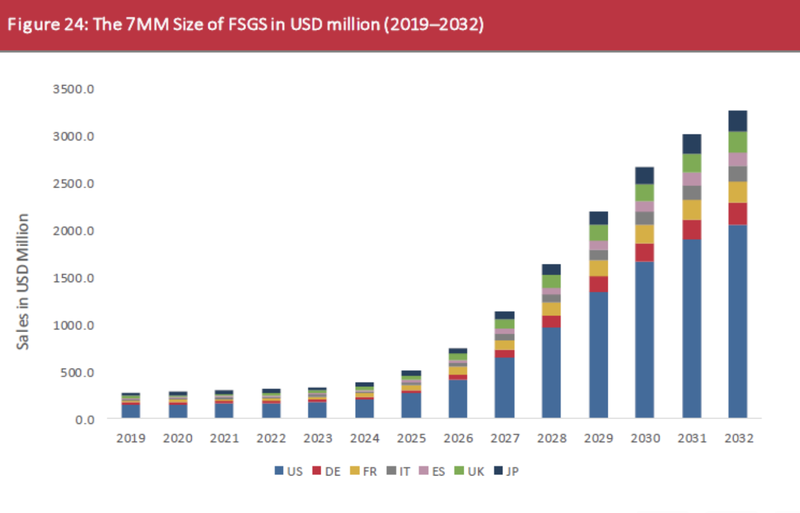 (Souce)
As of June 30, DXB has 133 patients who have entered the screening and/or stabilisation process, while 72 patients have been randomised to receive the drug or placebo.
This means that DXB is on track to announce the interim analysis results for the trial in March next year.
Clinical trials are expensive, and early stage biotech companies need cash to ensure that they can get to data results that underpin the value of the company.
In June DXB raised $8.7M through an entitlement offer and convertible note facility (we participated in this raise).
As of June 30 DXB had ~$8M plus another $6M in R&D rebate received in August.
With the $10.8M in upfront cash from this deal, we estimate that DXB has a cash balance of ~$21M (accounting for ~$4M quarterly spend as the ongoing cost of the clinical trial, based on past quarters).
This gives DXB an implied EV of just $6.5M.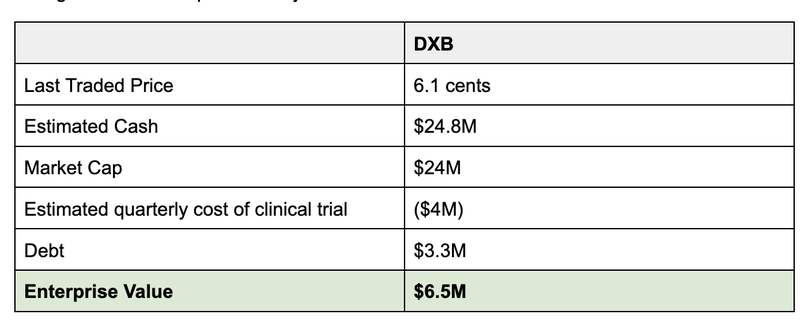 Now it's important to note that the estimated cash balance is hard to predict during a clinical trial and we will get a better idea of DXB's cash position at the end of the month.
But for now, with a commercial deal in hand, and six months away from interim trial results, we think that DXB is in a strong position to deliver on our big bet:
Our DXB Big Bet
"DXB re-rates 10x by successfully commercialising its drug through Phase-III clinical trials"
NOTE: our "Big Bet" is what we HOPE the ultimate success scenario looks like for this particular Investment over the long term (3+ years). There is a lot of work to be done, many risks involved - just some of which we list in our DXB Investment Memo. Success will require a significant amount of luck. There is no guarantee that our Big Bet will ever come true.
Dimerix
How does this commercialisation deal stack up?
There have been a number of big deals in the kidney space in the past 18 months.
In particular the US$3.5B Chinook acquisition by Novartis for a suite of adjacent rare kidney disease treatments: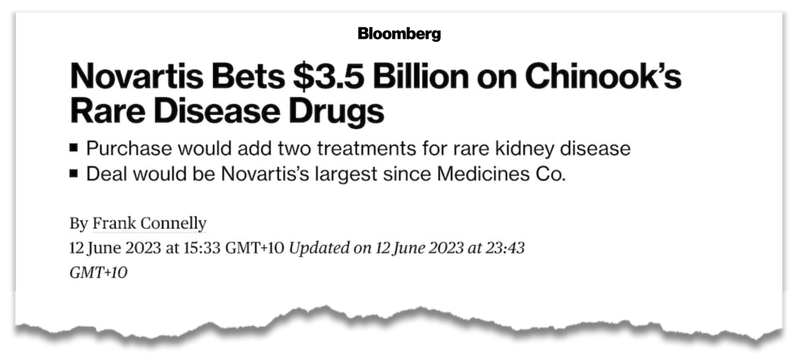 We covered this deal in detail in our last DXB note: US$3.5BN kidney deal puts DXB's current valuation in perspective.
This is where DXB's deal sits on the scale of other deals done in the kidney space over the last two years.
Noting that the darker grey circles represent "regional deals", rather than global deals, meaning that there is more value to come.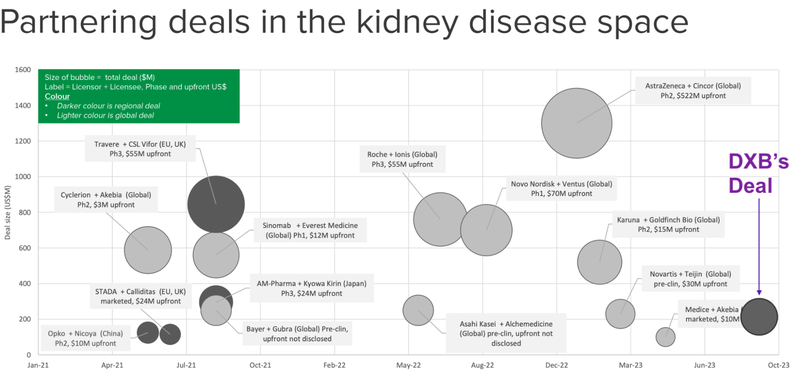 The leading ASX-company in the orphan drug space is Neuren Pharmaceuticals (ASX: NEU), who has a treatment for the orphan disease Rett Syndrome.
In the space of three years, Neuren completed its Phase 3 clinical study and secured FDA approval to commercialise the treatment.
As a result the company's share price grew 1,300% (from ~$100M market cap to $1.4BN market cap) making it one of the biggest biotech success stories on the ASX.
This is the company that DXB (and other small cap biotechs) are aspiring to be, so let's see how it stacks up.

Where the two strategies shifted is that DXB first went after "region" licence agreements, whereas Neuren went directly for the US market.
What this shows is the upside potential still for DXB to licence into the US market.
We think that DXB's deal paves the way for more deals to come, particularly in the US and China - which we expect to trickle through after data outcomes are announced and the science de-risked.
Where is DXB's FSGS trial at?
As of June 30, DXB has 133 patients who have entered the screening and/or stabilisation process, while 72 patients have been randomised to receive the drug or placebo.
The company has earmarked the 15th of March as the date when the Data Safety Monitoring Board will announce whether there is enough evidence to continue the trial.

This is the first of the patient outcomes for this Phase 3 clinical trial and an important milestone for the company.
The company continues to recruit, announcing approval for the clinical trial in China (which has over 100,000 patients who suffer from FSGS) and Malaysia since our last note.
Sites will be set up in these regions for part 2 of the study.
The strategy here is clear, with commercial deals for the EU, UK and Australia locked away, DXB will focus next on Asia and the lucrative US markets.
What's next for DXB
🔄 Completion of recruitment (144 patients)
We're looking for additional patient recruitment updates on the 144 patients DXB needs to complete Part 2 of the trial which could unlock accelerated marketing approval. The latest update has placed the number at 116 enrolled patients as of 28 April 2023.
🔄 The big catalyst: interim analysis results (Part 1 data outcome)
The results in the interim analysis will come via the independent Data Safety Monitoring Board (DSMB) which will essentially determine if the trial should continue through to the final endpoint, as it has access to unblinded data from the trial.
The DSMB decision will be binary and a positive result we think would be a proxy for determining the efficacy of DXB's treatment - i.e. if it's getting results along a key metric for kidney function improvement then the DSMB will recommend the trial continue.
This is a binary result for DXB and as such we only have a bull and a bear case:
Bull Case: Enough evidence to continue the trial
Bear Case: Trial paused or stopped
🔲US Licencing Deal
With the regional deals signed with across Europe, UK, Australia, New Zealand and Canada we want to see DXB sign a licensing deal for the US
🔲Licencing deal for other markets
We will be on the lookout as well for licensing deals in other key markets. In particular Japan and China, where we think DXB will be in a stronger negotiating position once the data is announced and clinical trials commence in China (for part 2 of the study).
Key risks for DXB
With funding now secured via the $10.8M upfront component of today's deal, the key risk hanging over DXB's head is just the "Clinical Trial Outcome" risk...
If DXB fails in its clinical trial, it would be a significant setback for the company and our Investment.
Additionally, commercialisation risk has been mitigated to a degree as well - but it is possible that more deals may not eventuate.
Our DXB Investment Memo
In our DXB Investment Memo you'll find:
Key objectives for DXB
Why we Invested in DXB
What the key risks to our Investment Thesis are
Our Investment plan
Key resources for this article:
---