Pre-result build up? The "big catalyst" in 2023
Disclosure: The authors of this article and owners of Next Investors, S3 Consortium Pty Ltd, and associated entities, own 2,825,000 DXB shares and 625,000 DXB Options at the time of publication. S3 Consortium Pty Ltd has been engaged by DXB to share our commentary and opinion on the progress of our Investment in DXB over time.
Five treatments.
Five clinical trials.
Two results to be released shortly.
Two of these trials are early stage, but are now in the pipeline and have huge addressable markets (US$18BN and US$2.5BN).
And what we see as the most important trial has a crucial interim analysis slated for the first half of next year.
As an analogy, this announcement has the same importance for an early stage biotech as a major oil & gas drill result has for an explorer.
Our biotech Investment and 2021 Biotech Pick of the Year, Dimerix (ASX:DXB), has been busy this year working towards its all important Phase 3 trial and first interim results.
After our initial entry at 20c in August 2021, our Investment in DXB is currently sitting below that price at 14.5 cents.
While we like it when our Picks of the Year come out of the blocks fast, sometimes it can take a while for the company to execute its business plan and deliver enough progress for a share price re-rate.
We remain long term DXB holders - and are pleased with the progress made towards the main "bet" as well as the two additional treatments for COVID (our side-bets).
For early stage investors like us, Phase 3 trials in a biotech are like an oil & gas drilling event - it takes a long time and a lot of preparation, with the results being the big event that can cause a share price spike, upwards or downwards.
Much like our investment plan for an exploratory oil & gas well, we have Invested early and are patiently waiting as the company prepares the Phase 3 trials and patient recruitment.
We anticipate the share price will rise in the lead up to the results on speculation of a positive outcome.
Phase 3 trial interim results are expected in the first half of next year.
Since we Invested, DXB has made significant progress on its Phase 3 trials. We are tracking the progress the company has made in our DXB Progress Tracker.
Click below for our summary of the progress that has already been made by DXB since we first Invested.
You will see all the prepwork it takes to deliver a Phase 3 trial result, and how much DXB has achieved to date: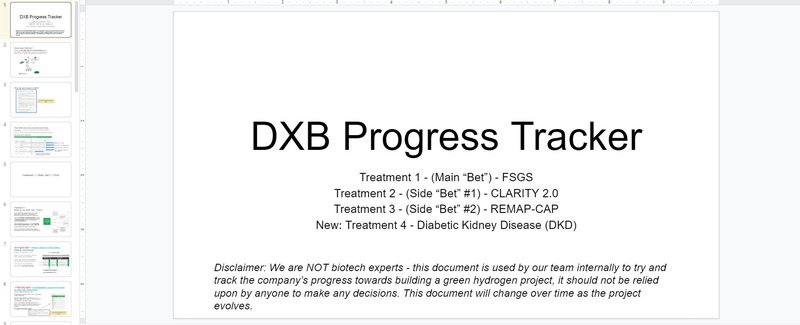 Our main "bet" with DXB is the Focal Segmental Glomerulosclerosis (FSGS - a rare kidney disease) trial - still scheduled to deliver its interim analysis in H1 2023.
A rare disease like FSGS is designated an "orphan" disease and governments provide special incentives and fast tracked approvals to discover cures or treatments.
The market size for FSGS specifically is in excess of $1 billion - and with fast tracked approvals, this could see DXB launch to market in a much shorter time frame than for a mass market offering (assuming a positive Phase 3 trial result).
On a successful Phase 3 trial, the big exit for DXB investors would be a takeover by a larger pharmaceutical company with established distribution channels - a typical pathway for a small biotech with a successful Phase 3 result.
Click here to read our full original Investment thesis in our DXB Investment memo.
Right now we are watching for progress on the FSGS trial, in particular, an update on patient recruitment numbers.
We are also following two "side-bets" around treatments for COVID of different severities. However these are secondary priorities for us given that COVID has waned over the last six months.
If we wanted to get philosophical about these COVID side "bets"... we'd rather live in a world where COVID is less of an issue than see these non-core aspects of our DXB Investment do well because the world is still in "pandemic crisis mode".
But with little visibility on the ongoing impact of COVID on health systems, we just don't know how the market will react to positive news on this front.
Yet these "side-bet" results could produce some hidden upside for DXB and lend credibility to its treatment portfolio.
We also cover the progress made to date on DXB's COVID treatments in our DXB Progress Tracker.
While the timeline for our main "bet" remains on track, DXB was caught up in the broad biotech sell-off as the market shifted into commodities and more "risk off" assets over the last eight months.
Our plan is to hold the majority of our position in DXB into the FSGS interim analysis result, with a plan to partially de-risk at a higher share price in the lead up to results in 2023.
Some new side-bets?
DXB is also progressing on two other treatments it is working on for diabetic kidney disease and chronic obstructive pulmonary disease.
These are diseases with big addressable markets worth billions.
While our focus is firmly on the FSGS trial - it's nice to have these side-bets in the back pocket.
For example with our Investment in GAL it was actually a positive result on a "side-bet" that delivered the near 1,000% price spike PLUS we still have the main bet in play.
Today we'll summarise our main learnings from DXB's progress to date, and provide a rundown on the latest news on these two other treatments, what's next and key risks for our DXB Investment.
What we learned from our review of DXB's progress
We're always looking to improve our Investment methodology and we're finding the new Progress Trackers very helpful for understanding the chronology of events behind our Investments and how the different parts of a business strategy fit together.
Having looked at DXB's progress to date since we Invested, here are our learnings:
Clinical trials are complex because of human variables - patient recruitment risks can manifest if the disease landscape changes. DXB ran into roadblocks with its COVID side "bets" because of this. We think we were justified in placing our focus on the FSGS main "bet" due to the fact that it's a chronic disease as opposed to an infectious one.
Biotech investments can throw up new and unexpected opportunities - scientific research doesn't proceed in a predictable linear fashion. As a result, we've seen DXB make new strides on diseases that weren't part of our initial Investment Thesis. For example, the diabetic kidney disease and chronic obstructive pulmonary disease opportunities (Treatments 4 and 5 in Progress Tracker).
Phase 3 trials can cost a lot - (see risks section below). While data on kidney specific Phase 3 trials is hard to find, we have now extrapolated from previous studies to get a better understanding of DXB's potential cash outflows and highlighted this as a risk.
Regulatory approval in multiple jurisdictions is important for rare diseases - much of the DXB newsflow around regulatory approval proved essential for getting the FSGS trial up and running. While the market didn't attach much value to these approvals due to the biotech sell off and general market malaise, we think they progressively de-risked DXB's Phase 3 study and the company did a lot of good work on this front.
Connections with government and research organisations are also really important - as we saw with DXB's partnership with the Australian Centre for Accelerating Diabetes Innovation (ACADI), having a helping hand with setting up trials is always good. We note that with the ACADI partnership, ACADI director Professor Elif Ekinci, was an investigator on the Phase 2 clinical trial run by DXB in 2020. Professor Ekinci's pedigree as a researcher in the diabetes space is profound but DXB's link to Professor Ekinci is unsubstitutable. Human variables in biotech research can be positive as well.
On learning #2 in this list we've got more to say on that.
What else is DXB working on? Two treatments, in big markets
DXB's Phase 3 trials for FSGS treatment is our main bet for our Investment with DXB.
Over the course of our Investment in DXB, the company has identified two possible new treatments for diabetic kidney disease (DKD) and chronic obstructive pulmonary disease (COPD) - a disease closely linked to smoking and air pollution.
In our last note on DXB we ran through the specifics of that potential trial in partnership with the Australian Centre for Accelerating Diabetes Innovation (ACADI).
The addressable market for DXB here is US$2.5BN. While that may sound small - DKD is a growing problem and governments and research organisations are making it a top priority.
Diabetes rates are steadily rising and 12 million individuals in the U.S. alone have some form of diabetic kidney disease (DKD).
So today we want to focus on the COPD treatment which has a much, much larger addressable market.
The global COPD treatment market was valued at almost US$18 billion in 2021 and is projected to grow at a Compound Annual Growth Rate (CAGR) of 7.28% to reach US$27 billion by 2027.
Two of the more prominent COPD diseases are bronchitis and emphysema.
The trial was on mice, and demonstrated a statistically significant 80% reduction versus control in induced lung injury: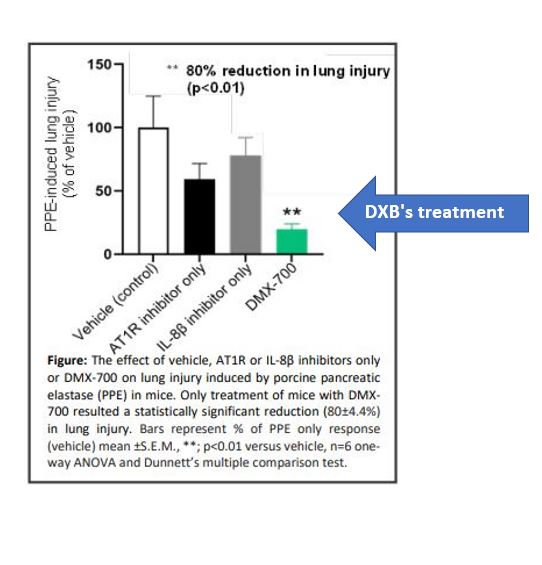 We think this points to there being enough evidence to support a Phase 1 clinical trial in humans, something which DXB is now pursuing.
This initial clinical study is expected to commence in H1 2023.
So given what we know about this trial and the other irons DXB has in the fire - we think there are four main things to look out for in the coming months.
What's next for DXB?
As per our DXB Progress Tracker, here are the four things we're most looking for from DXB:
Patient recruitment update Treatment 1 - FSGS
Results from Treatments 2,3 - COVID
Finalisation of study protocol for Treatment 4 - DKD
Further progress towards a trial for Treatment 5 - COPD
Key risks
We've highlighted the follow two key risks as we think these are the most relevant to DXB's progress right now: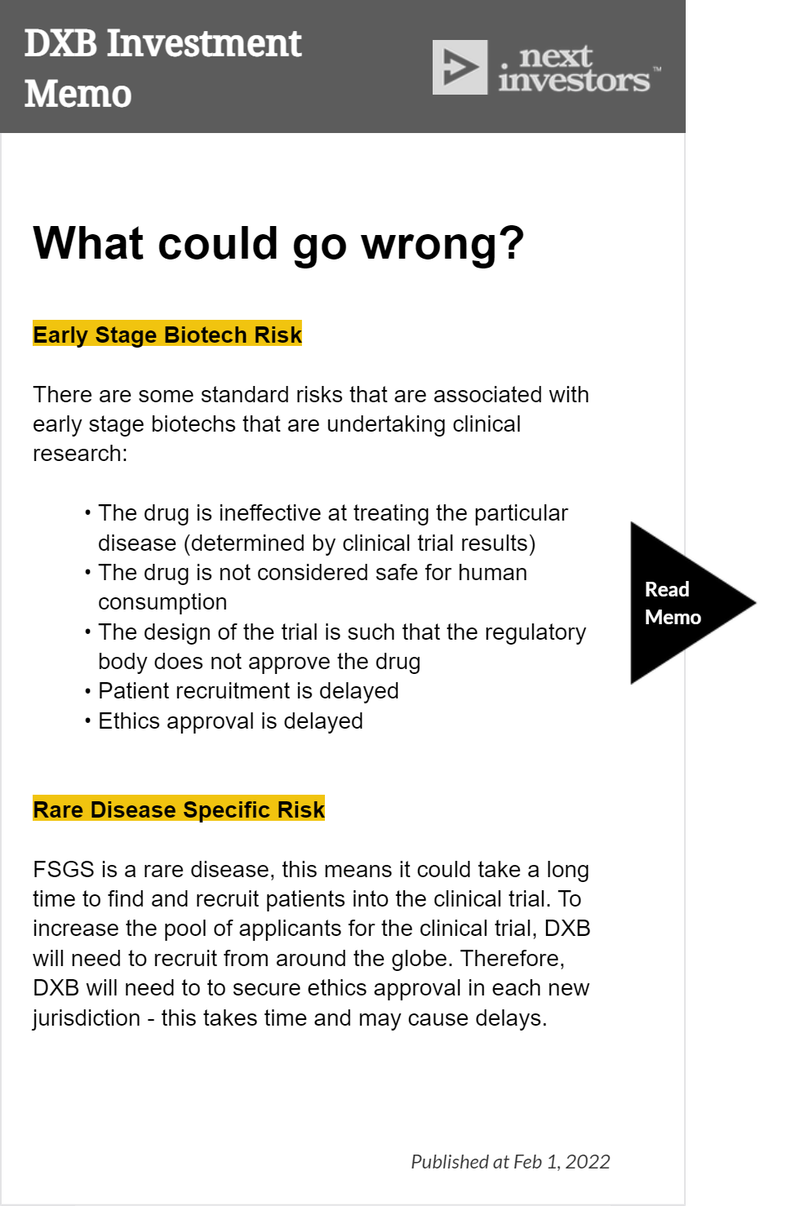 The first bullet point under Early Stage Biotech Risk is particularly relevant - both the COVID side "bets" may prove ineffective when results are released. While the FSGS trial interim analysis may also prove ineffective.
Meanwhile, as FSGS is a rare disease - so we're still waiting on a further patient recruitment update.
You can't force people to enrol in a clinical trial and the various incentives that biotech companies like DXB can offer for clinical trial participation vary by jurisdiction. As a result, recruitment could be lumpy and/or slow.
Funding risk - the June quarter $7.2M cash outflow seemed like a lot when it came to trial start up costs, we're hopeful that outflows come down quickly in the next reporting period.
We note that one frequently cited study on clinical trial costs (Moore et al., 2018) finds that the average cost of a Phase 3 trial in the US was US$20M ($29M) (source).
So there may be a funding risk over the medium term, given how expensive Phase 3 trials are to run.
On a positive note, early stage biotechs can claim up to 43.5% of research and development spend back through government grants.
DXB received $3.7M in March of this year via this R&D Tax Incentive Rebate scheme.
DXB has also put in a LOT of legwork to get to this stage in proceedings, with 75 clinical trial sites to get up and running in 12 countries (cash balance at 31 June was $9.6M).
That's no small feat and as of DXB's latest June quarterly - 60% of trial sites were open and actively recruiting patients to the study, with the remaining sites to be ready in the next 4-6 weeks after the release of the quarterly.
So in that context, we think DXB's cash outflow last quarter could be considered acceptable - especially considering start-up costs make up the largest cost component of this type of trial.
As a result, we think that DXB's cash outflow should be starting to taper, and we expect all or the vast majority of sites to now be open and actively recruiting.
DXB also said that as of that quarterly, the company had 11 patients recruited - 72 is the cohort number required for the first interim trial results.
As per our Progress Tracker - we're looking for a further patient recruitment update.
Our DXB Investment Memo
In our DXB Investment Memo you'll find:
Key objectives for DXB in 2022
Why we invested in DXB
What the key risks to our investment thesis are
Our investment plan

Disclosure: The authors of this article and owners of Next Investors, S3 Consortium Pty Ltd, and associated entities, own 2,825,000 DXB shares and 625,000 DXB Options at the time of publication. S3 Consortium Pty Ltd has been engaged by DXB to share our commentary and opinion on the progress of our Investment in DXB over time.
---