Potential new use of DXB's drug in US$2.5 Billion market
Disclosure: The authors of this article and owners of Next Investors, S3 Consortium Pty Ltd, and associated entities, own 2,825,000 DXB shares and 625,000 DXB Options at the time of publication. S3 Consortium Pty Ltd has been engaged by DXB to share our commentary and opinion on the progress of our Investment in DXB over time.
We like when a stock surprises us with a new positive announcement outside of our expectations.
Especially when that announcement has the potential to add significant value to the company and is complementary to the existing business plan.
This is what happened yesterday when our 2021 Biotech Pick of the Year, Dimerix (ASX:DXB), announced that it has entered into an agreement with the Australian Centre for Accelerating Diabetes Innovation (ACADI) to commence a clinical trial on diabetic kidney disease (expected to commence Q4 this year).
The trial is an extension of DXB's existing DMX-200 treatment to a new disease, but still focussed on the kidney - DXB's main area of expertise.
This is significant in our opinion because it adds another string to DXB's bow - essentially another major trial or "Main Bet" as it is targeting a US$2.49 billion market.
We've decided to update our DXB memo accordingly: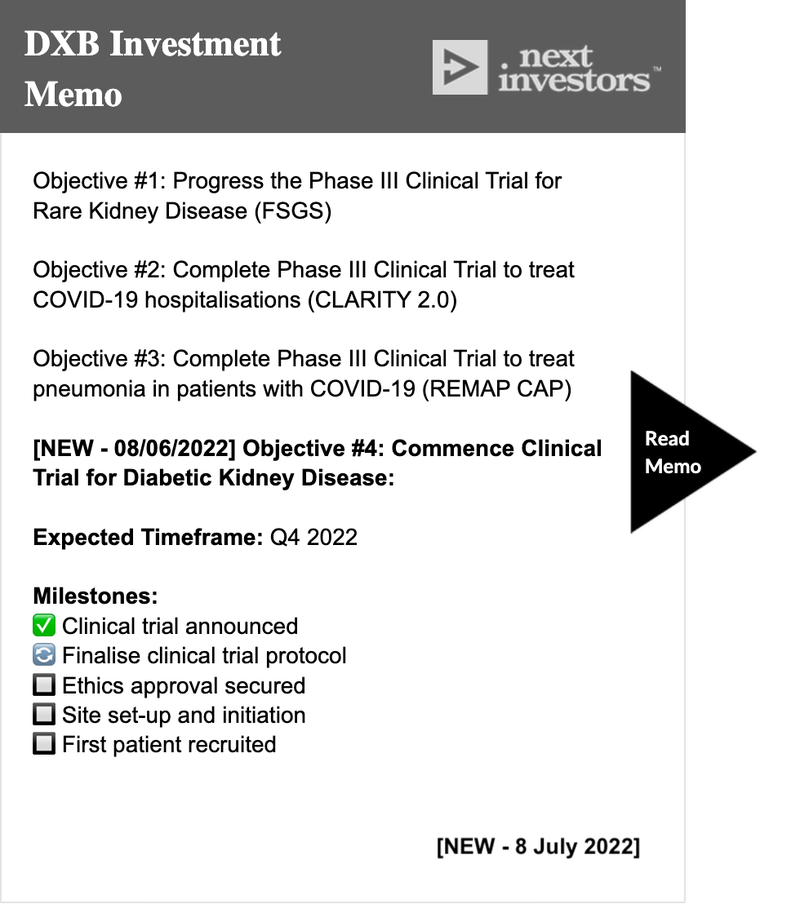 We didn't make DXB our 2021 Biotech Pick of the Year lightly - and we Invested in DXB last year for its fully funded Phase 3 clinical trial on FSGS (a rare kidney disease).
Last week DXB made significant progress in its FSGS trial - recruiting its first patient, and DXB is now actively recruiting in 12 jurisdictions globally.
We expect DXB to have interim trial results for FSGS mid-way through 2023, with progress on patient recruitment to keep investors informed.
BUT, the trial after FSGS, DXB has also announced that it will pursue this new clinical trial for Diabetic Kidney Disease (DKD).
The market for treatment of DKD is estimated to be worth US$2.49 billion in 2021 and will grow to US$3.34 billion by 2028 as demographics change.
As the main sponsor of the trial, DXB will have control and oversight on timelines and milestones.
Again, DXB expects the trial to commence in Q4 this year and it will be a long trial - some 12-24 months long. Like with FSGS, the trial will have an interim analysis point - we'll know more about the timing of this as the trial protocol is finalised.
This new and second "Main Bet" is a big shiny goal in the distance, but we like the trial and it is important enough for us to add a new "Objective" to our DXB Investment Memo.
An explainer on what triggers an addition, revision or reset of our Investment Memo's can be found here.
Here's why this new trial is important to the DXB's future prospects.
A third of people with diabetes develop DKD, the leading cause of end-stage kidney disease requiring dialysis or kidney transplant and a major risk factor for cardiovascular disease and premature death.
The number of people with diabetes around the world has been rapidly rising over the past six decades and the disease has a serious impact on kidney function.
Throw in the fact that in the US a kidney transplant costs around US$442K, and DKD looms as a major and persistent problem for health systems.
DXB's announcement notes that, "the current treatment options include medications to reduce high blood pressure or glucose content in the blood, dialysis or kidney transplant."
We think these treatment options are largely band-aids papering over the cracks.
DXB's treatment may be able to provide an intervention that nips the deterioration of the kidney in the bud.
Now, long term DXB followers may ask the question: didn't DXB already have a DKD trial back in 2020?
That's true - this was before we Invested.
The lead up to those trial results caused a significant share price spike, only for DXB to come crashing down from a high of around ~75 cents to a low of 25 cents in the space of a week.
Despite a number of positive metrics, the killer words that triggered that downwards move were:
"No significant difference between treatment with DMX-200 and placebo across full patient cohort."
But we've reason to believe that this time may be different.
This is because that Phase 2 clinical trial took place over a truncated timeframe and used a small cohort - just 12 weeks on DXB's treatment and only 40 patients.
This new DKD trial announced yesterday will be anywhere from 12-24 months long and should provide a definitive follow up to the 2020 DKD trial.
According to DXB CEO Dr Nina Webster, in that original trial the protein levels in the urine (a marker of kidney dysfunction) appeared to be trending downwards.
However, the 12 week timeframe may not have been enough to evaluate whether DXB's treatment was effective to a statistically significant degree compared to a placebo.
We hope that the 12-24 month trial will uncover this.
We'll be watching for more information on how this trial is structured, and we're confident this time we'll get a clear answer on whether DXB's treatment works for DKD.
How will the DKD trial be funded?
DKD is in the crosshairs of the Australian Government, with DXB's new partner, ACADI, recently secured $23.3M in funding from both the Federal Government and in-kind contributions to boost diabetes research.
We're hoping some of that funding flows through to this DXB trial.

ACADI is an organisation made up of the "who's who" of the biotech community in Australia.
With major research institutions, large biotech funds and hospitals all aligned to the same goal - we think that DXB will have significant support to progress its clinical trial.
DXB did not outline the funding breakdown for this trial, although reading between the lines, we expect ACADI to contribute to some of the cost of the trial.
Beyond the funding potential, we think that ACADI can help with approvals, site set-up, recruitment and eventual partnership for further research and commercialisation of DXB's treatment.
As this development is new and unexpected, we have made an addition to our DXB Investment Memo, with Objective #4 "Commence Clinical Trial for Diabetic Kidney Disease":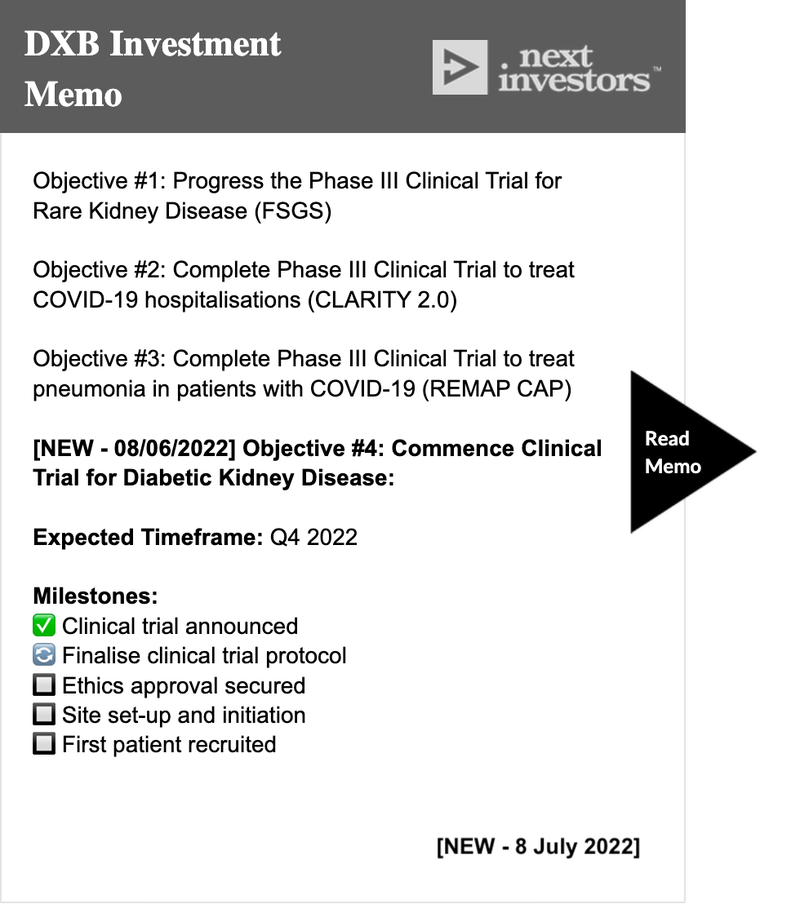 We do not expect this trial to distract from DXB's FSGS trial, and if anything, this trial could enhance investor sentiment given that DXB will have more 'shots on goal' with its DMX-200 treatment.
What do we know so far about the trial?
As before, in 2020 DXB ran a 12-week Phase 2 clinical study on its treatment for diabetic kidney disease.
In that trial, DXB did not meet the primary endpoint, however protein levels in the urine continued to trend down at the end of the 12-week trial period.
Protein in the urine is a key symptom of DKD.
This development warranted further investigation in a longer trial, and we hope that a 12-24 month trial will better uncover whether DXB's treatment is effective.
The next phase for DXB will be to finalise the clinical trial protocol.
This is a technical document that describes the objectives, design, methodology and statistical considerations for the trial as well as the rationale behind the study and ethical considerations.
Once complete, we expect DXB to submit this document for ethics approval and once granted, the trial will officially 'commence'.
That's expected to happen in Q4 this year.
DXB currently has ~$16.8M cash at bank as at 30 March 2022, which renders it fully funded for its currently active FSGS Phase III clinical trial.
Again, it is unclear yet how DXB will fund this DKD trial, however its partner ACADI has recently secured $23.3M in funding from the Australian Government and external partners, so we expect some of this money to go towards funding this trial.
We hope to get more clarity on the clinical trial funding and technical aspects when the trial protocol is complete.
Who is DXB's partner ACADI?
The Australian Centre for Accelerating Diabetes Innovation, better known as ACADI, was set up by the Medical Research Future Fund to deliver novel interventions for timely diagnosis, prevention and treatment of diabetes and its complications.
That's a bit of a mouthful, basically it's a not-for-profit organisation supporting diabetes research.
The centre has over 70 different partners including major universities, foundations, hospitals and large pharmaceutical companies like CSL and Blackmores.
The purpose of an organisation like ACADI is to align a large group of disparate organisations towards the same goal - deliver timely diagnosis prevention and treatment for diabetes.
The support of an organisation like ACADI helps DXB mitigate risks like funding, approvals and partnerships - as these organisations have committed to prioritise diabetes prevention.
ACADI is led by Professor Elif Ekinci, an investigator on the Phase 2 clinical trial run by DXB in 2020.
The fact that Professor Elif is backing DXB's DKD trial is a sign to us that she sees merit in the treatment and the longer trial duration.
Her pedigree as a researcher in the diabetes space is profound, with 176 peer reviewed publications, and multiple awards including the Australian Diabetes Society Ranji and Amara Wikramanayake Clinical Diabetes Research Award.
We think that DXB will benefit from having such an experienced person available for support.
Bottom line is that when we factor in the partnership, who's behind the partnership and the large addressable market for the treatment, we think this trial could add significant value to our current DXB holdings by giving investors something else to look forward to in addition to the interim analysis for the Phase 3 FSGS clinical trial.
Key risks
As with any clinical trial, DXB will have to address a range of risks specific to biotechs.
These include funding, finding and recruiting a sufficient number of patients, the safety and effectiveness of the treatment, and competition in the market during a potential commercialisation phase.
While we expect DXB's treatment to be found safe as it was in the 2020 trial, it still needs to demonstrate that it is effective by a statistically significant difference to placebo at treating DKD.
This is the biggest risk that we see for DXB as the 2020 clinical study did not reach this conclusion.
However, with the extended clinical trial (12-24 months) we expect this risk to be mitigated.
We've highlighted the risks we think are most pertinent to this new DKD trial in our Investment Memo below: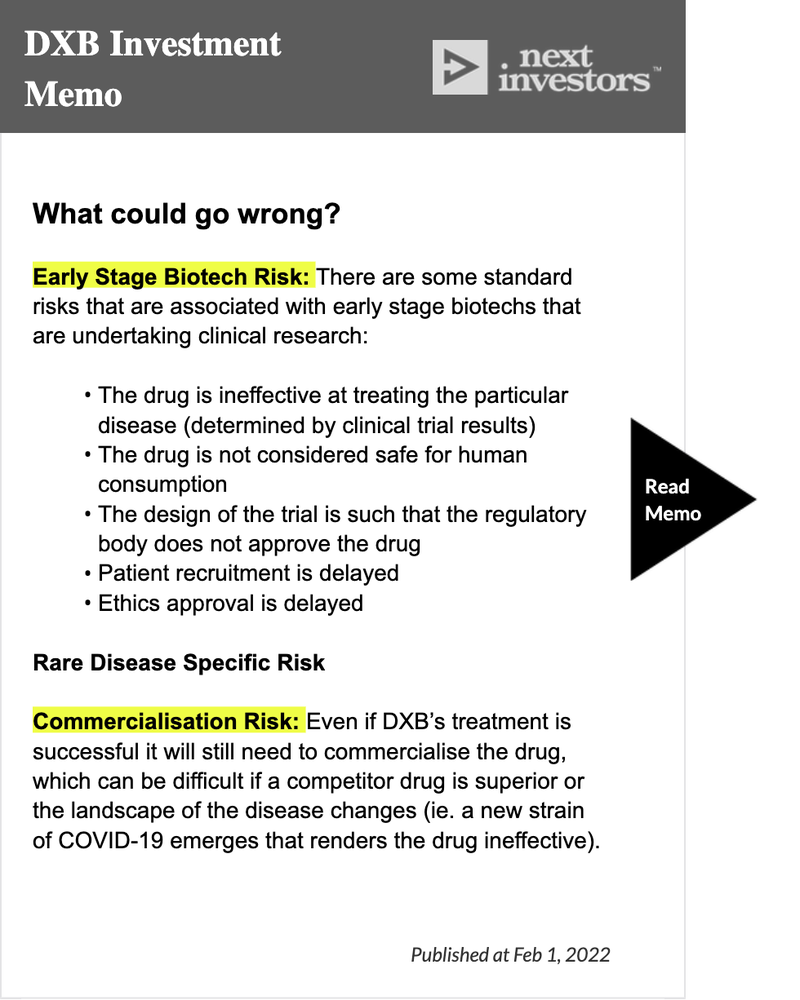 Our Updated DXB Investment Memo
In our updated DXB Investment Memo you'll find:
Key objectives for DXB in 2022
Why we invested in DXB
What the key risks to our investment thesis are
Our investment plan

---