TTM was sitting on prime Ecuador gold assets before they were cool
Disclosure: The authors of this article and owners of Next Investors, S3 Consortium Pty Ltd, and associated entities, own 4,249,250 TTM shares at the time of publication. S3 Consortium Pty Ltd has been engaged by TTM to share our commentary and opinion on the progress of our investment in TTM over time.
Gold is now sitting just above resistance at the important US$1900/oz mark.
This traditional safe haven asset is increasingly attractive in uncertain times such as these, and we're bullish on the gold companies in our portfolio.
In this macro context, we note that our gold investment Titan Minerals (ASX:TTM), is sitting on several very valuable properties within one of the most sought-after mineral hotspots in the world of late - a place where several major gold companies have flocked to in recent years - Ecuador.
TTM currently has four drill rigs furiously working on their main project, Dynasty, in order to re-classify its existing 2.1 Million ounces (Moz) gold deposit into a JORC resource, and make it even bigger.
A JORC resource is the Australian resource classification that investors and experts trust and accept.
Four rigs translates into plenty of drill results, which translates to plenty of newsflow ahead - as seen in this week's announcement - more on that later.
We have been investors in TTM since July 2020.
After following the story since then, we think the TTM of 2022 is a different beast to the TTM of 2021.
Management has spent the better part of last year cleaning up and restructuring its business, assembling a super-team and putting them behind the wheel, and then securing plenty of funds to execute their vision.
As of 31st December 2021, TTM held ~ $A24M in cash, receivables and liquid assets which can fund its aggressive exploration programme.
We increased our holdings late last year because of TTM's potential to unlock its premier gold and copper tenement package in the 'now open for business' Ecuador in South America.
A change to more mining friendly politics and legislation has transformed the nation into a much more attractive mining destination.
The 'who's who' of majors have a foothold here (BHP, Fortescue, Anglo American, Hancock Prospecting, CODELCO and Newcrest...), whilst there are others looking for a way in.
On this, consider the comments from the head of BHP last year: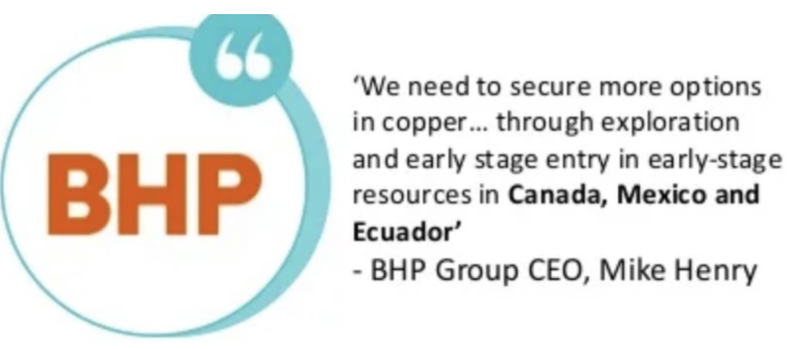 TTM's prime real estate and prospects in this hotspot is the biggest reason we continue to hold this explorer into 2022.
As early movers into the nation, TTM (through its predecessor) was able to cherry pick several highly prospective projects well before the recent land grab eventuated - something that would be near impossible to replicate today, given the current demand for quality Ecuadorian projects.
Our belief is that with some exploration success and project development, TTM's assets could well draw interest from bigger companies that either want to gain a foothold in this hotspot, or else expand their current position.
So, we believe that TTM now has its ducks in a row, so to speak, in terms of backing quality projects with a quality team to unlock the potential. We're keen to see how these projects progress in the year ahead.
Of note, Dynasty shares a fence with Sunstone Metals' Alba gold project. Like TTM, Sunstone is also fully focussed on copper and gold projects in Ecuador - but what has set the market ablaze for Sunstone (which has grown over five-fold in 2021) has been its Bramaderos El Parmar Copper discovery, as well as the high-grade gold encountered at Alba. More on both of these later.
Yesterday, TTM announced another 30 diamond drill results from their main project.
Most of the holes intercepted gold, boding well for what we have as the key objective we want to see TTM achieve this year.
Dynasty already hosts a pretty substantial (ie 2.1Moz) gold resource - so we know the gold is there. However, it is not JORC standard - hence the current drilling.
We are expecting big things from TTM - here is our investment memo for 2022 covering:
Key objectives we want to see TTM deliver in 2022
Why we continue to hold TTM
The key risks
Our investment plan
[READ THE INVESTMENT MEMO HERE]
So today we will take a closer look at the key reasons we continue to hold our investment in TTM, what our expectations for the company are this year, and a case study of what "getting it right" looks like.
As we mentioned earlier, our biggest reason for holding TTM is that it has its hands on what we consider a quality stable of gold/copper assets in an explorer's wonderland, where the majors are currently jockeying for position.
The new Eden - Ecuador becoming a miner's paradise
Located on the Pacific coast of South America, Ecuador borders the mining nations of Peru on its southern and eastern borders, and Colombia to the north.
Geologically, it is situated on the northern end of the Andean copper belt, home to some of the world's biggest copper/gold deposits - consider Peru and Chile provide roughly a third of all global copper output today. This region is indeed the copper capital of the globe today.
Despite the favourable geological neighbourhood, it is only over the past decade that the geo-political situation has followed suit, leading to Ecuador coming on the radar for many big miners - this followed a sustained (almost two decade period) of unfavourable fiscal environment, co-existing with broadly anti-mining local sentiment through to the early 2010s.
This changed in 2013 with then President Correa tabelled new mining legislation supportive of the industry, and attracting foreign investment into the nation.
The investment friendly Mining Code was formalised in 2015 and continues to sustain great impact for domestic exploration and mining, leading to a significant increase in both.
With successive government administrations also continuing the favourable 'responsible mining' stance, this has created stable conditions, providing confidence for resource companies to add value to their assets in Ecuador with little fear of the rules changing suddenly.
Indeed, elections were held in Ecuador early last year and the new President Lasso has signalled his desire to promote Ecuador as a mining destination of choice: "In the medium term, Ecuador could turn into a major mineral exporting country, such as Peru and Chile".
This is not to say that the country's risk is now non-existent... but there certainly is confidence to invest that was not present 15 years ago - Lasso's recent election as a pro-business president can be seen in how the financial markets responded to his appointment last year.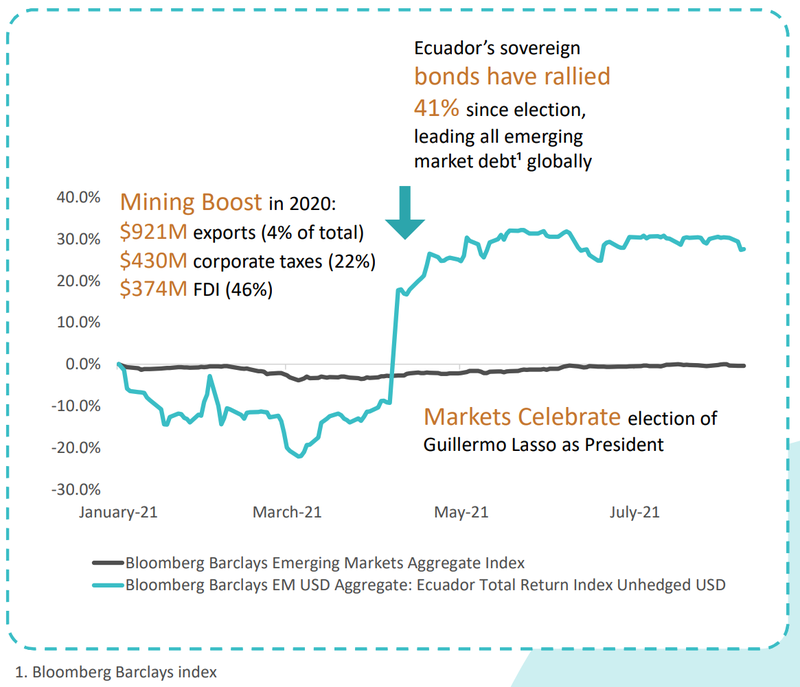 So the jurisdiction risk certainly isn't as high as it used to be, and there has now been a prolonged period of stability.
There are only a handful of juniors that have a pipeline of quality exploration assets in Ecuador today - given the land-grab that has accelerated over the past few years as a result of the stability.
Now, while positive mining legislation is great, it doesn't mean much unless the natural treasures exist underground.
On this front, there have been several major discoveries over recent years, such as Solgold's Cascabel copper/gold discovery (10Mt Cu/23Moz Au), the successful mine developments at Lundin's 300koz pa Fruta del Norte gold mine, and the Chinese-owned ~130kt pa Mirador copper mine.
Given that this highly prospective country is underexplored due to previously unfriendly mining legislation, coupled with the growth in exploration activity, we would expect more discoveries over coming years.
And as we noted above, we are also witnessing the big boys entering Ecuador.
Several majors and household names are now operating here including BHP, Fortescue, Newcrest, Hancock and Lundin Gold amongst several others.
So we like that TTM has an enviable exploration pipeline in hand, and want to see how these projects develop in the coming years.
Figure 1: Major mines and projects in Ecuador - (source: Canaccord research report, 15 September 2020)
So just how big could the Dynasty be? Here's our ranking system
Earlier this week, TTM released its next batch of drilling results at Dynasty - 30 diamond holes and 5 trenches from the Cerro Verde prospect, where most of the current foreign resource sits.
Overall, more promising hits, which bodes well for the upcoming JORC resource (our number number objective we want to see TTM achieve this year).
Highlights included:
11.10m @ 4.93g/t gold with 30.7g/t silver from 67.90m in hole CVD087
3.05m @ 16.48g/t gold with 61.7g/t silver from 142.15m drill depth in hole CVD081
4.7m @ 5.11g/t gold with 24.1g/t silver from 37.72m in hole CVD061
7.07m @ 8.56g/t gold with 95.8g/t silver from 125.7m in hole CVD094
4.83m @ 5.79g/t gold with 3.25g/t silver from 197.17m in hole CVD071
Of note also was that stand-out hole CVD072 (announced in the previous batch of results) received additional results, upgrading this significant intercept at a 0.2g/t Au cut-off to:
102.7m @ 1.48g/t gold, including 14.14m @ 6.42g/t gold with 16.4g/t silver.
What we also noted from the recent results is that the depth of mineralisation is being extended.
The current foreign resource only encapsulates drilling down to 150 metres depth, whereas these results show high grade running down dip to about 300 metres in depth. Furthermore, the veins are extending along strike.
Translation - this bodes very well for a bigger JORC resource down the track.
So, these results all go into the database to spit out the upcoming JORC resource - the bigger the better.
We think that TTM will soon have sufficient drilling results to start the calculation, but could extend the drilling programme so as to incorporate the new gold being discovered - that would lead to a bigger JORC resource, but delay the announcement until the back-end of this year.
Either way, as we are long term investors, we're more interested in seeing as big a resource here than whether it is announced in 2Q vs 4Q 2022.
So when the JORC is delivered, what would we view as a good result? And what would we view as poor?
Well, given that there is already a foreign resource of 2.1Moz gold here, that has formed the benchmark for a pass mark.
Simply put, if TTM delivers 25% above this, we'd think that a phenomenal result.
Conversely, 25% below this we would view as poor.
So here are our expectations for the JORC resource estimate, in ounces of gold:
Note also that we haven't incorporated silver here - the system appears to have plentiful silver as well - so this is quite conservative. This will come in handy when TTM looks at mining, with silver as a byproduct essentially reducing the operating costs of extraction.
Click here to read more about JORC resources and why investors care about them.
Activity right next-door to TTM - Sunstone Metals new discovery
Whilst a large part of the expectations we have for TTM in 2022 are around the drilling out and updating of the foreign resource estimate into a JORC resource at Dynasty, we couldn't help but notice the recent activity across the Dynasty fence from neighbour Sunstone Metals.
Sunstone holds 87.5% of the Bramaderos project which sits immediately to the north-east of TTM's ground - to be precise the project sits ~3km to the north-east.
That's under $10 on the Uber ride scale, even in peak traffic.
Sunstone is currently in the middle of completing a drilling program which is aiming to test some of its key geophysical anomalies in the area. The significance to TTM being that geophysical anomalies don't really care about tenement boundaries, and are just as likely to continue on to their neighbour's properties.
Their have been some outstanding results so far from the Alba prospect, including:
Looking at the below map of Dynasty, you can see the Alba boundary to the north east. By location and geometry alone, there appears to be a decent shot that the ~10km strike-zone that starts at Dynasty's Cerro Verde prospect and ends at the Papayal prospect may extend further north-east as far as Sunstone's grounds.
With 100m+ gold intercepts at grades above 2g/t Au, Sunstone look like they are onto a large-scale discovery of their own.
Will this translate into more gold towards that boundary, only time... and drilling will tell. But Sunstone's success at Alba certainly adds more data points to the case for expanding Dynasty beyond its current resource.
Let's also not discount the fact that Sunstone's recent drilling results showed that they may have stumbled upon a large-scale copper-gold porphyry discovery - whilst grades to date haven't delivered high grades (copper of ~0.13-0.16%), the intercepts have been very wide.
We haven't even considered this potential in our base-case investment thesis for TTM.
What does this all mean for TTM?
The neurology to sunstone now connects the dots on what could be systematic gold mineralisation all along TTM's dynasty gold project and the grounds that surround it.
After TTM proves the foreign 2.1 Moz resource estimate into a JORC resource, they can go and do extensional drilling and look to exponentially increase it. If TTM encounters intercepts like Sunstone across the fence (and quite distant from their existing resource), then we could be looking at a substantially larger deposit...
...oh, with a side of a potential copper porphyry added to the mix.
The market also seems to like this potential - after Sunstone made a copper/gold porphyry discovery in northern-Ecuador, their share price shot up from ~2 cents all the way up-to ~6 cents.
After Sunstone returned that massive 111m @ 2.3g/t gold intercept right next-door to TTM the share price went from ~6 cents to an all-time high of close to 12.5 cents.
That's an increase of 100%+ which added almost $145M to Sunstone's market cap in <1 week of trading.
Following a capital raising in October 2021, TTM is now cashed up and armed to execute.
With TTM currently capped at $155M and holding ~$24M in cash (at today's USD/AUD exchange rates - $12M in cash and ~$12M in receivables and liquid assets), TTM has an enterprise value of ~$131M.
That means TTM has an enterprise value less than the amount of market cap gain that the 111m intercept delivered to Sunstone, made only ~3km to the north-east.
With drilling ongoing and a JORC resource around the corner we think it's only a matter of time before the market figures out just how big such projects can get in this part of Ecuador.
We also note that with TTM's drilling at Dynasty focused mainly at its Cerro Verde prospect, with the latest results extended the depth of the deposit from 150 metres to 300 metres depth, whilst extending the veins along strike.
There is an almost 5km gap in the middle yet to be drilled between this prospect and the Papayal prospect, on the same structure, with some evidence of a porphyry system present. If this is confirmed with drilling, this has the potential to further enhance the resource and system.
TTM's assembled team - ready for find more gold and copper
We are big fans of the TTM team assembled - having attracted several industry heavyweights to both the board and management teams. The hands on the steering wheel are certainly experienced with big wins in their resumes.
We think that these people would not have joined TTM's project if they didn't see more upside potential in its assets.
Perhaps the best known recent addition to TTM is Peter Cook as Chairman - Peter also chairs Westgold Resources - an $800M market cap company and now a Top 10 ASX domestic gold producer. Peter has decades of experience in building large gold companies.
Also joining TTM last year was Michael Skead - Executive Vice President of Exploration. Michael will leverage his experience with several mining giants including Newmont, Goldcorp and Randgold Resources.
TTM also welcomed the highly experienced Barry Bourne to the board as Technical Director last quarter - Barry was previously with Barrick, and is considered somewhat an expert in targeting both epithermal and porphyry mineralisation (which occur on TTM's projects).
Capping off the team additions, last month TTM boosted the geology expertise of its board with the appointment of Pablo Morelli as exploration manager. Pablo comes from the Barrick, Newmont, Kinross, and Rio Tinto stable, with experience in the region.
How about adding some copper to the mix
While TTM is known mainly for its gold prospects - understandable given how advanced Dynasty is already - we also like the look of their copper projects. We're certainly keen on having more exposure to copper, which has among the highest potential for long-term shortages of any commodity, according to recent research from BMO.
Aside from the gold resource and exploration assets, TTM owns two promising copper plays - we're keen to see drilling on both this year.
Firstly, we have the Copper Duke Project - a large gold rich and "outcropping" copper porphyry target down the road from Dynasty.
13 contiguous concessions totalling 130km2 about 18km east of Dynasty
Multi-phase porphyry system
Several geophysical anomalies coincident with high-grade gold and copper geochemistry at surface.
Geophysical characteristics similar to many major porphyry districts in the world that host tier 1 assets.
It appears that Copper Duke has Tier-1 potential - but requires a lot more work.
We'd like to see a drilling campaign kick off in 2H22 here, to shed light on the potential here.
The other copper play we're keeping tabs on is the Linderos Project. Linderos is about 20km down the road from Dynasty, and comprises four contiguous concessions totalling over 143km2 - a pretty big area.
Last November, surface exploration here returned promising gold, silver and copper results from their two main prospects, Meseta and Copper Ridge - gold being more extensive than initially thought at Meseta, and outcropping copper found at Copper Ridge. TTM is compiling that data alongside an airborne geophysics programme to plan and execute an initial drill programme, testing the epithermal gold system and potentially large porphyry system - we anticipate a drilling campaign to kickstart in 2Q22.
What lies ahead for our investment in TTM?
Maiden JORC resource at Dynasty - we anticipate a first indicated and inferred JORC resource by year end.
Drilling campaign at Linderos - following collation of data from the recent aeromag programme, targets will be prioritised shortly. We would expect a drilling campaign to kick off sometime in 2Q22
Drilling campaign at Copper Duke - requiring some more mapping and geo-chem programme, prior to determining drill targets. We anticipate that the initial drilling campaign is more likely to occur in 2H22
Here is our investment plan for TTM: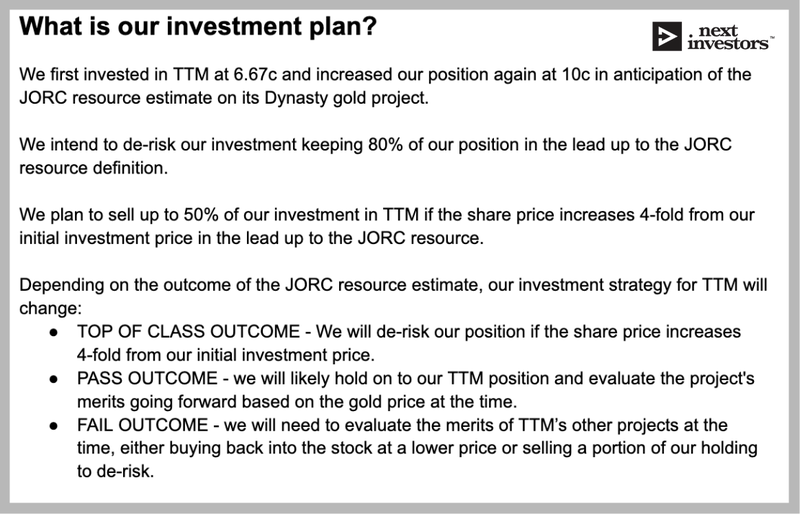 For our full TTM investment memo click the button below:

---