Promising Early Copper/Gold Exploration Results - Assays Soon
Disclosure: S3 Consortium Pty Ltd (the Company) and Associated Entities own 3,899,250 TTM shares at the time of publishing this article. The Company has been engaged by TTM to share our commentary on the progress of our Investment in TTM over time.
Today our copper/gold Investment Titan Minerals (ASX:TTM) released what looks to be some very promising early stage exploration results.
TTM is currently drilling a copper/gold porphyry prospect in Ecuador — the first diamond drill hole has just been completed and TTM is halfway through the second hole of this maiden campaign.
In today's announcement, TTM released a bunch of analysis on the visuals from that first drillhole.
Our primary takeaway is that TTM looks to have intercepted several zones of sulphide mineralisation.
Why does this matter?
Because most of the world's economic copper porphyry discoveries are sulphide hosted.
Here's some key points:
At the first drillhole, TTM looks to have hit up to 242.75m of sulphides.
And now halfway through the second hole, TTM intersected a maximum intercept length of ~182.76m.
Before we get too excited about the potential for a new discovery here, we do need to explain that these are hand held portable XRF instrument analysis results.
Typically called an "XRF gun", these handy devices allow for a quick on-site analysis of the elements found in the drill core, prior to assay results.
It's not a perfect tool but it does give geologists a reasonable indication of what kind of results they might get back from the lab.
So, here are the disseminated sulphides as observed by TTM's geologists using an XRF gun: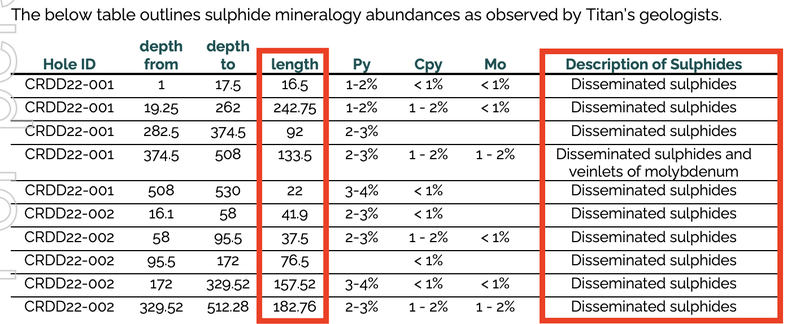 Source: TTM announcement
We now know that TTM has the right type of rocks, so all we need is for the assays to confirm that these intercepts contain valuable metals.
TTM expects those assays to come in within six to eight weeks, so we will know what TTM has in its hands very soon.
In the meantime, we hope to see more of the same in the remaining drill holes as TTM keeps plugging away into this potential porphyry system. Beyond these two holes, we expect another three into the current target at Copper Ridge, then 18 more holes are going into another prospect, Meseta Ridge.
We have been Invested in TTM for over two years, patiently waiting for it to (hopefully) deliver on our "Big Bet" for the company.
Our TTM Big Bet
"We want to see TTM prove up a $1BN plus copper or gold discovery in Ecuador which is so attractive that a mining major acquires the company."
NOTE: our "Big Bet" is what we HOPE the ultimate success scenario looks like for this particular Investment over the long term (3+ years). There is a lot of work to be done, many risks involved, and it will require a significant amount of luck. There is no guarantee that it will ever come true.
We hope that this current prospect can lead TTM closer to our Big Bet for the company.
While we await for those assay results, let's take a closer look at today's TTM announcement.
TTM's XRF analysis is hinting at "elemental abundancies" which could mean the company is onto a potential porphyry deposit.
The obvious caveat here is that we just don't know what TTM has hit until the assays get back from the labs.
TTM also released some very nice looking visuals of drill cores.
If TTM can successfully prove up a new porphyry discovery, it has the potential to be very valuable.
Hang on, what is a "porphyry" and why should I care?
Around 60% of the world's copper supply comes from porphyries, as they host the largest known exploitable concentrations of copper.
Porphyries are typically extremely large, high tonnage, low grade deposits that can stay in production for decades, generating substantial cash flows.
That's why the big miners love getting their hands on these.
Porphyry deposits drive supply of copper — and copper demand is tied to the transition to green energy, with EVs requiring four times more copper than petrol based cars.
BHP has recognised this and is chasing copper in a big way. Here's BHP CEO Mike Henry's comments from last year.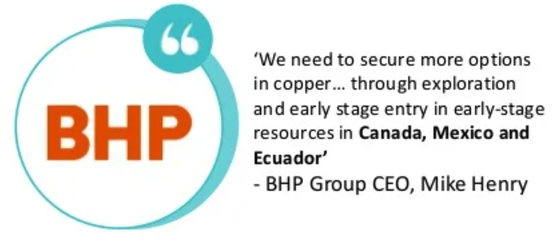 TTM is in Ecuador, and is definitely "early stage". I wonder if BHP is looking at TTM? Probably not... but it doesn't hurt to dream.
Both BHP and RIO are throwing large sums of cash at copper plays. BHP bid $8.4BN for mid-tier producer Oz Minerals, while RIO's US$3.3BN bid to acquire another 33% of the Oyu Tolgoi copper/gold operation is progressing.
The whole west coast of South America, including Chile, Peru and Ecuador are known for hosting large copper porphyry deposits.
The most well known example is BHP's giant Escondida copper mine in Chile, which has lots of unaltered chalcopyrite, which also happens to be what TTM seems to be picking up with the XRF gun.
On the other end of the spectrum from the majors are multitudes of juniors hunting for the next big copper discovery.
The rewards for success are typically 1,000%+ returns, especially if the majors already know the jurisdiction and have assets in the region.
So we like that TTM is actively drilling in a prime global copper/gold hotspot, with hopes of delivering a new discovery.
Promising early exploration results from TTM
The encouraging exploration results from TTM's first hole are from its maiden drilling program at the Copper Ridge porphyry prospect within its Linderos project.
Linderos is located in the emerging copper/gold hotspot of Southern Ecuador, where several large mineral discoveries have been made.
This has attracted a host of mining majors such as BHP, Fortescue, Anglo American, Hancock Prospecting, CODELCO and Newcrest to the region.
TTM's drilling campaign aims to assess the prospect's potential to host copper-molybdenum porphyry mineralisation.
The first diamond hole has been completed to a depth of 530m. Of note, significant intervals of disseminated chalcopyrite-molybdenite-pyrite mineralised porphyrytic diroite have been intersected in this hole.
To the layman, that sounds extremely complex and quite the mouthful... but to the geological folk, those terms are exciting, especially when looking for giant copper porphyry systems.
The technical terms ultimately mean that TTM has potentially hit thick sulphide intercepts measuring as high as 242.75m in length.
The obvious caveat at this stage is that this is all based on handheld XRF analysis and we won't know exactly what TTM has until assays come in from the labs.
Below are some images of the visuals: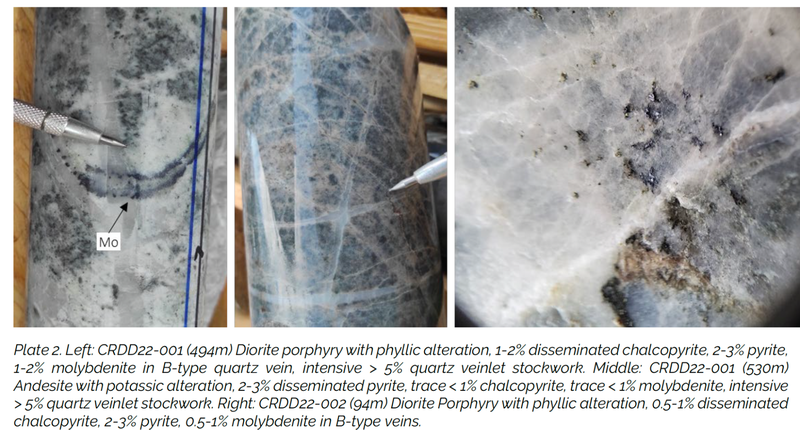 ASX announcement
With XRF analysis hinting at "elemental abundancies" — another way of saying strong mineralisation — there is a greater chance that copper mineralisation will follow...
However, we won't know for sure until the assays are returned from the lab, which should be six to eight weeks away.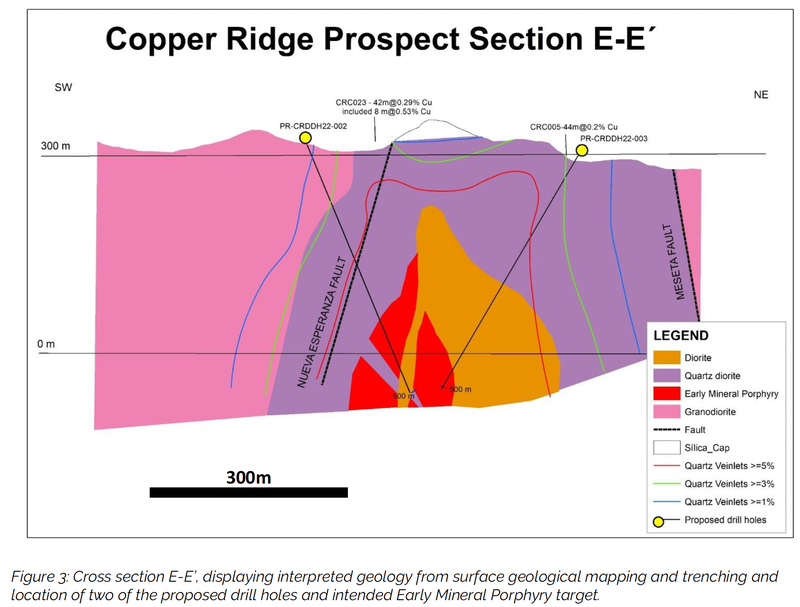 ASX announcement
For guidance, here's a video that explains simply how these porphyry systems form and what explorers look for when hunting for them - Looking for copper.
TTM is now drilling its second diamond hole at this target and is currently at a depth of 513m (nearing completion).
As with the first drill hole, TTM is seeing significant intervals of disseminated and vein-hosted chalcopyrite-molybdenite-pyrite mineralised porphyrytic diorite — more evidence pointing to copper mineralisation.
In that second hole the sulphides intercepted are measuring as high as 182.76m in length.
With another three holes to go, there's certainly a lot to be interested in at Copper Ridge, and we are keen to see if the labs results confirm what the visuals and XRF analysis suggests.
TTM's Copper Ridge prospect sits within its Linderos project, which you can see nestled on the map below around a bunch of other proven copper deposits: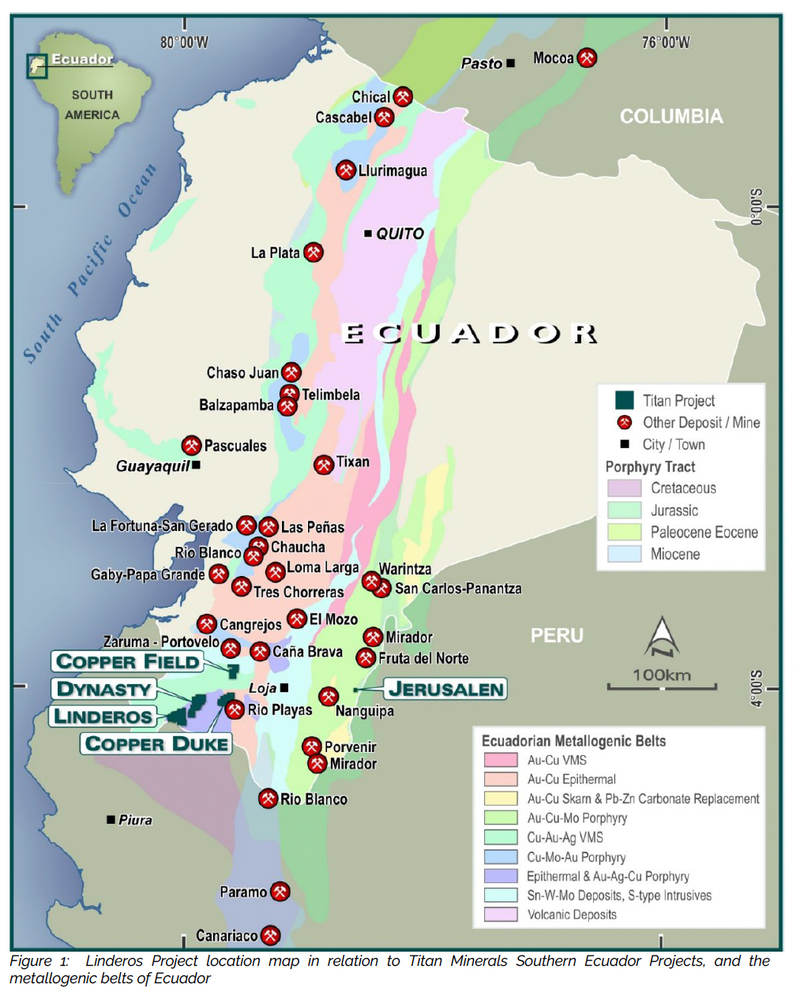 What's next for TTM?
More drilling results from the Linderos prospects 🔄
Drilling is about a third of the way through at Copper Ridge, with hole 2 nearing completion and another three holes to go.
We look forward to seeing the initial assays which are anticipated within six to eight weeks, around the end of November.
Once the Copper Ridge campaign is completed, the rigs will head to the next prospect at Linderos — the Meseta prospect.
Here, an initial 18-hole program for 2,500m of diamond drilling is planned to discern the potential for a high sulphidation gold system.
Today's news fits in with our #2 Objective we'd like to see management deliver this year: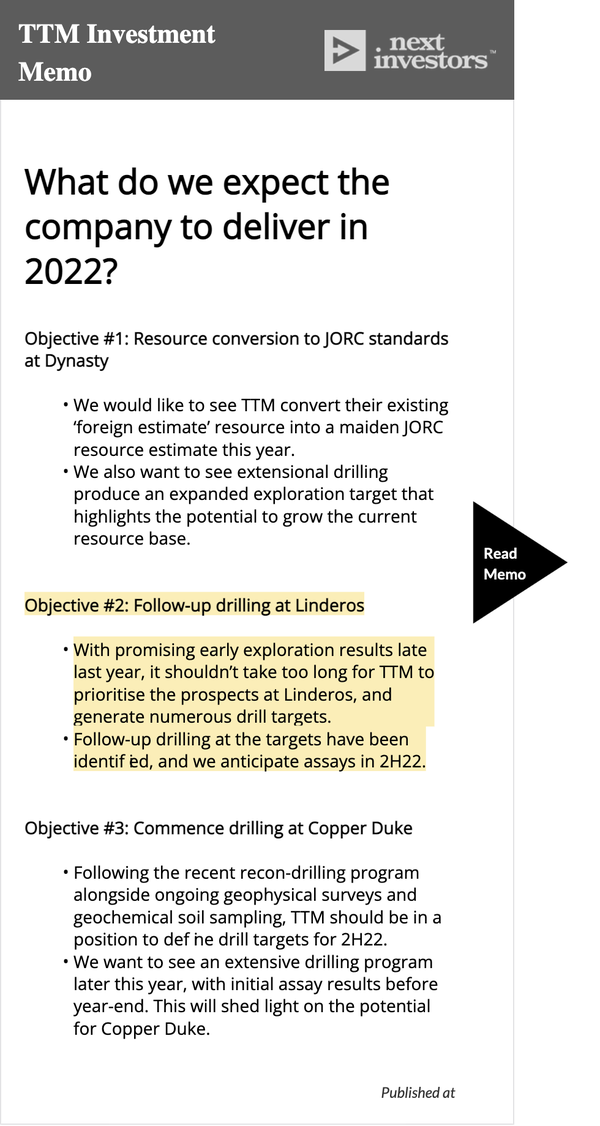 We're keen to see how the assays look at the other end and will update once delivered, likely in the next quarter.
We are also looking forward to seeing what's next for TTM's Dynasty project, where a 2.1Moz non-JORC gold resource has already been defined.
Whilst it is yet to be reclassified under JORC standards, a new geological model is being developed and it will be interesting to see just how big that project can become.
Our 2022 TTM Investment Memo
Below is our TTM Investment Memo, where you can find a short, high level summary of our reasons for Investing.
The ultimate purpose of the memo is to record our current thinking as a benchmark to assess the company's performance against our expectations for the following 12 months.
In our TTM Investment Memo, you'll find:
Key objectives we want to see TTM achieve
Why we are Invested in TTM
What the key risks to our Investment thesis are
Our Investment plan

---