Investing in Early-Stage Biotechs and the Drill Race is on...
Published 09-SEP-2023 12:00 P.M.
The "drilling race" continues this week.
IVZ, NHE, EXR and GGE are all commencing oil & gas drilling over the next couple of months.
(...and 88E is doing a flow test).
The small cap planets have aligned to deliver all of these drill events at roughly the same time.
It's going to be an "action packed" lead up into Christmas.
NHE made the biggest progress this week, announcing that their drill rig has arrived at port in Tanzania after a 28 day sea journey from the UK.
Big, binary oil & gas drilling events generally deliver interesting share price activity during drilling and in the lead up to the drill result.
And it's all starting soon, possibly as early as next week with IVZ if they hit their "mid September" guidance on commencement of drilling.
Aside from oil & gas drilling, another sector of the market that can deliver oil & gas style share price action is in early stage biotechs (which is why we like them).
Similar to a big oil & gas "drilling result", a biotech company will announce all important "clinical trial results".
After investing millions of dollars to run a clinical trial, and patiently waiting for the trial outcome, the "trial results" will tell the market if the biotech's new treatment is safe, effective and can be submitted for regulatory approval to sell to the public.
This is the biotech "Holy Grail", much like the elusive "discovery" for an oil & gas explorer.
Over the last two years we have been slowly building our Portfolio of early stage biotech Investments.
Earlier this week we announced our fourth and latest biotech Investment Emyria (ASX:EMD).
EMD is an integrated clinical drug development and care delivery company with a focus on psychedelics such MDMA, psilocybin for treatment of mental health disorders.
By "integrated", we mean EMD has:
Treatment centres - places where psychedelic treatments can be administered with wrap-around care, i.e. providing a full suite of practitioners such as psychiatrists, mental health nurses, psychologists, counsellors, OTs, social workers, physical therapists.
Treatments - the actual drugs, which includes psilocybin, ketamine, MDMA and an ongoing drug development program into MDMA analogues, aiming to make the treatment work better for a range of conditions.
Data - EMD collects and owns valuable patient data to help improve its drug treatments and therapy programs.
In case you missed it read our launch note on the company, which includes our Investment Memo, you can read it here: Our Newest Investment is Emyria (ASX: EMD)
We also followed up the next day with an extension to the "8 reasons we Invested in EMD": The 8 Reasons we Invested in EMD
We think that the biotech sector in Australia is ripe for opportunities.
In particular, we think that small cap ASX-listed biotech companies fit our risk-reward investment profile, and we are actively looking for opportunities in promising companies like EMD.
Why we like biotechs right now
A successful treatment can be life-changing (and sometimes life-saving), as well as creating significant financial value - which is part of why the biotechnology industry is rife with optimism, from both company managers and investors.
These (generally) pre-revenue companies have the opportunity to make outsized returns on the success of clinical trials in an important area of development.
For Investors that get in at an early stage, a good biotech investment can be highly profitable.
That said, early stage biotech investing is risky, and a lot of early stage biotech companies fail.
The typical timeline for an approval of a treatment from the initial discovery phase all the way to commercialisation is around 10-12 years, and along this journey there are many entry and exit points for investors to make money.
Early stage biotech stocks fit our high-risk, high-reward investment strategy, as part of a diverse small cap portfolio.
We are seeking 1,000%+ returns from a small number of stocks that outperform the rest of our Portfolio.
But why now?
Increased interest rates, and the risk-off attitude of the broader market, have hit biotech share prices hard.
Clinical trials are expensive, and companies have needed to raise at lower and lower valuations - diluting existing shareholders, but providing larger slices of the cap table to new investors compared to back when biotech share prices were generally higher.
Given the above, we think that biotechs now represent a great bottom-of-the cycle opportunity - to find beaten up stocks where the underlying technology/treatment shows promise.
Aside from potential financial rewards, it also feels great to contribute to potentially finding a cure for cancer or a better treatment for PTSD, depression or anxiety.
From a longer term perspective, there's also the fact that human technological advancement in the life sciences is an inexorable trend which is only picking up pace.
Big pharma companies and others know this well, and are also seeing depressed valuations as an opportunity.
So, we are following the lead of big pharma companies, where M&A activity has grown in the biotech sector in 2023.
Some big acquisitions that have taken place this year include:
Pfizer acquired Seagan for $43B to strengthen its oncology pipeline
Merck acquired Prometheus Biosciences for $10.8B to increase its pipeline of inflammation treatments
Novartis acquired Chinook Therapeutics for $3.5B for kidney disease treatments
Immugene bought Precision Biosciences for a total deal value of $227M
...and many, many more.
The JP Morgan biotech conference set the tone at the start of 2023, putting M&A on the agenda for biotech companies, and the return to M&A activity has materialised.
As we noted above, we think that small cap biotech companies are too beaten up to ignore, and think that these investments will provide us some of our biggest opportunities in the long run (we hope... we don't always get it right).
There is a long history on the ASX of successful biotech stories, with one of Australia's largest companies CSL, starting out as a small cap biotech itself.
ASX has a history of delivering biotech success
It's easy to think the ASX is all about mining - especially when it comes to the small cap part of the market.
Most companies in the small end of the market are junior explorers/developers.
The reality is though, that throughout the ASX history some biotech gems have been uncovered.
For those willing to put in the work and weed through the hundreds of listed companies, it is possible to find a small cap biotech team that is trying to develop life changing drugs/therapies and execute on this strategy.
Some big ASX biotech success stories that come to mind are:
CSL (capped at $132BN)
Resmed (capped at $11.5BN)
Cochlear (capped at $17.6BN)
All of these are now ASX majors, generating revenues for shareholders. CSL is the 4th biggest company on the ASX and one of Australia's highest quality companies.
Why is Australia a fertile place for early stage biotechs?
Australia has one of the most generous R&D rebate schemes in the world.
Biotech companies, undertaking research and development, can claim a cash rebate of ~43.5% for eligible R&D expenditures.
That means that for every $1 a company spends on R&D it can potentially get a refunded 43.5 cents.
This provides much needed cashflow for companies looking to run clinical trials.
Australia has a strong skilled workforce, with experience and infrastructure to run and operate high-integrity clinical trials.
On top of that, Australia has some of the best research universities in the world, with the resources and talent to identify and develop early stage drugs.
The Australian government directly supports early stage biotechs, with the Australian government launching the Medical Research Future Fund back in 2015 and it now has a mandate size of $20B.
Since the launch of this fund the government has handed out grants totaling $2.8BN to dozens of companies around Australia.
This means that grassroots biotech companies at the R&D stage have a significant advantage when looking to develop drugs, therapies and medical devices in Australia.
Our biotech Portfolio:
Emyria (ASX:EMD) - integrated clinical drug development and care delivery company with a focus on psychedelics for treating mental health disorders.
Arovella Therapeutics (ASX:ALA) - is developing a pre-clinical cancer therapy treatment based on an off-the-shelf cell therapy iNKT cell technology.
Dimerix (ASX: DXB) - Phase III clinical treatment for a rare (orphan) kidney disease.
Bod Science (ASX: BOD) - Life science company focused on increasing the potency and bioavailability of cannabis products.
We are looking to grow our early stage biotech portfolio while the market is in a down cycle.
If you know of any other early stage biotechs that you think would work well in our Portfolio please respond to this email with the stock, and why you think it would make a good investment.
Have a great weekend.
What we wrote about this week 🧬 🦉 🏹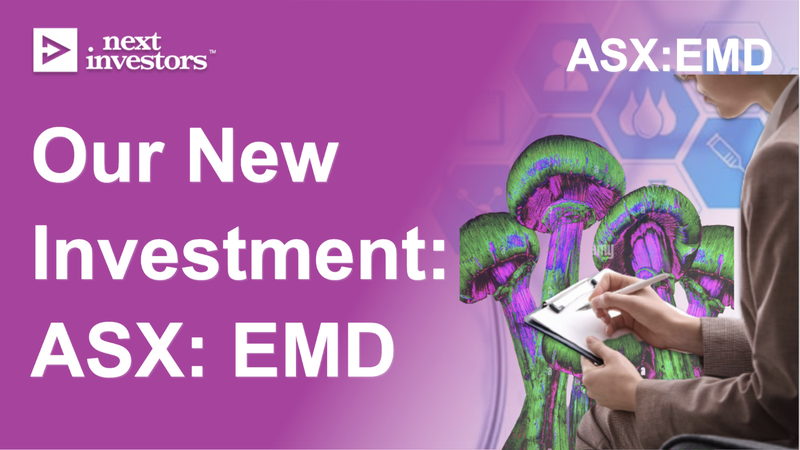 Our Newest Investment is Emyria (ASX: EMD)
This week we announced the latest addition to our portfolio - Emyria (ASX:EMD).
EMD is one of the only biotechs on the ASX that is working with psychedelics looking to develop therapies and treatments for chronic illnesses.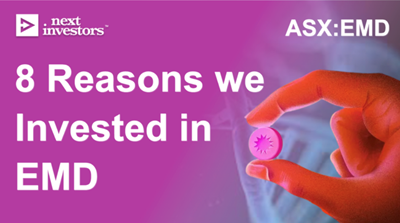 The 8 Reasons we Invested in EMD
In this article we deep dive into the 8 reasons we Invested in EMD, detailing our investment thesis and EMD's potential.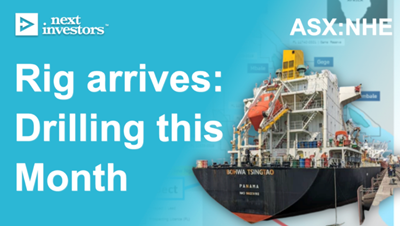 NHE's rig has arrived in Tanzania - on track to drill this month
NHE's rig arrived in Tanzania on Friday. Earlier in the week NHE added another drill target to its portfolio of prospects & started consolidating the ground around its project.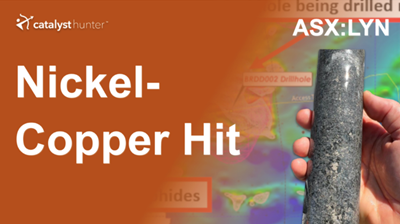 LYN hits nickel copper sulphides - What's next?
This week LYN hit ~13m of disseminated sulphides at the company's Bow River nickel-copper-PGE project. It's currently drilling a second follow up hole.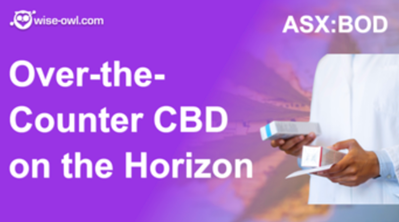 First on the ASX - BOD announces successful outcome for insomnia clinical trial
BOD announced the much anticipated results on its clinical trial. BOD was able to demonstrate statistical significance in efficacy between the 100mg CBD product versus a placebo at treating insomnia.
Quick Takes 🗣️
LCL hitting more high grade gold at Kusi
EXR - New CBM gas discovery in EXR's Mongolian project
TG1 gold results in from John Bull
TG1 Exploration update - Gold assays imminent
PUR - Geophysics, drill timeline and targets for PUR
NHE's helium project grows with maiden drilling on the horizon
ALA updated investor presentation
MNB launches concept study for phosphate-base batteries
SLM picks up 7.06% lithium rock chips in Brazil
88E rig contract executed - flow test later this year/early 2024
EXR raises $7M to fund QLD gas drilling
LYN hits nickel-copper sulphides at Bow River
MEG finding pegmatites at its James Bay lithium project
Macro News - What we are reading 📰
Oil & Gas
Ronaldo's $313m contract shows why it's time to worry about oil (AFR)
Cannabis
Boom in use of medical cannabis in Australia (ABC)
Helium
Huawei Teardown Shows Chip Breakthrough in Blow to US Sanctions (Bloomberg)
Hydrogen
Fortescue clears the air on green hydrogen (AFR)
Biotech
The 10 highest value R&D projects in biopharma (Fierce Biotech)
Battery Materials
China's battery plant rush raises fears of global squeeze (FT)
Battery demand for manganese set to increase 8-fold this decade (Benchmark)
Why the electric vehicle battery race needs a recycling revolution (FT)
⏲️ Upcoming potential share price catalysts
Updates this week:
IVZ: Drilling oil & gas target in Zimbabwe, Mukuyu-2 (Q3, 2023)

No news this week but IVZ did present at the RIU Good Oil conference in Perth. Check out the presentation here.

BOD: Phase III clinical trial for CBD insomnia treatment (end of August)

BOD put out clinical trial results this week. See our note on the news here.

NHE: Scheduled to drill two targets at its helium project in Tanzania (Q3 2023).

NHE's rig has arrived at the Tanzanian port. See our note on the news here.

LYN: Drilling its Bow River nickel-copper-PGE project in WA

LYN hit disseminated sulphides in its first drillhole at Bow River. We covered the news in a note on Thursday. It's drilling a second hole now. Check out our note here.

SLM: Maiden drill program at its Brazilian lithium project

SLM's drilled 12 holes and has 3 assays pending from the program. Results are due by the end of this month. See our Quick Take on the news here.

EXR: Daydream-2 appraisal well, QLD

No news from EXR on its QLD gas project but the company did present at the RIU Good Oil conference in Perth. Check out the presentation here.

88E: Flow test well, Alaska (Q4, 2023)

88E announced it had signed a rig contract for its Hickory-1 flow test later this year/early 2024. See our Quick Take on the news here.

TG1: Drilling at its NSW gold project.

TG1 put out assay results from its stage two drill program at its NSW gold project. We covered the results in a Quick Take here.
No material news this week:
GAL: Drilling at the company's PGE project in the Norseman region, WA.
LNR: >10,000m drill program at rare earth's project in WA
DXB: Interim Analysis of Phase III Clinical Trial on FSGS (March 2024)
TMR: Maiden JORC resource estimate for its Canadian gold project
LCL: Drilling at its primary PNG copper-gold target
GGE: Drilling for helium in the US (Q4 2023)
Have a great weekend,
Next Investors
---