TG1 gold results in from John Bull
Shares Held: 2,331,081
Options Held: 0
---
Our junior exploration Investment Techgen Metals (ASX: TG1) just put out assay results from its stage two drill program at its John Bull gold project in NSW.
TG1 drilled 10 RC holes for a total of 1,363 metres - which brings up the total for the project to 17 holes.
The highlight intercept was a 22m intercept with gold grades of 1.07g/t along with some smaller 1m intercepts grading up to 9.67g/t gold.
Our key takeaways from today's announcement were:
1) >1g/t gold hit in all 10 holes.
TG1 managed to hit gold in all of the holes it drilled.
The positive takeaway is that gold mineralisation at John Bull is getting bigger.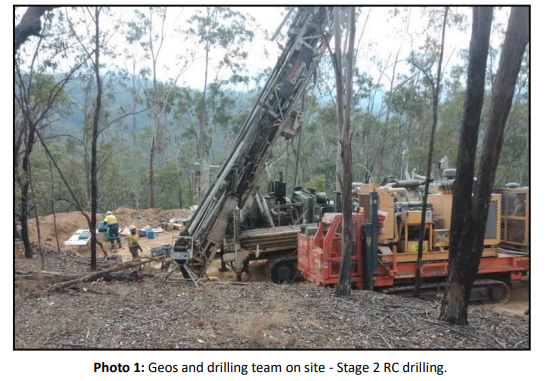 2) Gold mineralisation extended over ~300m of strike.
The assays from the stage two drill program now mean TG1's gold mineralisation is spread over ~300m of strike.
Drilling has now identified gold mineralisation over 300m of strike (north – south) with a further 900m of soil gold anomalism remaining to be tested by drilling.
Importantly, TG1's project sits on ~1.2km of strike so there is still heaps of drilling TG1 can do.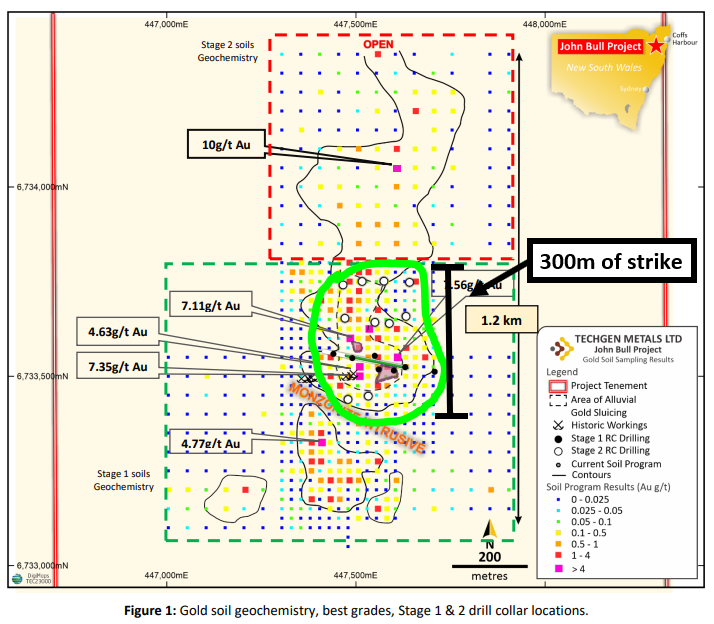 3) Stage 3 drill program permits already submitted
TG1 has already started planning its next round of drilling.
The next round will be focused on drilling the 10g/t gold soil anomalies to the north and the monzanite intrusive to the south.
We wrote about both of these targets in a previous TG1 note here: 🏹 Last week's site visit - drill results expected in weeks...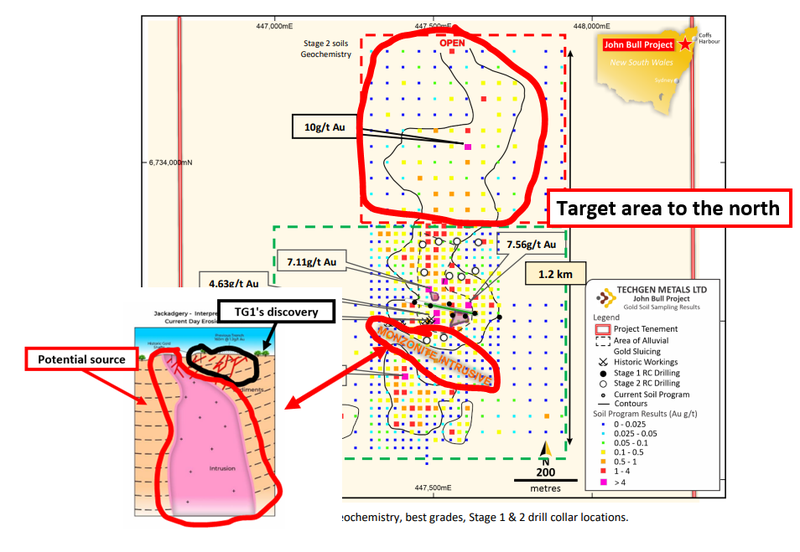 What's next?
Permitting for stage 3 drilling at its NSW gold project 🔄
TG1 confirmed today that permits were being prepared for a stage 3 drill program at John Bull.
Fieldwork from other projects in the company's portfolio 🔄
TG1 is doing a lot of low cost field work to rank drill targets across its portfolio of projects.
We could see results from that field work at any time.