The 8 Reasons we Invested in EMD
Disclosure: S3 Consortium Pty Ltd (the Company) and Associated Entities own 5,666,667 EMD shares and 2,833,334 EMD options at the time of publishing this article. The Company has been engaged by EMD to share our commentary on the progress of our Investment in EMD over time.
Yesterday at ~10:00AM AEST we announced our new stock pick - biotech company Emyria (ASX:EMD).
Unfortunately, feedback from some readers is that the email may have not made it into everyone's inbox...
Some email filters decided to block our email due to the use of "controversial words".
In case you missed it, you can click below to read our full "new Portfolio addition" note on EMD on our website: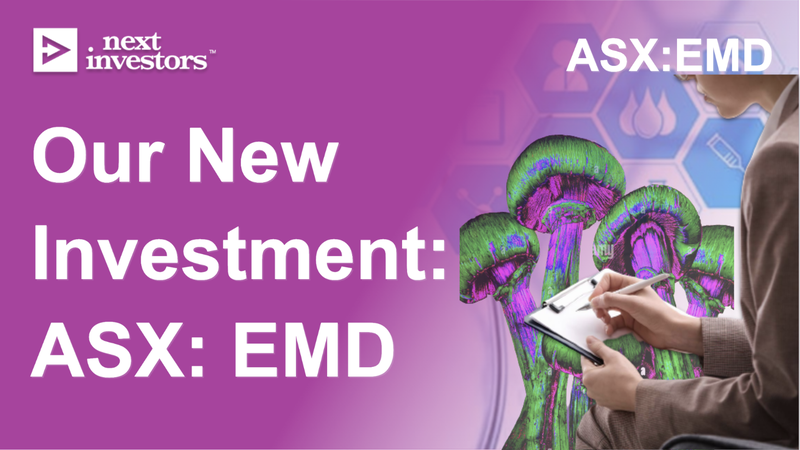 (Click here to read the article)
Today we will be looking in more detail at the 8 reasons why we added EMD to our Portfolio:
EMD is a biotech company aiming to treat mental health conditions like PTSD and anxiety.
EMD is an integrated clinical drug development and care delivery company whose primary area of focus is on psychedelics such MDMA, psilocybin and more recently, ketamine for treatment of mental health disorders
By "integrated", we mean EMD has:
Treatment centres - places where psychedelic treatments can be administered with wrap-around care, i.e. providing a full suite of practitioners such as psychiatrists, mental health nurses, psychologists, counsellors, OTs, social workers, physical therapists.
Treatments - the actual drugs, which includes psilocybin, ketamine, MDMA and an ongoing drug development program into MDMA analogues, aiming to make the treatment work better for a range of conditions.
Data - EMD collects and owns valuable patient data to help improve its drug treatments and therapy programs.
You can also read our EMD Investment memo here where we detail what EMD does, the macro theme, why we invested, the risks and our investment plan.
Yesterday we provided a brief overview of the 8 reasons we Invested in EMD. Today we provide more detail on each reason.
Australia leading the charge globally in new age treatments for mental health
EMD at the forefront of psychedelic assisted treatment
EMD is creating novel MDMA treatments
EMD's unparalleled access to patient data and AI
EMD clinics delivering revenues
CBD "sidebets" provide clinical trial catalyst
EMD's board and management team
EMD's valuation at initial entry price
So Without further ado, here are is the deeper dive on each of 8 reasons why we invested in EMD:
1. Australia leading the charge globally in new age treatments for mental health
On July 1st 2023 Australia officially legalised the use of psychedelics (MDMA, psilocybin) for treatment of mental health disorders.
Debilitating mental health disorders like treatment resistant depression, anxiety, PTSD and chronic pain.
Australia was the first country in the world to do so:
This means that as of July 1st, 2023 approved psychiatrists can prescribe MDMA to those suffering post-traumatic stress disorder and magic mushrooms for some types of depression.
Over 44% of Australians aged 16–85 are estimated to have experienced a mental disorder at some time in their life, with 21% having experienced a mental disorder in the previous 12 months (source).
This decision put EMD and Australia potentially years ahead of other jurisdictions like the US.
We have been closely monitoring this space for over two years now and think that new age treatments like MDMA and psilocybin are the new frontier of medicines for mental health treatment.
There is a growing body of research being done in this space with a study published last week finding that psychedelics can ease major depression: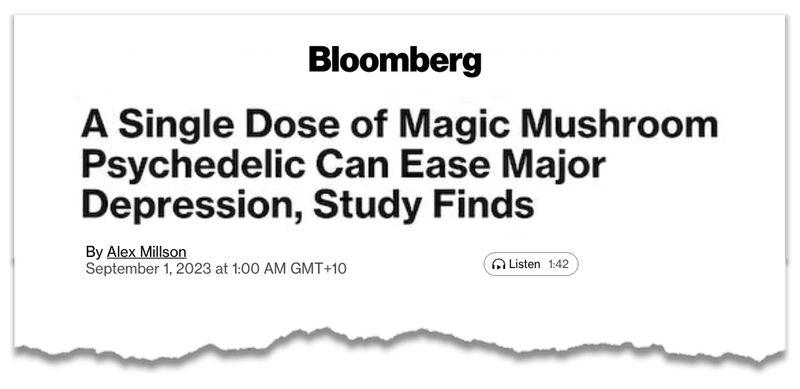 EMD is highly leveraged to the growing appetite for treatment in this space with the company launching assisted therapy programs across MDMA, psilocybin and ketamine in its clinics.
EMD will work closely with highly trained specialist psychologists to provide assisted care to patients, and build strong evidence-based data to support further expanding these programs.
With the landmark decision by the TGA earlier this year, Australia is the perfect place for EMD to grow its business and position itself as a thought leader in the space.
2. EMD at the forefront of psychedelic assisted treatment
A big reason we Invested in EMD is because it has the infrastructure needed to provide psychedelic treatments.
EMD owns actual brick and mortar clinics where patients are treated.
These clinics are where practitioners like psychiatrists work - currently under TGA rules, these treatments can only be prescribed by specifically authorised psychiatrists (source).
We expect EMD to work with a network of psychiatrists that satisfy the authorisation protocols, and to provide them the ideal venue in which to administer treatments.
Importantly, through the data collected from its own clinics and clinical trials, EMD plans to build the right patient care protocols for psychedelic assisted therapies.
EMD is one of only a handful of operators in the psychedelic assisted therapy space, and the only ASX-listed small cap with both infrastructure (clinics) and deep patient data to create these protocols.
This gives us a unique exposure to what we think will be a niche high growth, high margin industry.
Ultimately, we think EMD could evolve into an operator of a franchise-like business model - licensing out its method of care delivery to a larger base of clinics while maintaining quality.
We've seen chains of child care and aged care centres grow into multi-billion dollar businesses before.
While EMD is currently operating on a small scale and may never reach those heights, we hope the company can quickly scale its operations through licensing.
3. EMD is creating novel MDMA treatments
EMD started investigating the use of MDMA for clinical treatment BEFORE the landmark decision by the TGA to recognise it as a controlled medicine in March this year.
EMD is now developing its own novel MDMA drugs with the University of WA.
We're particularly interested in EMD's clinical trial pipeline of MDMA analogues, which are basically re-engineered versions of the original drug.
By altering the MDMA molecule, EMD could create a shorter acting substance that reduces therapy times, or be to help address the motor problems encountered in Parkinson's - a debilitating brain disorder that causes unintended or uncontrollable movements.
We think that developing novel MDMA treatments are a potential blue sky opportunity for EMD.
EMD is engaged in preclinical work right now, aiming to re-engineer MDMA for Parkinson's patients where the current standard of care is L-Dopa, a drug which makes up a large chunk of the current US$5.4BN market for treatment.
The company has also expanded its MDMA-analogous library to over 150+ compounds that imitate the beneficial effects of MDMA while reducing the harmful side effects.
EMD's next steps are to identify some lead candidate drugs to take through to clinical trials.
Building a proprietary drug treatment can be very lucrative if a company proves that the drug is safe and efficacious in a clinical setting.
4. EMD's unparalleled access to patient data and AI partnership
EMD uses state of the art data insights generated by a technology platform called Palantir Foundry.
Made by ~US$33BN capped Palantir Technologies, which was founded by PayPal co-founder Peter Thiel, this platform helps EMD derive real world evidence (RWE) from their therapies.
RWE is clinical evidence on a medical product's safety and efficacy that is generated using real-world data (RWD) - data sources that can be built into it are electronic health records, and claims/billing data.
It can also take into account patient-generated data, health applications on a phone and wearable devices - think of it as a more rich approach to delivering evidence based medicine.
Palantir's Foundry is excellent for this type of work as it allows EMD to improve and hone its treatments by generating new insights in a secure manner - which we think gives the company a big edge.
EMD's Managing Director Michael Winlo used to work at Palantir's Health division.
And increasingly, the US FDA and other major regulators are looking to evaluate the safety and efficacy of new treatments using RWE - which we think EMD is exceptionally well equipped to provide.
With access to opt-in patient data through its clinics, combined with the Palantir Foundry tech, EMD is able to make better decisions on drug development and treatment.
It can use this data to create its own novel drugs (which it has done) or licence it to drug developers or agencies to make better decisions.
5. EMD Clinics delivering revenues: forecast for $5.7M for FY24
As it stands today, EMD currently owns 8 clinics around Australia - 7 of which operate under the brand Emerald Clinics and the Pax Centre.
Emerald Clinics are focused on cannabinoid research and treatment delivery, while the Pax Centre is a multidisciplinary trauma care centre was acquired in July of 2023.
The Pax Centre in particular has a full suite of practitioners that work on site which includes, psychiatrists, mental health nurses, psychologists, counsellors, OTs, social workers, physical therapists.
This is a high standard of care that ensures the physical and mental wellbeing of patients - an ideal environment for EMD's treatments.
The clinic bills ~$2.6M annually - which is not an insignificant sum for EMD. As before, EMD is projecting that it will collectively generate $5.7M in revenue in FY2024, with the Pax Centre under its wing.
If EMD can add high margin psychedelic treatments to this care infrastructure, like at the Pax Centre, we think EMD could quickly become a more financially sustainable business.
For instance, the MDMA assisted therapy could cost in the range of $25k for a three round treatment.
While that $25k figure does sound like a lot, if EMD can secure payers (large organisations or insurance companies) to foot the bill, it could become a lucrative business opportunity.
Prove it works, and we think the cost will likely be shouldered by organisations and major insurers looking to reduce the harmful effects of mental health.
6. CBD "sidebets" provide clinical trial catalysts
EMD is developing three different CBD products.
Of most immediate interest to us is RX5, which is currently in a Phase 3 clinical trial for over-the-counter treatment for anxiety and stress.
As of the last quarterly, the clinical trial had 160 patients recruited of a total 300 needed, and despite a manufacturing hiccup - we're hoping results are in later this year.
EMD already has a commercial partner for this treatment, Aspen Australia.
If the trial is successful, EMD will get a $400K payment along with a 10% royalty on any sales - this could net EMD millions of dollars a year without spending any money on marketing, sales and distribution.
EMD also has a Phase 1 clinical trial for prescription indications in the works - we think this is targeting a similar commercialisation pathway to Epidiolex, which is a treatment for child epilepsy.
Epidiolex is the only US FDA approved cannabinoid based medicine and has annual sales of ~$1BN.
7. EMD's Board and Management
We think EMD's Board and Management are highly qualified, well respected and provide the necessary governance structure to support a far larger organisation.
Below we profile some of the names that really stood out for us amongst a very strong Board and Management:
Dr Michael Winlo (Managing Director) - steering the ship is EMD's Managing Director Michael Winlo. Dr Winlo spent more than 3 years at ~US$33BN Palantir Technologies, eventually rising to the role of Health Lead.
He has spent 7 years at Linear Clinical Research as first CEO and now Director - meaning he has an excellent grasp of the clinical setting.
He is a medical doctor with an MBA from Stanford, the prestigious Silicon Valley university.
We think Winlo is a calm and driven type who is exceptionally well suited to running a company like EMD.
Dr Stewart Washer (Executive Chairman) - Dr Washer is a co-founder of EMD and his and his family's entities collectively own ~20% of EMD shares on issue prior to the 4 September 2023 capital raise.
Dr Washer is also Executive Director of Orthocell, a regenerative medicine company, Director of Cynata Therapeutics and has been working in the life sciences industry for 20 years.
Dr Karen Smith (Executive Director) - Dr Smith was Chief Medical Officer and Global Head of Research and Development at Jazz Pharmaceuticals which was acquired GW Pharma for USD $7.2B in February 2021.
Jazz Pharmaceuticals made Epidiolex which is the only US FDA approved cannabinoid based medicine and has annual sales of ~$1BN.
With experience in 100 clinical trials and 20+ major regulatory approvals, we think Dr Smith is uniquely equipped to help EMD commercialise its treatments and secure regulatory backing.
A full list of Board and Management personnel can be found here.
8. EMD's valuation at initial entry price
EMD has a market cap of ~$33.5M at the last traded price of 10c.
Other companies operating in the psychedelic treatment space are capped at many multiples of EMD, without the same regulatory environment to support their growth.
These include US based companies like:
Compass Pathways (NASDAQ: CMPS) - capped at ~$640M, this company conducted the largest clinical trial in history of a psilocybin therapy in a Phase 2 trial for treatment resistant depression.
Atai Life Sciences (NASDAQ: ATAI) - capped at ~$395M, backed by Peter Thiel (co-founder of PayPal), this company is working on, among other candidates, a variation of ketamine for depression.
Mind Medicine (NASDAQ: MNMD) - capped at ~$255M, this company is focussed on LSD therapy in a Phase 2a clinical study for anxiety. It is also working on treatments for ADHD and opioid withdrawal
Despite depressed biotech valuations, we see these companies and their market caps as indicative of how much capital can be attracted to companies providing breakthroughs in the mental health space.
This was underlined by a sizable transaction that took place just 5 days ago - psychedelics developer Mindset Pharma was acquired by ~$32BN capped Otsuka Holdings for CAD$80M ($91M).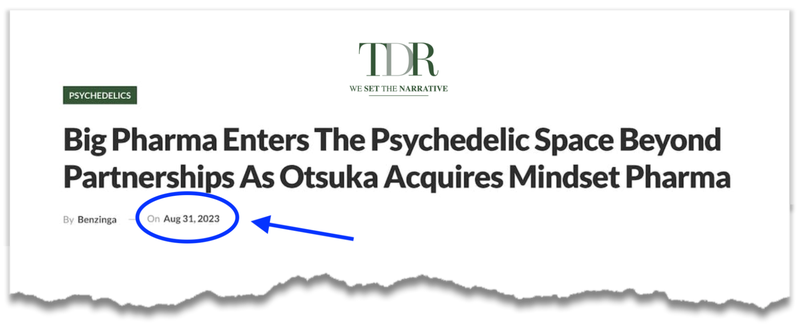 Otsuka completed this transaction in order to own the rights to Mindset Pharma's portfolio of treatments, including a new process to chemically synthesise psilocybin.
Our EMD Investment Memo:
In our EMD Investment Memo, we cover:
EMD's macro thematic
Why we Invested in EMD
Our EMD "Big Bet" - what we think the upside Investment case for EMD is
The key objectives we want to see EMD achieve
The key risks to our Investment thesis
Our Investment Plan
---