EMD Doses First Patient in MDMA Clinical Trial
Disclosure: S3 Consortium Pty Ltd (the Company) and Associated Entities own 5,866,667 EMD shares and 2,933,334 EMD options at the time of publishing this article. The Company has been engaged by EMD to share our commentary on the progress of our Investment in EMD over time.
A first for Australia... probably even the world.
Today, our biotech Investment, Emryia (ASX:EMD) has successfully dosed its first patient in a Phase 2b trial using MDMA for the treatment of Post Traumatic Stress Disorder (PTSD).
The key thing to note is that this dosing was done by EMD in a private treatment clinic setting under new Australian laws allowing use of psychedelics for treatment of mental health.
That's right - this treatment was delivered legally in a private treatment clinic that the general public has access to and can also use - likely a world first
Australia is the first country to legalise the use of psychedelics (MDMA, psilocybin) for treatment of mental health disorders - a new regime and a world first:
EMD is a first mover under Australia's new laws, meaning likely the first mover globally.
EMD's plan is to develop, trial and commercialise new psychedelics treatments - and then deliver them through the growing number of mental health treatment clinics EMD has acquired in anticipation of these laws being passed.
Part of EMD's strategy is acquiring existing Australian mental health clinics where it can reach end users - currently the company owns 8 clinics servicing 14,000 patients.
EMD already generates revenue ($1.6M last FY, targeting $5.7M this FY) from these clinics, aside from the cashflow, more importantly it also gives them access to valuable real world data on patient outcomes.
This data feeds into EMD's R&D work - clinical trials to discover new psychedelic treatments to sell through its network of clinics.
EMD is capped at just $26M and has recently completed a placement and an entitlement offer which together raised ~$3.2M.
We participated in both the EMD placement and more recently in the entitlement offer at 7.5c.
Financially speaking, EMD has the potential to deliver high margin treatments - the company has already flagged that its MDMA assisted therapy could cost in the range of $25k for a three round treatment.
While that $25k figure does sound like a lot - we see EMD's ability to secure "payers" (large organisations or insurance companies) as a major catalyst.
Basically this means the $25k cost for the patient will be covered.
Prove the treatment works, and we think the cost will likely be shouldered by organisations, potentially even major insurers.
The amount spent on treating some of these neuropsychiatric disorders using traditional means is significant - for instance, around 17.7% of Australian military veterans have post traumatic stress disorder.
Which is part of why more than $230M is spent annually on Australian veterans' mental health.
Or take for instance paramedics, which average high rates for a range of disorders like anxiety and depression, part of the reason many don't last long in the job.
In short, we think EMD could find willing "payer" support from organisations like these, and others, who want to find solutions to intractable problems their workforces' often encounter.
Securing a "payer" agreement will be a major catalyst for EMD in the medium term and EMD has said it intends to approach payers.
The goal of EMD's current trial is to show that MDMA is effective at treating PTSD as well as to refine a protocol for treatment.
We are now looking forward to EMD announcing more patients being dosed and then the results of the trial - and possibly even securing a "payer" agreement.
Today's news marks a major milestone for our Investment in EMD: MDMA-AT Phase 2b first patient treated ✅
As far as we know this is the first time a private specialist clinic has delivered MDMA as a treatment in this country... probably even the world, within current laws.
So EMD is on the forefront of history here - something which was made possible after years of hard work.
Will it prove to be a model that can scale within Australia, and maybe the wider world?
We hope so, some 1 million Australians suffer from PTSD.
And the pandemic has left mental scars on many in this country - the cost of mental health problems is ballooning in the aftermath.
So we are pleased that this Phase 2b trial is now fully underway - and are looking forward to more patients being dosed and the final clinical trial results.
Here's why:
Last month on September 14th, MAPS, a US-based not-for-profit organisation published Phase 3 trial results on MDMA Assisted Therapy for those suffering from Post Traumatic Stress Disorder (PTSD).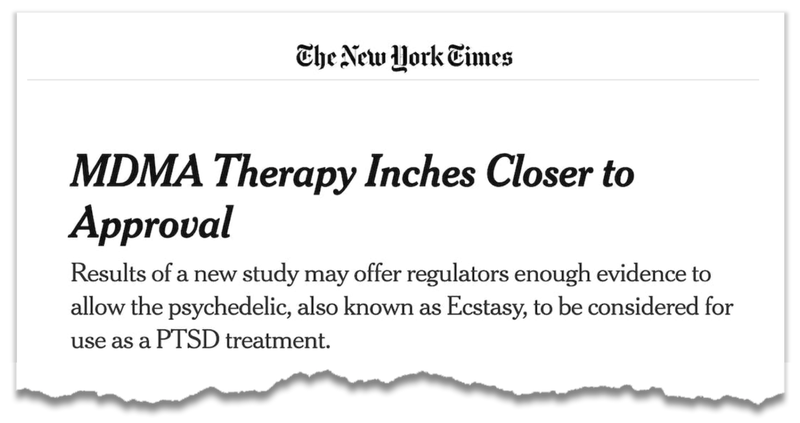 (Source)
We think this has big positive implications for EMD.
While the MAPS study is helping make the case for the US to allow MDMA to be used as a treatment for PTSD - Australia has already made this legal as of July 1st 2023.
We think that as a result, EMD has a massive head start here - and the trial should provide the foundations for something called "Authorised Prescriber" (AP) status.
This is a regulatory pathway which allows EMD to provide MDMA Assisted Therapy at a larger scale.
The AP status is the regulatory framework that emerged following the Therapeutic Goods Administration's (TGA) decision to legalise the use of MDMA for a very specific set of conditions - and EMD is one of only very few organisations in Australia that is equipped to secure AP status.
Today's dosing news, which had no safety concerns and occurred in line with an ethics approved protocol, will help strengthen EMD's bid to achieve this AP status.
If successful in the application, EMD would effectively be the only provider available for MDMA Assisted Therapy that could do treatments at scale.
EMD has already treated more than 10,000 patients at its Emerald Clinics and has the Pax Centre in Perth (which it recently acquired) to form the base of its initial operations.
As a result, we think EMD is extremely well positioned to capitalise on the TGA's decision and has a powerful first mover advantage in the market which could see it re-rate on either expanded care delivery or clinical trial success, or both.
EMD will use the data from the clinical trial to develop a protocol for this kind of assisted therapy and position itself a leader in this growing field of medicine.
EMD is capped at just $26M and has recently completed a placement and an entitlement offer which together raised ~$3.2M - we participated in the EMD entitlement offer.
After today's news, we think EMD is well placed to complete this trial and its other clinical trials, while expanding its care offering across a range of psychedelics.
Which leads us to our EMD Big Bet...
Our Big Bet for EMD:
EMD re-rates to a +$300M market cap by making a breakthrough with one or more of its clinical trial programs (MDMA, psilocybin, ketamine, CBD) while rapidly growing the footprint of its mental health treatment clinics.
NOTE: our "Big Bet" is what we HOPE the ultimate success scenario looks like for this particular Investment over the long term (3+ years). There is a lot of work to be done, many risks involved - just some of which we list in our EMD Investment Memo. Success will require a significant amount of luck. There is no guarantee that our Big Bet will ever come true.
To get up to speed on EMD, read our first two notes on EMD:
EMD's MDMA Assisted Therapy Trail
EMD is conducting its own Phase 2b trial for MDMA-AT (assisted therapy), it has secured all of the necessary approvals and drug supply for up to 72 patients.
The goal of the trial is to show that MDMA is effective at treating certain mental disorders as well as to refine a protocol for treatment.
EMD's patient recruitment followed quickly after the TGA ruling legalised the use of psychedelics for treatment of specific mental health disorders as of July 1st, 2023.
EMD has moved very quickly, and has three different components to its business that all work together.
EMD is an integrated clinical drug development and care delivery company - by integrated, we mean EMD has:
Treatment centres - places where psychedelic treatments can be administered with wrap-around care, i.e. providing a full suite of practitioners such as psychiatrists, mental health nurses, psychologists, counsellors, OTs, social workers, physical therapists.
Treatments - the actual drugs, which includes psilocybin, ketamine, MDMA and an ongoing drug development program into analogues, aiming to make the treatment work better for a range of conditions.
Data - EMD collects and owns valuable patient data to help improve its drug treatments and therapy programs.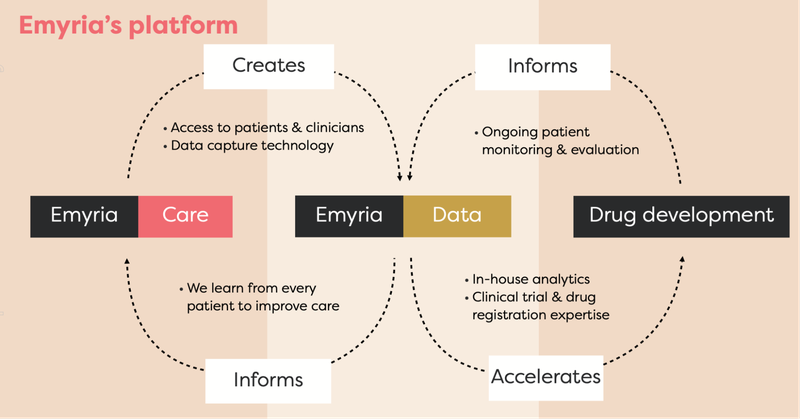 So not only does the publication of September's MAPS Phase 3 trial results underpin the overall efficacy of MDMA-AT as a treatment for PTSD (which EMD also has a Phase 2B trial for), we think it may point to the treatment's potential for other indications such as complex pain.
This link between complex pain and PTSD is discussed in EMD's latest Investor Presentation (see slide 8 in particular in EMD's latest Investor Presentation).
EMD is looking to find new uses for MDMA and has a drug development arm which is building a library of analogues which could be used to treat disorders like Parkinson's disease.
All up, the analogues program, along with its psilocybin and ketamine treatments promise to provide plenty of newsflow in the coming months (see what's next at the end of this note).
For now though, we've got a bit of a deeper dive on the MAPS study we mentioned before...
More on why the MAPS study matters for EMD
The Multidisciplinary Association for Psychedelic Studies (MAPS) and its Public Benefit Corp. arm, MAPS PBC published results of their second Phase 3 trial on MDMA Assisted Therapy on September 14th, last month.
The results of this second Phase 3 trial were published in one of the most prestigious life science journals in the world, Nature Medicine.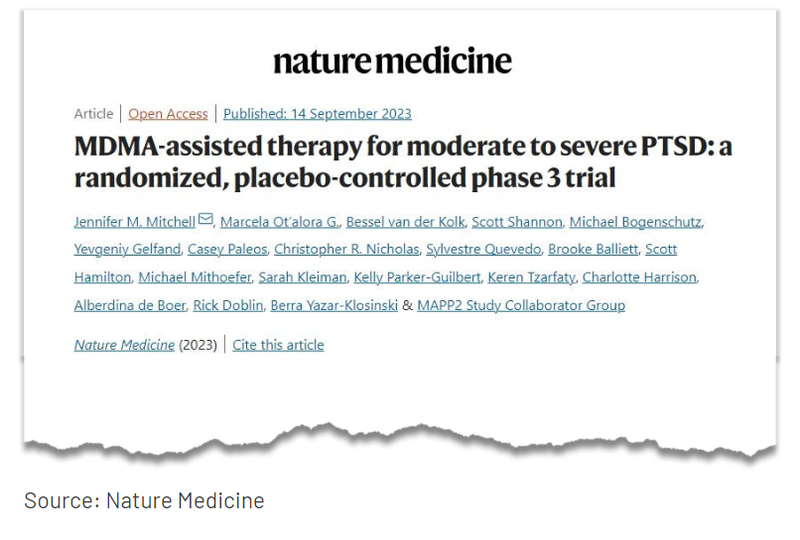 This was MAPS' second Phase 3 trial on MDMA, with the results of the first trial published in 2021.
The big takeaway from this second Phase 3 trial?
"71.2% of those in the MDMA-AT group no longer had a PTSD diagnosis, versus 47.6% in the placebo group; and, 46.2% of the MDMA-AT arm met remission criteria compared to 21.4% in the placebo-with-therapy group."
That's correct, more than two thirds of those receiving the MDMA treatment and the associated therapy no longer had PTSD, and almost half of patients had successfully put their PTSD into remission.
What's more, the results were markedly more improved for those in the placebo arm of the study.
As for why the placebo arm of the study reported some levels of remission - we suspect this was due to the therapy component of the study.
In other words, we think therapy can work - but it is far more effective on PTSD when actual MDMA is involved.
This MAPS trial is highly relevant to our Investment, EMD, because EMD has a Phase 2B, MDMA-assisted therapy trial for PTSD, which successfully recruited its first patient in July: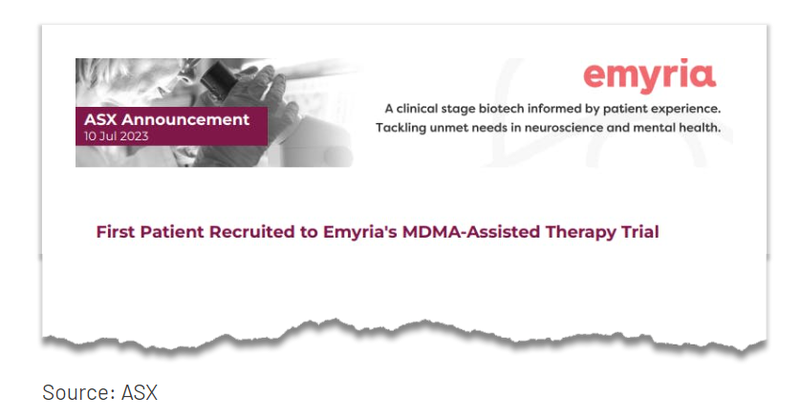 Today, EMD announced that the first patient was dosed - and it's impressive how quickly EMD was able to achieve this following the TGA's down-scheduling rules taking effect in June this year.
For governments and regulators to consider changing laws regarding a new area of science there needs to be a large body of evidence that supports safety and efficacy.
The MAPS results are a strong indication that MDMA assisted therapy is effective at treating PTSD, and a big step forward for the industry.
The more studies that show the treatment is effective the better, as governments and institutions get comfortable with the idea of the therapeutic effects of what is often thought of as a "party drug".
EMD is looking to develop its own MDMA assisted therapy as well as novel drugs that mitigate some of the shortcomings of MDMA (like its prolonged active time).
We see these trial results as validation of EMD's strategy as well as a big macro tailwind for the company.
What's next for EMD?
In terms of newsflow, there's plenty in the pipeline and we expect EMD to provide further updates on the following:
MDMA-AT Phase 2b patient recruitment updates 🔄
We want to see EMD recruit all 72 patients into the trial so that we will have a timeframe on results.
Animal study results for fast-acting MDMA analogue 🔄
EMD is developing its own analogues (modified versions of the drug that work better). These tests are currently being run on animals and we want to see if EMD publishes positive results here.
Approval for ketamine assisted therapy protocol 🔄
EMD has a pending application for a ketamine assisted therapy trial.
Secure key approvals for psilocybin use 🔄
EMD has a pending application for psilocybin use in an assisted therapy trial.
Recommence Phase 3 trial of low-dose CBD for stress & anxiety 🔄
EMD is part-way through a Phase 3 trial for a low-dose CBD product targeting Schedule 3 over-the-counter use in Australia.
Secure a major payer partnership (we see this as a major catalyst) 🔄
If EMD is able to secure a payer for its treatments, we think this would be a major catalyst for the company. Any agreement that provides financial support to patients to pursue these treatments would be significant validation for EMD and its strategy.
Risks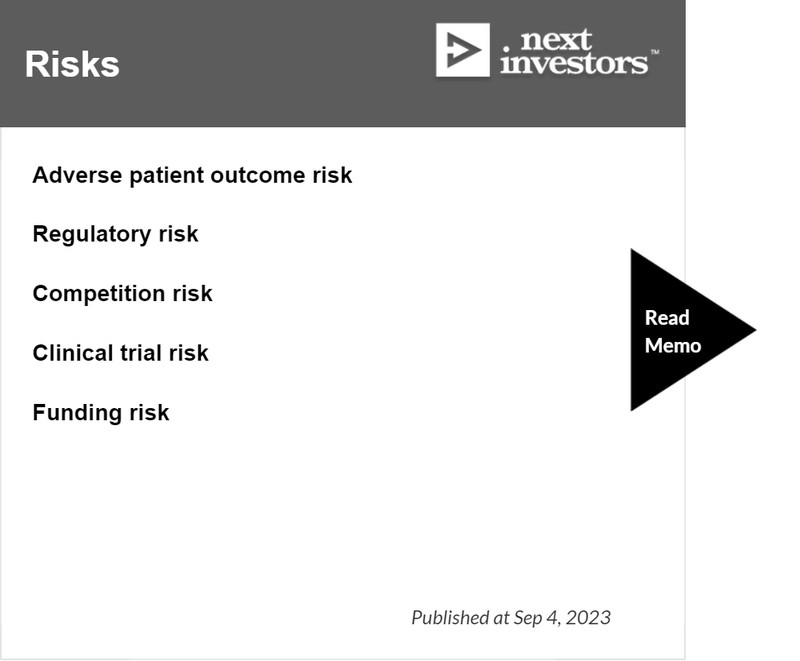 We see the safe administration of the first dose to a patient, the recently completed funding round and EMD's bid to become an Authorised Prescriber as de-risking our EMD Investment across all the risks we outlined in our EMD Investment Memo.
With that said, EMD remains subject to all of these risks going forward and there is no guarantee that things will go as planned across EMD's clinical trial program and care delivery services.
Small caps often need to raise funds to sustain their growth, and if EMD is not able to quickly scale its treatments and derive enough revenue from them, then funding risk may present itself again down the track.
Our EMD Investment Memo
In our EMD Investment Memo, you can find:
EMD's macro thematic
Why we Invested in EMD
Our EMD "Big Bet" - what we think the upside Investment case for EMD is
The key objectives we want to see EMD achieve
The key risks to our Investment thesis
Our Investment Plan
---