Our Newest Investment is Emyria (ASX: EMD)
Disclosure: S3 Consortium Pty Ltd (the Company) and Associated Entities own 5,666,667 EMD shares and 2,833,334 EMD options at the time of publishing this article. The Company has been engaged by EMD to share our commentary on the progress of our Investment in EMD over time.
On July 1st, 2023...
Australia officially legalised the use of psychedelics (MDMA, psilocybin) for treatment of mental health disorders.
Debilitating mental health disorders like treatment resistant depression, anxiety, PTSD and chronic pain.
This means that psychedelics and MDMA are now available in Australia via authorised psychiatrists for specific conditions or for clinical trials.
Australia is the first country in the world to do this, providing a commercial "global head start" for any local biotech developing psychedelic and MDMA based treatments.
Enabling the use of psychedelics to treat mental health conditions is one of the biggest evolutions in psychiatry in the last 70 years.
Given the global interest in these potentially revolutionary mental health treatments, the news garnered global media coverage:
(Sources)
Today we are announcing our Investment in a small, Australian based biotech company that already has been working on psychedelic and MDMA treatments for a few years.
We think they are the furthest along and could get to market first... ahead of anyone else in the world.
They have a unique model where they not only have multiple MDMA and psychedelic treatments under development...
But they have also been acquiring existing mental health clinics in Australia, where the company can quickly deliver the new treatments and care plans they develop.
A "clinic" is a place where psychedelic treatments can be administered with wrap-around care, i.e. providing a full suite of practitioners such as psychiatrists, mental health nurses, psychologists, counsellors, occupational therapists, social workers and physical therapists.
This means the company is "integrated" - they own the treatments, the revenue, the patient experience AND the all important patient outcomes data.
And they will be the first in the world to do this.
If successful, the company could create a "franchise" style of "psychedelics for mental health" clinics in Australia, and potentially expand the franchises globally as other countries legalise these treatments.
Possibly becoming like the "Starbucks" of psychedelics for mental health clinics globally.
Introducing our newest Investment, Emyria (ASX:EMD).
Today we will outline what EMD does and how the company makes money.
We are are also launching our EMD Investment Memo, where you can find:
EMD's macro thematic
Why we Invested in EMD
Our EMD "Big Bet" - what we think the upside Investment case for EMD is
The key objectives we want to see EMD achieve
The key risks to our Investment thesis
Our Investment Plan
We will soon also provide a deeper dive into the reasons we Invested in EMD.
EMD is a biotech stock specialising in clinical services and drug development for a range of mental health conditions such as PTSD and anxiety.
We think in the coming months EMD could become the first ASX stock to deliver MDMA assisted therapies in Australia.
EMD's activities are being closely watched by regulators and companies in the US, as well as a host of other countries which are considering rescheduling psychedelics as medicines.
Beyond dosing its first patient with MDMA assisted therapy, there are a number of other catalysts potentially on the horizon.
Like a possible agreement with a major "payer", such as an industry body or a health insurance company, or acquisition of more clinics to grow its footprint.
A key part of EMD's strategy is acquiring existing Australian mental health clinics where it can reach end users - currently the company owns 8 clinics servicing 14,000 patients.
EMD already generates revenue ($1.6M last FY, targeting $5.7M this FY) from these clinics, aside from the cashflow, more importantly it also gives them access to valuable real world data on patient outcomes.
This data feeds into its R&D work.
EMD is backed by Andrew Forrest's private biotech venture investment fund TenMile.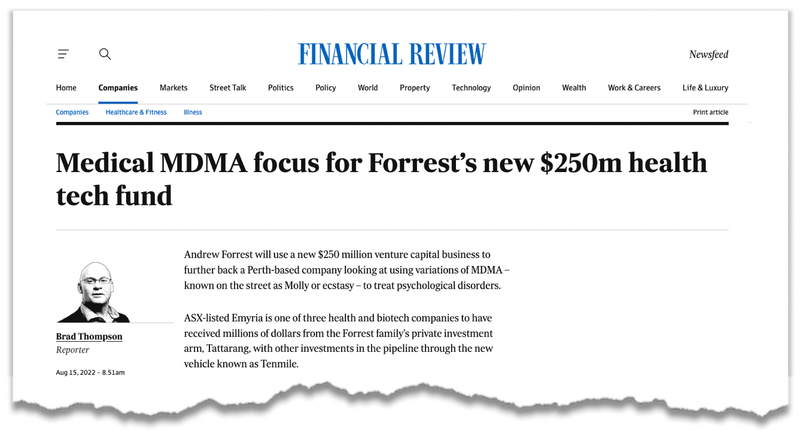 (Source)
EMD is run by Managing Director Dr Michael Winlo, a trained medical doctor who moved to the business world.
Michael lived in Silicon Valley for a few years, doing an MBA at Stanford, and working at the Peter Theil founded Palantir Technologies. At Palantir, Michael helped major healthcare institutions in the US and UK solve complex data integration and analysis challenges.
EMD's chairman/co-founder is Dr. Stewart Washer.
Dr. Washer has been in the biotech space for over 20 years and is also on the board of Botanix Pharmaceuticals, which is up ~290% in the last eight months after a positive FDA review of its lead product.
He is also Executive Director at Orthocell, a biotech which re-rated from a sub $20M market cap in 2019 to a peak market cap of ~$117M in July 2021.
EMD currently has a market cap of ~$25M based on a 7.5c share price.
Other companies operating in the psychedelic treatment space are capped at many multiples of EMD, without the same supportive regulatory environment in Australia to support their growth.
These include US based companies like:
Compass Pathways (NASDAQ: CMPS) capped at ~$662M - this company conducted the largest clinical trial in history of a psilocybin therapy in a Phase 2 trial for treatment resistant depression.
Atai Life Sciences (NASDAQ: ATAI) capped at ~$395M - backed by Peter Thiel (co-founder of PayPal), this company is working on, among other candidates, a variation of ketamine for depression.
Mind Medicine (NASDAQ: MNMD) capped at ~$252M - this company is focussed on LSD therapy in a Phase 2a clinical study for anxiety. It is also working on treatments for ADHD and opioid withdrawal
Just 5 days ago, Big Pharma also entered the space with ~$33BN capped Otsuka Holdings acquiring psychedelics developer Mindset Pharma for ~AU$91M.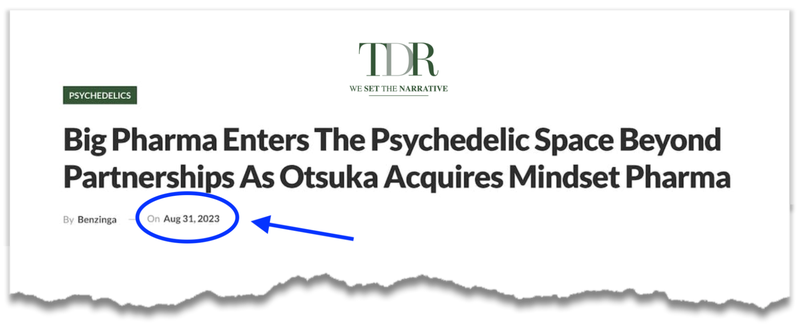 (Source)
We have been following EMD closely for around 6 months since we saw Managing Director Dr Michael Winlo present in Perth back in March.
We have had the company on our watchlist since then and were actually quite surprised that Australia announced the legalisation of psychedelics and MDMA for treatment of mental health so quickly.
Despite the regulatory environment changing almost overnight, EMD's share price has pulled back alongside most small cap stocks in the current bear market to a level where we decided to make an Investment in the company.
We have Invested in EMD at 7.5c per share - the same price the company raised $2M in capital at today.
The capital raise also came with 1 for 2 free options exercisable at 12 cents with a 3 year expiry.
EMD is also making an entitlement offer to shareholders to raise ~ $3.1M at the same terms as the placement.
That will mean anyone holding EMD shares on the indicative Record Date of Wednesday 13th September will be able to increase their shareholding in the company on the same terms as today's placement and receive the free 1 for 2 options.
Based on the indicative timetable, the last day to buy EMD shares and be eligible for the rights issue looks like 11th of September 2023.
The entitlement offer is being made on the basis of 1 new share for every 7.5 existing shares held on the Record Date.
This 7.5c capital raise is the lowest priced raise the company has done since its IPO in 2020.
Since then the company has made significant progress and, as we mentioned above, the MDMA therapy space has seen big regulatory changes starting in July this year (2 months ago).
So at the moment, we like our timing and current Entry Point.
Of course, time will tell how this Investment plays out, it's a high risk speculative stock.
We have identified and accepted certain key risks with this investment, which we detail in this note.
Today we will outline what EMD does and how the company makes money.
What does EMD actually do?
EMD is an integrated clinical drug development and care delivery company whose primary area of focus is on psychedelics such MDMA, psilocybin and more recently, ketamine.
By integrated, we mean EMD has:
Treatment centres - places where psychedelic treatments can be administered with wrap-around care, i.e. providing a full suite of practitioners such as psychiatrists, mental health nurses, psychologists, counsellors, OTs, social workers, physical therapists.
Treatments - the actual drugs, which includes psilocybin, ketamine, MDMA and an ongoing drug development program into MDMA analogues, aiming to make the treatment work better for a range of conditions.
Data - EMD collects and owns valuable patient data to help improve its drug treatments and therapy programs.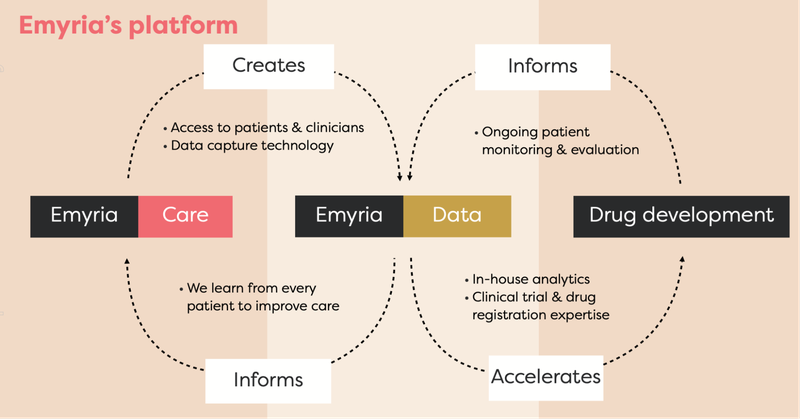 Long viewed as "party drugs", MDMA, psilocybin and ketamine are increasingly being used for hard-to-treat neuropsychiatric disorders such as complex trauma, depression, anxiety, chronic pain and Parkinson's Disease.
These disorders can be crippling, and in some cases the treatments prescribed to fix them either don't work, come with a nasty side effect profile, or even worse, prove to be counter-productive.
EMD is aiming to be on the forefront of providing new ways to treat these disorders and has both the infrastructure and treatments to make it possible - potentially at a global scale.
How will EMD make money?
In addition to the traditional blue sky drug development model we Invest for with biotechs, EMD is also already generating revenue.
EMD made a total of $1.6M for FY2023 which is projected internally to rise to $5.7M in FY2024 following a recent acquisition of PAX Centre - a leading trauma treatment centre with more than 4,000 patients.
That's a good start, but EMD is also well positioned to generate IP and licence care models to additional clinics in addition to organic growth and strategic acquisitions.
Essentially, grow its footprint and expand rapidly in a globally unique regulatory environment.
Financially speaking, EMD has the potential to deliver high margin treatments - the company has already flagged that its MDMA assisted therapy could cost in the range of $25k for a three round treatment.
While that $25k figure does sound like a lot - we see EMD's ability to secure payers (large organisations or insurance companies) as a major catalyst.
Prove it works, and we think the cost will likely be shouldered by organisations, potentially even major insurers.
The amount spent on treating some of these neuropsychiatric disorders using traditional means is significant - for instance, around 17.7% of Australian military veterans have post traumatic stress disorder.
Which is part of why more than $230M is spent annually on Australian veterans' mental health.
Or take for instance paramedics, which average high rates for a range of disorders like anxiety and depression, part of the reason many don't last long in the job.
In short, we think EMD could find willing payer support from organisations like these, and others, who want to find solutions to intractable problems their workforces' often encounter.
Now lets run through our Investment Memo for EMD, where we have aimed to distil the key reasons for our Investment, and what we want to see the company deliver over the coming 12-18 months.
Investment Memo for Emyria (ASX:EMD)
Shares Held: 5,666,667
Options Held: 2,833,334
Memo Opened: 4 September 2023
What does this company do?
Emyria (ASX:EMD) is an integrated clinical drug development and care delivery company.
EMD's primary area of focus is on psychedelic assisted therapies using MDMA, ketamine and psilocybin to treat difficult mental health problems in innovative ways. It also has cannabidiol (CBD) treatments in its clinical pipeline for anxiety and complex pain.
What is the macro theme?
We think psychedelic assisted therapy and psychedelic clinical trials have the potential to reshape care and treatments for difficult to treat neuropsychiatric disorders such as complex trauma, depression, anxiety, chronic pain and Parkinson's disease.
As more patients become aware of their options, and the regulatory environment eases, we think companies that can deliver these types of treatments, services and clinical trials will attract capital.
Our Big Bet for EMD
EMD re-rates to a +$300M market cap by making a breakthrough with one or more of its clinical trial programs (MDMA, psilocybin, ketamine, CBD) while rapidly growing the footprint of its mental health treatment clinics.
NOTE: our "Big Bet" is what we HOPE the ultimate success scenario looks like for this particular Investment over the long term (3+ years). There is a lot of work to be done, many risks involved - just some of which we list in our EMD Investment Memo. Success will require a significant amount of luck. There is no guarantee that our Big Bet will ever come true.
Why we Invested in EMD
Australia leading the charge globally in new age treatments for mental health
Following the Therapeutic Goods Administration's decision, which came into force in July 2023, Australia now has the regulatory environment needed for a company like EMD to work.
This decision put EMD and Australia potentially years ahead of other jurisdictions like the US.
EMD at the forefront of psychedelic assisted treatment
EMD has the infrastructure needed to provide psychedelic treatments.
EMD owns actual brick and mortar clinics where patients are treated.
These clinics are where practitioners like psychiatrists work - currently under TGA rules, these treatments can only be prescribed by specifically authorised psychiatrists.
EMD is creating novel MDMA products
EMD has partnered with UWA to develop a number of different novel MDMA treatments to harness the therapeutic aspects of the drug - in particular with Parkinson's disease.
Drug development can be very lucrative, if EMD proves that it is safe and effective in a clinical setting.
EMD's unparalleled access to patient data and AI partnership
Through its clinics EMD has access to opt-in patient data and uses state of the art data insights generated by a technology platform called Palantir Foundry. This data is used to inform better care practices and drug development opportunities.
Clinics delivering revenue
EMD provides mental health care services to patients, which generates revenue for the company and subsidises its R&D. The company made $1.6M last FY, targeting $5.7M this FY.
CBD "Side bets" provides a catalyst
EMD is currently in a Phase 3 clinical trial for an over-the-counter CBD treatment for anxiety.
The company has a commercial partner lined up to oversee marketing, distribution and sales. Any positive outcome here will drive immediate value back to EMD shareholders.
Strong board and management
We think EMD's Board and Management are highly qualified, well respected and provide the necessary governance structure to support a far larger organisation.
EMD's market cap provides an attractive entry point
At our Initial Entry Price of 7.5 cents, EMD has a market cap of ~$25M. Other operators in the space are capped at many multiples of EMD, indicating plenty of room for growth.
What do we expect the company to deliver?
Objective #1: Gather important data from MDMA mental health trial
We want to see EMD deliver its MDMA assisted therapy. EMD has already recruited its first patient and secured key approvals from the Office of Drug Control and Therapeutic Goods Administration.
Milestones
🔲 Begin treatment on first patient (MDMA)
🔲 Complete patient recruitment for Phase 2b trial (MDMA)
🔲 Complete Phase 2b trial for MDMA
Objective #2: Develop novel MDMA treatments
We expect EMD to continue its clinical trial work and drug development, which includes preclinical tests on MDMA analogues (animal studies) for faster acting MDMA and MDMA "without the high" for Parkinson's disease.
Milestones
🔲 Animal study results for fast acting MDMA analogue
🔲 Animal study results for Parkinson's MDMA analogue
🔲 Identify lead drug candidates for Phase 1 trial
Objective #3: Expand mental health treatments to psilocybin and ketamine therapies
We want to see EMD expand its assisted therapy programs to psilocybin and ketamine.
Milestones
🔲 Secure key approvals for psilocybin use
🔲 Secure psilocybin supply
🔲 Begin treatment on first patient (psilocybin)
🔲 Develop ketamine assisted therapy protocol
🔲 Begin treatment on first patient (ketamine)
Objective #4: CBD "Side bet" clinical trials
Whilst we didn't necessarily Invest for its CBD clinical trials, a successful outcome will deliver immediate value to shareholders.
EMD is currently in a Phase 3 trial for its CBD over the counter treatment for stress and anxiety.
It has a commercialisation agreement in place with Aspen Australia if the trial is successful and the drug is registered with the TGA.
EMD is also developing a highly potent CBD treatment for complex pain & anxiety to take to Phase 1 trials.
Milestones
🔲 Results for the Phase 3 trial for low-dose CBD for stress and anxiety
🔲 Register CBD treatment with the TGA for over the counter use
🔲 Begin: Phase 1 trial of high-potency CBD treatment
🔲 Results: Phase 1 trial of high-potency CBD treatment
Objective #5: Scale clinical health services & engage payers
We want to see EMD open new clinics and/or licence its treatments and care models to create scale. To do this we expect EMD to get a major payer in healthcare or an industry body to help fund treatments.
Milestones
🔲 Open a new clinic
🔲 Licence a care model
🔲 Secure a major payer
Objective #6: Expand Intellectual Property and build partnerships
EMD needs to secure further patent protection for its treatments (such as MDMA analogues), continue to work with major healthcare bodies to support registration of its treatments and find commercialisation partners.
Milestones
🔲 Patent application
🔲 Patent grant
🔲 Commercialisation partner secured
What could go wrong?
Adverse patient outcome risk
Given the psychedelic therapies that EMD will administer are still being fully understood, there could be a greater risk of adverse patient outcomes.
Were adverse patient outcomes to occur, aside from the direct negative impact to patients, it is possible the media and social sentiment could turn on the industry and EMD.
Alternatively, this could happen even if EMD does everything properly, i.e another less scrupulous business or operator attracts negative publicity.
Regulatory risk
The regulatory changes that allow EMD to operate in the field of psychedelic therapies are new and could be reversed. A regulator could step in and intervene either across the industry or specifically in relation to EMD. A change of government could also bring about a regulatory reversal.
Competition risk
EMD will need to move quickly to establish its presence in the market. If progress is slow, another care provider or alternative treatments could emerge hurting EMD's prospects.
Clinical trial risk
There is a chance that one or more of EMD's clinical trials fail to meet their primary or secondary endpoints, meaning the treatments fail to satisfy the criteria of the studies. Any clinical trial results, if negative, could hurt the EMD share price.
Funding risk
Small caps often need to raise cash to fund their growth. Whilst EMD is generating revenue now, it is still making a loss - i.e. it spends more cash than it brings in. If EMD is unable to develop a self-sustaining business model with positive operating cash flow, this could force EMD to raise capital in the future, likely at a discount to market prices to secure funds.
Market risk
There is always the possibility that broader market sentiment gets worse and shares as a whole trade lower, taking EMD's share price with it. Alternatively, there could be further sector specific pain ahead. For example, the biotech sector sells down.
What is our Investment Plan?
Our Investment Plan for EMD is to hold on to a majority of our position to see the company execute on its business strategy over the next two to three years.
If the company's share price materially re-rates in the medium term due to the results of the CBD Phase 3 trial, a breakthrough in the MDMA technology, a macro triggering event or any other unknown reason, we may look to sell up to ~20% of our holding. See our general hold policy for more details.
We also intend to participate in the EMD rights issue.
---