LCL hitting more high grade gold at Kusi.
Shares Held: 9,755,814
Options Held: 0
---
Our portfolio company LCL Resources (ASX: LCL) just put out assay results from its drill program at its Kusi Gold project in the PNG.
LCL is now drilling the last hole from its 15 hole diamond drill program.
To date LCL has released assay results from the first 13 holes.
Today's news came from holes 8-13 - here are our key takeaways from the results:
1) LCL has now defined a 300m x 600m gold zone -
Assays from the first 13 holes have managed to define an area of gold mineralisation that is ~300m x 600m.
LCL's assays to date have been as high as 192.2 gram metres which came from drillhole 4.
The highlight assay result from the program came from hole 4 where LCL hit 52m @ 3.65 g/t gold.
We covered that hit in a previous note here: LCL delivers 52m at 3.65g/tonne gold - "spectacular" result
The image below shows the ~300m x ~600m zone LCL has managed to define to date.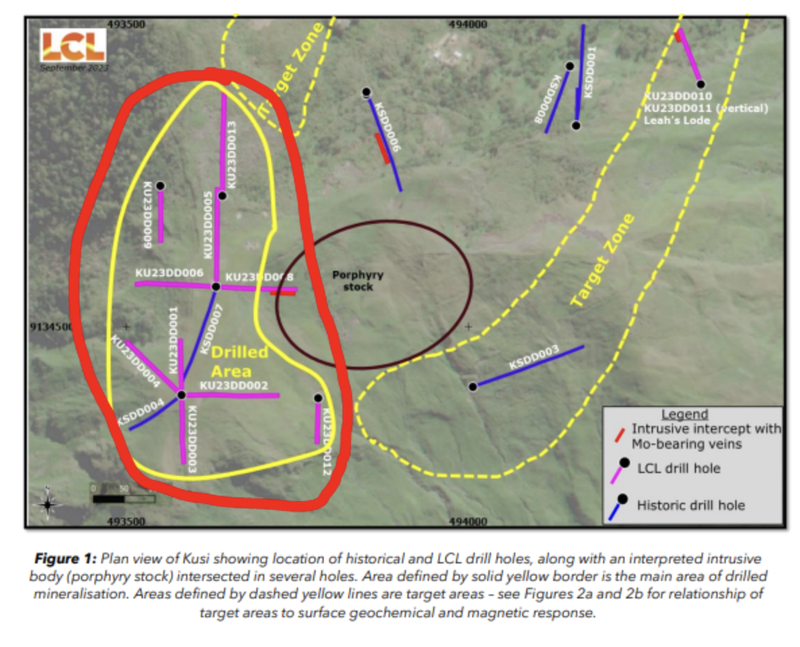 2) Larger undrilled 'Halo' target area defined -
LCL has also managed to define a target area that wraps around a ~2km x 1km geophysical anomaly.
LCL is calling it a "Halo" around the anomaly.
The halo wraps around the geophysical anomaly and extends to Leah's Lode in the east (where LCL just drilled two holes and hit gold).
Most of this 'Halo' target is undrilled at the moment and will most likely be an area where LCL focuses its future drill programs: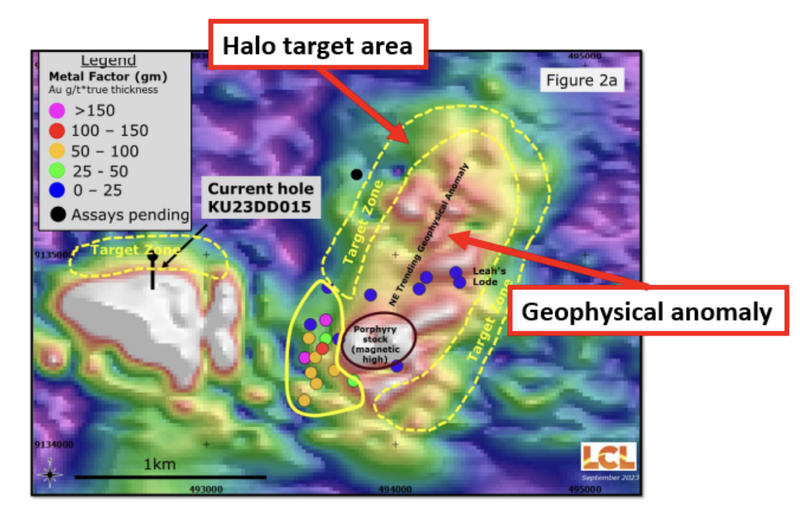 3) LCL now drilling one hole around a second geophysical anomaly
LCL also showed where its 15th drillhole would be going.
With the last drillhole of the program, LCL is testing an untested part of the project around a 2nd geophysical anomaly.
We will be watching to see what comes from that particular hole.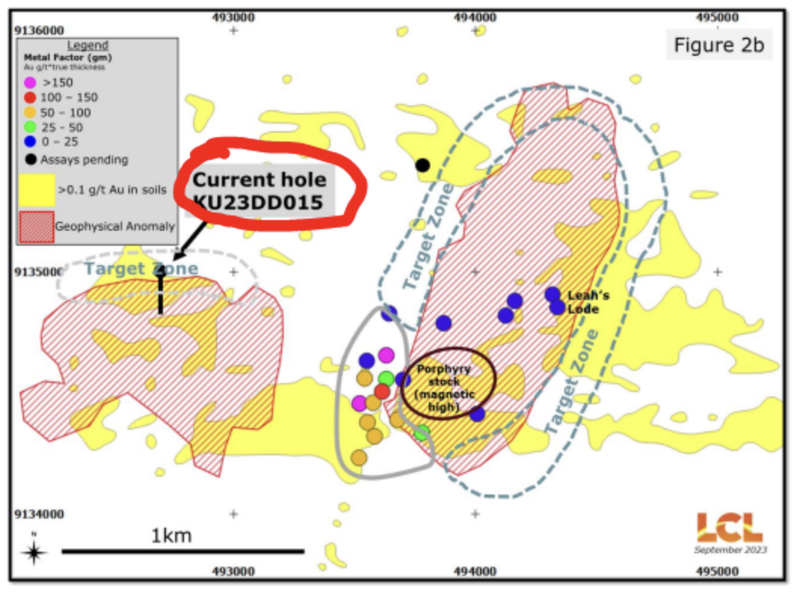 What's next for LCL?
Drilling at the Kusi gold/copper target 🔄
LCL is now drilling the last hole of its 15 hole diamond drill program.
We will be watching to see what comes from assay results in hole 14 and 15 over the coming months.
Fieldwork and airborne EM across Nickel Project 🔄
Airborne electromagnetic (EM) geophysical surveys and get on ground for some sampling/mapping - these will help work out the best places LCL should focus its future drill programs.
Joint Venture discussions 🔄
Potential farm-out/Joint ventures across LCL's project portfolio both in PNG and Colombia.