Five out of five for LCL: Gold discovery developing before our eyes
Disclosure: S3 Consortium Pty Ltd (the Company) and Associated Entities own 9,755,814 LCL shares and staff own 14,285 LCL shares at the time of publishing this article. The Company has been engaged by LCL to share our commentary on the progress of our Investment in LCL over time.
Piece by piece, the puzzle is coming together.
And yesterday, one of the biggest pieces of them all just got laid down.
Our gold exploration Investment LCL Resources (ASX:LCL) is in the midst of an 18 hole diamond drill campaign at its PNG gold project.
The $26M capped LCL wants to make a multi-million ounce gold discovery here. It's early days, but so far, it looks to be on the right track.
All five holes with assay results released have delivered gold mineralisation exceeding 50 gram-metres - we will explain what that means further down.
For now, geologists view 50 gram-metres as pretty exciting, and definitely worth more follow up drilling.
Back in May when we last wrote about LCL, we flagged that the upcoming "hole 5" was the one to watch - and it has delivered.
Yesterday LCL released its latest drill result - at hole 5, and it was:
77.9m with gold grades of 1.53g/t.
This was from depths of 118m.
Within the intercept, LCL also hit higher grade sections with grades measuring up to 5.15g/t gold.
This is a BIG, high grade intercept that we think demonstrates the value of LCL's frontier exploration strategy.
PNG is one of the few remaining places on earth where exploration companies can deliver hits of this magnitude.
Rewinding back to hole 4, LCL hit 52m at 3.65g/t.
On its own, the result was strong enough to take LCL's share price from 3.2c to a high of 5c per share on the day of the announcement.
Yesterday's hole 5 shows more of the same and has extended the gold structure ~150m to the north of hole 4.
Here's LCL's Chief Geologist John Dobe explaining a bit more about the results:
Back in May when we wrote about the hole 4 assay results, LCL flagged visible gold and sulphides were detected in the drillcores from hole 5.
Visible gold and sulphides are usually signs that a drillhole could be about to deliver more material news, in the form of assay results.
Here is what we had said in our last LCL note: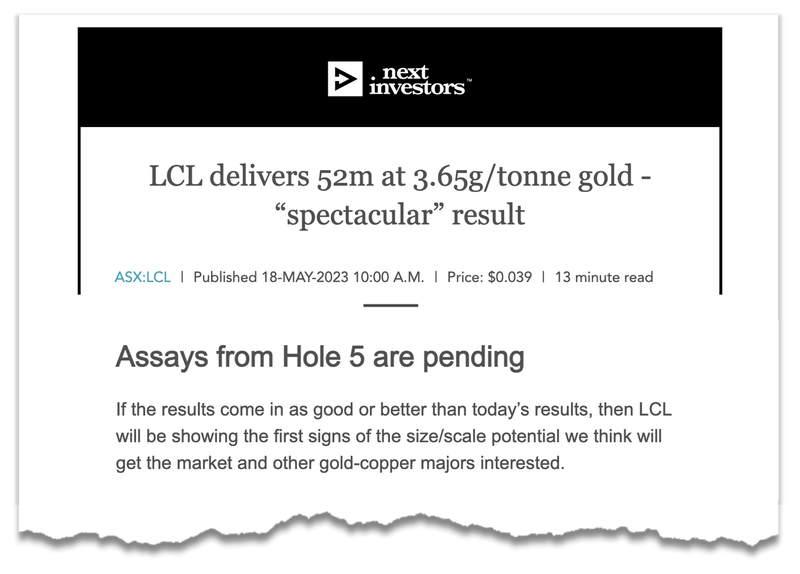 (Source)
Yesterday LCL backed up the visuals with assays from hole 5, delivering:
77.9m with gold grades of 1.53g/t from depths of 118m - inside the intercept, LCL also hit higher grade sections with grades measuring up to 5.15g/t gold.
Why is LCL's latest drill result important?
All of the assay results from LCL's first five holes seem to be indicating what could be a relatively large gold discovery.
Previously, we compared LCL's intercepts to some of the drill hits that now make up $2.2BN De Grey Mining's 9.5 million ounce Hemi deposit.
Of course, we are not suggesting that LCL has anything of the scale of Hemi.
It's early days in LCL's exploration, and we would be extremely happy with a fraction of a multi-billion dollar discovery here, given LCL's current market cap.
At this stage of exploration, every discovery hole needs a continuation of good results, and that's what we think hole 5 delivered.
Hole 5 showed a continuation of the gold structure AND early signs of what could be a source structure (potential porphyry system - more on this later).
There are still 13 more holes left for LCL to drill under the current drill program.
LCL is currently capped at $26M, and had $8.7M in the bank at the end of the March quarter.
Before accounting for drilling and other expenses in the June quarter (which may be significant given LCL is running diamond drill campaigns in PNG), LCL would be trading with an enterprise value of ~$17M.
With a relatively small EV, the ultimate target for LCL is to define a multi million ounce deposit in the PNG.
So far LCL has delivered the early drill results that are needed to find those type projects.
What does success in PNG look like for LCL?
A great example of what LCL is trying to emulate in the PNG is LCL's Canadian-listed regional peer K92 Mining.
K92 first acquired its Kainantu project in the PNG from Barrick Gold in 2014, when its share price was ~CAD$0.80 per share.
At the time the company was capped at ~$155M.
Suddenly, it changed its fortunes with a single drill result in 2017.
The transformational drill result came in May 2017 when K92 hit a near-mine discovery that it now calls the Kora deposit.
That discovery alone was enough to warrant bringing the project back into production.
K92 now has a share price of CAD$5.74 and is capped at ~$1.5BN.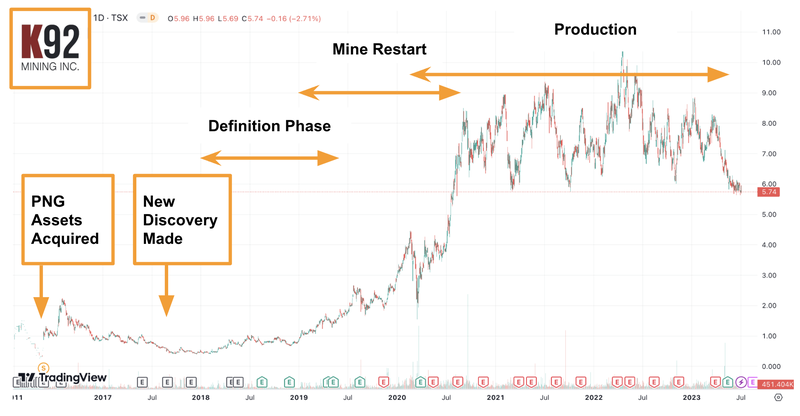 The past performance is not and should not be taken as an indication of future performance. Caution should be exercised in assessing past performance. This product, like all other financial products, is subject to market forces and unpredictable events that may adversely affect future performance.
So in summary, K92's picked up a stranded Barrick Gold asset that it transformed with a new near mine discovery which led K92 to evolve into a $1BN plus gold producer.
This is evidence that big success can be achieved in the PNG, and it gives LCL something to emulate...
As LCL Investors, the Barrick Gold connection is also quite interesting in this story...
LCL's Chief Geologist John Dobe and LCL's country manager Glenn Twomey both came out of Barrick Gold.
John was the principal geologist for Barrick and in charge of project generation, Glenn was Barrick's PNG exploration manager.

This pair vended their PNG projects to LCL, and now own circa 10% of LCL shares.
Both have spent many years in PNG hunting large gold discoveries in bigger companies, and it wouldn't surprise us if LCL's PNG venture was inspired by the K92 story.
We think this is a very solid and motivated team (due to large LCL shareholding) of in-country geologists now running $26M capped LCL's exploration programs in the PNG.
Whilst its early days, ultimately we are hoping they can deliver K92 style success to LCL.
Our LCL Big Bet is based on this style of success:
Our LCL Big Bet:
"LCL to deliver a 1,000% return off exploration success on its PNG gold, copper, nickel projects OR from developing its advanced gold project in Colombia"
NOTE: our "Big Bet" is what we HOPE the ultimate success scenario looks like for this particular Investment over the long term (3+ years). There is a lot of work to be done, many risks involved - just some of which we list in our LCL Investment Memo. Success will require a significant amount of luck. There is no guarantee that our Big Bet will ever come true.
To monitor the progress LCL has made since it acquired its PNG assets and how the company is doing relative to our "Big Bet", we maintain the following LCL "Progress Tracker".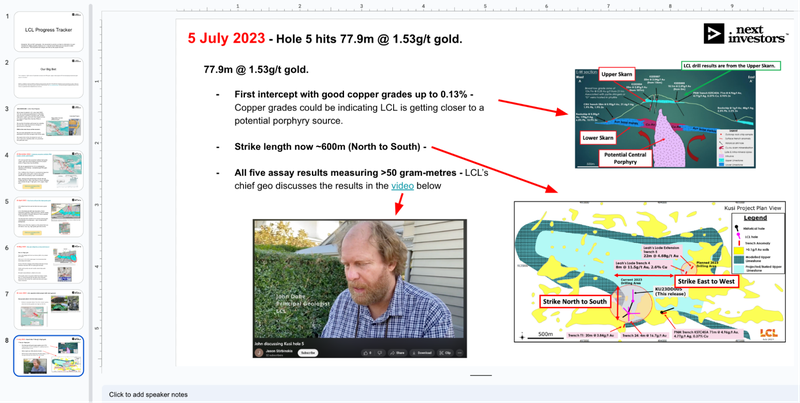 Our three key takeaways from yesterday's assay results
Here is why we think the Hole 5 assay result is particularly interesting:
It's the first drillhole with relatively high copper grades at Kusi
On hole 5, there was a ~13m intercept where assays returned 0.14% copper grades.
On its own the copper grades are relatively low BUT, more importantly is what the presence of copper says about the deposit, rather than the grade of mineralisation.
The presence of copper tells us that LCL is getting closer to a potential source and/or higher grade part of the gold structure.
Copper sulphides in a gold strike makes for an excited geologist.
Again - just check out the video of John explaining the significance of the hole 5 results.
(Source)
The copper could be the first hint at a potential gold-copper porphyry system underneath the gold mineralisation.
Below is our visual representation of what that would look like: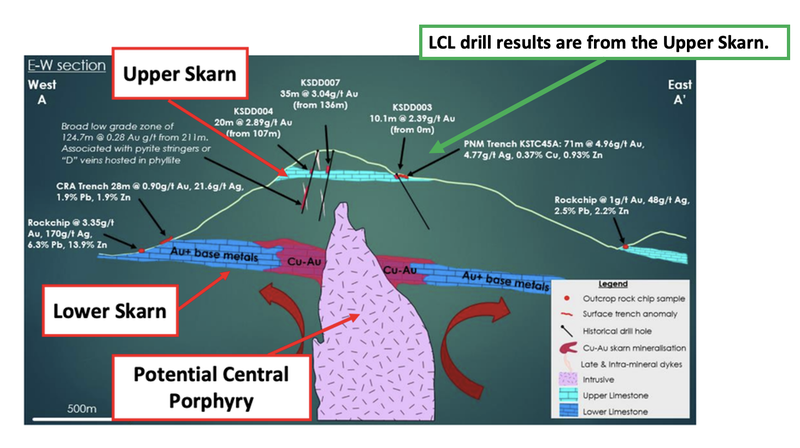 The strike length for the project is now 600m (north to south).
Another major takeaway for us from hole 5 is that it was a step-out hole drilled ~150m to the north.
We flagged the potential extensions to the north in our late note when we said the following: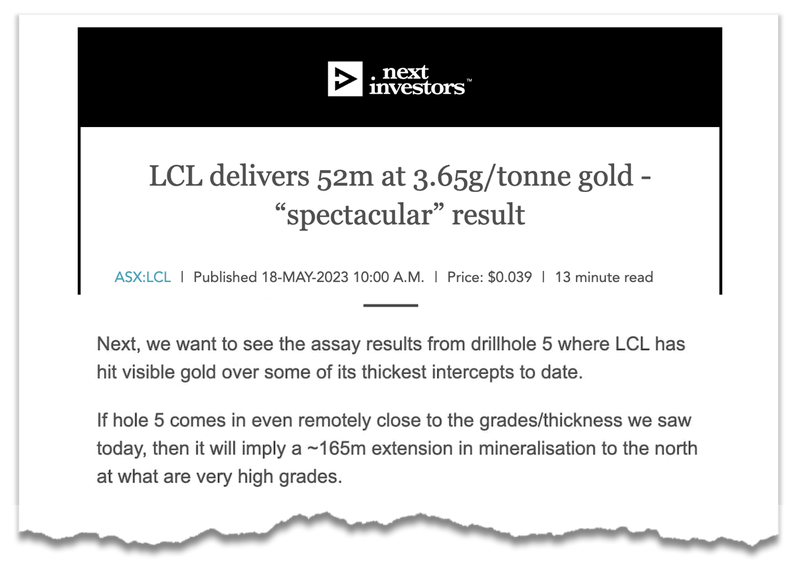 (Source)
The hole was a lot riskier than the previous holes, which were more about confirming historic drill data.
Instead, hole 5 has now shown that LCL's gold structure does in fact extend to the north AND is getting bigger in that direction.
Now the project sits on a strike length of ~600m (north to south).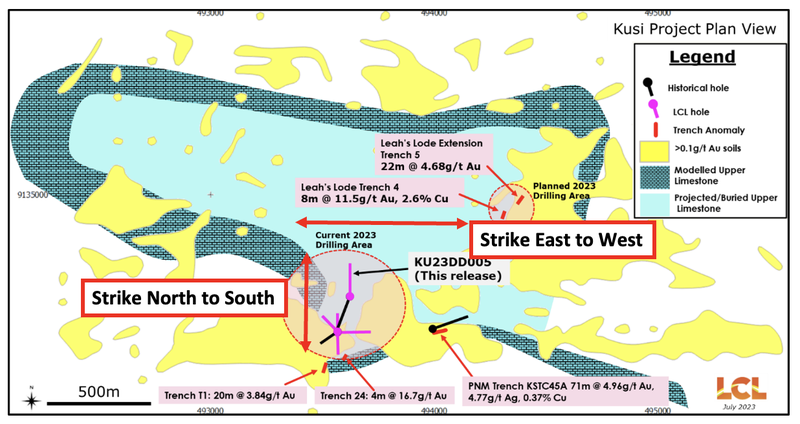 Here is a visual representation using our internal 3D model of what the extensions may look like (our resident geologist that helps us with these models is away, so here is our crude interpretation of the potential gold mineralisation extension):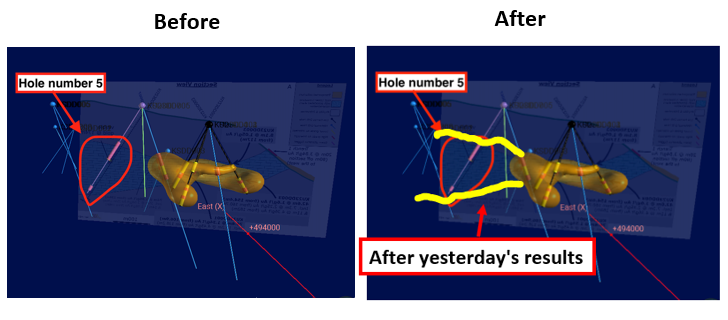 All five assay results measuring >50 gram-metres
So far LCL has managed to hit over 50 gram-metres across all five of its drillholes.
Ultimately, gram-metres matter, because it determines how much gold is being found for every metre of intercept - think of it as a standardised form of grading the thickness and grade of an intercept.
High gram-metres can be an early sign that there is potential for a discovery to host a large resource.
LCL's Principal Geologist, John Dobe's comments on the gram-metres was as follows:
"A metal factor exceeding 50gm gold from early stage drilling is very exciting and considered a drill result worthy of follow-up drilling. That every hole we have drilled exceeds this marker, with some reaching nearly 200gm, is a testament to the compelling nature of this developing discovery".
These comments from Dobe are interesting considering he worked for one of the world's largest gold miners Barrick Gold and has probably seen some of the best gold drill intercepts out there in the market right now.
Once again - it's worth watching this video of Dobe commenting on the results, which can be viewed here:
(Source)
What's next for LCL?
Drilling at the Kusi target 🔄
LCL's drill program was initially planned for a total of ~18 holes over 3,000m of drilling, meaning we still have at least another 13 drillholes to come.
Interestingly, yesterday LCL mentioned that drilling would now focus on step out holes to try and extend the gold structure.
The one we will be watching out for is the drilling LCL is planning at the "Leah's Lode" prospect which sits <1km north east of Kusi.
If we see strong results from Leah's Lode then it could start to hint at a much larger combined structure that includes both Kusi and Leah's Lode.
Below is the area LCL specifically mentioned it would drill next: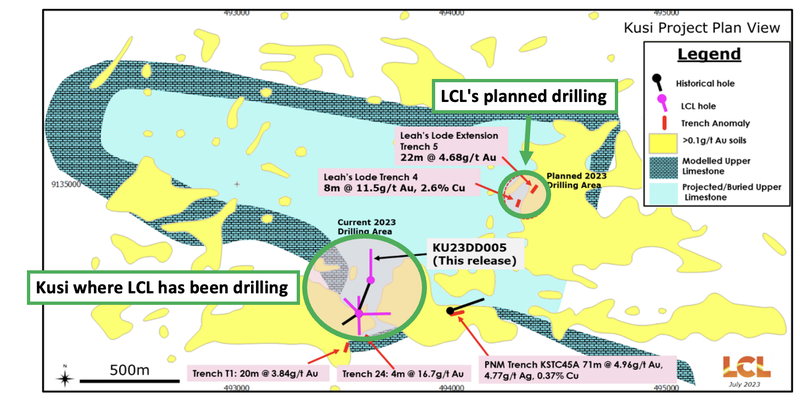 Fieldwork across other PNG projects 🔄
Nickel target:
LCL recently completed a field mapping program at its Veri Veri nickel prospect.
Results from that program are now pending.
The target here is nickel sulphide mineralisation - the type of nickel mineralisation that makes up for much of the nickel production around the world.
Historic samples taken from the creek near this project have returned grades as high as ~45.8% nickel so it will be interesting to see what LCL finds.
LCL recently acquired more ground immediately to the east of its nickel prospect - hopefully, this is a sign of intent from LCL about the potential of the project.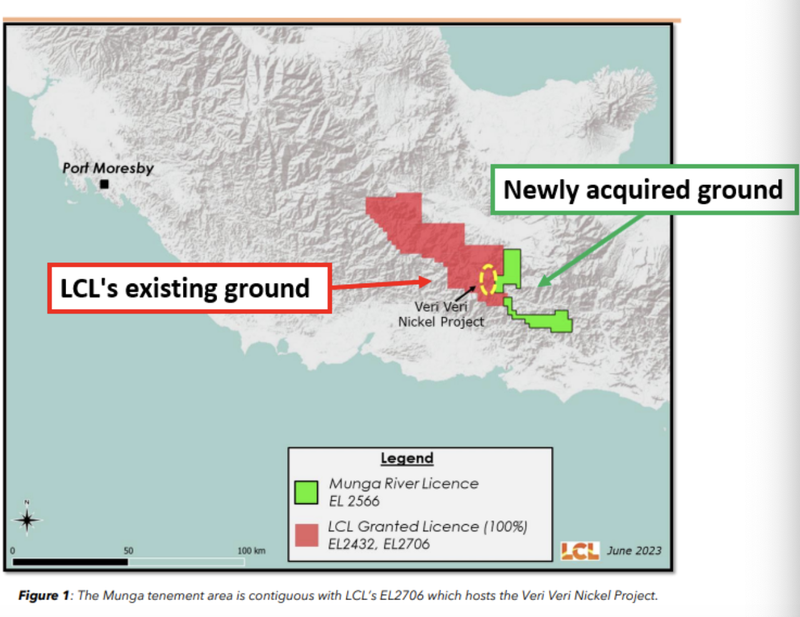 See our Quick take on that news here: LCL expands nickel project in the PNG
Copper-gold targets:
LCL is planning fieldwork at the Imou copper-gold target.
On top of this, LCL is also reviewing a ~60km channel between its Liamou and Ubei targets.
Here LCL is working with a similar theory (like at Kusi) where the undrilled EM & IP geophysical anomalies could be indicative of a copper-gold porphyry system.
We are looking forward to LCL drilling these at some stage in the future.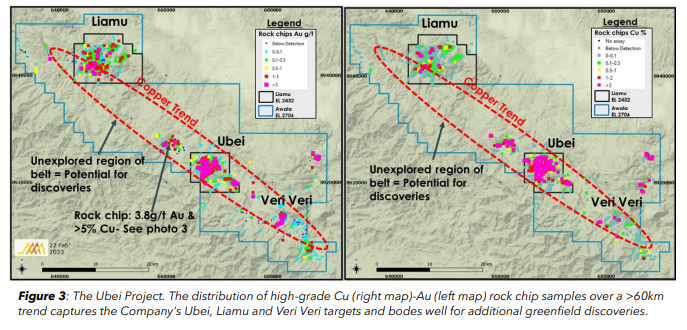 (Source)
Joint Venture discussions 🔄
With the company's focus now on its gold/copper targets in Papua New Guinea the company is also working on looking at Joint Venture (JV) partnerships over its other projects both in the PNG and in Colombia.
Our LCL Investment Memo:
Click here for our latest LCL Investment Memo where you can find a short, high level summary of our reasons for Investing including the following:
Key objectives for LCL
Why we are Invested in LCL
The key risks to our Investment thesis
Our Investment plan
---