LCL delivers 52m at 3.65g/tonne gold - "spectacular" result
Disclosure: S3 Consortium Pty Ltd (the Company) and Associated Entities own 9,755,814 LCL shares and staff own 14,285 LCL shares at the time of publishing this article. The Company has been engaged by LCL to share our commentary on the progress of our Investment in LCL over time.
52m at 3.65g/t gold assay on hole 4.
This is the highlight drill from Los Cerros (ASX:LCL)'s latest drill results - and we still have over a dozen more holes to come.
LCL also announced visuals on hole 5 (assays pending) - which delivered the widest zone of upper limestone skarn (where the gold is found) AND visible gold.
We are eagerly waiting for the assays on hole 5 expected in a couple of weeks.
LCL says that the "spectacular" assay on hole 4 combined with the visuals on hole 5 has prompted them to "re-assess the potential" of this project:

We take this to mean that the remaining 13 drill holes in this campaign should be very interesting if taking into account today's new data.
Based on this exciting new result in hole 4 and the pending assays on hole 5, we have decided to start tracking this exploration campaign in 3D going forward.
It's still early with only 5 holes drilled and a couple of historical holes, but it's a good start point for us to track how each next drill result will add to the mineralisation body:
So what does "52m at 3.65 g/t gold" really even mean?
If you are a novice gold investor, it can be hard to get your head around what is a great drill result, and what is an average drill result.
One way to think of LCL's result today is half a soccer pitch of commercial grade gold, for one hole.
Another way to compare drill results, which applies across any project or company is to multiply the two headline numbers together.
The result is a number called "gram metres" - so for LCL, 52 x 3.65 = 189.5 gram metres.
This number combines the thickness of the intercept and the gold grade.
The higher the gram metres, the stronger the result.
Generally, drill intercepts over 200 gram metres could be called "company making" results - but ideally the company really has to deliver multiple hits of this size.
LCL hit gold in every hole of the current batch of results, and today's hole 4 results and hole 5 visuals have prompted LCL to "re-assess the potential" of the mineralisation.
We think this means LCL might have underestimated the extent of gold on its hands here.
Today's results also come as momentum in the gold sector is starting to pick up - in short - it's a great time to be exploring for gold, and delivering large intercepts on potential new discoveries.
The gold price is trading near its all time highs at ~US$1,990/ounce and a large amount of capital is sloshing around at the upper end of the market.
Majors are using the opportunity to take out companies with new and developing discoveries AND/OR merge together to create industry behemoths.
The highest profile takeover being Newmont's US$19BN takeover bid for one of Australia's largest gold companies Newcrest.
Newcrest already has one operating mine (producing >700k ounces of gold/annum) and a development-ready gold-copper mine (with a resource of 28m ounces of gold and 13.7 mt of copper) project in Papua New Guinea (PNG).
Once the merger is complete, Newmont has committed to increasing its presence in PNG - this includes establishing "in-country offices" in the country. Which we hope translates to Newmont scouring around for new local discoveries...
For the major gold producers, it is all about consolidating projects and becoming 'scale monsters' with projects that have multi-million-ounce potential.
LCL's hits today in PNG are a very good first start - its early days, but it's indicative of the type of drill results that come from projects that go on to make up multi million ounce discoveries.
Next, we want to see the assay results from drillhole 5 where LCL has hit visible gold over some of its thickest intercepts to date.
If hole 5 comes in even remotely close to the grades/thickness we saw today, then it will imply a ~165m extension in mineralisation to the north at what are very high grades.
And beyond that, there's still another 13 holes to look forward to...
How good were today's assay results from LCL?
Again, the headline intercept from today was LCL's 52m hit at a 3.65g/t gold grade.
For context, LCL's result reminded us of $2.2BN De Grey Mining's original discovery holes which included an intercept measuring 49m at 3.7g/t gold.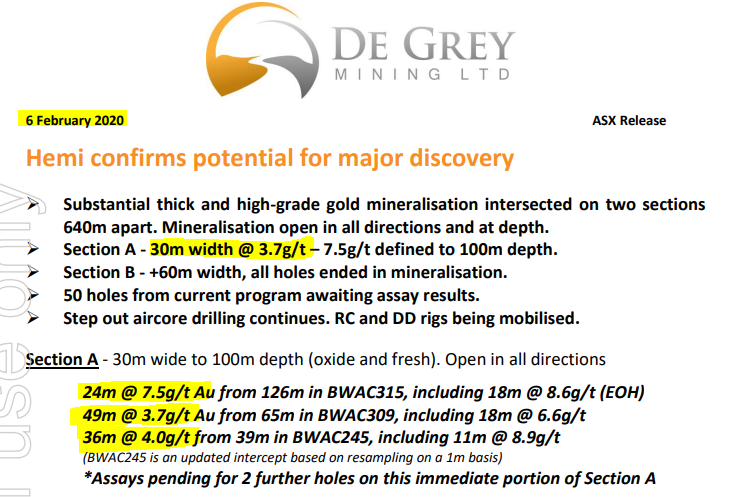 Off the back of that intercept and the subsequent drill holes, the De Grey share price went from 4.5 cents to ~$1.60 per share - over the next 8 months from discovery, De Grey delivered a return of ~3,400%: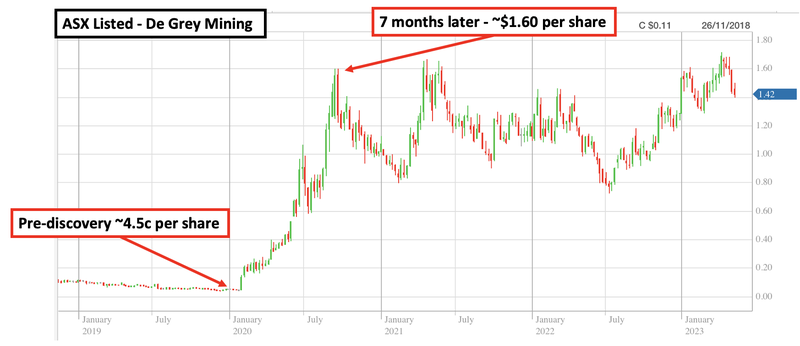 The past performance is not and should not be taken as an indication of future performance. Caution should be exercised in assessing past performance. This product, like all other financial products, is subject to market forces and unpredictable events that may adversely affect future performance.
Of course, this kind of multi-billion dollar discovery doesn't come along often, and we are not suggesting that LCL has anywhere near anything like this on its hands.
De Grey's discovery was in a different jurisdiction and is a different style of mineralisation, in a different time and market.
However, comparing LCL's result today to De Grey's discovery hole demonstrates how strong LCL's assay results were today.
We think that if LCL can continue delivering similar hits from its remaining assays and in future drill programs we think the market (and hopefully other gold majors) will start to take notice.
So far LCL has released assay results from the first four holes, drilled a total of five and still has ~13 holes to go.
Next, we are looking forward to the results from drillhole 5 - which LCL drilled ~165m to the north of today's hit.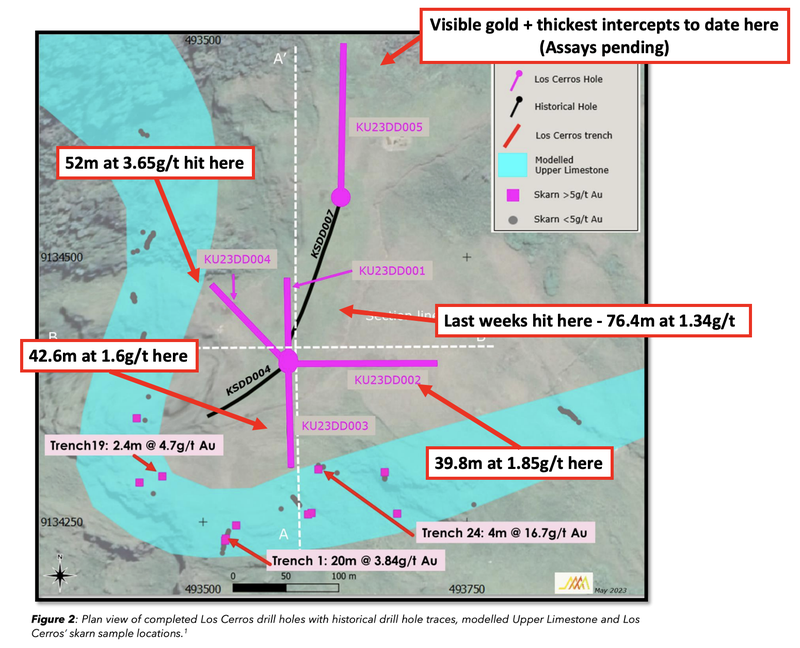 (Source)
With today's strong results from drillholes 2, 3 and 4 we think the market could miss the visual indications LCL reported from its 5th drillhole.
What do we know about Hole 5? Can it deliver something similar?
Assays are pending for LCL's next drillhole 5.
What we know of hole 5 so far, is that it could be just as good or better than today's hit. Here's why:
Hole 5 hit the "widest intercept of Upper Limestone skarn to date, as well as visible gold":
With hole 5, LCL hit the same type of rock structures that hosts today's drill results.
On top of this the company hit the thickest intercept of those limestone structures AND hit visible gold intercepts.
Visible gold is pretty rare and usually means high grade intercepts.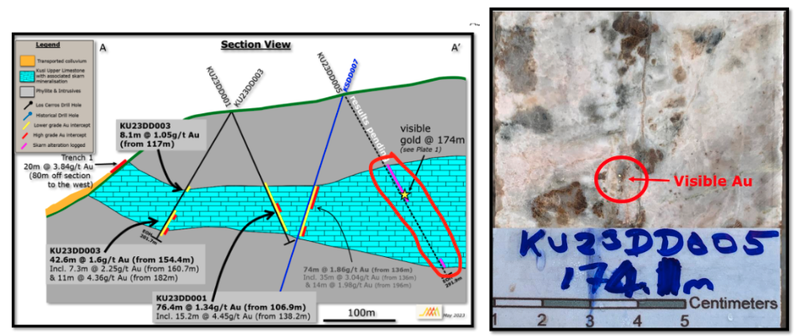 (Source)
Hole 5 delivered the "first visual recording of the primary copper mineral chalcopyrite"
On hole 5, LCL reported visual copper mineralisation (copper chalcopyrite).
This tells us that the company is getting closer to a potential source and/or higher grade part of the gold structure.
While LCL's gold hits are strong enough to stand on their own, the copper chalcopyrite could be the first hint at a potential gold-copper porphyry system underneath the gold mineralisation.
We touched on the copper porphyry potential of this project when LCL first acquired the project back in November last year.
LCL's drilling to date has been from that "Upper Skarn" unit (see image below) which could make for a big enough gold project on its own, and it really is LCL's current focus.
However this is an interesting part of the story for us - as typically as a company gets closer to a central porphyry target, gold mineralisation turns into gold/copper.
This is potentially what we are starting to see with LCL. To test this theory LCL would ultimately have to drill deeper holes, but for now we want to see the company prove widespread gold mineralisation in the "Upper Skarn" structure.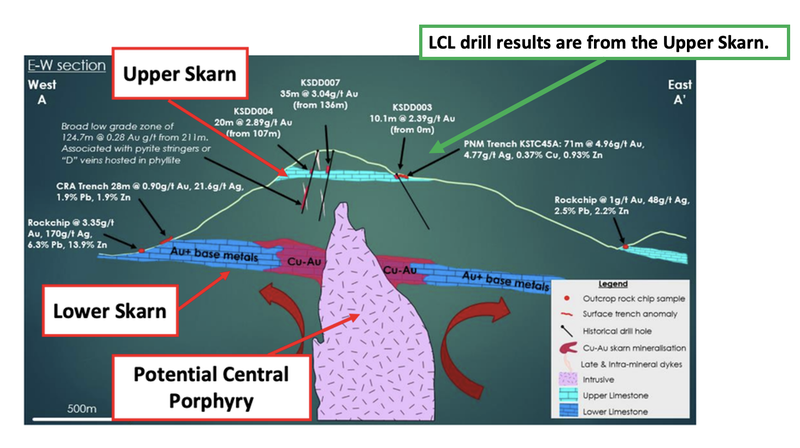 (Source)
Assays from Hole 5 are pending
If the results come in as good or better than today's results, then LCL will be showing the first signs of the size/scale potential we think will get the market and other gold-copper majors interested.
Ultimately the results from this drill program form the basis for our LCL Big Bet which is as follows...
Our LCL Big Bet:
"LCL to deliver a 1,000% return off exploration success on its PNG gold, copper, nickel projects OR from developing its advanced gold project in Colombia"
NOTE: our "Big Bet" is what we HOPE the ultimate success scenario looks like for this particular Investment over the long term (3+ years). There is a lot of work to be done, many risks involved - just some of which we list in our LCL Investment Memo. Success will require a significant amount of luck. There is no guarantee that our Big Bet will ever come true.
To monitor the progress LCL has made since it acquired its PNG assets and how the company is doing relative to our "Big Bet", we maintain the following LCL "Progress Tracker".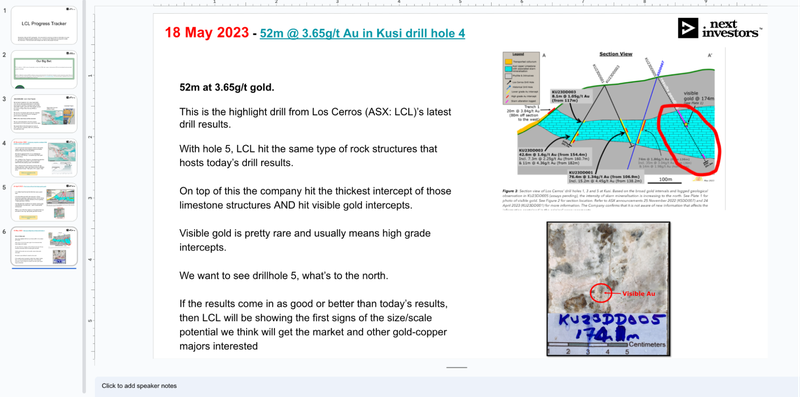 What does success look like in the PNG?
Freeport in PNG
First, time for a history lesson.
Turns out, Papua New Guinea has a long history of delivering success in the form of large gold-copper discoveries.
Back in 1936, Dutch geologist Jean Jacques Dozy climbed the world's highest island peak, in what was then known as Dutch New Guinea.
During the hike, Dozy noticed a rock outcrop veined with green streaks.
The samples he brought back down confirmed rich gold and copper deposits.
He wrote an article on his find, however due to the outbreak of World War II, this was not followed up for another 20 years.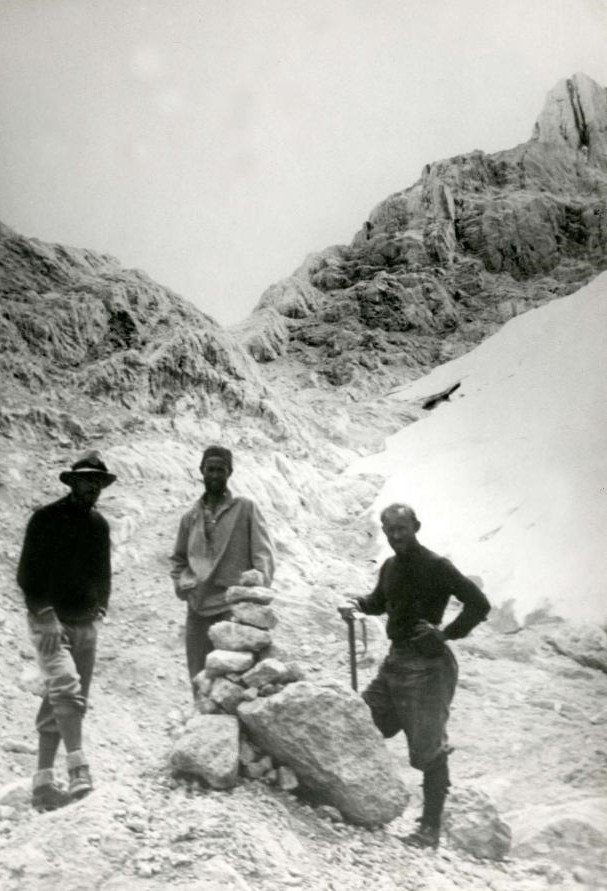 In the 1960s, Canadian (now super major) Freeport took control of the Dutch field maps and went back into PNG looking for large gold-copper systems.
Until then, the area had been sparsely mapped but never had any drilling done on it.
Fast forward to 1972 and Freeport was producing copper concentrates.
~15 years later in 1988 the Grasberg porphyry gold-copper deposit was discovered.
Grasberg ended up holding ~40m ounces of gold and became the world's largest known gold reserve and the second largest copper reserve in the world.
Freeport is now capped at ~$75BN.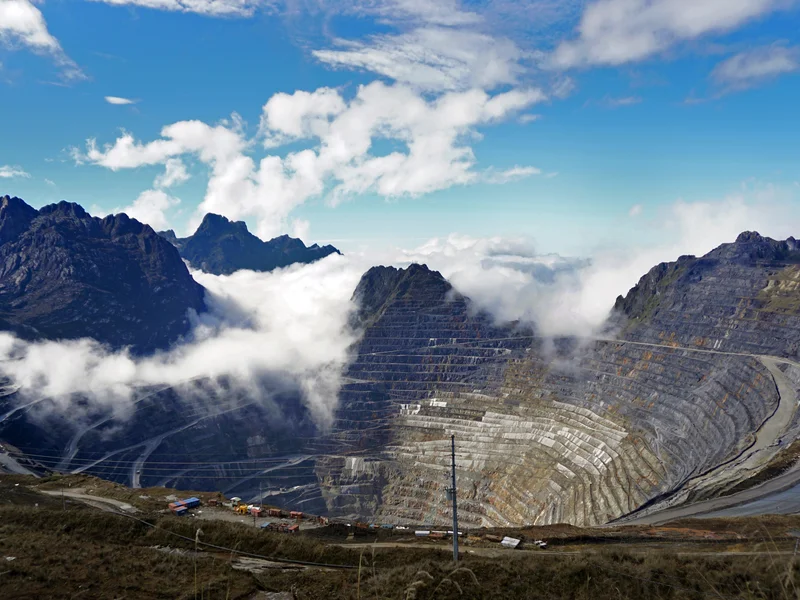 (Source)
K92 Mining
A more recent example of success and something that is a little bit more analogous to LCL's projects is K92 Mining which is listed in Canada.
K92 Mining owns the Kainantu gold mine in PNG.
Here is where LCL's Kusi project and all its other PNG projects sit relative to K92.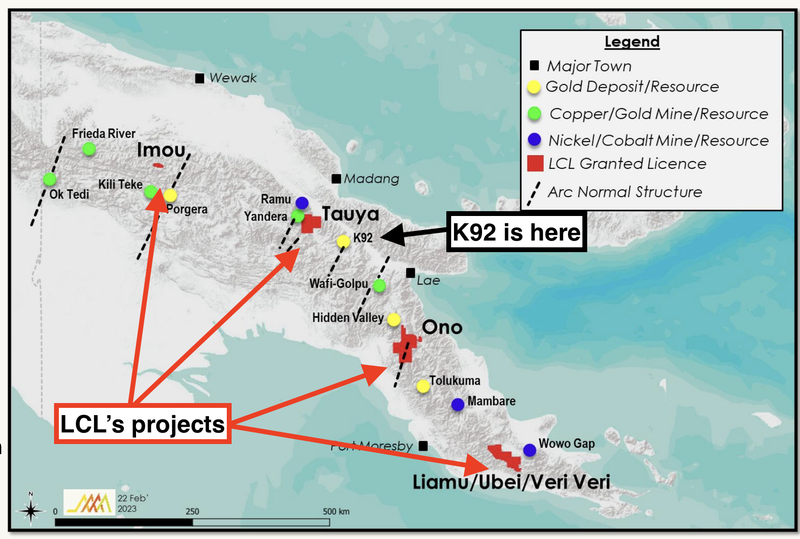 (Source)
K92 acquired its project from Barrick in 2014 when its share price was only ~CAD$0.80
By 2017, K92 restarted production, increased production and made new discoveries through to 2021.
K92 peaked around ~CAD$10 per share and now trades at CAD$6.21 per share.
The peak return for K92 from 2014 was >1,100%.
K92 is now capped at $1.6BN.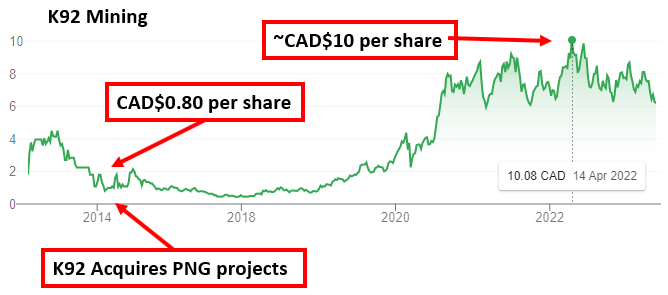 The past performance is not and should not be taken as an indication of future performance. Caution should be exercised in assessing past performance. This product, like all other financial products, is subject to market forces and unpredictable events that may adversely affect future performance.
Both of these scenarios represent the type of success that an exploration company could have in the region.
We are hoping that LCL will be the next company to deliver a major new discovery, and with the drill results announced today, and the strong team supporting the project, we think that LCL is heading in the right direction.
Newcrest and Newmont's interest in the PNG
In the biggest story in the mining large-cap world, the Detroit-based Newmont has acquired Newcrest gold for US$19BN.

(Source)
Newcrest is capped at $25BN, and Newmont is capped at $52BN - once combined, the company would be the largest gold and copper producer by market cap in the US.
The deal also marks the biggest ever transaction in the gold sector...
How does this relate to LCL?
In the merger news coverage, we saw that the two (after being combined) would be looking to put together a dedicated mining team to go all in on Papua New Guinea.
Newmont will be establishing a "regional presence and in-country offices" in Papua New Guinea: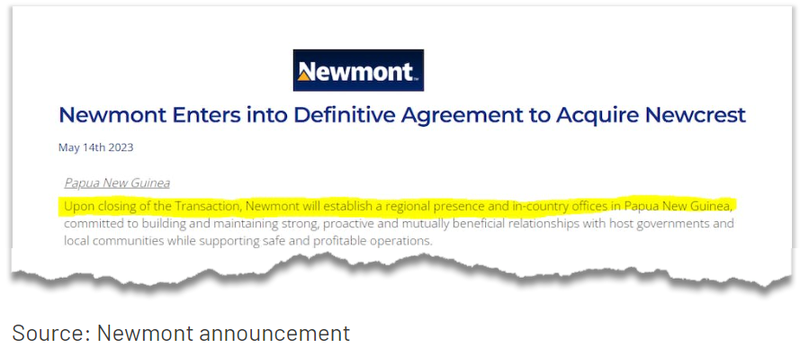 (Source)
Typically major gold producers prefer to let junior exploration companies do the exploration and definition groundwork and asset de-risking before coming in and paying a premium for the project once the company reaches a JORC resource.
Majors of the size of Newcrest & Newmont are less interested in doing the early fieldwork, exploration drilling and resource definition.
Instead, they like to come in and pay a premium for the potential (set up by the junior) and flex their balance sheets to get the project up to a size/scale where it becomes a major project for them.
Majors want defined ounces in the ground and are prepared to pay for them.
This is where we think the opportunity lies for companies like LCL.
LCL is only capped at $24M, had $8.7M cash in the bank as of 31 March 2023, equating to an enterprise value of just $15.3M.
We think this is a low base for which the company can re-rate (assuming continued exploration success).
What's next for LCL in PNG?
Drilling at the Kusi target 🔄
As of today, we have five drill holes completed and four assay results released.
LCL still has results to come from drillhole 5 and plans to drill another 13 holes in the area.
We are looking forward to seeing the results from the drilling as it comes through.
We think that after today, the next major catalyst will be from drillhole 5.
If the hole comes in even remotely close to the grades/thickness we saw today, then it will imply a ~165m extension in mineralisation to the north at what are very high grades.
Fieldwork across other PNG projects 🔄
Copper-gold targets:
LCL is planning fieldwork at the Imou copper-gold target, work is expected to start inside this quarter.
On top of this LCL is also reviewing a ~60km channel between its Liamou and Ubei targets.
Here LCL is working with a similar theory (like at Kusi) where the undrilled EM & IP geophysical anomalies could be indicative of a copper-gold porphyry system.
We are looking forward to LCL drilling these at some stage in the future.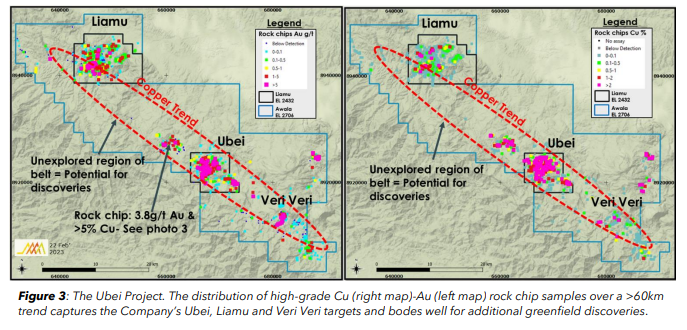 (Source)
Nickel target:
LCL recently completed a field mapping program at its Veri Veri nickel prospect.
The target here is nickel sulphide mineralisation - the type of nickel mineralisation that makes up for much of the nickel production around the world.
Historic samples taken from the creek near this project have returned grades as high as ~45.8% nickel so it will be interesting to see what LCL finds.
Results from that program are now pending.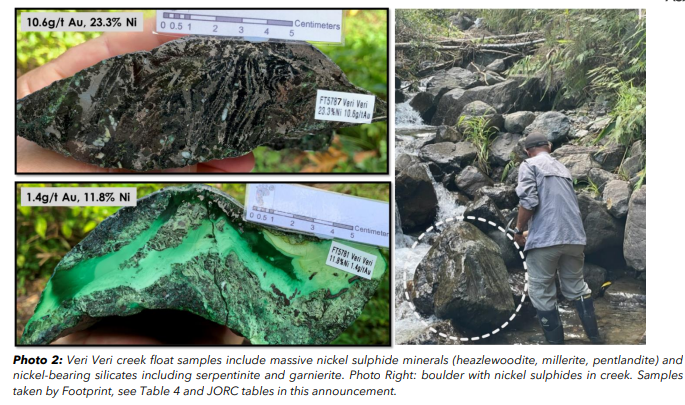 (Source)
Joint Venture discussions 🔄
With the company's focus now on its gold/copper targets in Papua New Guinea the company is also working on looking at Joint Venture (JV) partnerships over its other projects both in the PNG and in Colombia.
We listed a potential Joint Venture as Objective #3 of what we wanted to see in our LCL Investment Memo: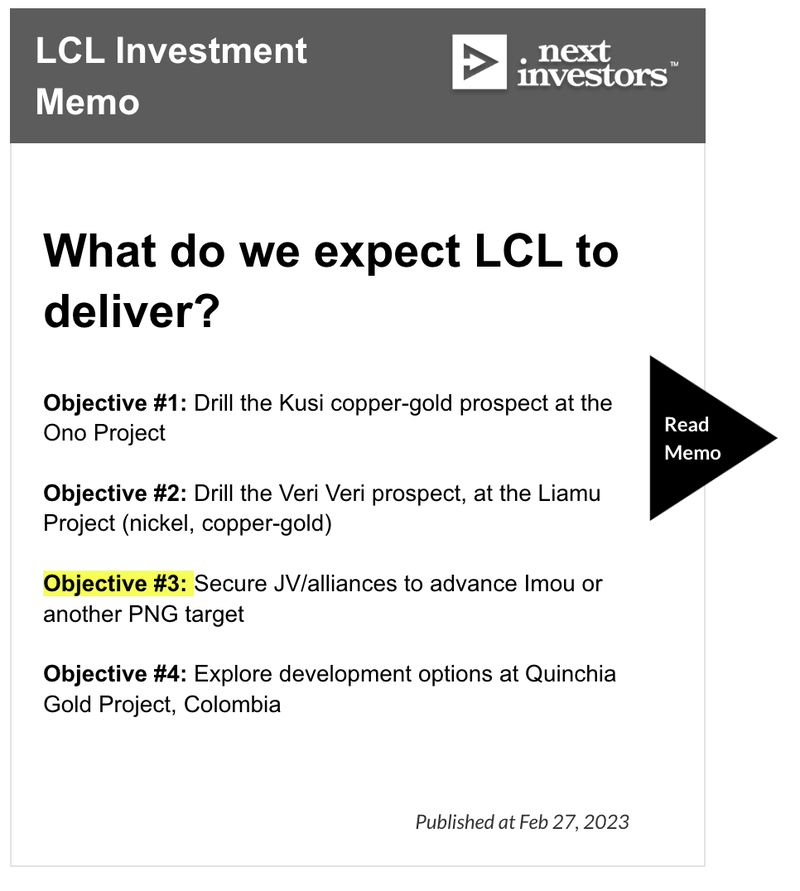 What's happening in Colombia?
At the moment most of LCL's work in Colombia is desktop work related to mining approvals.
LCL recently submitted its Environmental Impact Assessment (EIA) based on its 2017 Miraflores Definitive Feasibility Study (DFS).
The EIA is the last step in the project's development approvals, and LCL thinks it could take at least a minimum of ~6 months to get the approvals over the line.
At the moment, LCL's Colombian project is in the long, and sometimes arduous, part of building a mining project - the regulatory approval stages.
We are conscious that this may take a while and so the PNG projects are good to be exploring while this work happens in the background.
Our LCL Investment Memo:
Click here for our latest LCL Investment Memo where you can find a short, high level summary of our reasons for Investing including the following:
Key objectives for LCL
Why we are Invested in LCL
The key risks to our Investment thesis
Our Investment plan
---