LCL acquires new gold and battery metals project - drill campaign incoming
Disclosure: S3 Consortium Pty Ltd (the Company) and Associated Entities own 3,210,000 LCL shares and the Company's staff own 133,250 shares at the time of publishing this article. The Company has been engaged by LCL to share our commentary on the progress of our Investment in LCL over time.
At Next Investors we like to take big swings on giant resource exploration projects.
This inevitably means we often end up Investing in "exotic" locations like Zimbabwe, Angola, Kazakhstan, and Mongolia.
While they can be higher risk, the rewards can be larger if a successful, frontier opening discovery is made.
Our Investment Los Cerros (ASX:LCL) has been exploring for gold in a relatively exotic location - Colombia.
We have been Invested in LCL since early 2020, and during that time it has discovered and defined a giant gold deposit.
Over the course of 2020, LCL rode the "discovery wave" going from 3c to as high as 23c.
However, in recent months the gold price had come off and there was a shift in politics and sentiment in Colombia, not to mention broader market pain, which meant the LCL share price also retreated...
We hung onto 3,210,000 LCL shares through the lows, hoping the gold market would come back. We are glad we did.
Today, LCL announced it has acquired multiple high-grade copper, gold and nickel targets across five project areas in Papua New Guinea (PNG).
Here's our quick key takeaways (keep reading for more details):
High grade existing exploration data - Some of the highest grade rock chip assays we have seen with massive nickel sulphides measuring 45.8% nickel; surface trenches with 2.6% copper and 11.5g/t gold grades; and historic drill intercepts measuring 35m at a grade of 3.04g/t gold from 136m.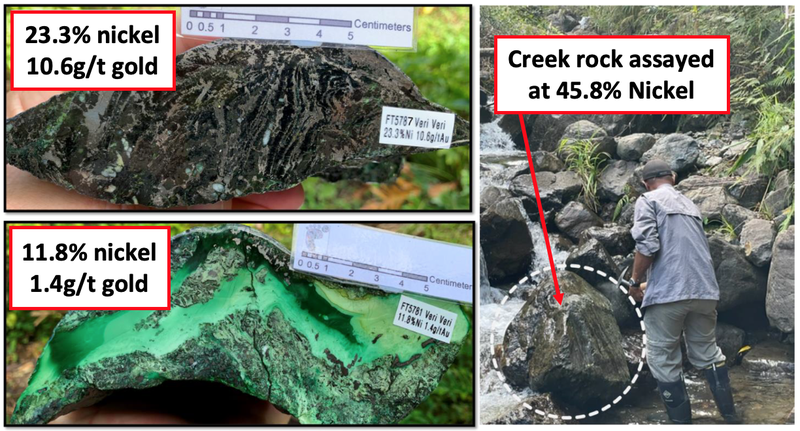 High quality additions to the team - The two vendors are joining LCL, and have years of PNG in-country exploration geology experience. These guys are ex-Barrick Gold PNG explorers with very long and illustrious CVs exploring for valuable metals all over the planet. Having local in-country experience and relationships is critical in a higher risk jurisdiction like PNG.
Attractive deal terms - LCL is paying $350k in cash and is issuing ~65 million LCL shares to the vendors (10% of issued capital, currently worth around $2.4M) of which ~80% will be escrowed for the first 12 months. We particularly like this because of the limited dilution and LCL retains much of its $11.4M cash balance (at 30 September 2022) at a time when it can be difficult for companies to raise new capital.
Drill ready targets - 3,000m diamond drilling program planned (and looks fairly well advanced), meaning we have near term newsflow to look forward to.
Fair bit of preliminary work already done - Project has had drilling and sampling work done in the past - remember those high grades quoted above? LCL therefore has some data to work with whilst chasing a discovery.
Multi billion $ mines nearby - Whilst PNG is considered a riskier, frontier location, there's actually a lot of already discovered gold nearby, producing mines, and majors operating. It has a well developed gold industry and hopefully more gold, nickel and copper to be found by LCL.
Past success from junior explorer to $1BN+ plus success - What LCL is planning to do is not without precedent. Canadian company K92 Mining entered PNG via an acquisition in 2014 and has since seen its share price go from ~CAD$0.80c to ~CAD$7.93 per share. K92 Mining now trades with a market cap of ~CAD$1.8BN.
Given LCL has acquired new assets in a different country, we will be updating our LCL Investment Memo in the coming weeks to reflect our current investment case for the company.
We think gold and battery metals like copper and nickel will have a great year in 2023 and are pleased to see that LCL has added some battery metals exploration in PNG to its advanced gold project in Colombia - the perfect combo for 2023.
We are confident in backing LCL's Managing Director Jason Stirbinskis, who we have been following for over three years on the Colombia gold project. We think he is an excellent operator, and hope he can deliver similar or greater exploration success in PNG, backed by the in-country PNG geology team that came with the newly acquired projects. In speaking with Jason regarding these new projects, we noted his excitement was palpable.
Obviously, the early grades found to date are exciting, but always remember that investing in exploration stocks is risky, especially in locations like PNG.
LCL will need to undertake its own drilling program to confirm these grades and the size scope of the mineralisation at its projects.
We are Invested in LCL as part of a diversified exploration portfolio. If LCL pulls off a large discovery, it will be great, but we are also fully prepared to lose if "exploration risk" or "country risk" materialises - frontier exploration is risky.
Having a large outsized return on a gold stock operating in PNG has happened before however.
The best example is Canadian listed K92 Mining, which owns the Kainantu gold mine in PNG.
K92 Mining acquired its project from Barrick in 2014 when its share price was only ~CAD$0.80 and the company was just another humble junior listed on the Canadian ventures exchange (not the main exchange).
Subsequently, K92 restarted production in late 2017 and has grown production each year through to 2021, making new discoveries along the way and growing shareholder value at the same time.
Production, combined with years of drilling out the project and making multiple high grade discoveries, now sees K92 trades with a market cap of ~CAD$1.8BN.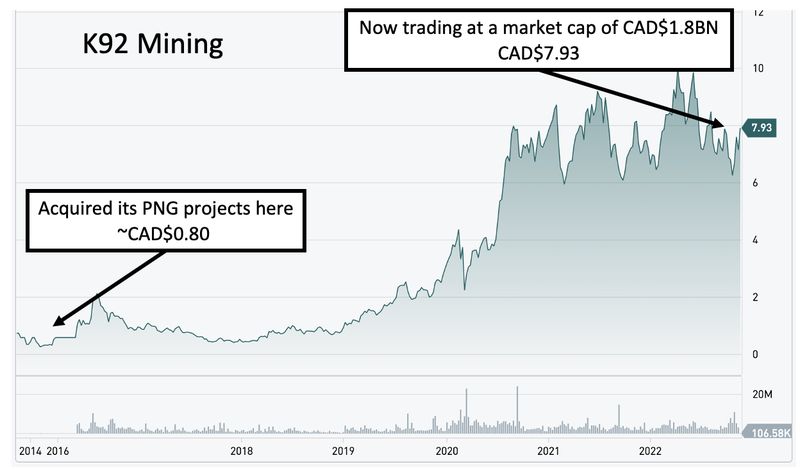 The projects that LCL is acquiring sit on either side of K92 Mining's project...
Obviously, there is no guarantee that LCL can replicate K92's success in PNG, and past performance is never an indicator of future performance.
But the K92 comparison shows how PNG gold projects can move from aspiration into reality and lead to significant re-rates, should the right factors click into place.
This brings us to our Big Bet for LCL:
LCL to re-rate 1,000% off exploration success on its new PNG gold, copper, nickel projects or from developing its advanced gold project in Colombia.
NOTE: our "Big Bet" is what we HOPE the ultimate success scenario looks like for this particular Investment over the long term (3+ years). There is a lot of work to be done, many risks involved - just some of which we list in our LCL Investment Memo. Success will require a significant amount of luck. There is no guarantee that our Big Bet will ever come true.
A deeper dive into the newly acquired projects in Papua New Guinea
LCL's new acquisition includes 3,867km2 of exploration titles in central and southern areas of PNG.
The five licence areas — Ono, Liamu and Veri Veri, Tauya, and Imou – can be seen on the map below (in red). Also note the number of resources and mines present shown in other colours: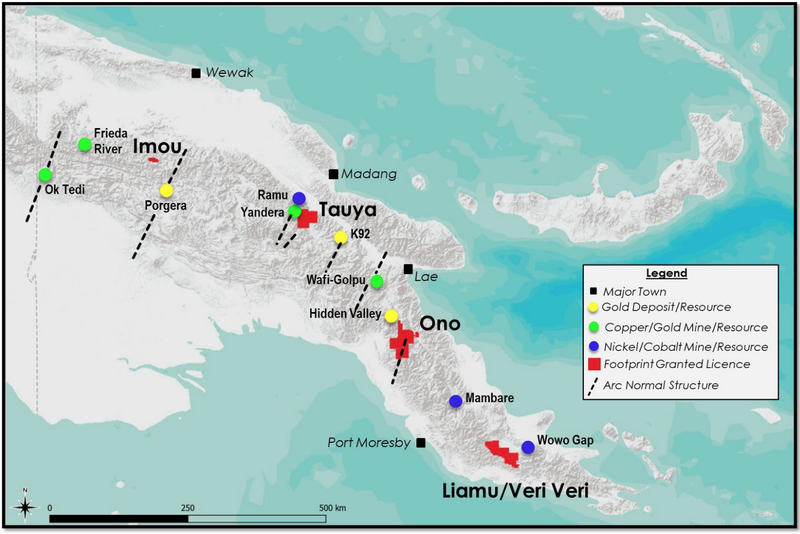 While LCL has acquired five target areas in PNG, initial exploration programs will be conducted at the Kusi target at the Ono Project, and the Veri Veri prospect at the Liamu Project.
1. Kusi target – Ono Project (Gold-Copper)
The 1,630km2 Ono Project is considered prospective for high grade oxide gold in skarns along with epithermal and porphyry style mineralisation.
(We'll explain what on earth this means in a future note)
Ono is located ~150km from the industrial port of Lae and is within the same structural belt as the multi-million-ounce Hidden Valley gold mine (8Moz) and the Wafi-Golpu copper/gold project (28Moz Au + 13.7Mt Cu):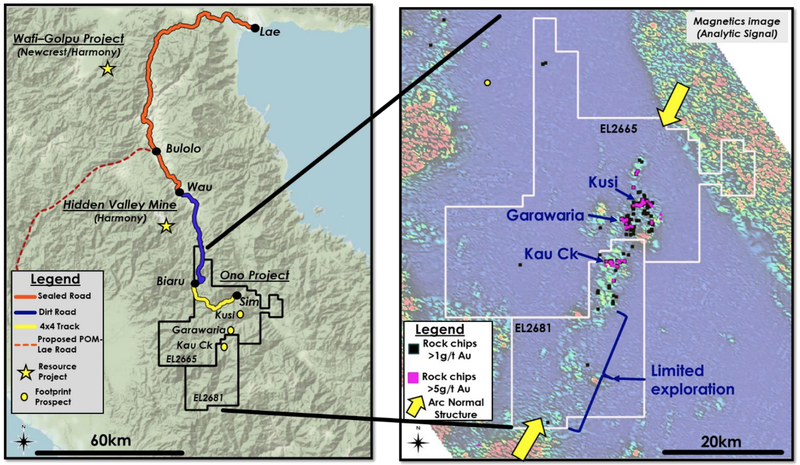 Recent work at the most advanced target reinterpreted the economic potential for a gold-copper oxide skarn.
Here, historical drill intersections include 35m @ 3.04g/t gold from 136m, plus there is trench sampling that includes 8m @ 11.5g/t gold, 2.6% copper, 24g/t silver.
None of the historical drill holes have tested a known lower limestone skarn unit (dark blue on map below) or adequately tested the buried copper-gold porphyry theory (central in pink).
Also note the upper skarn unit (light blue) includes outcropping at surface. Given the high grades, we think that this deposit could support a profitable mining operation from just this upper skarn alone, but more exploration work will be needed to determine if this is the case.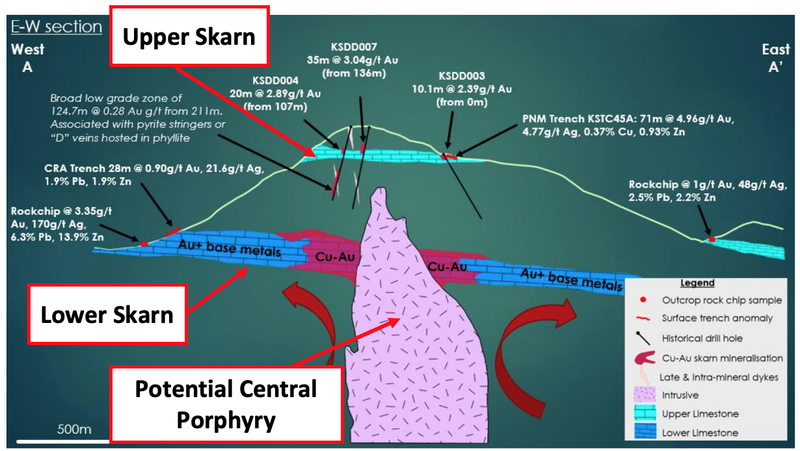 Kusi stylised cross section showing assay results over modelled relationship between mapped skarns and potential central porphyry.
Additionally, the cross section above represents just a fraction of the gold in soil at Kusi as can be seen below - note highlighted (A - A') area of above cross section.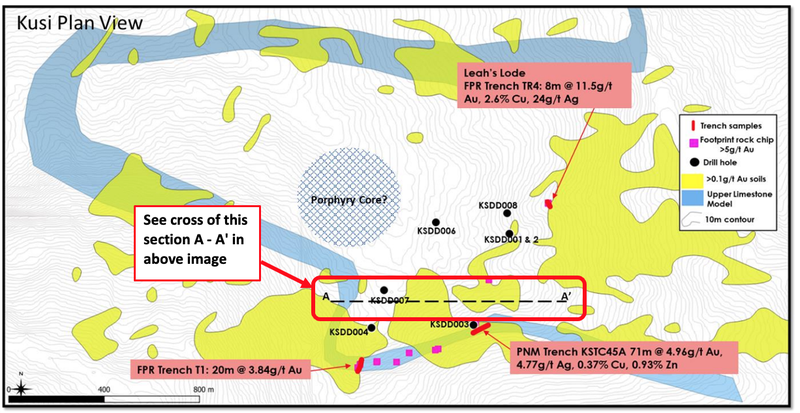 Plan view of Kusi showing gold in soils geochemical anomaly, 3D magnetic inversion shell and historical drill collars over modelled upper limestone skarn and interpreted intrusive (porphyry) centre.
2. Veri Veri prospect – Liamu Project (Nickel, Copper-Gold)
The Liamu licence has multiple untested copper-gold epithermal and porphyry targets, including the Veri Veri prospect which is prospective for high-grade nickel sulphide mineralisation.
While there has been no drilling for nickel sulphides within the Veri Veri Project area, massive nickel sulphide boulders in Veri Veri Creek prompted historical exploration programs involving trenching.
LCL's exploration at Veri Veri will focus on the source of creek float boulders of massive nickel sulphides that assayed up to 45.8% nickel with some samples also reporting high grade gold, 23.37% nickel plus 10.6g/t gold.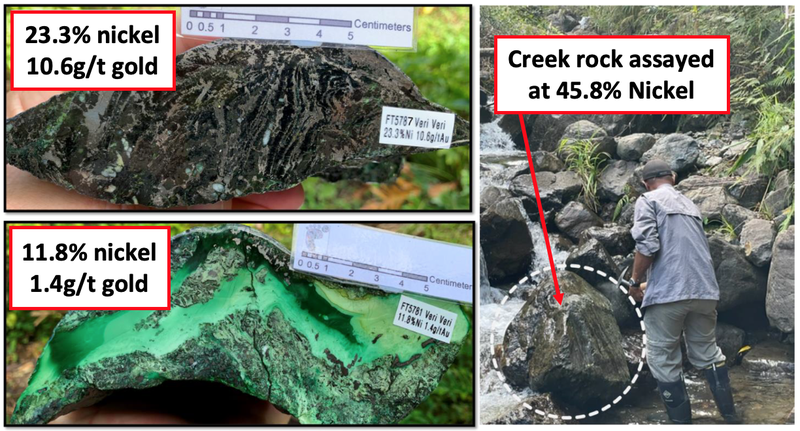 Along with the Ono and Liamu Projects, LCL also acquired the Tauya copper project, which is along strike from the Yandera Project (one of the largest undeveloped copper deposits in the world, 959Mt @ 0.37% Cu eq), and LCL's Imou Project which has skarn and epithermal and porphyry copper-gold potential.
However, these projects are not the immediate focus for LCL, as the company will first explore the copper-gold at Kusi and high-grade nickel at Veri Veri.
PNG in-country experience
Much of LCL's potential for success comes down to the extensive experience of the two geologists that have now joined LCL, Mr Twomey and Mr Dobe.
The pair started working on LCL's new PNG projects eight years ago to leverage their nearly 60 years of combined global 'boots on the ground' mineral exploration expertise and understanding of PNG geology.
This includes eight years each in PNG in senior roles for the world's largest gold producer, Barrick Gold — Mr Twomey as Exploration Manager in PNG and Mr Dobe as Principal Geologist-Project Generation.
Mr Twomey has also held board positions and performed material roles in resource expansions including at Barrick's Porgera gold mine in PNG, while Mr Dobe brings world class experience in project generation with extensive expertise in porphyry, epithermal, IOCG, sediment hosted copper and orogenic gold systems.
LCL's Columbia gold project - by no means forgotten
We initially invested in LCL in April 2020 for what we hoped would be a multi-million ounces gold discovery in Colombia. LCL delivered on that objective, making a discovery at the project's Tesorito prospect, taking the total JORC resource to 2.6Moz.
Our Investment performed well initially, gaining as much as 463%. But this year hasn't been kind to gold explorers and LCL was no exception. With gold out of favour, gold discoveries just haven't been rewarded with any meaningful share price re-rates.
This, along with the political uncertainty around the new government in Colombia, saw LCL's share price drift back below our Initial Entry Price — even while the company made solid exploration progress at its 2.6Moz Quinchia Gold Project.
LCL has now determined that the project has seen enough exploration drilling to be able to investigate potential production scenarios and move into engineering/development studies through a Preliminary Economic Assessment (akin to a Scoping Study).
This means LCL will allocate more of its $11.4M cash at bank (at 30 September) towards developing its new PNG project, rather than continuing to do more drilling at its Colombian gold project with lower cost development studies to take place instead.
Our updated LCL Investment Memo is coming...
As this project is so new to us, we're still working out what we want to see LCL accomplish in the next 12 months.
So we will be releasing an updated LCL memo in the coming weeks which will cover:
Key objectives for LCL in the next 12 months and milestones for the new PNG project
Why we continue to hold LCL
The key risks involved (in particular with regards to this new project)
Our Investment plan
---