Key Milestone: First licence arrives for PRL's Green Hydrogen Project
Our 2021 Small Cap Pick of Year, Province Resources (ASX:PRL) is making progress in its plans to develop Australia's first renewable energy powered "Green Hydrogen" project.
PRL, along with its MoU partner Total Eren (subsidiary of US$100BN global NYSE energy giant Total SE), are working towards exporting green hydrogen from their HyEnergy Project in WA's Gascoyne region to Asia-Pacific markets.
PRL is an early mover in green hydrogen and is currently our second largest portfolio holding after Vulcan Energy.
Green hydrogen is powered by wind and solar energy, so PRL's near term objectives are to secure critical community support and government permits and licenses to build this innovative clean energy project - we think they have built a solid team to do this.
Fortescue Metals' Andrew Forrest says the Green Hydrogen industry could be worth as much $16 trillion by 2050, "way more than any industry that exists today".
Today's announcement of the granting of PRL's first license "a section 91" is a big first step - it means it can officially start work on ground (more on this below).
What makes PRL stand out from its regional peers is the good relationships that it has developed with local traditional landowners. It is also seeing excellent community and government support...demonstrated by today's licence announcement which looks to be just a first step of things to come.
We are holding a long term position in PRL, having topped up our investment on multiple occasions encouraged by the company's vision, the team's capabilities, and the anticipated growth in this emerging sector.
Over the last three months PRL has largely traded sideways as the company went into "quiet execution phase" and newsflow was sparse. However, we don't expect this quiet period to last as PRL and its project partner, Total Eren, continue to make progress.
That progress includes news out today that PRL have now received initial approval to begin activities on site — a first, but major step in getting all the approvals required for the project's development.
With this first approval in hand, PRL now expects to be on site within the coming weeks and able to do extra work they couldn't do before having the license. It will undertake environmental and other on-ground studies on site to support the project's broader feasibility study.
Government support ramps up
In a further sign of the support coming from all levels of government for green hydrogen development, this week the Western Australian government announced that it will invest an additional A$61.5M to support the region's growing renewable hydrogen industry and move towards a low-carbon future.
The $61.5 million initiative is expected to attract investment, create jobs, grow a local hydrogen production industry and drive local demand for hydrogen. And some that cash is set to go directly to fund feasibility studies at PRL's HyEnergy Project.
WA Premier Mark McGowan said:
"Hydrogen offers incredible potential for our State, with the capacity to sit alongside iron ore or LNG as a major export commodity – supporting local jobs and delivering wealth for all Western Australians."
While Alannah MacTiernan, WA's "Hydrogen Industry Minister" (how's that for a telling title!) said:
"This $61.5 million commitment will supercharge our renewable hydrogen industry, helping to stimulate local demand for hydrogen to get production projects off the ground."
As a significant future growth market, along with the government, big business is also taking note of green hydrogen.
Fortescue Metals' Andrew Forrest says the industry could be worth as much $16 trillion by 2050, "way more than any industry that exists today". He describes the development of zero carbon hydrogen power projects in Australia as nothing short of 'nation-building'.
In January, Forrest said he had decided (with the FMG board) that Fortescue would be a first mover in going green. A few months later, FMG subsidiary, FMG Resources, applied for 56 exploration licences across the Gascoyne in one day.
The land pegged by FMG sits right next to that of PRL, and in the months following, FMG proceeded to peg every single bit of land surrounding PRL's proposed HyEnergy green hydrogen project.
See the image below...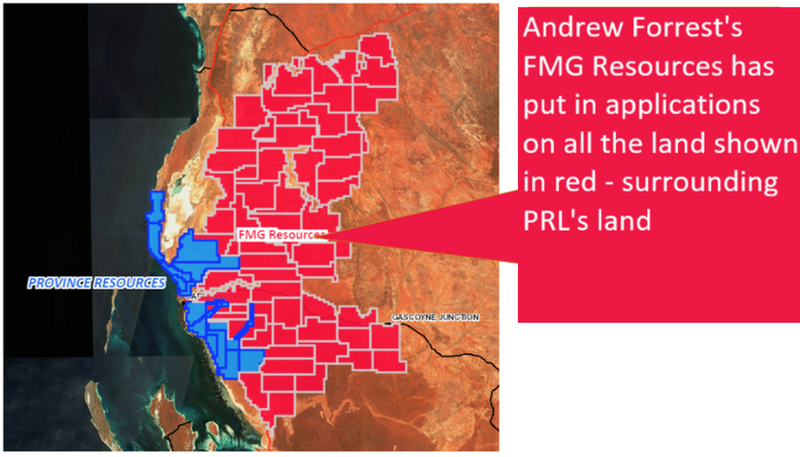 ... And read our full coverage on this mass pegging event here: Australia's Richest Man Grabs Outrageous Amount of Land Surrounding PRL.
However, with the way things are progressing, it looks as though it may be PRL that's the first mover in this space...
PRL's HyEnergy Green Hydrogen Project secures first licence
As announced today, PRL has secured the first of the approvals required for its HyEnergy green hydrogen project with the WA government granting a licence granted for a 98.6 sq km site north of Carnarvon — the planned production site of the HyEnergy project.
This "Section 91 licence" can co-exist alongside pastoral leases and authorises a use of land that would otherwise be illegal. It's a preliminary step in the overall approvals that are required for the project.
However, the grant of this licence marks a first step in PRL beginning activities on site, allowing it to get on the ground to commence environmental, heritage, geo technical and other survey work. This will help the company gain a better understanding of the physical properties of the location to support its concept selection process.
PRL continues to progress discussions with the State Government and the Shire of Carnarvon to negotiate a long-term lease of the area.
Additionally, PRL has commenced discussions with the state government, traditional owners, and pastoralists regarding a broader area of the Gascoyne region to support large-scale wind and solar generation assets.
Under evaluation: compressed hydrogen marine supply chain
In early August, Global Energy Ventures entered into an MoU with PRL and Total Eren to support a technical and commercial feasibility study on exporting green hydrogen from the HyEnergy Project in WA's Gascoyne region to nominated Asia-Pacific markets.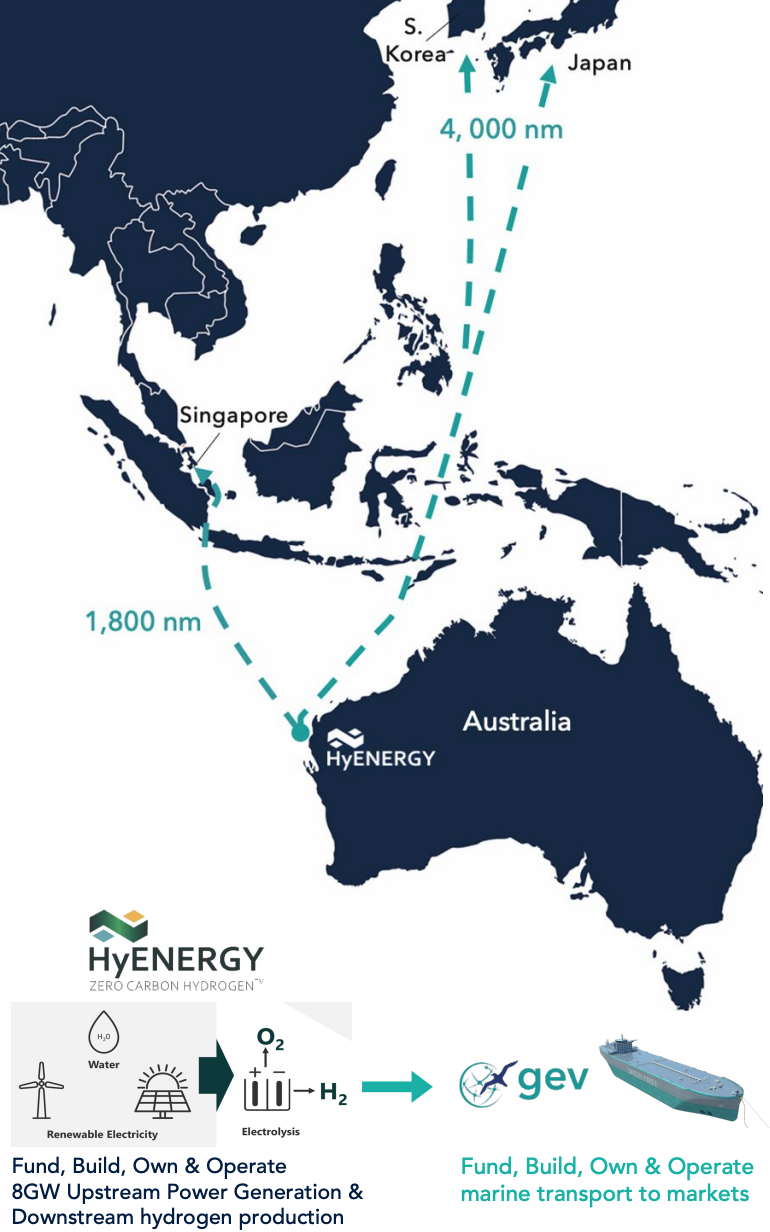 The three HyEnergy Project partners are investigating the benefits of utilising Global Energy Ventures' compressed hydrogen marine supply chain, as compared to other means of transporting a green hydrogen product to market. As leaders in this technology, Global Energy Ventures will bring that experience to the study.

As mentioned, the WA government this week announced a commitment of $61.5M to boost the state's renewable hydrogen industry.
That funding included a $300,000 grant to Global Energy Ventures, under the WA Government's Renewable Hydrogen Fund, to help finance feasibility studies at the project.
The funding will support the evaluation of the technical and commercial feasibility of exporting green hydrogen from the Gascoyne to Asia-Pacific utilising its compressed hydrogen shipping solution.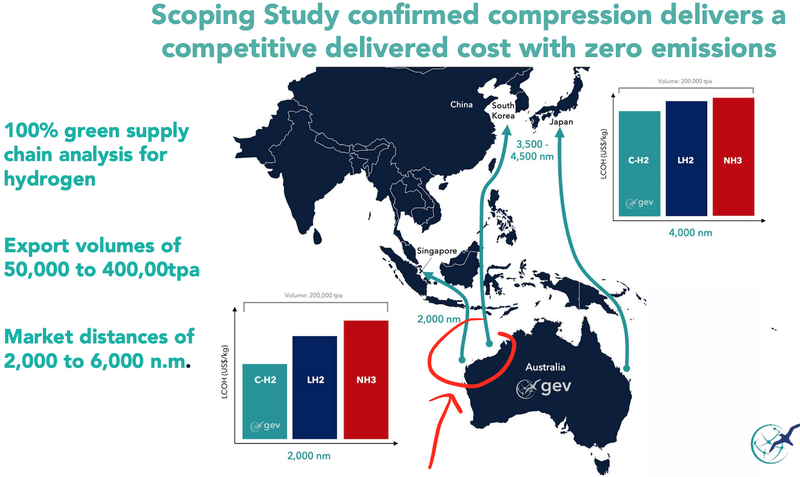 PRL's HyEnergy feasibility study will leverage the outcomes of GEV's March 2021 scoping study which demonstrated the advantages of compression for marine transport of hydrogen from Northern Australia to Asia.
PwC appointed
To help progress its HyEnergy green hydrogen project, PRL recently appointed PwC, one of Australia's leading advisory firms, with a track record in helping with the delivery of major infrastructure projects.
PRL Managing Director David Frances commented on the importance of this appointment:
"The overwhelming international interest in green hydrogen has Australia well-placed to become a significant global supplier, and the HyEnergy Project has the potential to be at the vanguard of these developments.
"PwC has deep experience in working with government agencies to facilitate major developments and I'm excited to have them supporting the HyEnergy Project."
Experienced PRL board
In July, Roger Martin was appointed as a Non-Executive Director as well as taking on an additional corporate affairs consulting role. Roger adds strong relationships across industry, government, and non-government organisations to PRL, having a wealth of experience in managing diverse issues across multiple jurisdictions.
As Chief of Staff to the WA Treasurer, Minister for Finance and Minister for Aboriginal Affairs and Lands, from from 2017 to 2021, Roger played a key role in the government's management of its finances and the state's broader economic and policy settings. And prior to his time in government, Roger was vice president of corporate affairs at Woodside Energy.
We covered what Roger's appointment means for PRL in an earlier note: Dream Team: Key Ministers now on PRL Speed Dial?
Prior to Roger's appointment, PRL added Kylah Morrison as a Non-Executive Director in March. With over 14 years' experience working in private companies in the oil and gas industry, indigenous organisations, not-for-profits, and start-ups, Kylah Brings a deep understanding of risks and challenges experienced by corporates, government, local businesses and indigenous organisations in remote and regional Australia.
Hydrogen industry developments
Alongside Fortescue, another major is getting in on the green hydrogen action WA.
UK energy major BP announced this week that it is looking at producing green hydrogen at the site of a recently closed oil refinery south of Perth, where it is now carrying out a feasibility study.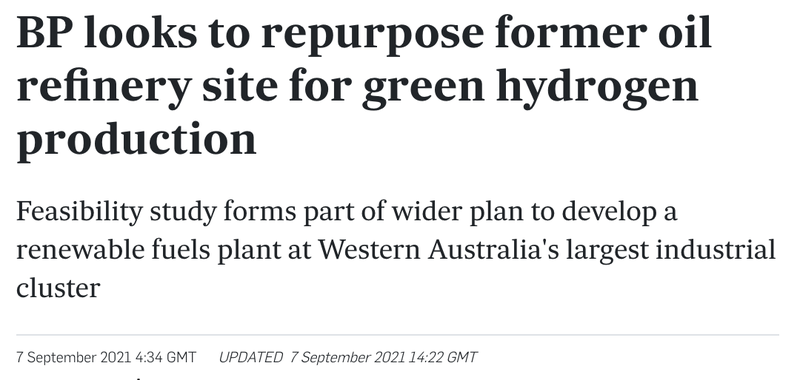 Further afield than WA, the hydrogen market is seeing support from business, governments, and end users worldwide.
A number of car makers are now turning their attention to green hydrogen... if news in recent weeks is anything to go by:
New to PRL? Here's our commentary on its journey so far:
On 17 February, PRL announced the acquisition of its Zero Carbon Hydrogen project, the first of its kind in Australia.
Less than two weeks later, PRL initiated data collection for its feasibility study with the state of the art Fulcrum3D SODAR Machines collecting solar and wind data at the project.
After some digging, we noticed that Australia's Richest man Andrew "Twiggy" Forrest (mining magnate and self appointed green hydrogen ambassador) applied for land tenements right next to PRL's HyEnergy Project.
We highlighted PRL's new board hire, Ms Kylah Morrison, in March and provided commentary on PRL's doubling of its project land area.
A month later, after signing an MoU with Total Eren — a key milestone for the project, we announced PRL as our Small Cap Pick of the Year.
As the year progressed, PRL made significant headway, confirming a MoU with the Shire of Carnarvon.
Andrew "Twiggy" Forrest's FMG Resources proceeded to peg every single bit of land surrounding PRL's proposed green hydrogen project - and even more beyond.
In July, PRL further strengthened its board, adding an ex-chief of staff to the WA treasurer and VP of corporate affairs at Woodside who we reckon has all the key ministers on speed dial.
PRL then signed a non-binding MoU with Global Energy Venture to commence a feasibility study into the use of compressed hydrogen shipping to reach Asian markets.
In mid-August, PRL provided a much anticipated update on its scoping study for the HyEnergy project, and appointed PwC to advise on the project.
And today, PRL has secured the first of its approvals for its HyEnergy green hydrogen project, with a licence granted for a site north of Carnarvon.
Green hydrogen: the facts
Here are the key basic facts you need to know before investing in the hydrogen space:
Hydrogen is an "energy carrier" — it carries energy, allowing its transportation from one place to another, just like electricity.
Hydrogen is made by running electricity through water and is produced when water molecules are separated into hydrogen and oxygen. This process is done via electrolysis, which requires energy, so it's important to consider the carbon cost of that energy source.
PRL plans to power its hydrogen production (water electrolysis) process entirely via wind and solar power, creating "green hydrogen" in a Zero Carbon process. The project's location in one of the windiest and sunniest places in WA only helps.
Green Hydrogen is the purest source of energy in the world. It's a market that's tipped to generate revenues in the tens of trillions of dollars by 2050 — bigger than any industry in Australia right now.
A hydrogen fuel cell is the main source of energy in a hydrogen fuel engine. The high energy content per unit of weight of hydrogen makes it an appealing energy source/fuel and is why it is used as a rocket fuel and in fuel cells on some spacecraft.
Hydrogen fuel cells have significant potential for powering large transport (trucks, trains, planes, and ships). While lithium ion batteries are forecast to overtake petroleum in passenger vehicles, the future for hydrogen fuel cells is in large transport.
Our Province Resources Company Milestones
✅ Portfolio Initiation
🟥 HEM Data Shows Negative Results
✅ Name Change to Province Resources
✅ HyEnergy Acquisition - Zero Carbon Hydrogen
✅ $1.5M Capital Raise @1.5c
✅ SODAR Machine Mobilised
✅ Major Board Appointments
🌎 FMG Subsidiary Pegs Land next to PRL
✅ Increase Land Holdings
✅ Total Eren Partnership MOU
✅ Next Investors Small Cap Pick of the Year 2021
✅ Completion of Acquisition
✅ Capital Raise: $18M @15c
✅ Key Board Appointment (G. Walker, B. Maslen)
✅ Positive Stakeholder Outcome - Carnarvon Shire and Community
✅ Key Board Appointment (Roger Martin)
✅ [NEW] Permitting (Licence: section 91)
🔄 Execute Heritage Agreement
🔄 Positive Stakeholder Outcome - WA Government
🔄 Positive SODAR Results
🔲 Positive Stakeholder Outcome - Federal Government
🔲 Unexpected Positive Announcement 1
🔲 Unexpected Positive Announcement 2
🔄 Scoping Study Results
🔲 Total Eren Deal Finalised
🔲 Unexpected Positive Announcement 3
🔄 Initial Offtake Agreement Discussions
🔲 Offtake Agreement Signed
🔲 Review and determine further milestones for 2022
Next Investors Investment Milestones
✅ Initial Investment: @2.5c
✅ Increase Investment: @1.5c
✅ Increase Investment: @13.9c
✅ Price increases 500% from initial entry
🔲 Price increases 1000% from initial entry
🔲 Price increases 2000% from initial entry
✅ 12 Month Capital Gain Discount
🔲 Free Carry
🔲 Take Profit
🔲 Hold remaining Position for next 2+ years
---