Dream Team: Key Ministers now on PRL Speed Dial?
Our Small Cap Pick of the Year for 2021 Province Resources (ASX:PRL) is aiming to develop Australia's first truly "Zero Carbon" Green Hydrogen project... and they are aiming for a monster 8 Gigawatt solar and wind farm to power it in a proposed partnership with global energy major Total.
Today, PRL ticked off one of our key expected milestones with another "dream team" board appointment in Roger Martin, previously chief of staff to the WA treasurer and VP of corporate affairs at Woodside - more on Roger below.
Green Hydrogen is widely expected to play a key role in the global shift to clean energy.
Investors know this already - but 72 hours ago the wider population was introduced to green hydrogen at the Tokyo Olympics Opening Ceremony when commentators revealed the Olympic Cauldron was burning using green hydrogen.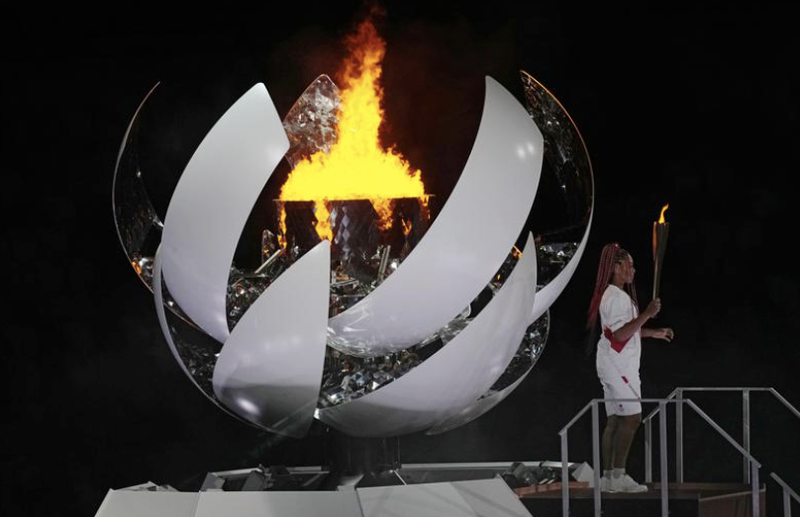 Hundreds of millions of people had just been introduced to green hydrogen as a fuel.
PRL has big ambitions to develop an 8GW green hydrogen project in Western Australia and is one of our biggest holdings, now with a new key board member who is well connected into the WA government.
After signing a binding MoU with global energy major Total and raising $18M, PRL has been busy securing land rights, government and community support with Total working on the Scoping Study.
For a project as ambitious as PRL's, building a superstar board and management team is critical to success - remember when VUL went through its early board and management building phase when it first started out back in early 2020?
Today's board appointment has exceeded our expectations and we understand Roger will help PRL to secure key WA government support at the highest level. He is on the same performance milestones as other PRL management.
This adds to another recent key board appointment Kylah Morrison who offers significant local experience, particularly in areas such as forging relationships with indigenous organisations and creating that win-win outcome between developer and community.
Last month, PRL also appointed key management personnel Greg Walker and Burke Maslen to drive approvals and key stakeholder engagement.
We got Dave Frances, Managing Director of PRL on a Zoom call with our team yesterday to hear how everything was progressing against our expected investment milestones - here are our key takeaways:
PRL been very busy working with local government and community leaders
The Total EREN team just completed a site visit to Carnarvon
The PRL team hosted the Total team and toured the proposed project site, met key community leaders and government officials.
Dave sounded genuinely pleased with the Total visit and general progress
When we prodded on the scoping study no additional information or insights were given (obviously he can't comment as its market sensitive)
Dave was very excited about the new board appointment in Roger Martin.
PRL is one of our largest holdings, making up a big chunk of our portfolio, and we will continue to provide our commentary as they deliver on our expected milestones - for all our investments we try to do a call with management at least once per quarter so if you have been liking our feedback on these calls we will do more of them in the future.
So who is PRL's shiny new board addition and consultant Roger Martin?
Roger Martin joins PRL
Community support and Government support is critical in the early stages of an ambitious project like PRL's green hydrogen project.
That is why our key milestones that we expect next are around securing this support:

Roger's previous two roles sound pretty impressive with a combination of high level roles in both state government and private energy companies:
He was Chief of Staff to former West Australian Treasurer Ben Wyatt from 2017-2021 - he can pick up the phone to people at the highest level of WA government
Before that, he was Vice President of Corporate Affairs at Woodside - he knows how to manage corporate affairs of a big WA resources project
It isn't often that you find someone who can bring both corporate and political experience to the table, but that is just what Martin offers.
Roger's most recent role in WA government:
As Chief of Staff from 2017 – 2021 to Ben Wyatt the Western Australian Treasurer, Minister for Finance and Minister for Aboriginal Affairs and Lands, Martin played a key role in the government's management of its finances and the State's broader economic and policy settings.
As a measure of Ben Wyatt's success in this portfolio, he has been offered a role with Rio Tinto where he will assist in dealing with the similar issues that our man at PRL Roger Martin will be addressing with at PRL.
Before that Roger was at Woodside Energy:
As Vice President of Corporate Affairs at Woodside Energy he was integral to the planning and execution of projects that were developed in highly sensitive environmental areas, and part of his charter was to manage due diligence in relation to offshore and onshore land claims.
As projects moved to execution he was tasked with overseeing environmental aspects, and he was in a hands-on role when Woodside and its joint venture partners including BP, Chevron and Shell developed the $5 billion long life North West Shelf LNG Project.
Being an intermediary with multinational energy groups such as these provides an excellent foundation for Martin to astutely manage the relationship with Total Eren in developing PRL's Project.
Total Eren is a leading France-based renewable IPP with over 3.3 GW of renewable energy power plants worldwide either operating or under construction (mainly solar and wind).
Total Eren signed a binding Memorandum of Understanding (MoU) on April 16, 2021 with PRL to deliver a Scoping Study with a view to developing the major green hydrogen project in the Gascoyne.
In Australia, Total Eren has successfully developed, financed and constructed Victoria's largest solar farm – the 256 MWp Kiamal Solar Farm located north of Ouyen with a team of 20 renewable energy professionals based in Australia.
Martin Brings Hands-on Experience
Martin's experience in onshore and offshore Western Australia is particularly important given PRL's project is located in the Gascoyne region.
In terms of optimising resource development, Martin was with Woodside when the group took the decision to recover the remaining lower-pressure gas from the North Rankin and Perseus fields offshore Western Australia using a new platform to be constructed adjacent to the existing platform.
At the time Martin highlighted that this initiative would enable production capacity to be sustained while increasing the field life to 2041, allowing it to continue to deliver gas under long-term contracts with customers in Asia.
We believe that Martin's involvement in numerous projects where the export of products to overseas markets required strong relationship building with other countries provides him with the experience to assist PRL in its future export pursuits.
We like the fact that Martin brings hands-on experience to the table, and given his past achievements he presents as an 'ideas man', a strong attribute given the green hydrogen energy industry is in its infancy and there aren't any fancy templates to model projects on.
It is important to note that Martin has an extensive knowledge of all aspects of the energy industry having managed relationships with Australian and international governments in relation to the likes of taxation, carbon pricing, energy policy and transition to offshore developments and local content.
As Ben Wyatt's Chief of Staff over the last four years Martin has developed an intimate knowledge of all aspects of Aboriginal affairs and lands, providing him with the experience to guide management in areas such as building relationships with indigenous communities and achieving mutually beneficial outcomes.
Given his experience, Martin must have the ability to turn what can be contentious points of difference into win-win situations where communities are also beneficiaries of project development.
Also on this note, Martin is currently a director of private corporate advisory firm Wyatt Martin Pty Ltd, which provides support to corporations on public affairs issues including land access, Aboriginal Affairs and government approvals.
From a broader perspective, Martin's extensive knowledge of global energy issues, including the changing global energy mix and technological developments in the production, storage and transport of renewable energies is a real bonus.
Martin is the full package required to solidify PRL's project, bringing the knowledge, capabilities, expertise and intent required to address all areas of ESG, raising PRL's profile on the global stage.
These factors are critical in today's environment in terms of attracting shareholders, gaining the support of regulatory authorities and negotiating the financing for projects.
Roger Martin joins Kylah Morrision on the PRL board
The addition of Kylah Morrison to the board in 2021 was another acknowledgement of the importance of strong governance and a recognition of the need for optimum local community engagement.
Morrison offers a breadth of local experience, particularly in areas such as forging relationships with indigenous organisations and creating that same win-win philosophy between developer and community.
We like the fact that she has over 14 years experience in private companies in the energy industry to complement their expertise in corporate relations.
Having lived and worked in Karratha for nine years, Morrison has an intimate knowledge of all community aspects across the government, local business and indigenous spectrum.
She also has a feel for what it takes to operate successfully in a remote environment, a key factor in relating to project personnel on the ground, as well as the community.
Bringing double degrees in engineering and engineering management to the table, Morrison has the academic qualifications to complement her personal attributes in relationship building.
PRL is progressing through our investment milestones
Building out the board and management with the skills to gain community support for this project is the massive value that PRL brings to the table - Total brings the renewable energy development skills and resources but none of this can happen without rock solid government approvals and community support, which PRL has been ticking off.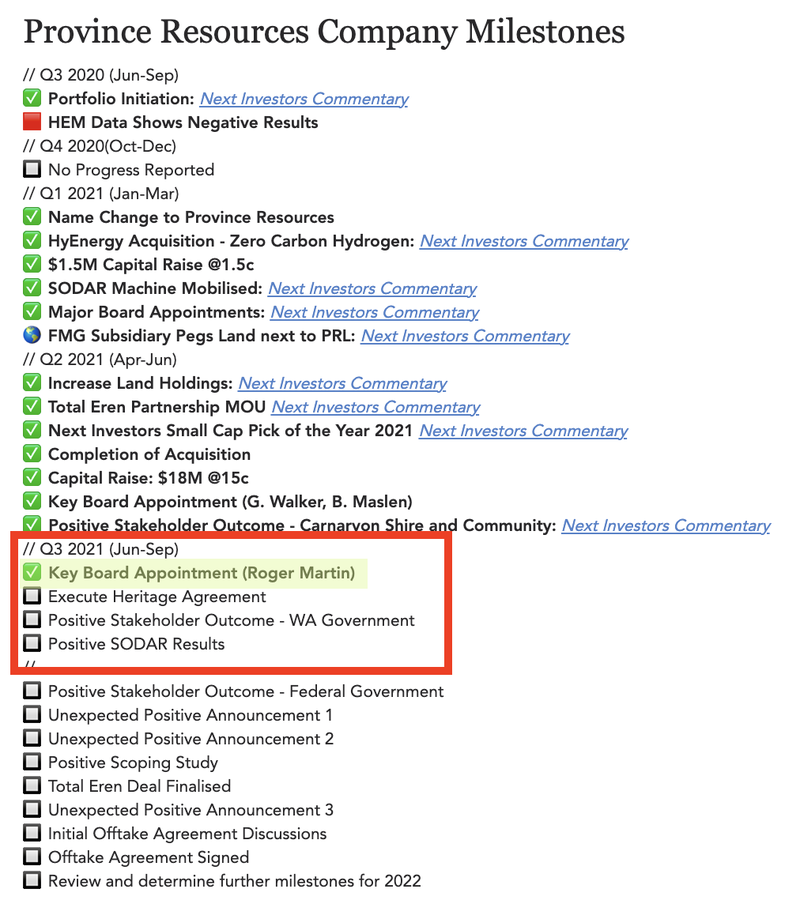 ---