Australia's Richest Man Grabs Outrageous Amount of Land Surrounding PRL
This morning we woke up to see that aspiring green energy mogul and Australia's richest man Andrew "Twiggy" Forrest's FMG Resources Pty Ltd has just pegged every single bit of land surrounding Province Resources (ASX:PRL)'s proposed green hydrogen project - and more beyond.
Look at the map below - we didn't believe the scale when we saw it and we don't know why he's doing it...
In March, FMG Resources grabbed a few bits of land around PRL, but today's land grab is many multiples of this...
We have seen all sorts of scrambles to peg ground surrounding a new valuable discovery in the past, but never to such an outrageous scale as this, with no real basis other than what to us looks like a renewable energy land grab...
The blue land is PRL's prime sea-side sunny and windy land perfect for renewable energy.
The red shows all the land that Forrest's FMG Resources Pty Ltd has just pegged in recent days: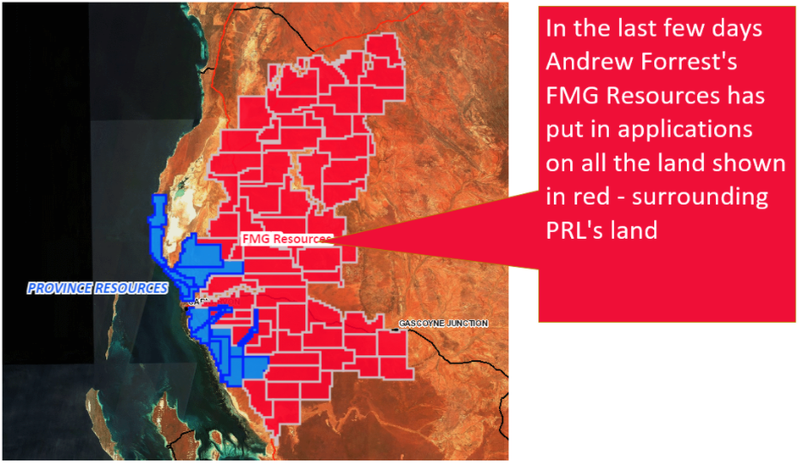 We estimate it would cost ~ $3M to peg this area of ground - and holding costs would be huge - we would estimate ~ $5M a year.
PRL is developing Australia's first truly "Zero Carbon" Green Hydrogen project near Carnarvon in the Gascoyne and is one of our biggest holdings.
PRL has an enviable land position of 2,272 km2 right on the coast near Carnarvon - a region which is extremely windy (4th windiest place in Australia) and sunny - the perfect conditions for renewable energy generation. Being on the coast means easier access to the Asian market via shipping compared to inland ground.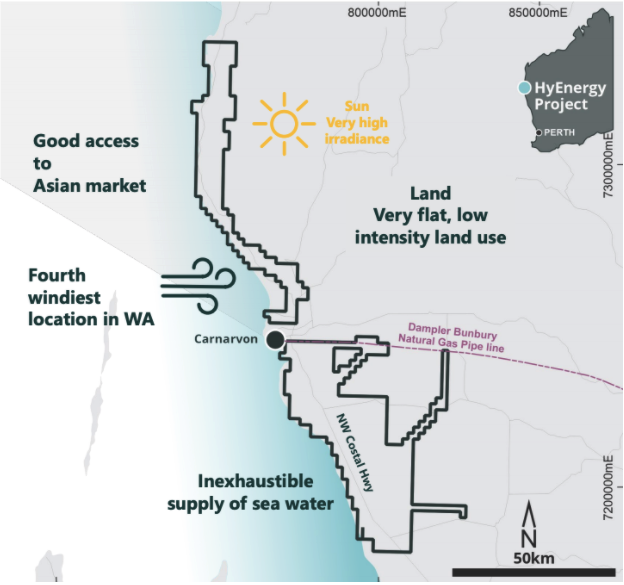 Given PRL is one of our biggest holdings, we are closely watching any activity happening around PRL's land - in March we discovered Twiggy pegging land right next to PRL's land...
Andrew "Twiggy" Forrest is pegging ground through FMG Resources Pty Ltd - a subsidiary of Fortescue Metals Group - the company he is making billions of dollars in via iron ore.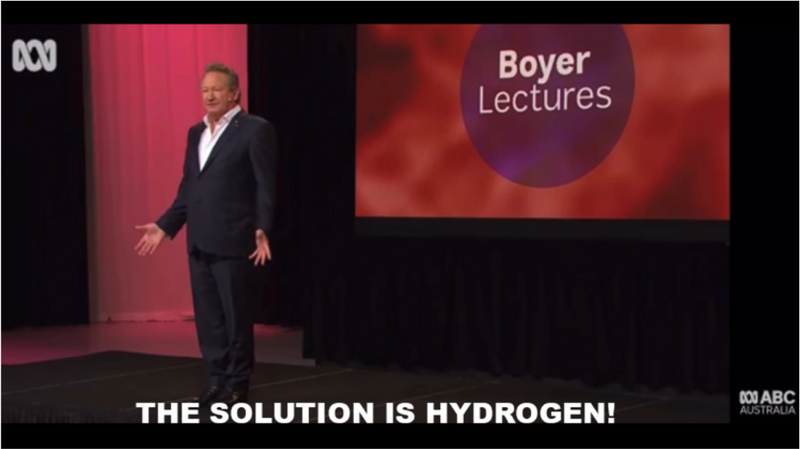 Twiggy is at it again - and at a scale we never would have imagined.
Here is Round #1 - Back in March, Twiggy's FMG Resources Pty Ltd pegged this bit of land next to PRL: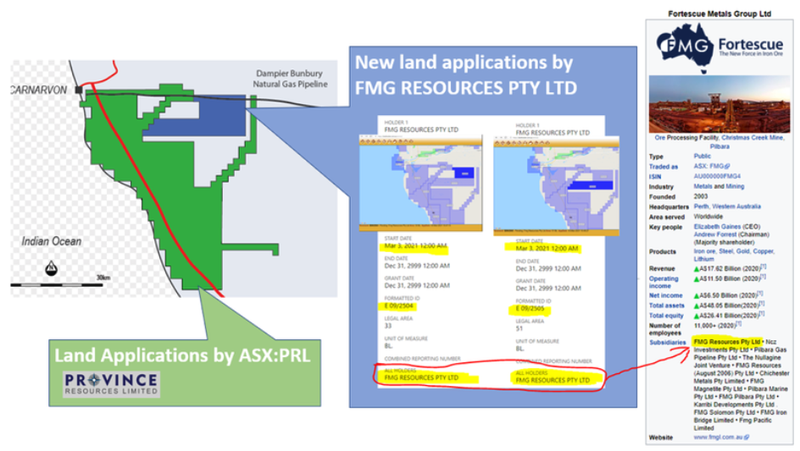 Here is round #2 of Twiggy's pegging adventures:
THIS MORNING we have discovered that Twiggy pegged the biggest amount of land we have ever seen in one go.
He has literally pegged almost the entire Gascoyne region surrounding PRL's proposed renewable energy / hydrogen project - and we don't know why...
We are going to let this picture do the talking: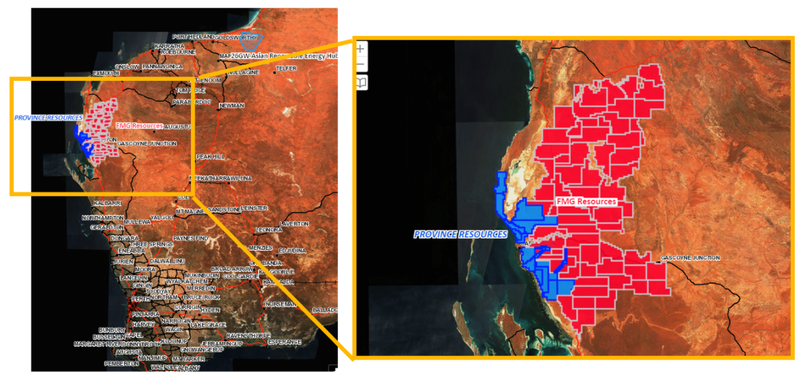 Twiggy pegged how much?
Yesterday, FMG Resources pegged ~31,000 sqkm - that's the land marked in red above.
That is approximately 344km end to end project area...
And approximately 5x the size of the planned 6,500sqkm 26GW Asian Renewable Energy Hub (AREH) in the Pilbara - which was already massive.
Again - We estimate it would cost ~ $3M to peg this area of ground and holding costs would be around ~ $5M a year.
So Twiggy is clearly serious about something big in the Gascyone...
How you can find out what land has been pegged and by who:
If you were ever wondering how to find out who has applied for land tenements, you just need to do the following:
Go to LandTracker Maps
Register with your email and create a password.
Select the region you want on the map (we selected PRL's land next to Carnarvon in WA).
See who has pending applications by clicking them on the map.
Finally, do an ASIC look up on who owns the entity that has lodged the land application.
You can see who has pending applications by hovering over them or clicking them (look for FMG resources):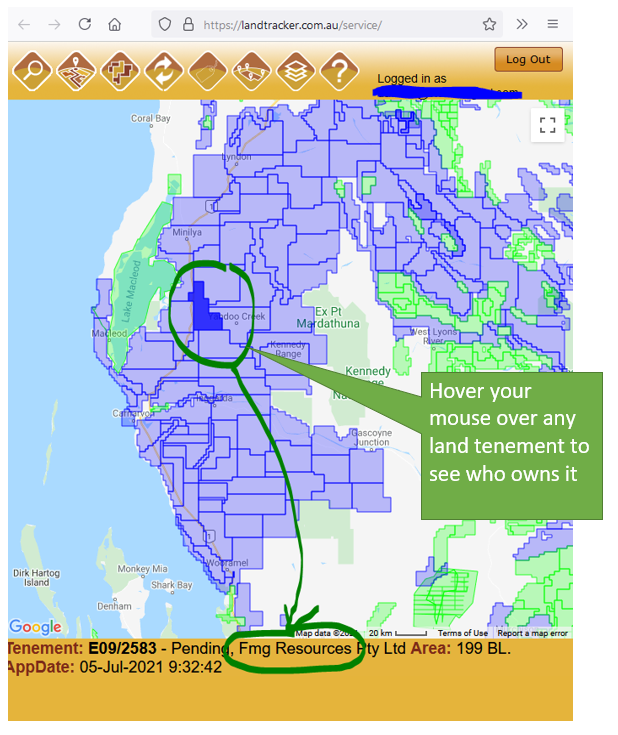 Coastal is Key for Green Hydrogen
When locking in land to build wind and solar projects for green hydrogen generation, coastal land is key (as you can probably tell from all of PRL's blue land applications hugging the coastline).
Coastal is key for green hydrogen because there is:
Lots of wind on the coast - pretty handy for wind farms...
Optimal heat to run solar panels - inland it can actually get "too hot"
Close proximity to an unlimited water source in the ocean - water is needed for electrolysis to green hydrogen
Ease to build a port or export terminal once the project is live - so the hydrogen can be shipped to buyers.
---