An Update on PRL: Our 2021 Small Cap Pick of the Year

Share price when sent: $0.135
Province Resources (ASX:PRL) is aiming to develop Australia's first truly "Zero Carbon" Green Hydrogen project.
PRL is one of our biggest holdings - it is our 2021 Small Cap Pick of the Year.
Over the last two months the PRL share price has drifted while the company has been quietly executing on its next batch of newsflow after raising $18M at 15c.
Following this share price consolidation we think PRL should return to an uptrend in this new financial year as news gets closer.
Province Resources Ltd
ASX:PRL
ou probably would have seen hydrogen grabbing a lot of headlines lately. Green Hydrogen is a clean, emission free energy source, widely tipped to play a massive role in the world's energy mix over the coming century.
There are significant amounts of cash being deployed into getting hydrogen projects up and running across the globe.
We have our favourite PRL - one of the earliest movers on the ASX in Green Hydrogen.
We invested in PRL and after it hit a few key milestones we called it our 2021 Small Cap Pick of the Year.
We are long term holders and our model is to patiently hold on through share price ups and down in our investments. We wait for the company to execute on its plan which takes time.
The PRL share price looked like it was happily forming a new base at 21c in April after the Total Eren deal was announced, but it has seen a couple of months of share price weakness - it is now appearing to find a new floor at 13c as it prepares to release news and hopefully its next leg up.
Province Resources Ltd
ASX:PRL
Why 2 months of PRL share price weakness?
Digestion of 15c cap raise - In May PRL raised $18M at 15c - great that funds were raised to progress its hydrogen plans, but it can sometimes take time for a share price to work through the new shares that have been issued at a certain price.
"Sell in May" crowd - Every May we see a broader sell off in equities, and we saw it again in May 2021.
June tax loss selling - Those that invested in PRL above 20c in April and dont have the patience to hold might have decided to cut their losses and move on prior to June 30th. They are now gone.
PRL has been in quiet "execution phase" - With not much newsflow, investors might have gotten impatient.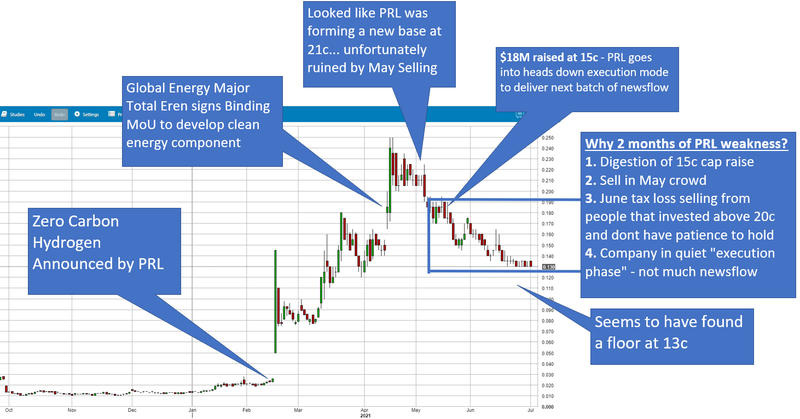 We don't know how much longer it will take to work through the placement digestion, however it's interesting that the PRL share price seems to have stabilised and found a floor at 13c in the last couple of weeks.
Now we are in the new financial year, and what looks like a new base has been formed, PRL might be ready to recommence its uptrend soon in anticipation of news and broader positivity around green hydrogen globally
After raising $18M PRL has been in a "quiet execution phase" - the company has its head down working on building value and executing on its plans, building a pipeline of news events to release to the market:
The "quiet execution phase" is where patient investors watch the share price find its level and consolidate - it's just a part of the long term investing process. "Speculation phase" is where traders play musical chairs with each other while speculators push up the price anticipating good news. We expect the next speculation phase should occur prior to the Total scoping study release in a few months.
PRL has been in the execution phase for two months now so newsflow has been quiet. As speculation around potential news begins, the share price should start to creep up and enter into re-rate if the company delivers better than what the market is expecting or surprises us with a positive announcement.
Province Resources Ltd
ASX:PRL
Quiet Execution phase? What is PRL working on? What's coming next?
Company news doesn't magically just happen - a lot of work behind the scenes goes into every company announcement, and after a capital raise, company execs go into "quiet execution phase" to deploy the raised money in order to deliver material news.
PRL's medium term plans are fully funded, with PRL able to meet any capital requirements for scoping and feasibility studies at its Green Hydrogen project.
Here's what to expect over the next 12 weeks from PRL:
Key management/board appointments - building out the capability of the team as the project advances.
State & Federal government approvals - a huge focus for PRL at the moment is getting the local community and government to "buy in" to the project. This is extremely important for this type of development and are key de-risking events when they are announced.
Heritage Approvals - make sure traditional land owners are on side with the project
SODAR results - where we find out just how sunny and windy is PRL's land - important technical data to feed the Scoping Study with global major Total S.A.'s subsidiary Total Eren.
Unexpected announcements? - Some future milestones we generally expect from analysing the company presentation and strategy, but this is small cap investing and anything can happen - so we always keep an expectation for an unexpected positive announcement from the company. Sometimes we know what we don't know and other times we don't know what we don't know.
The next 12 weeks of our expected PRL milestones are highlighted below: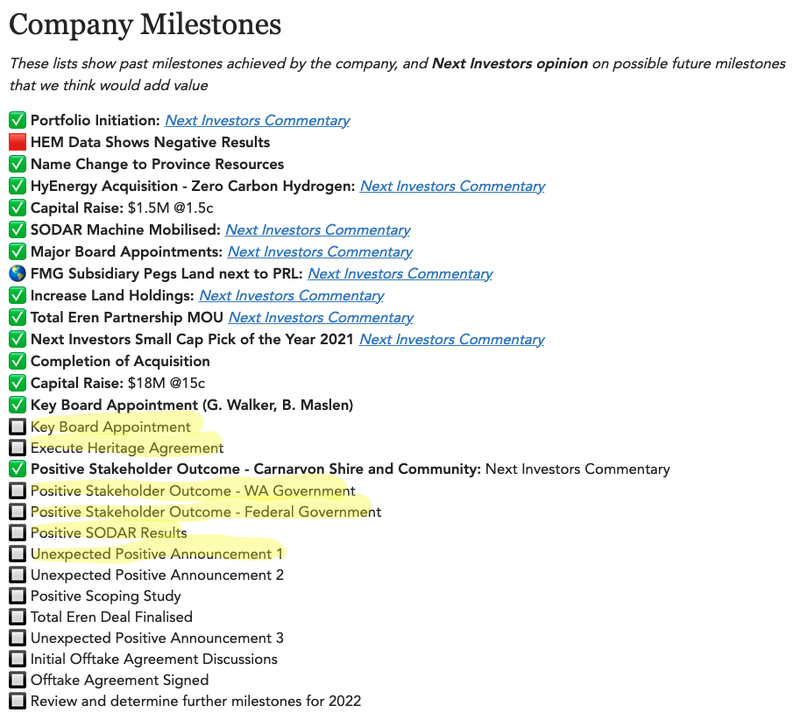 Here is what we are expecting from PRL later this year:
Scoping Study – underway now, completion in the coming months.
Finalisation of Total Eren deal – assuming the Scoping Study is positive, we would expect PRL to execute a full development agreement with Total Eren.
Feasibility Studies – these are the next stage, and will build off the Scoping Study
Initiate offtake discussions – PRL to start discussions with potential buyers and the owners of the Dampier-Bunbury Natural Gas Pipeline.
PRL is our 2021 Small Cap Pick of the Year
Our other Picks of the Year include:
2019 Tech WHK - 138%
2019 Energy EXR - 605%
2020 Small Cap VUL - 3,810%
2020 Energy IVZ - 387%
2021 Tech ONE - 700%
VUL was our 2020 Small Cap Pick of the Year because we liked Zero Carbon Lithium.
PRL is our 2021 Small Cap Pick of the Year because we like Zero Carbon Hydrogen.
New to PRL? Here is what you need to know
PRL's project is located in Carnarvon, Western Australia - a place with lots of sun and wind, perfect for renewable energy generation.
PRL is intending to use this abundant renewable energy to split water into hydrogen to supply domestic and Asian markets.
PRL has partnered with Total Eren, partly owned by Total S.A. – the fourth largest energy super major in the world - and a Scoping Study is expected in a few months time.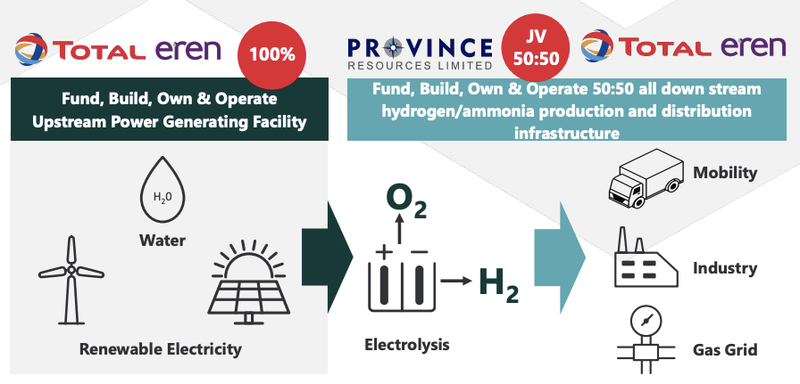 New top PRL? Here is our commentary on PRL's journey so far:
On the 17th Feb PRL announced to the market the acquisition of their Zero Carbon Hydrogen project - the first of its kind in Australia.
Less than two weeks later PRL initiated data collection for their feasibility study with the state of the art Fulcrum3D SODAR Machines collecting solar and wind data at the project.
After some digging we noticed that Twiggy Forrest (mining magnate and green hydrogen ambassador) applied for land tenements right next to PRL's HyEnergy Project.
We highlighted PRL's new female board hire Kylah Morrison and provided commentary on PRL's doubling of its project land area.
After signing an MoU with Total Eren, a key milestone in the project, we announced PRL as our Small Cap Pick of the Year.
As the year progressed, PRL made significant headway with the Shire of Carnarvon - read the commentary here.
Here is our Investment plan for PRL: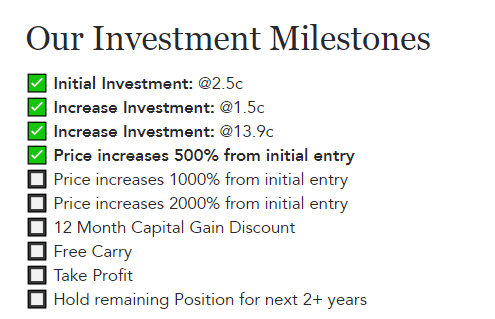 ---