PRL signs MoU with Shire of Carnarvon
Small cap sprinter Province Resources (ASX:PRL) recently became our Small Cap Pick of the Year for 2021 after it signed a binding MoU with Total Eren to develop its ZERO CARBON HYDROGEN Project in world record time...
Today PRL continued its rapid progress with an MoU with the Shire of Carnarvon to investigate the viability of PRL's Zero Carbon Green Hydrogen Project on land right next to the Carnarvon township.
We are continuously surprised to see how quickly PRL is progressing its Green Hydrogen project - we think that PRL's demonstrated ability to quickly execute will be getting the attention of investors and large corporations wanting to enter the Green Hydrogen space.
Fast Move #1: PRL secured and launched the first Green Hydrogen project on the ASX after quickly moving to secure prime land for solar and wind generation (which recently increased to 2,272 km2). Fortescue Metals who also has big green hydrogen aspirations, pegged ground right next to PRL, via subsidiary FMG Resources.
Fast Move #2: We crowned PRL our 2021 Small Cap Pick of the Year after it surprised everyone by how quickly they delivered a binding MoU with Total Eren to basically pay for the entire green energy component of the project (wind and solar farm) and go halves in the Green Hydrogen electrolysis plant. Total Eren is a subsidiary of global energy supermajor Total SA - these supermajors don't usually move fast at all.
Fast Move #3: Now PRL continues to show they can bring the right stakeholders to the table by confirming an MoU with the local Shire of Carnarvon - getting all levels of government on side early is crucial in a project's success.
Fast Move #4?: We are watching to see if PRL can continue this rapid pace of progress news...
We like that Green Hydrogen is such a key global investment thematic this decade and that governments and energy supermajors alike are all fast tracking progress at a pace unseen before...
When have you ever seen governments or big corporates move this quickly? All stakeholders want this project to exist.
This is obviously great for fast moving, small companies with big ambitions in green hydrogen like PRL.
PRL is aiming to develop a Green Hydrogen hub near Carnarvon in WA - one of the sunniest and windiest places in Australia.
The plan is to potentially develop up to an 8GW renewable power facility (fully funded and developed by Total Eren being negotiated), and a downstream hydrogen facility shared 50/50 with Total Eren.
Today's announcement confirms that PRL is actively working with tiers of government on its plans for a Green Hydrogen Hub, after signing an MoU with the Shire of Carnarvon.
As part of the MoU, PRL revealed that it will be able to investigate the viability of a 12,311 ha (123km2) area directly north of the town - and the intent would be that this land will be used to develop and constructing part of the project infrastructure.
The MoU PRL has signed with the Shire of Carnarvon relates to a new patch of land for PRL - IN ADDITION to the 2,272 km2 covered by PRL existing project area to the north and south.
More land, right next to town: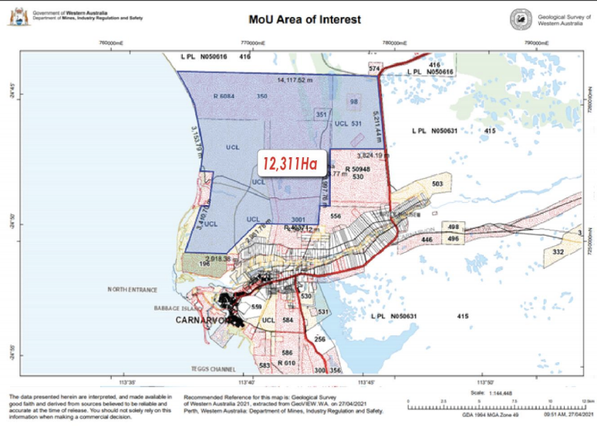 We like this parcel of land as:
It's large - a fair bit of infrastructure could fit in there.
It's next to town - Local workers can just drive to work - no need to bus or fly in workers to a remote location.
It's on top of a Gas Pipeline - this land sits right on the Dampier-Bunbury gas pipeline. This could be used for transporting hydrogen south to Perth (hydrogen is transported by converting it into ammonia or synthetic natural gas).
The Shire of Carnarvon sounds pretty supportive in this quote from them:

Looking at other Green Hydrogen projects in WA, it's clear that PRL is going for scale, in addition to moving fast.
A little further down in Geraldton, supermajor BP (another energy behemoth that wants to get to Net Zero emissions by 2050) is spending approximately $4.4M on feasibility studies in Geraldton and Oakajee on an export scale renewable hydrogen production facility.
Studies on this area have shown a 1.75GW potential, given a wind and solar farm would cover 3,900 ha of surrounding farmland...
PRL's ambitions are much bigger than this.
PRL has more project land, with over 22,000 ha - and is seeking to develop an 8GW wind and solar energy plant near Carnarvon with Total Eren - more than four times the size of BP's plans.
At 8GW, PRL's project would be the fifth largest in the world - according to these rankings by Recharge News.
With Total SA and BP both committing to Net Zero emissions, and WA being blessed with optimal conditions for solar and wind energy, the time looks right for a Green Hydrogen Project to move from desktop into reality.
In September 2020, the WA government issued a global call for Expressions of Interest to develop the "Oakajee Strategic Industrial Area" into a globally competitive renewable hydrogen precinct.
The WA State Government received 65 Expressions of Interest, with at least 10 respondents 'super majors' - energy giants with market caps in the $10s or $100s of billions.
The WA Government must like all the options that are being proposed by private companies across the north west of WA, and appears to be extremely supportive of Green Hydrogen.
PRL has an even bigger Green Hydrogen plan in Carnarvon, and is moving so quickly, we would like to think it might be able to steal Oakajee's thunder (and the WA State Government's help)...
NEW - Expected Company Milestones and Our Investment Plan.
We have started to add information on company pages about our expected company milestones, our long term investment plan and its progress over time.
This is a new feature so please reply and provide your feedback on whether it is useful or what else you would like to see (click to go to the company page and see it).
We have started with PRL: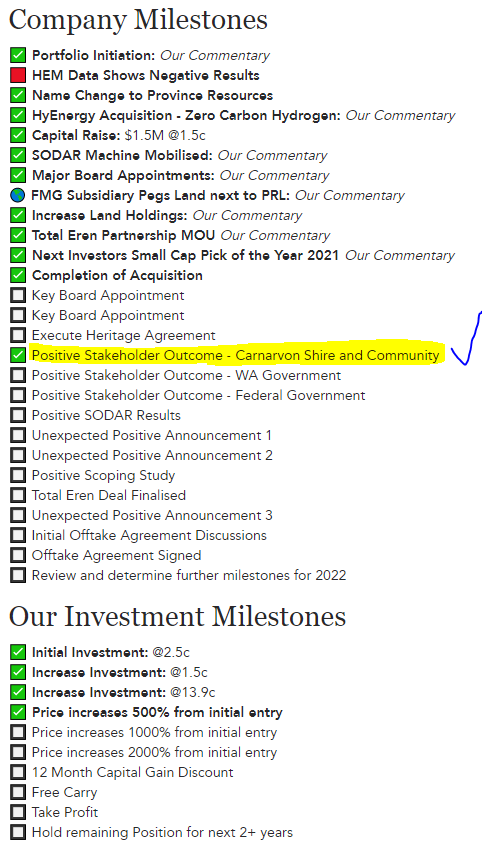 Here is all our past commentary for PRL: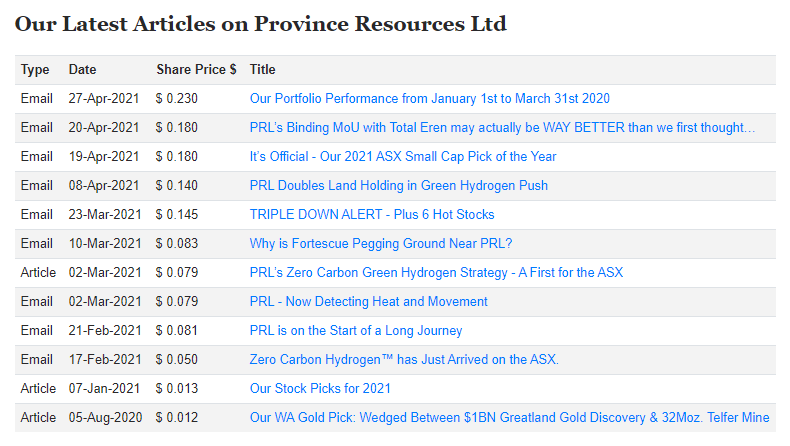 ---