All the latest on PRL's WA green hydrogen project - two major catalysts on the horizon
Disclosure: S3 Consortium Pty Ltd (the Company) and Associated Entities own 24,000,000 PRL shares and the Company's staff own 200,000 PRL shares at the time of publishing this article. The Company has been engaged by PRL to share our commentary on the progress of our Investment in PRL over time.
Province Resources (ASX:PRL), our 2021 Small Cap Pick of the Year, continues to make progress in developing a globally significant green hydrogen project in WA.
PRL is seeking to develop its green hydrogen project in partnership with Total Eren, which is part owned and branded by TotalEnergies — one of world's largest global energy supermajors, with a €100BN-plus market cap.
This comes at a time when Prime Minister Scott Morrison is on the federal election campaign trail, proposing yesterday $140M in government funding into building a WA hydrogen industry.
PRL released its March quarterly report last week, updating shareholders on the progress of its HyEnergyTM green hydrogen development in WA's Gascoyne region.
Importantly, PRL released expected timeframes for key milestones, and are the next major share price catalysts for the stock:
Joint Development Agreement with Total Eren, expected by 31 May
Pre-Feasibility Study complete in the first half of 2023
PRL already has a binding Memorandum of Understanding with Total Eren and is working towards finalising a Joint Development Agreement.
Under the deal Total Eren will fund the majority of PRL's green hydrogen project.
Aside from the release of the Scoping Study, the last few months have been quiet on the news front for PRL, leading to its share price coming off from its November peak.
With the completion of the PFS some way off still, the company isn't attracting a lot of new investor attention — trading volumes have been down and the share price has come off a bit as work continues behind the scenes.
While there are benefits to investing early in a project, it presents more risk than many investors, particularly larger investment funds, may be comfortable with.
That said, upon the project being further de-risked via the completion of the joint development agreement with Total Eren and then the PFS — which will remove a lot of uncertainty around the project economics — we expect bigger funds to take an interest in PRL.
Bigger funds entering a small cap stock after it has been de-risked are a key ingredient to underpinning the share price.
Read our analysis on how, why and when Fund Managers decide to invest in certain small cap stocks.
In line with our investment plan, we have not sold any shares since October 2021, holding throughout the recent share price weakness.
We like that the development of green hydrogen in WA is seeing significant political support in this federal election, as the government aims to make Australia a global producer and exporter of clean hydrogen by 2030.
This bodes well for PRL and the emerging green hydrogen industry that will need support at all levels of government to succeed.
Last week's quarterly report demonstrated that PRL is making progress against all of the key objectives that we set for it to achieve in 2022, as per our PRL Investment Memo.
Objective #1: Scoping Study completion
During the quarter, PRL achieved the first objective that we set for it this year: completion of a positive Scoping Study for the project.
In early March, the Scoping Study confirmed the technical feasibility for an integrated green energy production project, using renewable power generated from the identified Gascoyne resource.
It revealed an expected production of 550,000 tonnes per annum of green hydrogen (50% PRL, 50% Total Eren).
While the Scoping Study couldn't reveal details on potential costs to build or financial forecasts, we made some back of the envelope calculations.
Assuming a current green hydrogen price of ~US$5 per kilo applied to future production, the projected revenue potential is looking at ~$3.4B per year.
Even at US$2 per kilo, the required price for green hydrogen to compete with traditional fuels, we're still seeing $1.5B per year in potential revenue.
These are very rough estimates and we can expect the partners to provide more details on the variables in the upcoming PFS. And of course, this does not take into consideration any costs (or future rise in costs) when considering the economic merits of the project.
Whilst there are some unknowns at this stage, this may actually work in PRL's favour, as new technologies are developed that bring development costs down. For example, last month saw a major breakthrough for the hydrogen industry with a new electrolyser being developed:

Developments like this support PRL's ambitious hydrogen project, which is progressing well with the completion of the Scoping Study this quarter.
Objective #2: Securing land tenure and stakeholders support.
PRL continues to work closely with the WA government and Traditional Owners to usher in a new land tenure regime for leases over green hydrogen developments.
This is one of the most important yet understated aspects to the PRL story.
In order for PRL to secure funding for its Hydrogen project, investors will want certainty over their investment - which comes in the form of secured land tenure.
Given that the current legislation is insufficient to provide this security, the proposed laws will provide certainty to investors regarding the development of the green hydrogen project (we covered this in an update article here).
PRL has strong relationships with both the WA government and the Traditional Owners, evidenced by the Section 91 consent agreement signed on 12 April by the Yinggarda Aboriginal Corporation that paves way for land access approvals.
Objective #3: Begin Pre-Feasibility Study (PFS).
The positive Scoping Study supports the decision to move into a detailed PFS in 2022, with a targeted H1 2023 completion. The PFS will support future critical engagements and decisions moving the project forward.
The completion of the PFS should provide more details about the development costs and project's potential profitability, and will significantly de-risk the project. We expect this to support in attracting larger later stage funds and strategic investors to the register as it provides more clarity around project economics to investors.
Objective #4: Solidify commitment from Total Eren.
PRL reported that the Memorandum of Understanding between the HyEnergyTM partners (PRL and Total Eren) was extended to 31 May 2022 to allow finalisation of a Joint Development Agreement.
This partnership with Total Eren is an absolute key part of our PRL investment thesis.
We are watching very intently to see this Joint Development Agreement signed and delivered, which was contingent on the now completed scoping study.
As per the MoU terms, Total Eren will fund and own 100% of the renewable energy project, and 50% of the hydrogen production project, with PRL funding and owning the other 50%.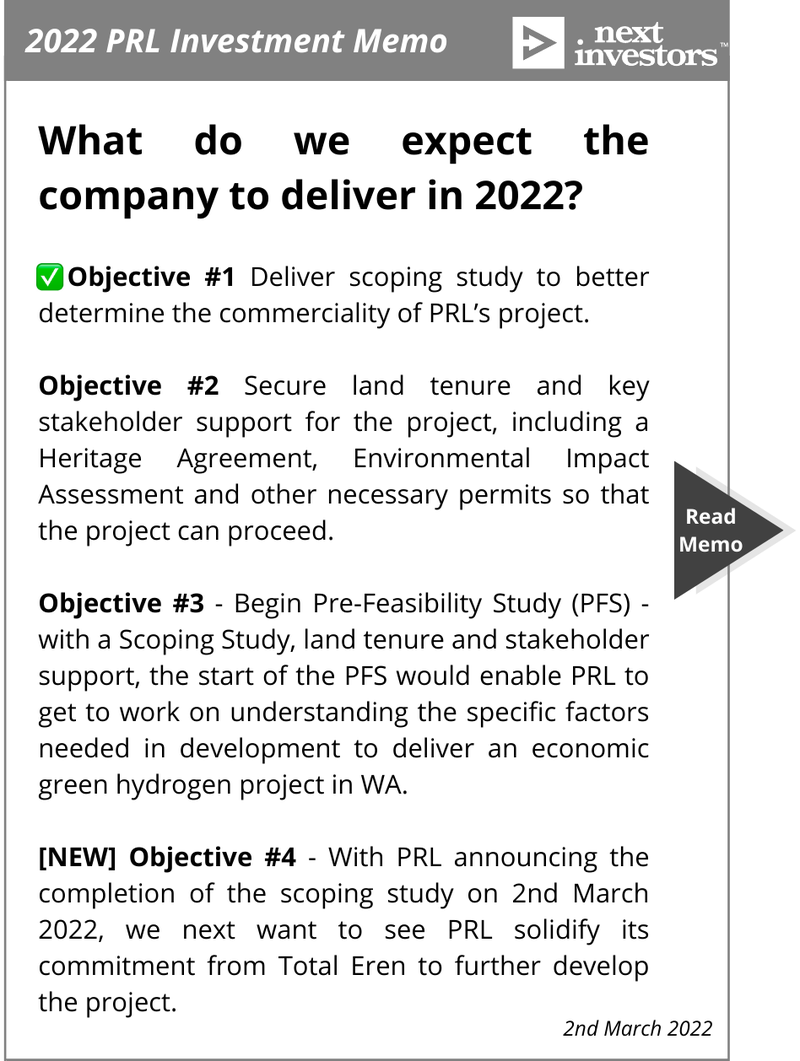 As PRL further progresses towards release of the PFS, including confirmation of its Joint Development Agreement with Total Eren — along with increased government support for the industry — we would expect to see investor interest return to the stock.
As the Scoping Study is now complete, we look ahead to the signing of the Joint Development Agreement with Total Eren.
PRL has $21.5M in the bank — a solid amount as it works towards delivering a PFS in the first half of 2023.
PRL prioritises ESG reporting
PRL says that its purpose is to provide ethical and sustainable access to zero carbon fuel required to support global growth and the transition to a green economy.
Backing that statement up, we were happy to see PRL advance its ESG (Environment, Social, Governance) credentials during the quarter.
PRL has partnered with Socialsuite ESG to provide a clearer and simpler way to explain its ESG progress.
The newly created Province Resources Quarterly ESG Report (found on page 11 of the March quarterly report) provides insight into what PRL is working on in its ESG journey and how the company is committed to improving, and working towards creating change.
Several of PRL's ESG disclosures have been verified by SocialSuite and more disclosures are closer to completion.
You can see PRL's live ESG disclosures dashboard here: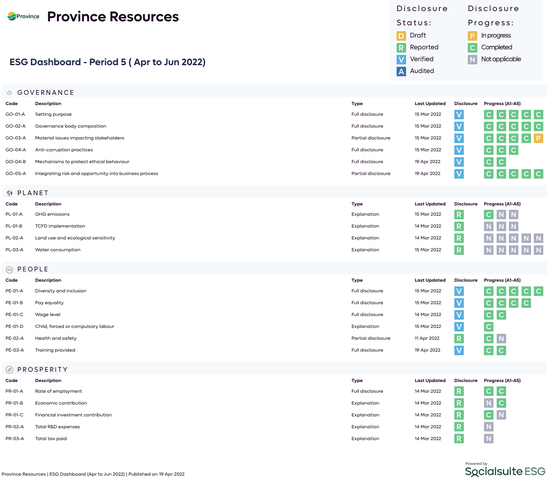 ESG is now essential in business and investment circles, setting a standard in measuring the sustainability and ethical impact that a company makes.
Having measurable ESG performance makes an investment in PRL more attractive to Institutional Funds that are increasingly seeking ESG investment-ready opportunities.
Hydrogen industry gains support
On the campaign trail yesterday, Australian Prime Minister Scott Morrison voiced his support for development of the industry in WA.
Having first developed a national strategy to support the green hydrogen industry two years ago, the federal government has now committed $140M for the development of two new hydrogen hubs in WA, along with $6M for critical mineral supply chains.
A further $67M will go towards developing two carbon capture and storage hubs and the appraisal of a third potential storage site in WA.
The government expects this to instigate more than $410M of new private and public investment. This is all part of its aim to develop a new export industry responsible for 8,000 jobs and $11BN of extra income by 2050.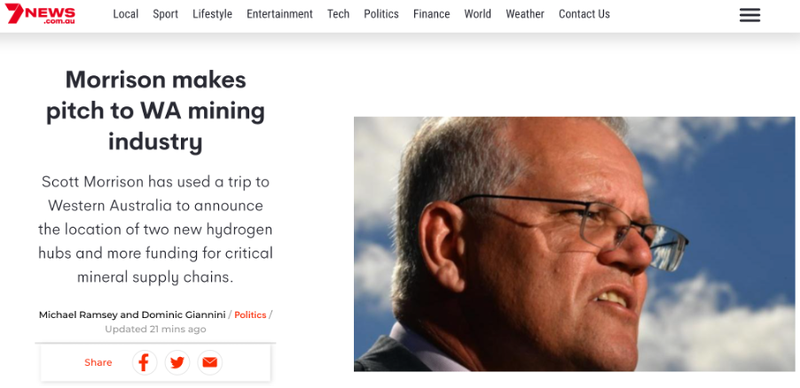 Australia's green hydrogen industry is also attracting increased private interest.
In the Northern Territory, the Desert Bloom Project — an ambitious $15BN green hydrogen project — has just seen a major Japanese gas buyer sign on as co-developer which could see the project double in size.
Meanwhile, Andrew Forrest's Fortescue Future Industries has signed a research and development partnership with aircraft manufacturing giant Airbus to supply green hydrogen as a zero-emissions jet fuel. Airbus is working on several prototypes for a hydrogen-powered aircraft, aiming to produce a commercial model by 2035.
This follows Fortescue's previously unveiled details of a huge wind and solar park that it wants to build to power its iron ore mining operations in the Pilbara.
PRL Investment Memo 2022
Our "Investment Memo" is a short, high-level summary of why we continue to hold a position in PRL and what we expect the company to deliver in 2022.

We use these Investment Memos as a way to assess the company's progress and examine how our investment thesis plays out throughout the year.
In our PRL Investment Memo you'll find:
Our key objectives for PRL in 2022
Why do we continue to hold PRL
The key risks our investment thesis
Our investment plan
[READ THE INVESTMENT MEMO]
---