PRL's Binding MoU with Total Eren may actually be WAY BETTER than we first thought…
Yesterday we called Province Resources (ASX:PRL) our Small Cap Pick of the Year for 2021 after it signed an Binding MoU with Total Eren (effectively the renewable energy arm of global energy supermajor Total SA).
PRL's Binding MoU with Total Eren may actually be WAY BETTER than we first thought...
PRL's announcement wording was pretty vague and we shared our initial interpretation with you yesterday.
After a few readers responded with a different interpretation of the announcement wording, we emailed PRL CEO David Francis and asked if he was able to comment on speculation on the deal, here is what he said:
"The intention is for Total Eren to fund, own and operate the upstream renewable power facility and the partners (Total Eren & PRL) to own all of the downstream assets (hydrogen production and distribution) 50:50."
So Total Eren could be funding the ENTIRE cost to develop a potential 8GW wind and solar plant.
This is WAY BETTER for our new 2021 Small Cap Pick of The Year PRL than what we first thought and shared with you yesterday.
Based on other green energy projects around the world we VERY ROUGHLY calculated that a cost of an 8GW renewable electricity project to be $12 Billion - assuming ~$1.5 Billion per GW we noticed on other projects.
PRL and Total Eren would be 50:50 owners of the Hydrogen production and distribution - a much lower CAPEX (we expect in the $ hundreds of millions) than the renewable energy side - all will be revealed in the scoping study soon.
This would be a pretty epic deal for PRL, significantly better than what we first thought yesterday, as the cost to develop the renewable plant was the largest question mark we still had over the project.
Here is what we think a deal could look like: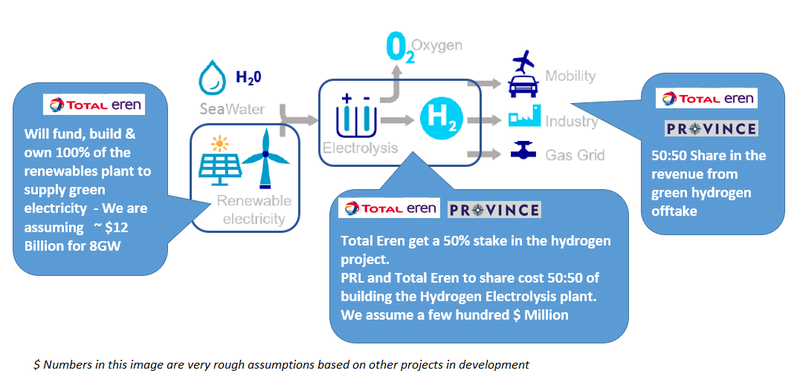 If this Binding MoU moves to a deal it will be a significant de-risking of the PRL project.
PRL is now our Small Cap Pick of the Year for 2021.
PRL is currently one of our biggest portfolio positions.
We have only done a few "Picks of the Year" and they have performed well over the long term since we introduced our "investment portfolio" model in 2019:
Our Picks of the Year in other sectors include, along with their current return:
Elixir Energy: 2019 Energy Pick currently 1,054%.
WhiteHawk: 2019 Tech Pick currently up 298%.
Vulcan Energy: 2020 Small Cap Pick currently up 4,061%.
Invictus Energy: 2020 Energy Pick currently up 298%.
Oneview Healthcare: 2021 Tech Pick currently up 406%.
We have found we get the best returns from holding stocks over the long term - as you can see above.
Originally we felt PRL's project was a little too early stage for a "Pick of the Year", but we believe yesterday's binding MoU with a highly credible partner derisks the project significantly.
Here are the 5 Key Reasons why PRL is our Small Cap Pick of the Year:
1. PRL similar to an early stage Vulcan Energy Resources
We have had a massive win with Vulcan Energy Resources by placing an early stage bet on its Zero Carbon energy strategy.
We liked the Zero Carbon Lithium concept and eventually so did the market, with Vulcan becoming the best performing stock on the ASX since the COVID crash.
We continue to hold Vulcan, and are hoping PRL can perform in a similar way over the coming 12-18 months.
PRL is one of our biggest investments because it's the same team that bought us Vulcan, and PRL is also following a similar 'Zero Carbon' strategy.
2. Green hydrogen is the next massive global investment thematic
We think green hydrogen's time has arrived.
There is a rapidly rising number of GW scale Green Hydrogen projects in development, with new projects seemingly being announced on a daily basis.
PRL is an early mover in Australia in this space.
There is a tidal wave of ESG funds looking to deploy capital on projects like PRL's, and that is going to put progression of PRL's project in good stead.
3. Australia going Net Zero by 2050 - Green Hydrogen to play a big role
NEWSFLASH: Just overnight we got a very real indication from Australian PM Scott Morrison that Australia is going to commit to Net Zero Carbon Emissions by 2050.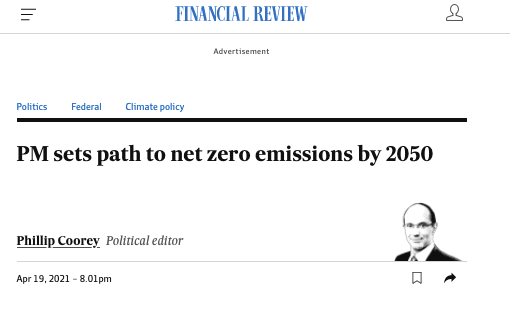 In a speech last night to the Business Council of Australia, he even cited green hydrogen and Andrew "Twiggy" Forrest's green hydrogen development ambitions:

PRL's project is shaping up to be one of strategic national importance given the potential scale of its Green Hydrogen project.
It is increasingly clear that governments at all levels are going to support the switch to renewable energy.
4. PRL now has a signed MoU with globally recognised renewable energy partner Total Eren (backed by global supermajor Total)
Yesterday, PRL confirmed it has signed a MoU with Total Eren.
Total SA, one of the world's biggest oil companies is making the switch - aiming for Net Zero emissions by 2050.
To do that the oil giant is deploying capital into Total Eren, a renewable energy company that Total SA is a substantial holder of.
As we covered above and yesterday, Total Eren and PRL have signed a binding MoU to perform a feasibility study in view of potentially developing a green hydrogen project in two stages, totalling up to 8GW in renewable energy capacity.
5. Right Location for a Green Hydrogen project
PRL picked the right spot for renewable energy generation and a hydrogen hub. PRL's project:
Sits on the coast - with an endless supply of water;
Has solar energy conditions amongst the best in the world - i.e. its really sunny;
Sits in a very windy place, those coastal winds are extremely strong in north west WA;
Large land position - recently upsized by 864km2;
Sits near the Dampier-Bunbury Natural Gas Pipeline, which means access to markets;
Located in WA - a state with a strong export infrastructure (with an established LNG industry) that can accommodate development of hydrogen industry.
We look forward to bringing you more updates as PRL progresses it's green hydrogen ambitions.
---