PRL Doubles Land Holding in Green Hydrogen Push
Our investment in Province Resources (ASX:PRL) and its Zero Carbon Green Hydrogen project is inches away from becoming our "Small Cap Pick of the Year" for 2021.
PRL announced it has just doubled its land under application, hence doubling its potential energy generation capacity in the future.
Green Hydrogen is probably THE most talked about commodity in the new green economy globally.
Green hydrogen is widely tipped to power large scale transport (trucks, trains, planes and ships) into an emissions free future.
"Green" hydrogen is produced by electrolysis of water using clean electricity produced from big solar and wind farms...
PRL already has land applications on some of the most sunny and windy coastal land in the world (in Western Australia) with grand ambitions to build Australia's first solar and wind powered green hydrogen project.
PRL has just announced the acquisition of 864km2 of new land applications surrounding its existing land, further setting the scene to deliver a mega project in the green hydrogen space: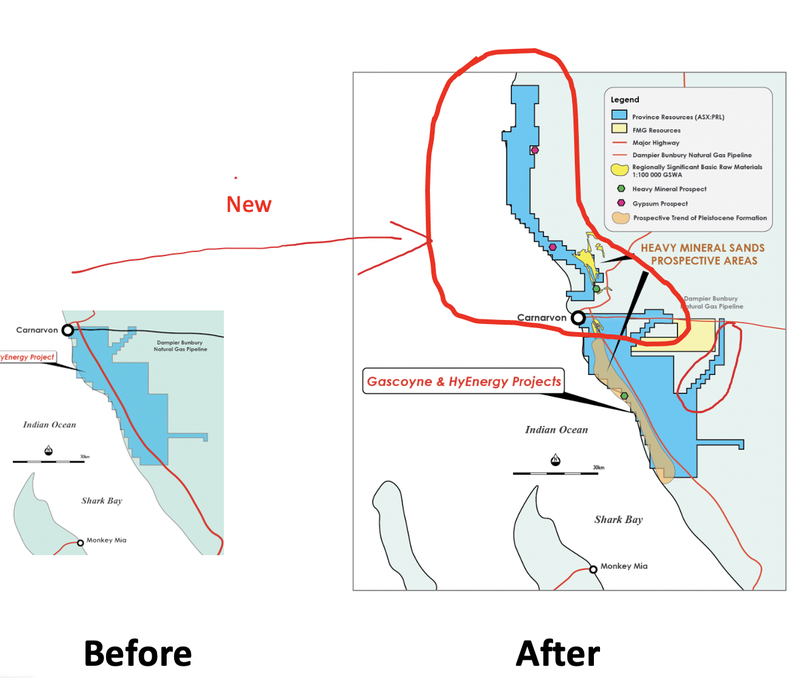 Doubling their land holding size essentially means double the electricity generation capacity for its future green hydrogen project.
Coastal is Key for Green Hydrogen
When locking in land to build wind and solar projects for green hydrogen generation, coastal land is key (as you can probably tell from all of PRL's blue land applications hugging the coastline).
Coastal is key for green hydrogen because there is:
Lots of wind on the coast - pretty handy for wind farms...
Optimal heat to run solar panels - inland it can actually get too hot (yes, too much heat can melt important technical stuff)
Close proximity to an unlimited water source in the ocean - water is needed for electrolysis to green hydrogen
Ease to build a port or export terminal once the project is live - so the hydrogen can be shipped to buyers.
We also note that PRL's new landholding encompasses Rio Tinto's existing Curvier port - we have no idea if Rio would entertain letting PRL ship their green hydrogen out of there, but existing infrastructure is always good to have around - PRL can always ask the question to Rio.
Fortescue Metals moving fast into Green Hydrogen
PRL's expanded land position comes a just a few weeks after we broke the story of Fortescue Metals Group (ASX: FMG) (founded by Andrew Forrest - the richest guy in Australia and aspiring Green Hydrogen baron) putting in applications on the land right next to PRL via Fortescue's subsidiary FMG Resources Pty Ltd.
In this article, we explained how a bit of detective work on publicly available land application portals can reveal very interesting info about application activity surrounding companies you are invested in.
Is PRL's new expanded land announcement a win in the David versus Goliath race to secure land against Fortescue Metals Group?
We don't 100% know why FMG pegged the land next to PRL, and so far FMG have been silent on it but we continue to watch with interest.
It's no secret that Fortescue founder Andrew Twiggy is now trying to build one of the world's biggest Green Hydrogen companies.
Twiggy wants a Fortescue subsidiary to deliver anastonishing 1,000 GW of renewable energy capacity around the world, with the energy going into manufacturing Green Hydrogen. Twiggy is keeping busy here, having already recruited an ex spy chief and ex Prime Minister Malcolm Turnbull to chair.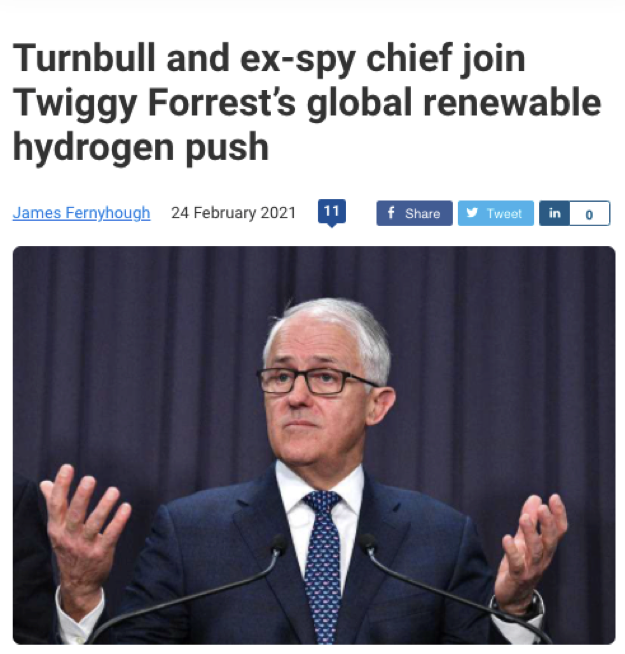 PRL the next Vulcan?
Just in case we have forgotten to mention it in almost every single email we send... we invested in Vulcan as our Small Cap Pick of the Year in 2020 at 20c - then again at 85c and most recently at $6.50.
After hitting a high of $14.20 Vulcan has settled around $6 and we continue to hold a long term position as we think there are big things in store for Vulcan this year (you can see us in the most recently announced Vulcan Top 20 holders).
When PRL launched its Zero Carbon Hydrogen project we couldn't help noticing a lot of similarities to our long term investment in Vulcan - similarities we cover in this article.
Alan reckons Vulcan was literally the number one ASX stock since the 23 March 2020 low point: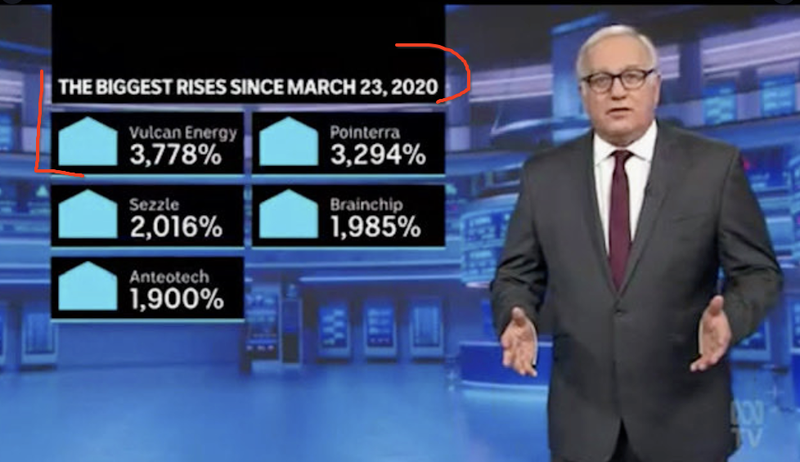 Our PRL story so far
Regular readers will know we have been invested in PRL since August last year when it was called Scandivanadium (ASX:SVD).
We originally invested for gold exploration in the highly prospective Paterson province, but the share price plunged from its peak of 4c to 1.5c after EM surveys returned no drill targets.
We got burned on that one, but decided to hold on to see what the company would do next, as we have always liked the management team and knew their past association with the early stages of super successful Vulcan Energy.
As with all our investments, you can see our historical coverage of PRL (including prior to its Zero Carbon Hydrogen acquisition when it was SVD) on our PRL company summary page here.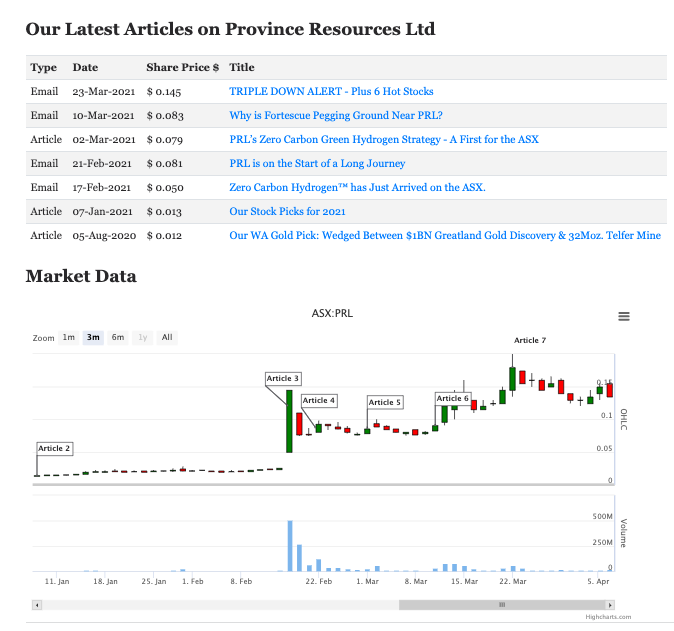 For those too busy to click the link, here is a stroll down memory lane of our coverage on PRL:
In early February we covered PRL's new foray into green hydrogen in Zero Carbon HydrogenTM has Just Arrived on the ASX - including a short explainer on green hydrogen and why we like PRL's new project, including comparison to our previous pick of the year 2020 Vulcan.
A few days later after a pretty big PRL price jump, in PRL is on the Start of a Long Journey we provided some commentary about the long journey that PRL has ahead to deliver a sustained long term share price appreciation and our plan as long term investors which remains the same today.
In March we provided a deeper dive into why we invested in PRL and their forward looking plans.
Later that month, we shared some detective work we did discovering Fortescue Metals Group pegging land next to PRL including some analysis of green hydrogen's growing popularity in mainstream media - followed by a general update where we included PRL's new board member
---