PRL's Zero Carbon Green Hydrogen Strategy - A First for the ASX
Australian microcap company Province Resources (ASX:PRL) is aiming to develop the country's first truly Zero Carbon Green Hydrogen project.
This comes at a time when nearly half the globe has already embraced net zero policies.
For climate experts, green hydrogen is indispensable to climate neutrality. It features in all eight of the European Commission's net zero emissions scenarios for 2050.
PRL's massive green ambition is the kind of thing that we like to invest in and support.
We have come to PRL in a similar way and for similar reasons to why we invested in Vulcan Energy Resources when it was an early stage company.
We are now long term holders in Vulcan and have built a large position in that company since 2020.
Whilst it's early days, we feel PRL has all the hallmarks of becoming the next Vulcan.
Vulcan went from 20c to as high as $14.20 on its Zero Carbon Lithium Project and we believe PRL could have similar traction on the back of its ...
Zero Carbon Hydrogen Project
PRL is proposing to produce approximately 60,000 tonnes of green "Zero Carbon Hydrogen" or up to approximately 300,000 tonnes of green ammonia using renewable energy.
It furthered its ambition today when it announced that it had secured a Fulcrum3D SODAR (Sonic Detection and Ranging) weather monitoring station to be deployed to site for data collection required to support feasibility studies.
This wind monitoring system is one of only five remote sensing instruments globally considered to provide bankable wind data by leading independent consultants such as DNV-GL.
We think PRL could be an excellent ground floor entry investment, with significant upside: capped at $69M, it has circa $5.2M in the bank.
It is also a first mover in a hot sector: There is currently no other stock on the ASX doing what PRL is aiming to do and for that reason we expect it to become one of the highlights of our portfolio.
Vulcan was able to grow its Zero Carbon Lithium Project from humble beginnings to a now $800M market cap, having raised $120M in funding most recently including an investment from Australia's richest person Gina Rhinehart.
Here is why we like PRL
It's early stage, but is the first green Hydrogen project on the ASX
We believe it's the first "Zero Carbon Hydrogen" project in the world
Green Hydrogen is an emerging hot global investment thematic
PRL is brought to you by the same team that pulled together Vulcan's Zero Carbon LithiumTM deal into Koppar Resources in 2019 (before it rebranded to VUL)
The chairman of Vulcan (Gavin Rezos) has invested $450k AND has signed on as an advisor to PRL
Vulcan Co-Founder and CEO Francis Wedin has invested in PRL
PRL set to conditionally acquire a private company with applications on 7 licenses in Northern Western Australia which has huge solar and wind potential
Licenses are near the ocean (for export) and existing pipeline and other key infrastructure
PRL has strong ESG credentials
PRL is developing its project in a high supportive political environment
Ultimately, with its Green Hydrogen exports, we think PRL could emulate what Woodside Energy did with LNG over the last 40 years: large offtakes to a rapidly decarbonising Asian continent.
Clean Energy Revolution: What is Green Hydrogen?
The green hydrogen market could generate revenues, at the very least, of $US12 trillion by 2050 — bigger than any industry we have now.
Some of the key fundamentals of the green hydrogen market are listed below:
Western Australia's Hydrogen Strategy to support the renewable hydrogen industry with a goal of 10% mix of renewable hydrogen in the DBNGP by 2030.
Funding from Government on both a State and Federal level include;
Western Australian Renewable Hydrogen Strategy $10m.
Australian Renewable Energy Agency (ARENA) $70m.
Australian Government Advancing Hydrogen Fund $300m.
$347BN in ESG funds invested in 2020.
$490BN govt and corporations selling ESG bonds.
Moody's expects 2021 sustainable debt issuance to reach $650BN and no signs of the ESG funds slowing.
> 100 countries pledged to be Net Zero by 20503.
Estimated that $3 trillion or more in capital investment for decades will be needed.
For climate experts, green hyrdrogen is indispensable to climate neutrality. It features in all eight of the European Commission's net zero emissions scenarios for 2050.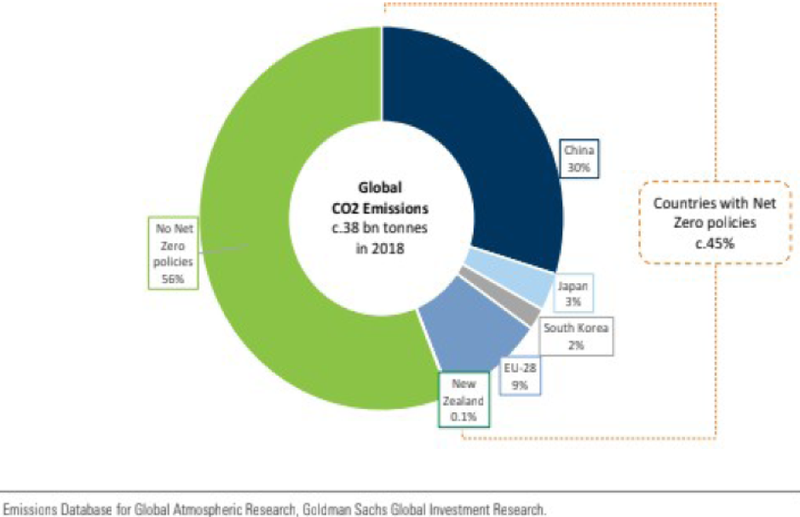 Discussing the benefits of hydrogen production, Hon Alannah MacTiernan MLC Minister Assisting the Minister for State Development, Jobs & Trade said, "Hydrogen provides a means to harness our world-class solar and wind resources for energy export, and help our international partners meet emissions reduction goals."
So, there's a reason you are going to be hearing A LOT more about hydrogen over the coming years.
Hydrogen fuel cells are widely tipped to be the emission free transport solution for large transport - think trucks, planes, trains and ships.
In fact, there is a massive groundswell of interest and investor support in hydrogen fuel cells for large transport applications, despite lithium ion batteries forecast to overtake petroleum engines in passenger vehicles in the coming years.
Having generated vast piles of wealth from iron ore, Andrew "Twiggy" Forrest, Australia's second richest person, is also on the green hydrogen bandwagon.
According to Forrest, by 2050 green (renewable) hydrogen could be the most important green energy source in the world.
"The green hydrogen market could generate revenues, at the very least, of $US12 trillion by 2050 — bigger than any industry we have now," he says.
Here is Forrest imploring Australia to be first to market with green energy solutions.
There is a bit to unpack here when talking about hydrogen and the importance of green hydrogen, so before we go too far, let's do a quick "Hydrogen 101" explainer, and examine why we are backing PRL and its early stage Green Hydrogen project.
Here are the key basic facts you need to know before investing in the hydrogen space:
Hydrogen is an "energy carrier" - like electricity. Hydrogen carries energy, allowing its transport from one place to another - just like electricity.
To make hydrogen, all you need to do is run electricity through water. Hydrogen can be produced by separating water molecules into hydrogen and oxygen. The water separation process is done via electrolysis - and this requires energy. So it's important to understand where that energy comes from.
This is where "Zero Carbon" comes in for PRL. PRL is aiming to power the hydrogen production (water electrolysis) process entirely via wind and solar power. This is called "green hydrogen". PRL has found one of the windiest and sunniest places in WA in which to base its green hydrogen project.
Green Hydrogen is the purest source of energy in the world. The green hydrogen market could generate revenues, at the very least, of $US12 trillion by 2050 — bigger than any industry we have in Australia right now.
A hydrogen fuel cell is the main source of energy in a hydrogen fuel engine. Hydrogen is useful as an energy source/fuel because it has a high energy content per unit of weight, which is why it is used as a rocket fuel and in fuel cells to produce electricity on some spacecraft.
Hydrogen fuel cells have significant potential for powering large transport. While lithium ion batteries are forecast to overtake petroleum in passenger vehicles, the future for hydrogen fuel cells is in large transport - trucks, trains, planes, and ships.
The Potential of Hydrogen
Green hydrogen, generated from wind and solar and which has so far been ignored by the economic world, could fast track the fight against climate change.
Australia's Chief Scientist Dr Alan Finkel AO who was also Chair, COAG Energy Council Hydrogen Working Group said, "The potential to export clean hydrogen is substantial, with the International Energy Agency and the World Energy Council both identifying Australia as a potential hydrogen production powerhouse. We can become a leader in the new industry I call 'shipping sunshine', with our hydrogen exports being additional to our other energy exports."
Going back to Twiggy Forrest's comments, he says: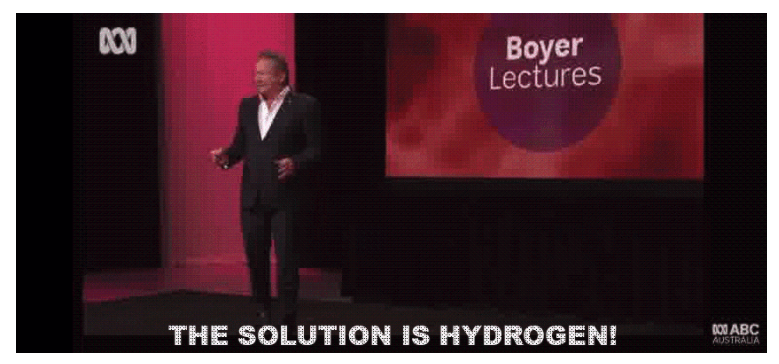 Forrest believes a clean zero carbon Gas or Liquid Hydrogen Fuel "could power the world for all of mankind's existence".
PRL's new Project: Zero Carbon Hydrogen
PRL is aiming to be Australia's first truly Zero Carbon Hydrogen (a term it has trademarked) producer.
At the company's HyEnergy Renewable Hydrogen Project, PRL is proposing to generate 1GW (1,000MW) of renewable energy in Western Australia using wind and solar and to produce approximately 60,000t of green hydrogen or up to approximately 300,000t of green ammonia.
PRL has chosen the Gascoyne region in Western Australia to meet this ambition, as this region has world class solar and wind resources.
Importantly, those resources are perfectly complementary, with high incidence of sun during the daytime and high wind speeds in the morning, evening and night.
This enables competitively priced predictable and firm renewable electricity output, 365 days a year.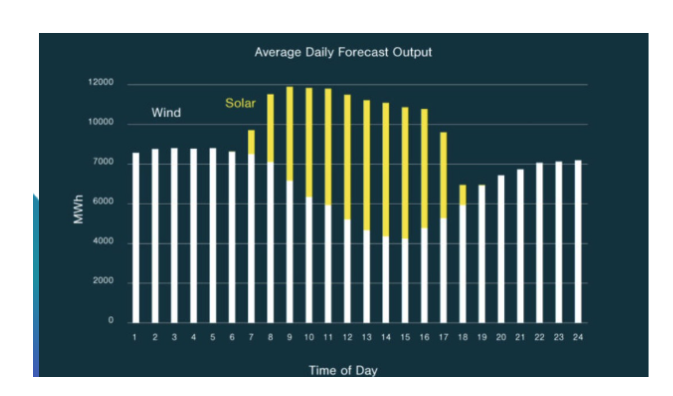 Carnarvon is the fourth windiest location in Western Australia, with an annual mean wind speed of 25.5 km/h.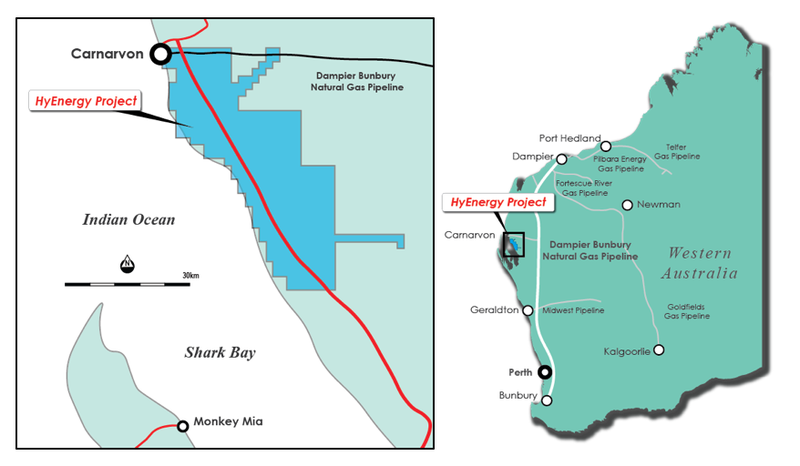 Existing operating wind-farms at Denham and Coral Bay nearby are proof of wind power working well in the Gascoyne region.
Beyond the wind farms at Denham, the WA State Government is committing $8M to funding the Denham Microgrid renewable hydrogen project.
Meanwhile large scale wind farms are planned in Pilbara's 'Cyclone Alley', where cyclones crossing the coast are prevalent.
All of this supports the Carnarvon region as a preferred lower risk wind farm location in Western Australia and is one of the reasons why PRL is setting up here.
It should be noted here that PRL has secured the normally long lead time SODAR monitoring station from Fulcrum3D to be deployed in the next four weeks at the HyEnergy ZERO CARBON HYDROGENTM Project.
Advantages of the Fulcrum3D Sodar include:
Short lead time
Cost-effective wind and solar measurements for multiple locations
Easy to deploy, install and relocate
Reliability – manufactured from long-lasting materials for harsh environments
Largely maintenance free for >6 years
Can be fitted with additional met and solar instrumentation
Standard remote comms and standalone power kits
Easy access to raw and processed data
Readily available support from the Fulcrum3D team of engineers and scientists
The monitoring station is critical in collecting preliminary wind and solar data every 10 minutes within the project area to assess the wind and solar resource potential.
The data collected will enable the proposed wind turbines and solar array network to be optimised, prior to the final project scope and scale decision point.
As for Carnavon's solar profile.
Carnarvon has a rich solar resource averaging 211 sunny days per year, with an average solar exposure of 22 MJ/m2 /day (or 6.24 kWh/m2 /day).
Its low competing land use and high solar resource makes PRL's project area ideal for a large scale solar array network.
PRL-like projects have government backing
Government bodies such as the Australian Renewable Energy Agency (ARENA) have taken up the green energy cause and hydrogen is firmly their sights.
ARENA has been taking a long hard look at hydrogen projects believing hydrogen could be our next great export: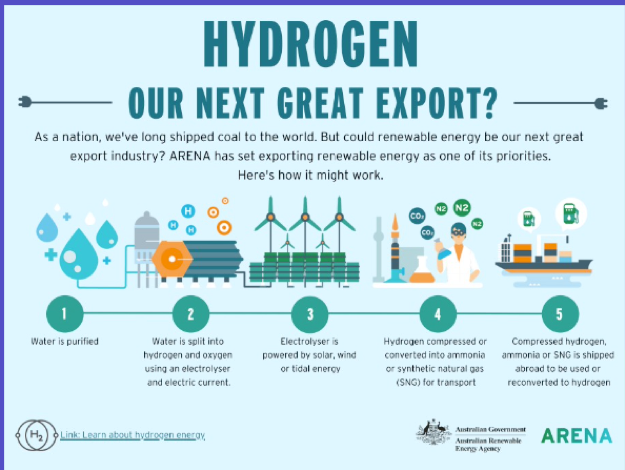 Here's what ARENA is looking for in a hydrogen project: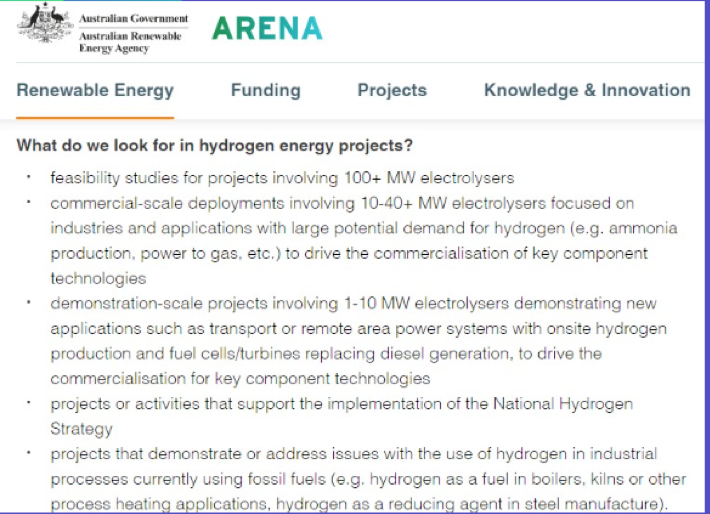 It would seem that PRL's project could fit the bill.
Dollars are pouring into renewable hydrogen in WA
There has been plenty of investment by the WA government of late in WA hydrogen projects. So much so, the state has developed its own roadmap.
Here's a look at the investments made so far: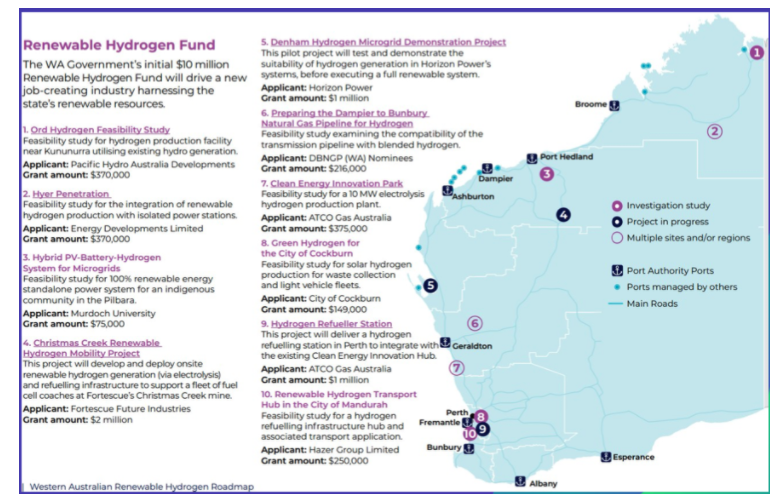 Dollars are pouring into growing the north of Australia
$5BN development financier NAIF (Northern Australia Infrastructure Fund) provides loans to infrastructure projects in the Northern Territory, Queensland and Western Australia.
In the last financial year, NAIF made 11 investment decisions worth more than $1.4billion, focusing on driving public benefit, economic and population growth and Indigenous involvement in northern Australia.
NAIF can lend up to 100% of the debt and has a higher tolerance for the unique risks of investing in northern Australia including but not limited to, distance, remoteness and climate.
NAIF has announced investment decisions for projects across a range of sectors and regions including:
Mardie Salt & Potash Project ($450m),
Strandline Resources' Coburn Project ($150m),
Chichester Solar Gas Hybrid Project ($90m),
Onslow Marine Support Base ($16.8m),
Kalium Lakes' Beyondie SOP Project ($74m (plus an additional $10m facility),
AAMC ($12.5m), and
Sheffield Resources' Thunderbird Mineral Sands Project ($95m).
It is early stage, but PRL has a well-laid out plan of its own that should attract investor attention and funding.
The good news is that it has plenty of test cases to draw on.
What's Next? PRL's development plan
PRL has outlined a three stage development process for its HyEnergy Zero Carbon Renewable Hydrogen Project.
Stage 1 - Foundations and Demonstration: advance priority pilot trial of green hydrogen and green ammonia production in Carnarvon region and investigate potential gas blending into the Dampier Bunbury Natural Gas Pipeline (DBNGP).
Stage 2 – Gas blending, scale up project to supply into the nearby Dampier Bunbury Natural Gas Pipeline. With the aim of helping meet the State Government's objective of up to 10% green hydrogen in the DBNGP by 2030.
Stage 3 – Export, full scale production to supply Asian markets. Develop a Liquified Hydrogen and or Ammonia Loading Facility in the Carnarvon area. Subject to customer needs hydrogen offtake could be either in the form of ammonia or liquified hydrogen.
What to expect from PRL over the coming months
In the next 12-18 months, the company plans to:
Execute a heritage agreement with the Yinggarda Aboriginal Corporation (YAC) to govern the conduct of site resource monitoring investigations
Undertake numerous key stakeholder discussions, including, Carnarvon Shire and Community, WA government, Federal government and Indigenous representatives (YAC)
Assemble a highly capable project team including local & international experts
Commence feasibility studies for both renewable power generation and green hydrogen production
Execute a binding MoU with an IPP (Independent Power Provider) to develop the renewable power required for the H2 plant
Initiate discussions with potential offtakers and AGAIG – Australian Gas and Infrastructure Group (owners of the DBNGP).
A quick look at the management team
A further reason why we invested in PRL is the experience of its management team.
It's impressive.
It begins with David Frances Chairman and Managing Director elect, who has a nearly 30 years track record of transacting, discovering and developing assets in Australia and Africa. Frances led Mawson West (TSX: MWE) from 2006-2012, which included acquiring and recommissioning the Dikulushi copper-silver mine in the Democratic Republic of Congo (DRC) and relisting on the Toronto Stock Exchange with a market capitalisation of ~$250 million, completing the world's largest base metals capital raise and IPO in 2010.
Patrick Burke has extensive legal and corporate advisory experience and over the last 15 years has acted as a Director for a large number of ASX listed companies. His corporate advisory experience includes identification and assessment of acquisition targets, strategic advice, deal structuring and pricing, funding, due diligence and execution. He is currently Executive Chairman of Meteoric Resources NL, Non-Executive Chairman of Mandrake Resources Limited and Non-Executive Director of Triton Minerals Ltd.
Thomas Langley has a passion for geology and the environment, completing a BSc Geology at The University of Western Australia with a focus on environmental and resource economics. In conjunction with employment at resource companies including BHP Nickel West, Northern Star Resources and Creasy Group, Tom completed a MSc Economic Geology at The University of Tasmania (CODES) in 2018.
Finally, Ian Hobson was a director of PricewaterhouseCoopers and Ferrier Hodgson Chartered Accountants before specializing in providing company secretarial and corporate accounting services to listed entities.
The final word: Is PRL the next Vulcan?
We made a large investment in Vulcan when it was just 20c. Since then, VUL has been up as high as 7,789%.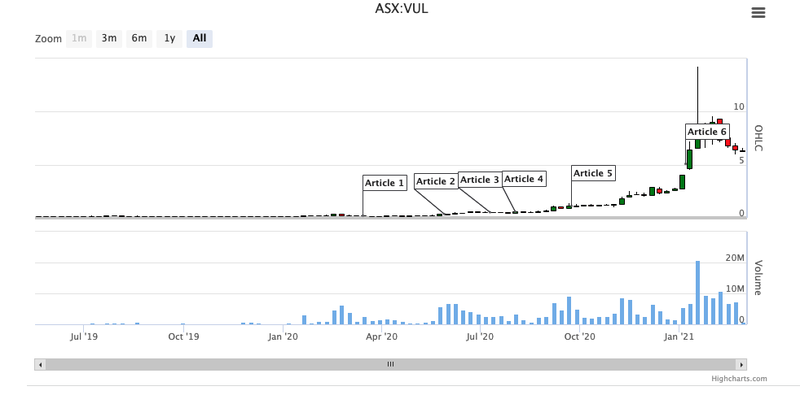 We believe PRL could ride a similar wave, however this is a very early stage project - similar to VUL when we first invested and like all early stage investments, success is no guarantee.
Bear in mind, it was just this month that another iron ore magnate and Australia's richest person with an estimated fortune of about $29 billion (AFR Rich list 2020) Gina Rinehart emerged as a substantial shareholder in Vulcan Resources.
In fact, Vulcan co-founder and CEO Francis Wedin and Chairman Gavin Rezos, have both invested in PRL.
PRL is an early stage play, however there is a real opportunity for it to take the reins in providing an all Australian green hydrogen solution that could have a worldwide impact.

---