REVEALED: Our Top Stock Pick for 2020 (Vulcan Energy ASX)

The team here at Next Small Cap has been busy over the summer break poring over data and analysing the latest investment trends, searching for standout stocks that are primed for long term, transformational growth over 2020 and beyond.
It's not often we call a stock our "Pick of the Year" - but when there is one as compelling as this one, we feel we have no choice.
This ASX stock is intimately aligned with global thematics, and we have taken a large position and are long term holders in this stock.
There is no doubting the groundswell of support across all levels of politics and finance for cutting carbon emissions.
The world's largest fund manager BlackRock, who manages nearly US$7 trillion in assets, is divesting from carbon emitting industries and pressuring portfolio companies to reduce carbon emissions.
180 of America's most powerful CEOs have committed to reducing carbon emissions to secure support from their fund managers - there is now real financial and political recourse at the highest levels for carbon emitters.
There is an avalanche of investment dollars coming for companies that prove to be effective in drastically cutting carbon emissions while making a profit.
We all know that electric car makers are displacing fossil fuel burning cars... and while they have currently secured investor support, they have a dirty little secret.
Production of electric cars actually causes huge amounts of carbon emissions through extracting and transporting the raw materials needed to make their electric batteries - which has now become a critical issue to solve.
Our Top Pick of 2020 has not only developed a way to extract lithium with ZERO CARBON emissions, but has also secured Europe's largest lithium resource, right next to the major car manufacturing plants, which further minimises carbon emissions from transport to the battery factories.
It was just announced overnight that an investment was made into a similarly themed low carbon lithium technology by a fund led by Bill Gates, along with some of the world's richest investors including Jeff Bezos (founder of Amazon.com), and Jack Ma (co-founder of Alibaba) and Michael Bloomberg.
We can reveal that the original co-founder of this rich-list backed, low-carbon lithium tech has recently joined our Top Pick of 2020 as CTO of lithium extraction.
Our Top Pick has today released an impressive Scoping Study. We have done some back of the envelope calculations and reckon it could be bringing in US$350 million yearly at Stage 2, which would start to stack up quickly over its 30+ year project life.
With Europe introducing some of the strictest emissions laws and aggressive zero carbon targets in the world, the company's lithium hydroxide product is expected to see a surge in demand.
Not to mention this is the first Zero Carbon LithiumTM project in the world, not just Europe. Its product will be in massive demand from all car battery makers coming under increasing pressure from governments and global fund managers to reduce supply chain emissions
According to the company, offtake discussions are already well underway.
Lithium demand is set to quadruple by 2023. Electric cars are becoming mainstream. Global politics and finance are increasing pressure on companies to reduce emissions.
Currently capped at just $11 million, all this creates the perfect environment for our Top Pick of 2020 to see its valuation grow.
We have taken a large position in this company and are long term holders, introducing:

Market Capitalisation: $10.86 million
Share Price: $0.26
Cash in bank: ~A$3.0 million
So what is it that makes Vulcan Energy Resources so compelling today?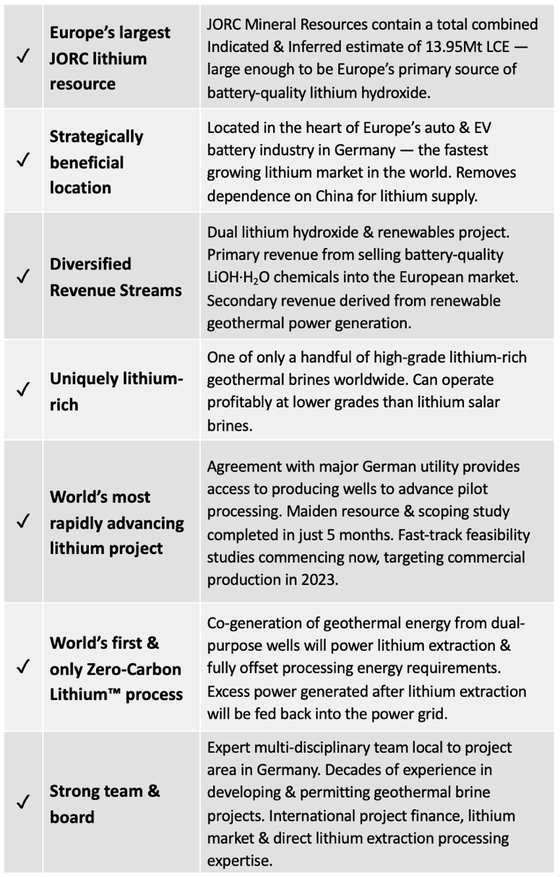 We first brought Vulcan to your attention in August last year and the stock has since gained ~30%, having confirmed its Vulcan Lithium Project as having the largest lithium resource in Europe, entering a MOU with a producing geothermal owner, and now, completing a scoping study.
Today, that scoping study has been made public, confirming the potential for a major European Zero Carbon LithiumTM project to supply Europe's growing number of battery and EV makers.
The scoping study results indicate that Vulcan has the potential to be the first negative carbon lithium project in the world, helping to decarbonise a highly CO2-intensive product, and supports the company's plan to fast-track the project to production using the existing geothermal wells and plant infrastructure.
Now with confirmation that the project stacks up and progressing towards a pilot plans and PFS later this year, we expect VUL to attract a greater investor following as it progresses towards large scale commercial Zero Carbon LithiumTM production in 2023.
We suggest you follow VUL managing director Francis Wedin for more updates, but more importantly like and retweet his call out to Elon Musk to decarbonise the production of his Tesla batteries:
Vulcan's Zero Carbon LithiumTM Project
Vulcan Energy Resources (ASX:VUL) is on track to deliver battery-grade Zero Carbon LithiumTM hydroxide to the fastest growing market in the world: the European battery EV industry.
The dual lithium hydroxide and renewables project will derive primary revenue from selling battery-quality lithium hydroxide (LiOH∙H2O) chemicals into the European market and secondary revenue from renewable geothermal power generation.
The Vulcan Zero Carbon LithiumTM Project comprises a very large, lithium-rich geothermal brine field located in Germany's Upper Rhine Valley, just 60 kilometres from Stuttgart — the home of the German auto-industry and the centre of the burgeoning European lithium-ion supply chain.
The project in trucking distance to cathode manufacturers and EV battery "gigafactories" and is large enough to be Europe's primary source of battery-quality lithium hydroxide.
Situated within one of the most well-studied and well-explored graben systems in the world, the lithium-rich brine at the Vulcan Zero Carbon LithiumTM project is very well understood.
It boasts Europe's largest lithium resource, and by a considerable margin.
The project's total combined indicated and inferred mineral resource of 13.95Mt LCE is globally significant — large enough to be Europe's primary source of battery-quality lithium hydroxide (LiOH∙H2O).
Vulcan entered a MOU with German utility company, Pfalzwerke geofuture GmbH, in November 2019, giving it access to the Insheim licence that contains an operational geothermal plant and wells, where hot, lithium-rich brine is being pumped to the surface and electricity produced. The licence has an indicated mineral resource estimate and presents a huge opportunity for Vulcan to extract and commercialise these lithium brines.

Inferred Vulcan Li-Brine Resource Estimate of lithium-bearing brine within the Buntsandstein Group aquifer domain at the Ortenau Licence & Indicated Vulcan Li-Brine Resource Estimate at the Insheim Licence
You can read more on this in our last article: "Vulcan Increases Europe's Largest Lithium Resource".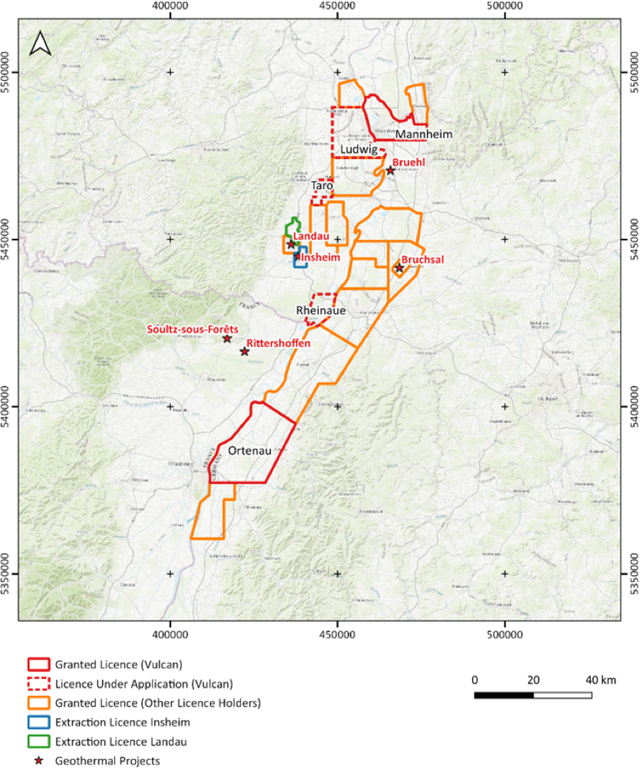 Vulcan Zero Carbon LithiumTM Project Location including the newly added Insheim extraction licence
The lithium grades from the project's geothermal brines rival that of the more environmentally destructive, carbon intensive and costly traditional lithium recovery methods that extract brines via evaporation ponds or open-pit mining of hard-rock lithium sources.
In fact, the Upper Rhine Valley brines have been shown to have grades in the same order of magnitude as typical South American salars, in the hundreds of ppm lithium and with high flow rates, and coming from geothermal wells, they have the advantage of readily available heat and power.
Furthermore, as Europe's only source of Zero Carbon LithiumTM, Vulcan will a have a net negative climate change impact as its CO2 emissions will be offset through the co-generation of geothermal energy.
Here is managing director Francis Wedin in December explaining the project and Vulcan's plans:
Scoping Study: Potential for major European Zero Carbon LithiumTM project confirmed
Vulcan today released its scoping study indicating the potential for its Vulcan's Zero Carbon LithiumTM Project to be the first negative carbon lithium project in the world, helping to decarbonise what is known to be a highly CO2-intensive product.
The study demonstrates the potential for a combined operation producing lithium hydroxide and renewable energy, all with a net zero carbon footprint.
Vulcan is planning for a staged ramp-up, with Stage 1 comprising the construction and operation of a Direct Lithium Extraction (DLE) and lithium hydroxide plant at the existing Insheim geothermal plant.
Stage 2 would later add considerably larger capacity, with the drilling of ten new production geothermal wells across two plants, construction of a new combined geothermal, DLE and lithium hydroxide plant at Vulcan's 100%-owned Ortenau license.
Production Plant 1: four extraction wells, geothermal plant, direct extraction and lithium plant
Production Plant 2: six extraction wells, geothermal plant, direct extraction and trucking of lithium concentrated liquor to the lithium plant.
This would deliver much greater project economics — based on the information available, a rough estimate points to a magnitude of ten times the value of Stage 1.
Vulcan indicated that the scoping study on the contemplated larger Stage Two operation on Vulcan's 100%-owned Ortenau license was highly positive.
As a standalone operation, lithium production in Stage 2 is dependent on co-producing geothermal wells that will rely on Vulcan developing its own geothermal projects in tandem.
Overall, the scoping study demonstrates the potential to commercially produce lithium hydroxide for the electric vehicle supply chain, with a net zero carbon footprint, while also decarbonising the German energy grid by generating renewable energy.
We did some back of the envelope calculations and, using some assumptions taken from across the industry, came up with the following: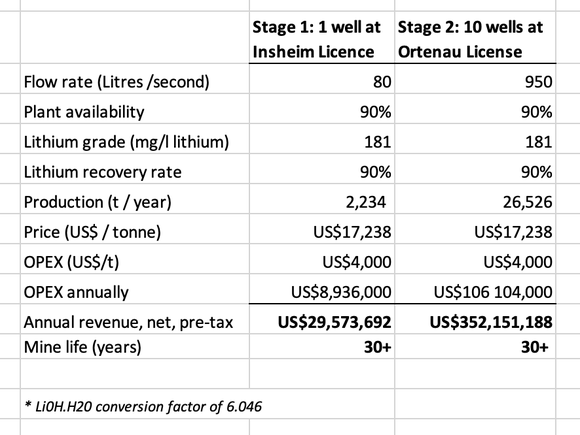 We assume that Stage 1 of the project at the Insheim Licence will have a lithium recovery rate of ~90%. This is a fairly widely reported recovery rate for DLE.
Chris Doornbosa geologist and President and CEO of E3 Metals, which holds a direct extraction lithium brine project covering in Alberta, Canada, told Investing News that "Recoveries from direct lithium extraction tend to be much higher, ranging between 80% to 90% versus a max of 50% from salars".
The Insheim plant, which has been operating since 2012, is designed and built to sustain a 85 litres/second flow rate, we will assume here a rate of 80 L/s. For Stage Two, at the new wells at the Ortenau Licence, we can expect a higher flow rate due to newer and more advanced technologies and assume a 95 litre per second flow rate, or across the ten wells – 950 L/s. This was mentioned in this report from the European Geothermal Congress 2019.
As for operating expenses, we can compare to Berkshire Hathaway Energy's Salton Sea Geothermal project, where OPEX is estimated at US$4,000/t annually.
Considering the huge size of the resources at the Vulcan Project — total combined indicated and inferred mineral resource of 13.95Mt LCE — the mine life is essentially infinite so for our estimates we assume a long mine life of 30+ years.
Fastmarkets — the London Metals Exchange lithium forecaster of choice — forecast that lithium hydroxide battery grade Europe will average around US$17,238 over the long term. Fastmarkets estimates are the prices that Infinity Lithium used in its PFS (Infinity has a hard rock lithium project in Spain and is aiming to produce LiOH∙H2O for Europe).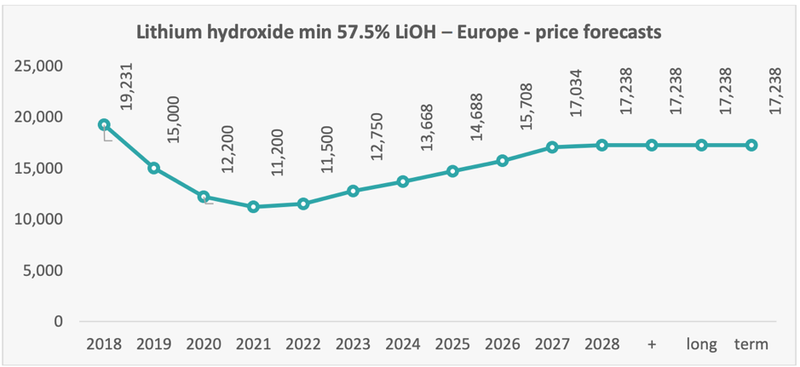 FastMarkets MD Lithium hydroxide Price Forecasts – Europe
The lithium price has been in decline since it peaked in 2017, but the battery material is now back in vogue and many believe that the 2020s will be its decade. Analyst consensus points to a lithium hydroxide supply deficit by the mid-2020s amidst the ongoing widespread take-up of battery electric vehicles. However, as Vulcan has a diversified revenue stream with geothermal energy in addition to its lithium hydroxide product, along with low operating expenses, it does have further protection against a lower price environment.
As for the project's environmental merits, the scoping study's in-house and independent expert team, in conjunction with specialist consultants, determined that of the various lithium hydroxide sources (as seen in the chart below) the Vulcan project will have the lowest climate impact. A negative climate change impact, in fact, as CO2 emissions will be offset through the co-generation of geothermal energy along with LiOH∙H2O.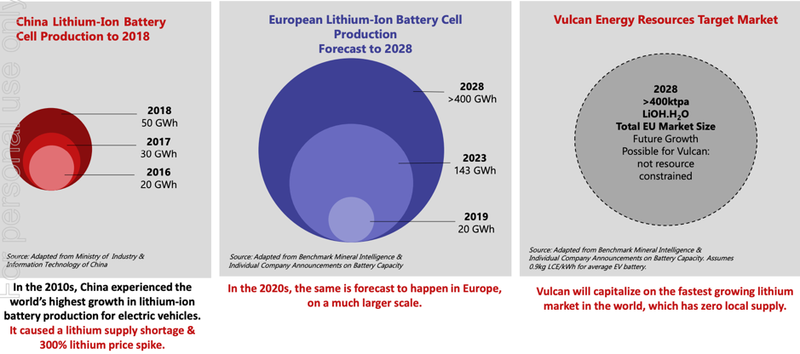 The scoping study also included a Life Cycle Assessment (LCA) for the project, benchmarked with different lithium industry production routes that could supply the European market.
The Vulcan Zero Carbon LithiumTM Project is planned to be a combined geothermal energy and lithium hydroxide monohydrate production project.
The results of the study indicate that Vulcan has the potential to be the first negative carbon lithium project in the world, helping to decarbonize a highly CO2-intensive product. The Vulcan Project has the potential to have the lowest impact with a negative climate change impact due to CO2 emissions being offset through the co-generation of geothermal energy along with LiOH∙H2O.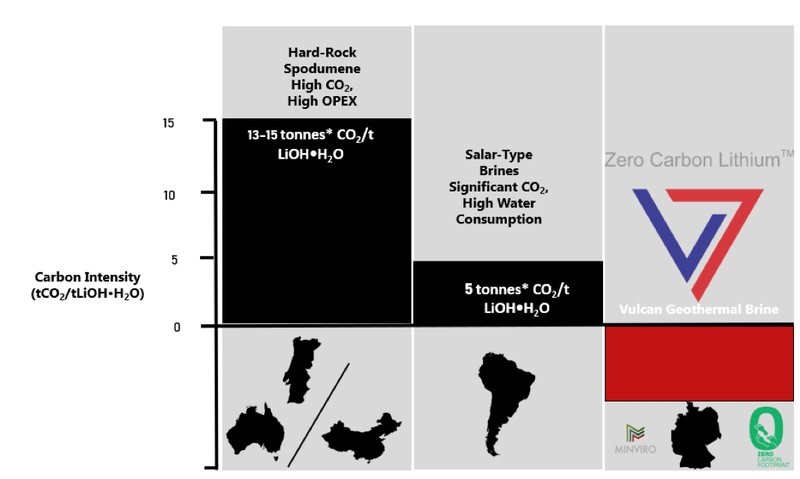 Climate change impact for the production of 1 tonne of battery quality lithium hydroxide monohydrate through five distinct production routes to Europe. Note, the graph compares projects in production or advanced stages of feasibility with the Vulcan Project, which is an early stage project.
Europe needs lithium
European lithium-ion battery production is the fastest growing in the world, yet the region's auto makers are struggling to secure adequate quantities to meet demand.
As seen on the map below, considerable activity in the manufacture of EV batteries and battery components is taking place throughout Europe, and in Germany in particular...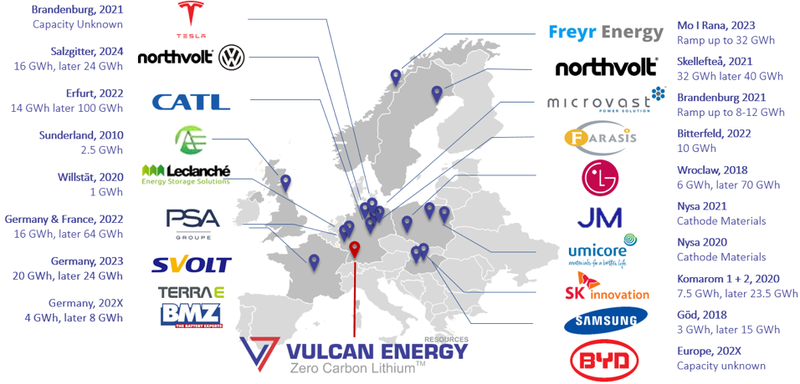 Despite the significant new capacity, one issue is that's there's no local supply of battery quality lithium hydroxide.
Earlier this month, a shortage of lithium-ion batteries saw Jaguar halt production for a week on its best-selling £61,000 I-Pace electric car at a factory in Graz, Austria. The I-Pace's batteries are supplied by LG Chem, from a factory in Wroclaw, Poland.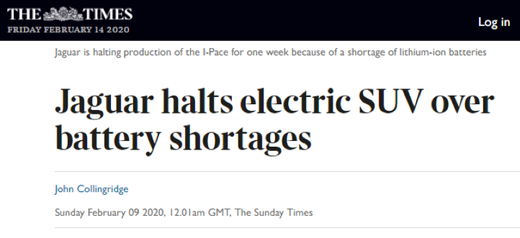 And this is not a one-off, but rather the third time, at least, that a battery shortage at LG Chem has affected the production of an electric vehicle. Audi also reportedly had to cut production of its e-Tron, the first mass-produced EV, due to the failure to secure LG Chem batteries.
That is despite LG Chem having responded to the surge in battery demand by building an additional battery cell gigafactory in Poland, close to Eastern German car production sites. It is said to be considering the construction of additional factories across Europe.
German chemical giant BASF is also building a factory making key components for electric car batteries not far from Tesla's first European Gigafactory.
Chinese battery manufacturer, CATL has also gained a foothold in Germany. Its plant with 16 gigawatt-hours of capacity is close to the production sites of BMW, Volkswagen and Daimler, while Tesla is making progress on its planned gigafactory and electric car production site nearby, on the outskirts of Berlin.
The governments of Germany and France are taking action too, working towards building the best and most sustainable batteries in Europe. The pair have plans to build the Automotive Cell Co. a plant in Kaiserslautern, Germany, that's set to be in production by 2024 and will complement a French factory in the Hauts de France region.
Together, the factories will cost about €5 billion and rival the capacity of Tesla, while the governments plan to incorporate tighter emission standards in production and recycling stipulations.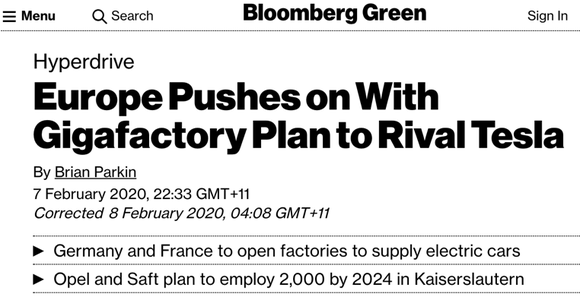 Rising demand for zero carbon lithium
But it's not just any lithium that's in demand.
Specifically, there's huge and growing demand for green supply chains and that means Zero Carbon LithiumTM.
Vulcan designed its world-first Zero Carbon LithiumTM process from the ground up to be a net zero carbon, minimal impact process — a perfect fit for the Vulcan Lithium Project, a combined geothermal and lithium brine resource in the heart of the European lithium-ion battery industry.
This is a key differentiator in an industry that has a very significant carbon footprint but is reacting to pressure for companies to innovatively decarbonise the battery raw materials supply chain.
Via an advanced direct lithium extraction (DLE) process paired with low-carbon power/heat from geothermal energy production, the Vulcan project will extract lithium from geothermal brines to produce premium, battery quality Zero Carbon LithiumTM hydroxide using readily available heat and power.
This is a closed system where brine is reinjected into the reservoir with no evaporation losses: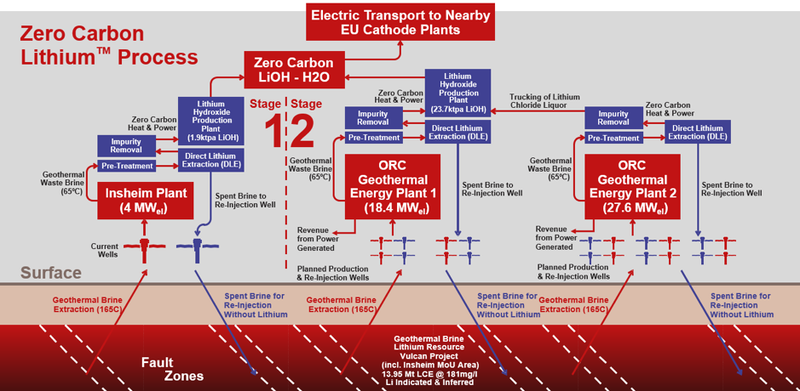 Flowsheet of Zero Carbon LithiumTM Process - producing lithium and power from geothermal heat
European OEMs increasingly want all of the battery value chain steps to be implemented in Europe and consistent with EU's decarbonisation targets.
A total of 42 stakeholders from EV battery supply chain (including BMW, Daimler, Renault, Volkswagen, Umicore) joined the Responsible Minerals Initiative and the World Economic Forum's Global Battery Alliance to demonstrate their commitment to creation of a sustainable Battery Value Chain by 2030.
The Global Battery Alliance identified the sustainable development of batteries as a "major near-term driver to decarbonise road transportation and support the transition to a renewable power system, keeping global emissions on track to stay below the 2°C Paris Agreement target."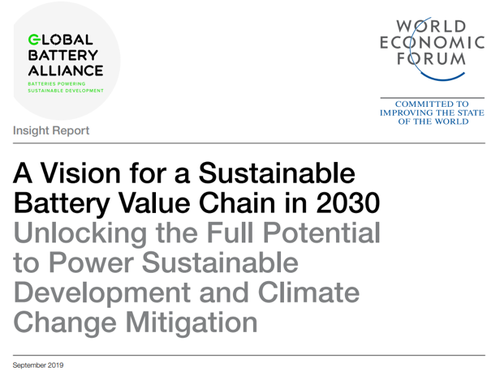 The European Union has agreed to cut the bloc's greenhouse-gas emissions to net-zero by 2050, in an effort to fight climate change and become the world's first climate-neutral continent.
To help the EU in meeting its obligations under the 2015 Paris Agreement on climate change, it introduced the Driving Clean Mobility initiative to accelerate the transition to low- and zero-emission vehicles.
France has proposed banning the sale of new cars with internal combustion engines by 2040, while the UK has brought forward a ban on sales of petrol and diesel car and van sales from 2040 to 2035, at the latest, to achieve its target of emitting virtually zero carbon by 2050.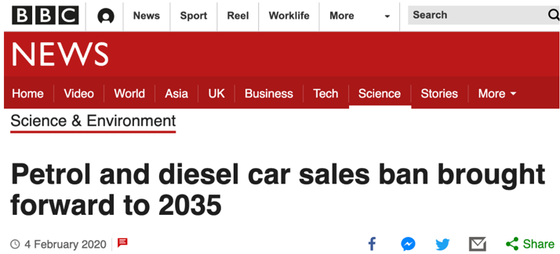 Norway is more ambitious. Already with more than 40% of all new cars sold being electric or hybrid, it wants all new cars to be zero-emission by 2025.
Germany is considering similar measures. Germany last year became Europe's leading pure electric car (BEV) market for the first time on record, as BEV sales rose 61% in January from a year ago, and plug-in hybrids sales were up 307%. This saw Germany surpass Norway 's BEV market which had topped the region for the prior five years.
Impressively, that result was in a market that saw a 7.3% overall reduction in car registrations for the year.

Vulcan Energy Resources: Our 2020 Top Pick of the Year
Vulcan will capitalise on its location in the fastest growing BEV and lithium market in the world, which has zero local supply.
Located at the heart of Europe's EV and battery sector, its Vulcan Zero Carbon LithiumTM Project is in a prime position to help Europe meet its sustainability objectives. It is perfectly placed to reduce the transport footprint of lithium chemicals down to almost negligible amounts, both from a carbon cost and direct financial cost perspective.
The number of existing and recently permitted geothermal operations in the region are testament to the social and environmental acceptance of drilling geothermal wells within the region, in contrast with hard rock mining projects elsewhere in Europe.
But not only is the Vulcan Zero Carbon Lithium Project Europe's largest lithium resource, but it has demonstrated potential for a combined operation producing lithium hydroxide and renewable energy, with net zero carbon footprint.
This is the world's most rapidly advancing lithium project with Vulcan completing its maiden resource and scoping study in just five months.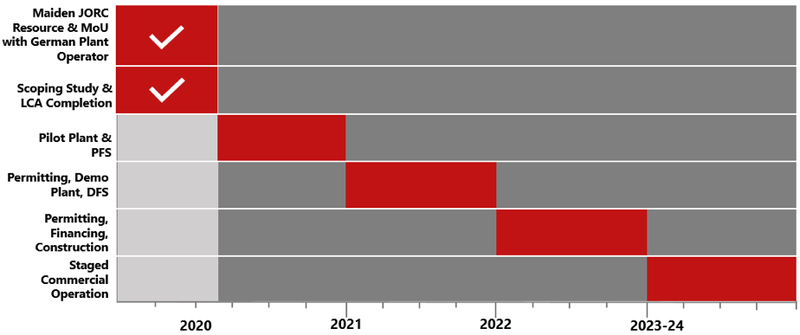 World's most rapidly advancing lithium project on track for 2023-24 production
With the scoping study now complete, the company has demonstrated the potential for strong financial metrics at the Vulcan Zero Carbon LithiumTM Project, outcomes that are expected to trigger mineral processing work while a pre-feasibility study (PFS) is now underway and should be complete by late 2020, on the way to first commercial production in 2023.
Discussions are ongoing with numerous potential off-take partners for the sale of lithium hydroxide and consideration of financing alternatives are also underway.
Despite the speed of the project's development and the magnitude of the potential on offer here, now clarified by today's scoping study, the company continues to fly under the radar with a market capitalisation of just $10.86 million.
Yet Vulcan already appears undervalued when compared to its peers given the size of its lithium resource in relation to its market capitalisation: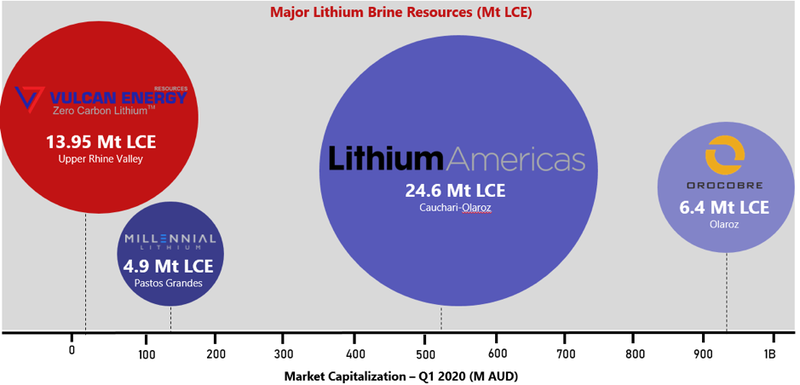 Plus, this doesn't take into account Vulcan's strategic location in the heart of Europe's EV battery industry, which is set to see billions of euros investment in developing a fully "green label" sustainable EV battery industry.
---