VUL appoints project finance advisor BNP Paribas. Alster upgrades VUL price target (again) to $19.50
Our 2020 Small Cap Pick of the Year Vulcan Energy (ASX:VUL) today appointed Europe's biggest bank by assets BNP Paribas to help with its Bankable Feasibility Study and structuring project finance to build its Zero Carbon Lithium project.
BNP Paribas (BNPP) seems like the perfect partner to help VUL secure finance to build its project. BNPP helped Sweden's Northvolt secure a US $1.6B debt facility to build the biggest battery factory in Europe and also helped secure £5.5bn to fund construction of the 2.4 GW Dogger Bank wind farm in the UK.
In 2020, BNPP won awards for:
Western Europe's Best Bank for Sustainable Finance by Euromoney,
Best Bank for Sustainable Finance by IFR, and
Global Adviser of the Year by PFI.
VUL is currently in the Definitive Feasibility Study phase to build the world's first Zero Carbon Lithium project. VUL's project is located in the heart of Europe right next to all the major automakers who are demanding sustainable battery metals as Europe switches to green energy.
VUL recently also announced its intention to list on Germany's main stock exchange, evolving into a truly European and institutional investor story, after starting as an Australian small cap market darling and retail investor story. We love seeing one of our early stage investments graduate to institutional grade and attract the big dollars.
VUL has already signed multiple offtakes agreements for its Zero Carbon Lithium with battery maker LG Chem and auto-giant Renault, plus a rumoured offtake MoU with ANOTHER auto-giant, Stellantis.
Now VUL needs to build their Zero Carbon Lithium project and BNP Paribas is going to help structure and obtain the financing.
Providing some great analysis of the expected costs, German research house Alster this month released a new research report with a VUL price target of $19.50 — representing some 60% upside to the current share price.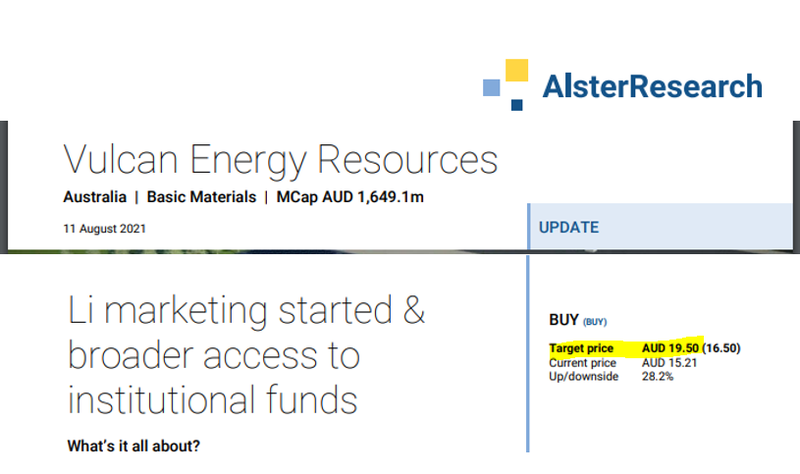 We have been following VUL smash through Alster's price targets since early 2020, including:
March 2020 Alster target $2.45
January 2021 Alster target $12.95
February 2021 Alster target $13.30
Alster then revised their target $16.50
Current: August 2021 Alster target to $19.50
We look forward to VUL hopefully soaring past the latest $19.50 Alster target too... after its recent run up to almost touch $15.50, it doesn't seem like such a far stretch compared to some of the previous Alster targets that were set at the time.
Back to reality though, covered in detail in the Alster report is the likely cost to build VUL's project over the next few years - around $2 billion:

Alster says ~A$114M is enough to accelerate project development in 2021 and beyond. Of that, $50M will be used for project development, permitting and feasibility study costs, including extensive test work and the development of pilot plants, and A$30M for land access costs and the purchase of long lead drilling items in Germany.
Following the high CAPEX ramp-up phase from 2022 to 2025, with a five-year payback period, Alster modelled surpluses in operational cash inflows until 2027, to cover capex of ~$A2,400M.
VUL is currently developing a Definitive Feasibility Study (DFS) to shed some more light on the costs and ideal project development stages for build. Today's announcement is a key first step to securing this financing.
We expect that today's appointment of Europe's largest bank, BNP Paribas, will assist in delivering a Bankable Feasibility Study (BFS) to secure the required finance - large institutional investors love a good BFS.
A feasibility study is "bankable" if it has been prepared in enough detail and with enough objectivity that the company could submit it to investors or lenders when seeking financing for a project, which BNP Paribas will assist with.
Here is a short summary of BNP Paribas and two case studies of green projects it has helped finance:
Who is BNP Paribas?
BNP Paribas is the largest bank in Europe and the world's seventh largest bank by total assets. It is a leader in sustainability with a strong track-record in advisory and financing of battery and renewable projects. This includes assisting in the €1.3B financing of Northvolt's Gigafactory in Sweden and the £5.5Bn Dogger Bank in the UK.
We also note that BNP Paribas' Energy Transition Fund invested in the last VUL round when they raised $120M at $6.50 back in February this year (we invested in that round too).
In addition to VUL, BNP Paribas' Energy Transition Fund's investments include a number of major renewable energy companies, such as:
- Plug Power, a US$14B US hydrogen and fuel cell company
- Sunnova Energy International Inc, a leading US$3.6B NYSE US residential solar and energy storage company
- Enphase Energy Inc, the US$22.4B global energy management technology company
- Sunrun Inc leading home solar panel and battery storage company worth $8.7B.
- China's BYD Co Ltd, a US$100B+ rechargeable batteries and photovoltaic business
BNP Paribas helped Northvolt raise US$1.6 billion in debt financing - a great sign for VUL
Sweden's Northvolt is building a large-scale battery factory in northern Sweden to meet Europe's increasing demand for electric cars. Founded in 2016, Northvolt's mission is to deliver the world's greenest lithium-ion battery with a minimal CO2 footprint.
Northvolt's (and Europe's) first green battery gigafactory is expected to go into full commercial operation by December 2022. This comes as battery makers scramble to keep up with demand as carmakers rapidly switch to electric vehicle production.
In July 2020, Northvolt secured US$1.6B in debt financing from a consortium of commercial banks, pension funds and public financial institutions including BNP Paribas, which also acted as financial advisors to Northvolt on the financing.
BNP Paribas said of the raise, "[our] teams used their comprehensive experience in structured debt advisory to help Northvolt raise over €1billion of financing. This first-ever limited recourse financing in the industry was placed with policy-driven institutions, export credit agencies and commercial banks."
In total, Northvolt has now raised more than US$6.5B, valuing the company at ~ $11.75B.
Here, BNP Paribas Nordic Division CEO Eirik Winter talks about financing Northvolt: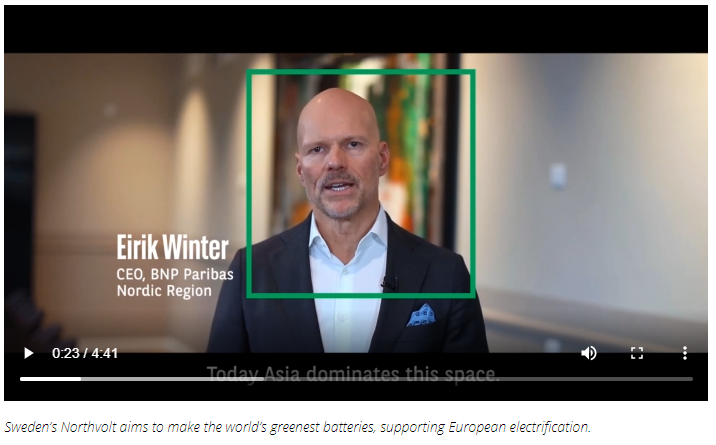 Fresh off the Northvolt deal, the BNP Paribas team is ready to help get VUL's project into construction.
BNP Paribas helped Dogger Bank Wind Farm in the UK - Big money raised for big green project like VUL's
Dogger Bank Wind Farm is a group of offshore wind farms under construction 125 to 290 kilometres off the east coast of Yorkshire, England in the North Sea. By the time it is complete in 2026, it will be the world's largest offshore wind farm and will be able to generate enough renewable energy to supply 5% of the UK's demand — equivalent to powering six million UK homes each year.
The loan for the Dogger Bank offshore wind farm was provided by BNP Paribas Asset Management. The bank's involvement in financing the 2.4 GW, £5.5bn North Sea project — the largest transaction of its kind to date and the 'Global Green Deal of the Year' — saw the bank awarded Global Adviser of the Year in 2020 by Project Finance International (PFI).
Based on BNPP's track record in raising mega bucks for green mega projects, we are very happy with their appointment to help VUL secure project financing for their Zero Carbon lithium project.
Here are our project milestones for VUL's Zero Carbon Lithium project in Germany
We weren't expecting VUL to announce a project finance advisor so early in the journey. We thought this appointment would only come closer to the DFS being finished (and at the point where we design our next 12 months worth of VUL milestones).
Today we have added some new milestones around the Bankable Feasibility Study and the appointment of BNP Paribas:
Here are the broader company milestones that have been achieved and that we are still expecting from VUL: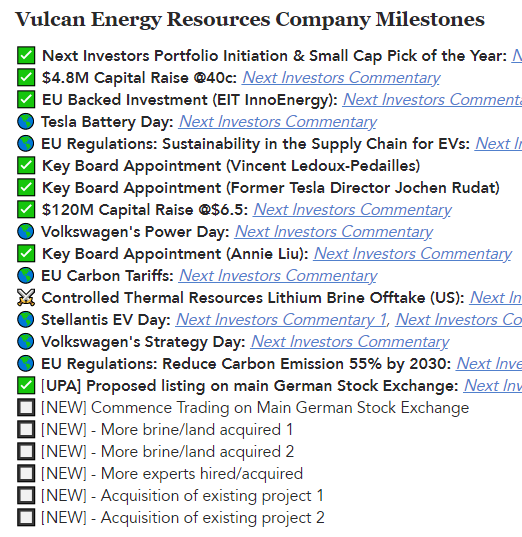 Our Investment Milestones for VUL
VUL has been our best investment so far, as our plan played out perfectly (which is extremely rare in small cap investing). We've made three investments in the company as it continued to prove it could deliver. We're free carried and have taken a bit of profit, but we continue to hold onto a significant portion of our investment as can be seen with no change from our position in the last top 20 VUL shareholders report.
Do we regret free carrying and taking some profit?
No. Our strategy in small cap investing is to free carry and take some profit as a share price rises over time as the company delivers key milestones. This protects us in case it comes back down again, but also leaves a significant position invested for when we hit a winner that just won't stop rising ... just like what VUL has done.
(But we are only human and deep down inside we can't help occasionally calculating what our free carry and take profit sales would have been worth today if we had held all of them!)
A lot of unpredictable events happen in the small cap market. The only thing you can control as an investor is making a plan that works for you before you invest and sticking to it. Our plan protects against the downside but, most importantly, allows for unlimited upside too.
Here is the progress of our VUL investment plan: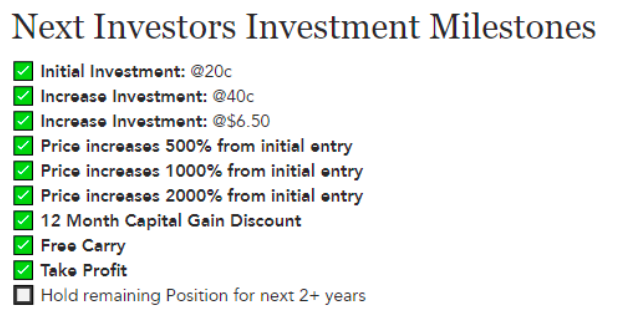 ---