VUL Now Entering The Big Leagues
Our 2020 small cap Pick of the Year and Zero Carbon lithium rising star Vulcan Energy Resources (ASX:VUL) is no longer so small, and now looks set to get even bigger. VUL just announced that a 430 year old investment bank is going to list the company on the main German stock exchange, opening them up to huge amounts of new capital by providing access to German and European institutional investors.
This is a major step in VUL's evolution to be a more German/European story which we think is a smart thing to do given that its project is located in Germany at the heart of the EU electric vehicle market.
While VUL is already listed as "6KO" on one of the minor, unregulated German boards for retail investors, this proposed listing is on the FULLY REGULATED MAIN German stock exchange. This is the playground of global managed funds, major retirement funds, sovereign wealth funds and other enormous pools of capital.
Think of it as the equivalent of the ASX in Australia, NYSE in the US or China's Shanghai Stock Exchange.
The investment bank working to list VUL on the main board in Germany is called Berenberg and is the oldest merchant bank in the world, founded in the year 1590.
The VUL announcement says that "Berenberg's nine offices in Europe, the UK and the US house one of the largest sales teams for European equities, comprising specialists as well as generalists servicing a broad range of institutional clients, including those with an ESG focus."
This new listing, combined with Berenberg's network of investors, brings in a whole new pool of deep-pocketed fund managers from around the world that Berenberg will introduce to the VUL story. Most importantly, being based in Germany, we're sure that Berenberg has managed to collect a pretty decent contact book in the 430 years it has been working with institutional money.
The biggest funds in the world have all shifted towards investing in companies with an Environmental, Social and Governance (ESG) focus. This new listing will give them a clean channel to invest in VUL, which has top ESG credentials and was a first mover in ESG reporting on the ASX.
We think VUL's current ~A$1.3 billion market cap will look miniscule to these monster pools of global capital. Also attractive is the chance to gain a ready made slice of a company that's perfectly positioned for the coming decade-long sustainable battery metals theme that is gaining pace globally.
Back in February, Goldman Sachs first became involved with VUL. We predicted that their contact book of big investors would bring in lots more money and interest to the VUL story and we certainly think Goldman Sachs' network contributed to VUL's rise from $6.50 to above $13.
Today's announcement is another step in the evolution of VUL from an ASX retail investor darling, to a German/European institutional behemoth.
We try to pick companies with the right project (Zero Carbon Lithium) at the right time (sustainable battery metals are booming) led by a trustworthy management team with integrity that does what they say they will do (like VUL has done for the last 18 months).
VUL says they will list on the main German exchange in 6 to 9 months, and we believe them. The VUL team has shown time and time again that they do what they say they will and then achieve it in the time frames they say it.
Since we called VUL our small cap Pick of the Year in February 2020, it has delivered on dozens of key value adding milestones to progress their project. That combined with being in the right thematic, has seen their share price re-rate accordingly.
Here is what VUL has achieved since we invested, with the proposed listing on the main German board added as an unexpected positive milestone:
Our Investment Milestones for VUL
VUL has been our best investment so far, as our plan played out perfectly. We've made three investments in the company as it proved it could deliver. We're free carried and have taken a bit of profit, but we continue to hold onto a significant portion of our investment as can be seen with no change from our position in the last top 20 shareholders report.
Do we regret free carrying and taking some profit?
No. Our strategy in small cap investing is to free carry and take some profit as a share price rises over time. This protects us in case it comes back down again, but also leaves a significant position invested for when we hit a winner that just won't stop rising ... just like what VUL has done.
(But we are only human and deep down inside we can't help occasionally calculating what our free carry and take profit sales would have been worth today if we had held them!)
A lot of unpredictable events happen in the small cap market. The only thing you can control as an investor is making a plan that works for you before you invest and sticking to it. Our plan protects against the downside but, most importantly, allows for unlimited upside too.
Here is the progress of our VUL investment plan: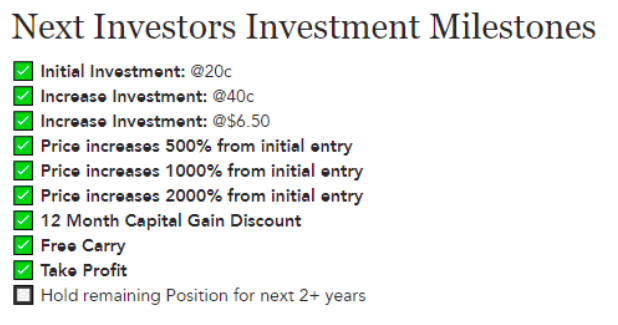 Here is all our past commentary on VUL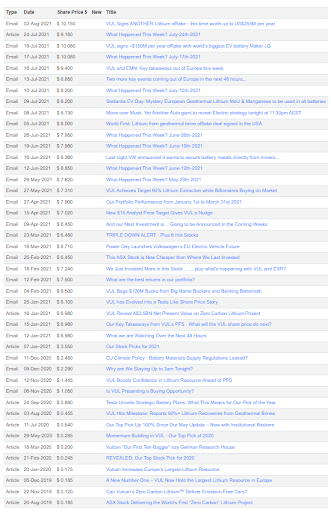 Here is VUL's ESG dashboard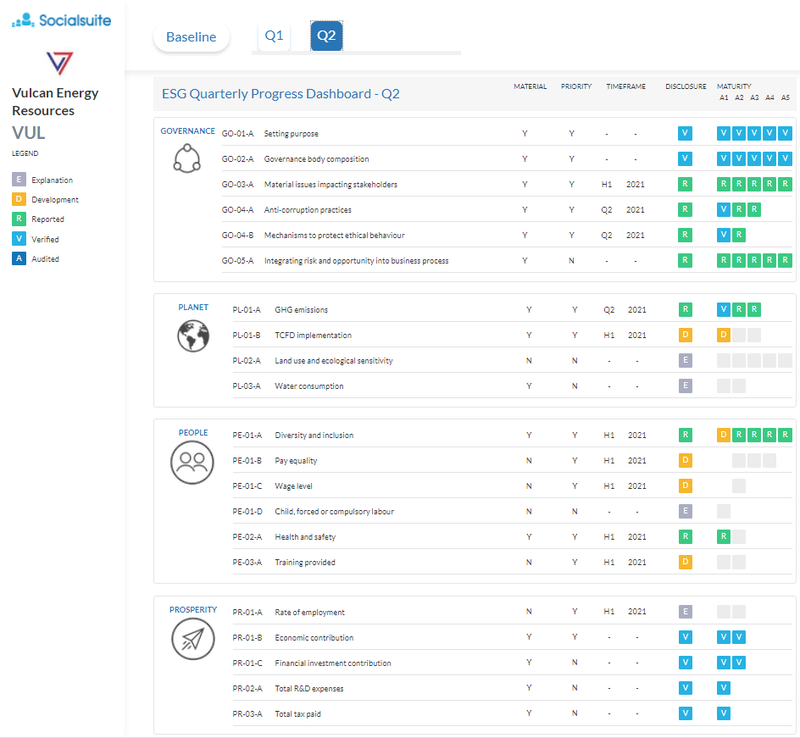 ---