Vulcan Increases Europe's Largest Lithium Resource
European demand for electric vehicles (EVs), and the lithium-ion batteries that power them, is set for massive growth over the coming decade.
Volkswagen alone plans to produce 22 million EVs by 2028, with other European auto manufacturers following suit, while Tesla is building a lithium-ion battery "gigafactory" outside of Berlin — just one of many due to be built in Europe by multiple companies. Over the coming decade, Europe will have the fastest growth of lithium-ion production capacity in the world.
However, the industry's expansion faces a major hurdle in that the EU has no local supply of battery-quality lithium hydroxide to meet demand.
A second, and possibly equally important issue for the industry, is the carbon footprint problem associated with EV raw material supply chains. Manufacturing electric vehicles generates around 150% more CO2 emissions than building vehicles with internal combustion engines — a fact that's at extreme odds with the green intentions of the industry.
With no local battery-quality lithium hydroxide product, let alone a CO2-neutral product, a severe battery-quality lithium chemical supply shortfall is developing in the EU.
Vulcan Energy Resources (ASX:VUL | FRA:6KO) is seeking to supply zero carbon lithium hydroxide to Europe's booming battery and electric vehicle market, while generating net zero carbon emissions in the process.
The company holds Europe's largest lithium resource and the fastest growing lithium project in the world at its Zero Carbon LithiumTM Project, yet it is valued by the market at a fraction of that of other projects.
Furthermore, the company is pioneering the world's first and only "Zero-Carbon LithiumTM" process — the extraction and precipitation of battery-quality lithium hydroxide from deep, hot brines via its production wells that will co-generate renewable, baseload geothermal energy.
Vulcan recently signed an agreement to access a lithium-rich, producing geothermal brine operation at Insheim with a major German utility, Pfalzwerke, in the Upper Rhine Valley. At the operational geothermal plant and wells, hot, lithium-rich brine is already pumped to the surface and renewable electricity produced.
Vulcan today announced a Maiden Indicated Resource at Insheim, meaning that the largest lithium resource in Europe just got bigger.
Fast-track development of the project is underway. The larger Resource will be incorporated into a Scoping Study that's due in the current quarter and upgrade the confidence categories, while first production of lithium hydroxide is targeted by 2023.
With investors searching for green opportunities, trillions of dollars worldwide are being poured into ethical investments. So, at a sub-A$10 million market capitalisation, Vulcan could be an opportunity to consider.

Share Price: $0.16
Market Capitalisation: $7.03 million
Here's why I like Vulcan Energy Resources: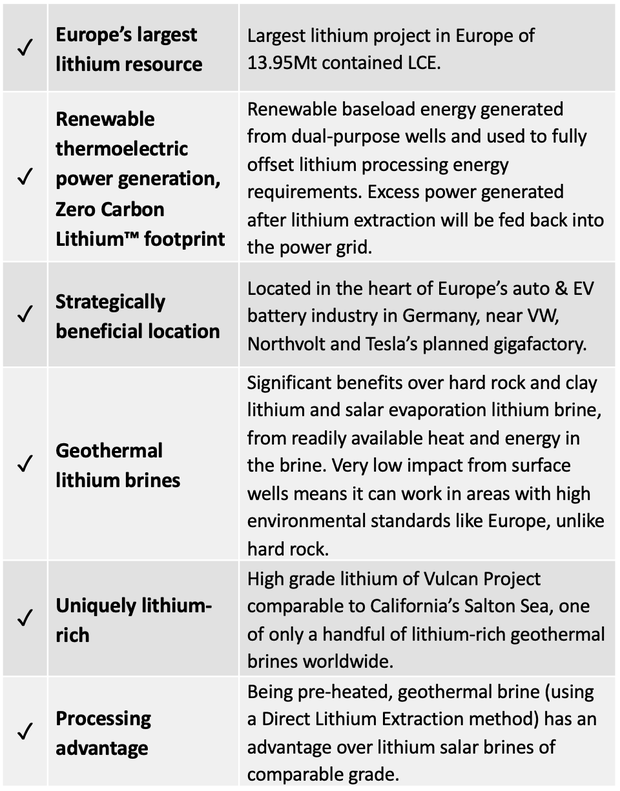 Located at the heart of the European auto and lithium-ion battery industry, in Germany's Upper Rhine Valley, the Vulcan Zero Carbon LithiumTM Project is of a world-class size and is in trucking distance to cathode manufacturers and EV battery "gigafactories".
The company has a unique lithium production process that satisfies the world's desire for electric vehicles produced with a zero carbon footprint. Notably, it is located in Germany, right in the heart of Europe's auto industry that includes Volkswagen, BMW and Mercedes, all of which are investing heavily in rolling out EV models.
As mentioned in the following article, some estimates say that by 2025, the EU will have a deeper penetration rate for EVs (30%) than China (15%) and the US (8%).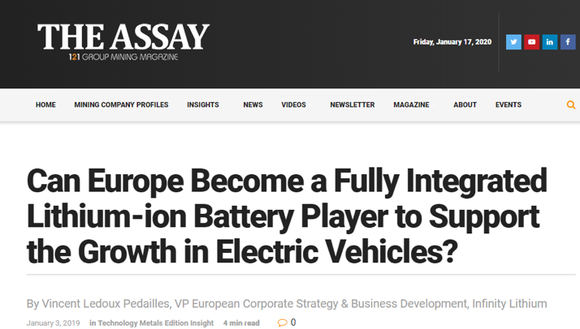 The European market is the fastest growing in the world, with new production plans announced regularly. Yet the projected industry growth in the region doesn't change the fact that Europe has no domestic battery-quality lithium hydroxide production.
Instead, the battery material is sourced from hard rock or salar-type brine sources, which is then processed and transported to battery manufacturers and automakers in Europe, generating significantly more CO2 emissions than the manufacture of vehicles powered by internal combustion engines.
Vulcan intends to fill that gap in the market by producing Zero Carbon LithiumTM — battery-grade lithium hydroxide from hot sub-surface lithium-rich geothermal brines pumped from wells, while generating a renewable energy by-product.
Vulcan has a dominant license landholding in the lithium-rich brine field in the Upper Rhine Valley of southwest Germany that's comprised of six separate and non-contiguous Exploration Licences that include: Mannheim, Ludwig, Taro, Rheinaue, Ortenau, and now a JV at Insheim.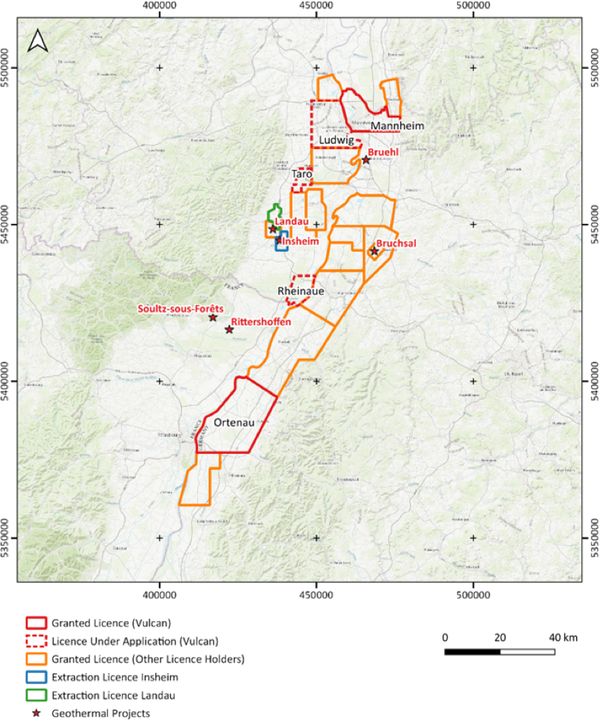 Vulcan Project licences in the Upper Rhine Valley, SW Germany
Insheim Geothermal Plant
In addition to its 100%-owned project areas, Vulcan Energy Resources Ltd. (ASX:VUL) recently signed a Memorandum of Understanding (MoU) to fund lithium feasibility studies at the Insheim Geothermal Plant in the Upper Rhine Valley of South-West Germany.
The MoU was signed in late November with Pfalzwerke geofuture GmbH, the owner-operator of the Insheim 'Exploitation' Licence and Geothermal Plant, who has successfully generated geothermal power at Insheim for over eight years. Pfalzwerke geofuture is a subsidiary of Pfalzwerke, a major German utility with multi-billion Euro turnover.
Under the agreement VUL can earn up to 80% Joint Venture interest in the lithium-brine project and lithium rights at the Insheim Geothermal Plant by successfully completing a Definitive Feasibility Study.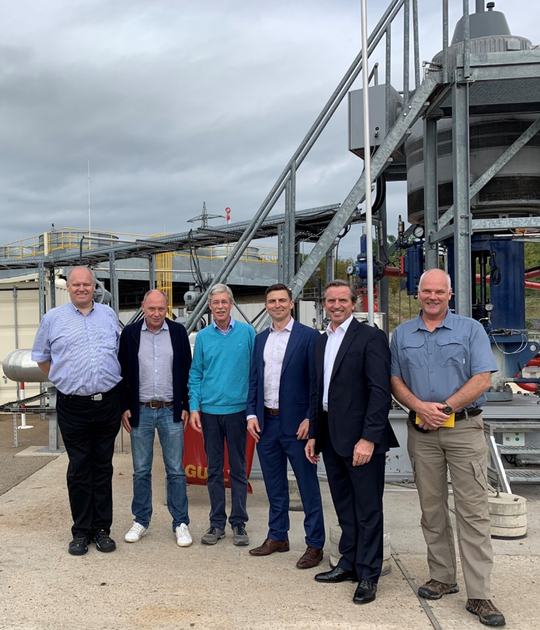 Joerg Uhde, CEO of Pfalzwerke geofuture, at the Insheim plant with the Vulcan Board and management team
Insheim contains an operational geothermal plant and wells, where hot, lithium-rich brine is being pumped to the surface and electricity produced. However, current operations involve the brine being re-injected without any lithium being extracted. This presents a huge opportunity for Vulcan to extract and commercialise these lithium brines.
The agreement provides Vulcan direct access to lithium-enriched brine from within the deep aquifer underlying the Insheim Exploitation Licence, along with a pathway to co-production lithium rights. It permits continued access to the Permo-Triassic aquifer brine, and the enhanced understanding of the Insheim subsurface geology via seismic and well log data.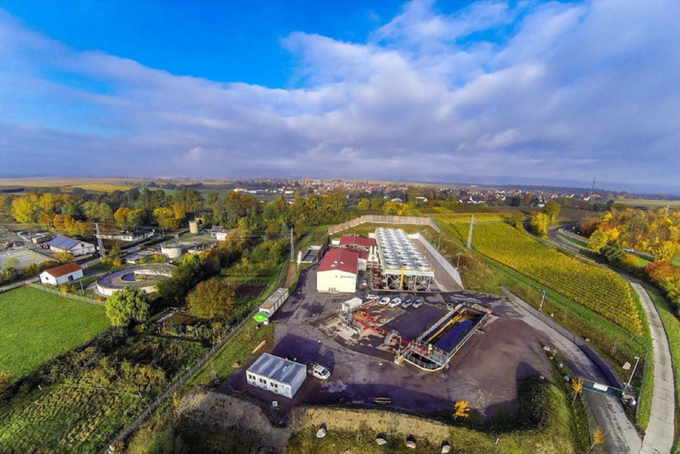 Insheim plant, showing harmony with local surroundings.
Insheim JORC 2012 Mineral Resource Estimate
Vulcan today announced that the maiden Indicated JORC Mineral Resource Estimate at the Insheim Geothermal Plant has been completed.
The Indicated Mineral Resource Estimate for the brine has been calculated at 722,000t of contained LCE, at a lithium brine grade of 181 mg/l Li, average porosity of 9% and lower cutoff of 100 mg/l Li.
Here is the updated resource for the Vulcan Project, including the maiden Indicated Resource at Insheim. Note that the Inferred resource estimation at the Ortenau Exploration Licence remains unchanged.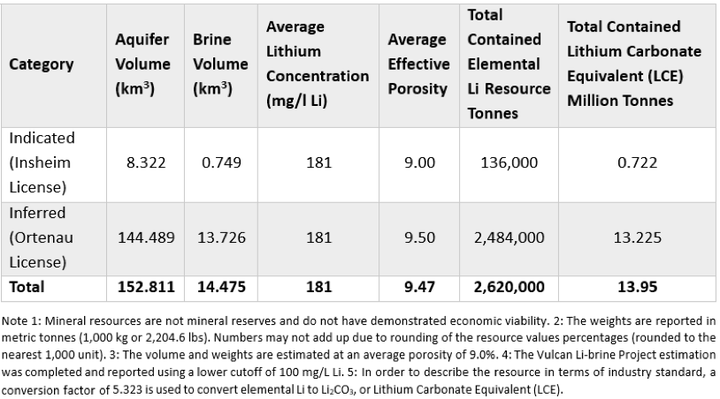 Now at 13.95Mt LCE, the resource is easily Europe's largest. However, it's important to recognise that there is no guarantee that all or any part of the mineral resource will be converted into a mineral reserve.
Four of the licenses and license applications that make up the Vulcan Lithium Project remain as Exploration Targets, as stated below.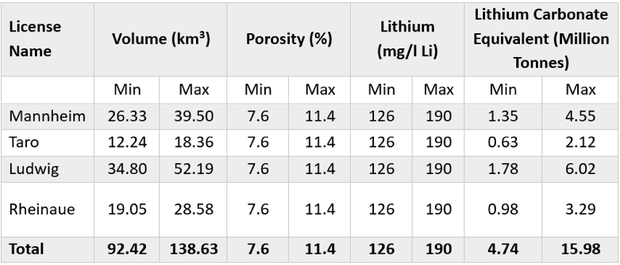 A world-class sized project
Not only is Vulcan lithium resource Europe's largest, but it is also significant on a global scale.
Below you can see the size of Vulcan's lithium resource alongside that of majors in the sector (in bubbles). However, note (on the X-axis) the significant difference in market capitalisations between Vulcan at sub-$8 million and that of its peers with Orocobre now valued at more than $950 million.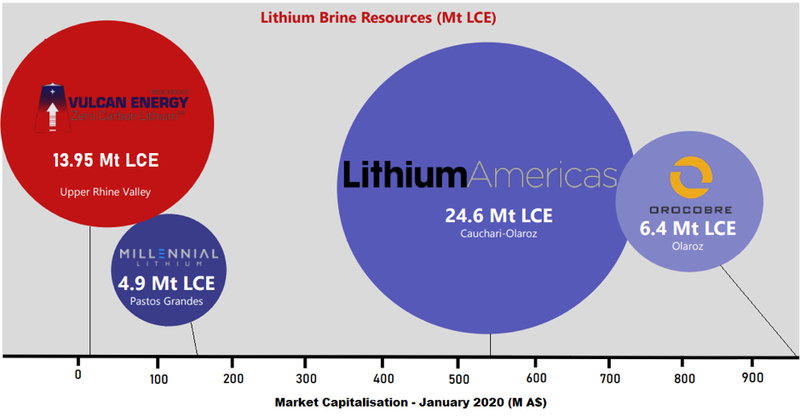 Additionally, while the above compares the lithium resources of these companies, it doesn't recognise the value of Vulcan's Zero Carbon LithiumTM production method.
Zero Carbon LithiumTM Process
Vulcan intends to achieve this by producing battery-quality lithium hydroxide from hot, sub-surface geothermal brines pumped from wells, with a renewable energy by-product fulfilling all processing energy needs.
Vulcan has developed a unique flowsheet, making use of binary cycle geothermal electricity and heat to create a Zero Carbon LithiumTM product: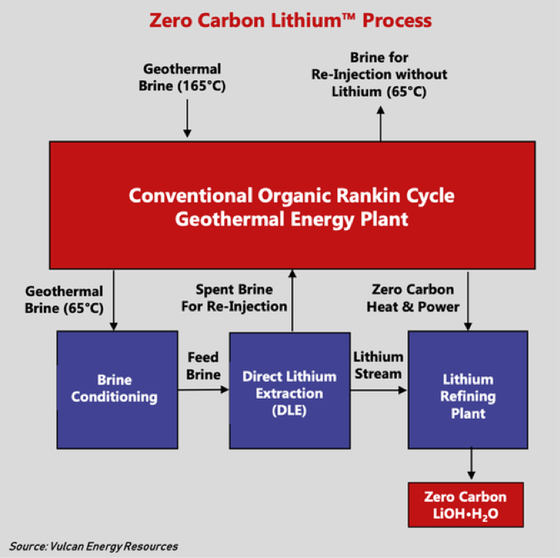 Vulcan's Zero Carbon LithiumTM process
The above flowsheet integrates geothermal energy production, a well-understood Direct Lithium Extraction (DLE) process to produce battery-quality lithium hydroxide from the brine, and zero carbon electricity generated and used to produce premium, Zero Carbon LithiumTM with no gas input.
Plus, the spent brine re-injected into reservoir with no evaporation losses.
This process will create a high purity, high concentration solution that is easily converted on site into battery quality lithium hydroxide. Any excess power will be sold at a Feed-in-Tariff of €0.25/kWh, displacing coal and decarbonising the German electric grid.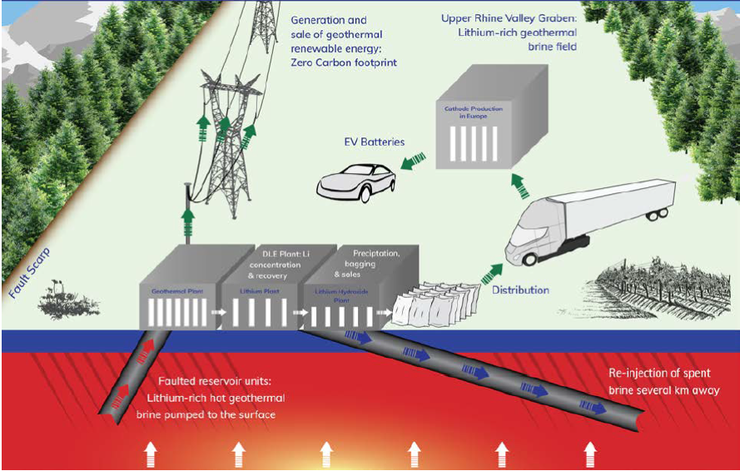 Schematic of the Zero Carbon Lithium project
Further details of the process are available in our previous reports:
While the following Finfeed article provides an overview of the Direct Lithium Extraction (DLE) process from geothermal brines: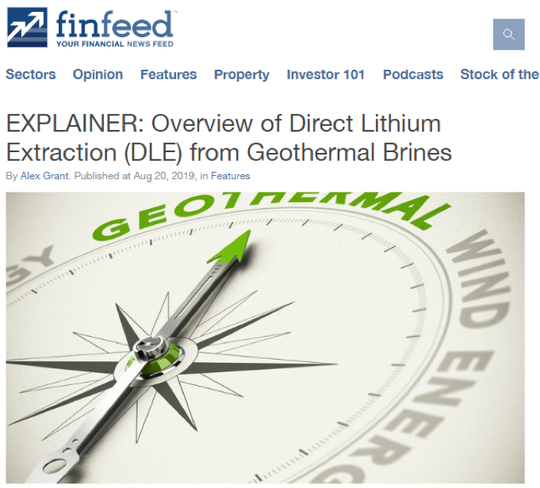 Vulcan adds geothermal expert to its team
In late December, Vulcan welcomed Dr Horst Kreuter as an executive director of the company. The highly experienced businessman and engineering geologist brings an outstanding record of project development and consulting in the geothermal sector.
Dr Kreuter brings to Vulcan extensive political and corporate network in Germany. He is CEO of Geothermal Group Germany GmbH, Karlsruhe, a joint initiative for German companies active in the geothermal industry and is also CEO of GeoThermal Engineering GmbH (GeoT), a consultancy who are involved in geothermal project development in Germany and worldwide.
Based in Karlsruhe, he is local to Vulcan's Zero Carbon LithiumTM project area in the Upper Rhine Valley, and has a broad political and corporate network in Germany.
Managing Director, Dr Francis Wedin noted that Dr Kreuter has already been instrumental in planning and executing the very rapid progression at the Vulcan Zero Carbon LithiumTM Project, assisting in Vulcan defining Europe's largest JORC lithium resource in just over three months, as well as being a key figure in the "transformational partnership" with Pfalzwerke Geofuture.
Next Steps for VUL
Vulcan is swiftly executing its strategy to become the world's first producer of Zero Carbon LithiumTM hydroxide to supply the European battery electric vehicle industry and satisfy manufacturers' desire for a zero-carbon battery EV raw materials supply chain.
The agreement with Pfalzwerke geofuture allows access to operational geothermal brine plant and highlights the potential for VUL to be the primary source for the European battery industry's lithium hydroxide needs, via its low-impact, Zero Carbon LithiumTM process powered by and sourced from geothermal wells.
Now with its Maiden Indicated Mineral Resource Estimate at Insheim — the largest in Europe — Vulcan continues to advance its Zero Carbon LithiumTM project, which is the fastest growing lithium project in the world and holds Europe's largest lithium resource.
Further exploration works will continue targeting resource definition in areas with Exploration Targets, and to upgrade confidence category in areas with Inferred or Indicated Resources. These works are likely to include lithium processing and recovery testwork, seismic data acquisition and processing, and further geochemical sampling from wells in the region.
Shareholders should keep an eye out for the upcoming Scoping Study, the results of which are expected imminently and could very well see VUL lift above its current sub-$10 million market cap.
---