PRL is on the Start of a Long Journey
Thousands of new subscribers have joined Next Investors over the last couple of weeks and we welcome all the new readers and thank them for their questions and enquiries.
Last week we wrote about our investment in Province Resources Ltd (ASX:PRL).
PRL announced acquisition of a Zero Carbon Hydrogen project located in the north of Western Australia.
Even though PRL's new project is very early stage, the market clearly liked the new Zero Carbon Hydrogen theme, sparking a fast rise in the PRL share price... probably a bit too fast.
From around 2c in the weeks before, PRL surged hundreds of percent hitting a high of 14.5c on huge volume then settling back for some healthy consolidation around the 8c mark over the last few days.
Regular readers will know we have been invested in PRL since August last year when it was called Scandivanadium (ASX:SVD).
We had originally invested for the gold exploration in the highly prospective Paterson province, but the price plunged from its peak of 4c to 1.5c after EM surveys returned no drill targets - we got burned on that one but decided to hold on to see what the company would do next.
Like with all our investments, you can see our historical coverage of PRL (including prior to its Zero Carbon Hydrogen acquisition when it was SVD) on our PRL company summary page here
While fast share price rises like PRL can be exciting for traders and show "paper profits" for holders, regular readers know that at Next Investors we are long term holders in companies that we believe will perform well over 3 to 5 years.
Needless to say - we didn't sell a single PRL share last week and do not intend to sell any PRL shares in the near term - We are NOT traders.
Like with Vulcan (and all the other positions in our investment portfolio) we are holding for the long term to see PRL's Zero Carbon Hydrogen project hopefully reach its performance milestones - positive scoping study, pre feasibility study and offtake agreement.
Short term trading works great for some people but what works best for us is holding over 3 to 5 years - and at a minimum 12 months to unlock the capital gains discount before any top slicing.
PRL is on the start of a long journey to create value. There will be a lot of share price ups and downs along the way.
Take a look at the comparison on Vulcans value creation journey compared to where PRL is today - this is why long term holding is our strategy.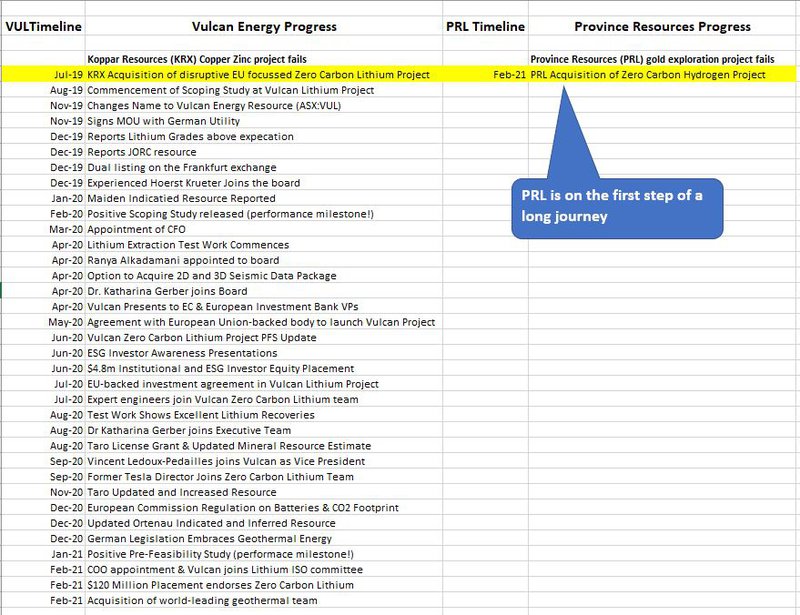 So as PRL holders we are watching for any upcoming announcements about scoping study progress, testing for wind/sun and key leadership hires.
As long term VUL holders we think there is still a HUGE amount of news and value to come over the next 3 years - the scope of the electrificiation and decarbonisation of the EU is unfathomable - we are watching out for VUL offtakes agreements, partnerships, key hires and progress on the DFS.
We have invested in just 18 companies since May 2019 and are holding long term positions in all of them. We update our research and commentary whenever one of our portfolio companies releases important news.
If you want to know more about our investing (and selling) strategy you can find out more in our ebook about how we analyse and choose the stocks we invest in.
We are long term investors and trust with our readers is crucial - please respond to this email if you have any question, comments, concerns, ideas or feedback about Next Investors.
Please share any of the following:
What has your experience been with Next Investors so far?
Any new features you would like to see?
How can we improve?
If there is a stock you think we should look at (and want to share your research\DD) let us know
We are a small team and are busy analysing current and potential investments but one of us will respond to you as soon as we can
We will update our frequently asked questions page with responses to the most commonly asked questions.
Thanks and good luck with your investments!
The Next Investors team.
Province Resources Ltd
ASX:PRL
---