Total Eren MD to speak at WA Hydrogen Conference

Share price when sent: $0.130
Our 2021 Top Pick of the Year Province Resources (ASX:PRL) is aiming to develop Australia's first truly "Zero Carbon" Green Hydrogen project.
In April, PRL signed a binding MoU with French global energy super-major Total Energies (subsidiary Total Eren) to develop a proposed 8GW renewable energy wind and solar plant in Western Australia that will provide the clean energy to create green hydrogen.
Tomorrow at 5pm AWST (7pm AEST) the French-Australian Chamber of Commerce is hosting a panel and some speakers on market-ready green hydrogen projects in Western Australia.
The managing director of Total Eren (PRL's potential project partner) is one of the speakers.
Province Resources Ltd
ASX:PRL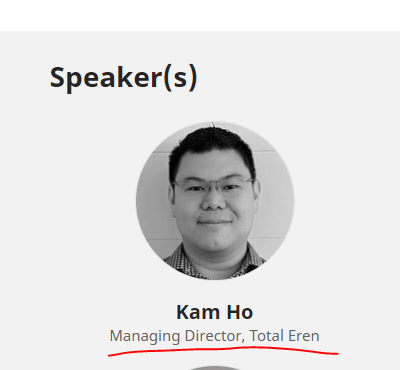 PRL is working closely with Total Eren – partly owned by Total S.A., the fourth largest energy super major in the world – to deliver an initial Scoping Study as the next key milestone in the project.
PRL is one of our biggest holdings so naturally we are keeping an eagle eye out for anything that can give us clues to how things are progressing.
We are not aware of any other green hydrogen projects in WA with Total Eren... so can only assume he will be speaking on the PRL project.
Here is a link to the session:
https://www.facci.com.au/events/upcoming-events/e/event/wa-hybrid-hydrogen-to-make-wa-greener.html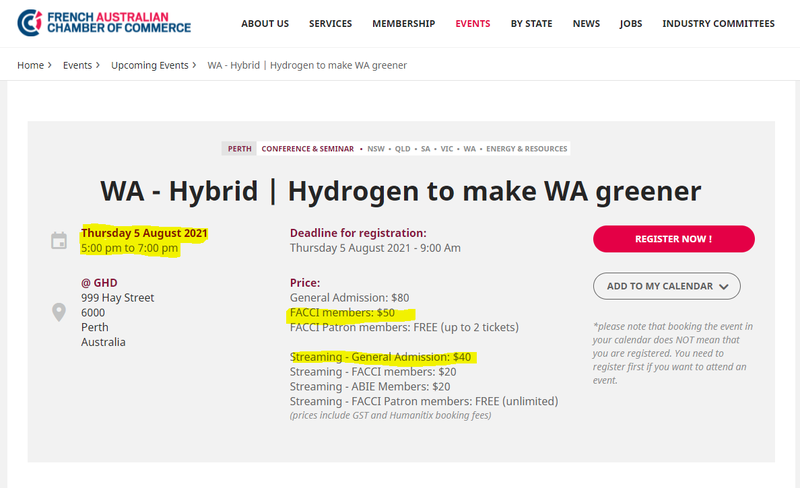 If you are in Perth you can buy tickets to attend in person for $80, if you are anywhere else you can stream it for $40.
If you are too busy or don't want to spend money on a ticket, don't worry, as always we will watch, analyse and provide all the key summaries for you the day after and any implications for our investment in PRL.
New to PRL? Here is what you need to know
PRL's project is located in Carnarvon, Western Australia - a place with lots of sun and wind, perfect for renewable energy generation.
PRL is intending to use this abundant renewable energy to split water into hydrogen to supply domestic and Asian markets.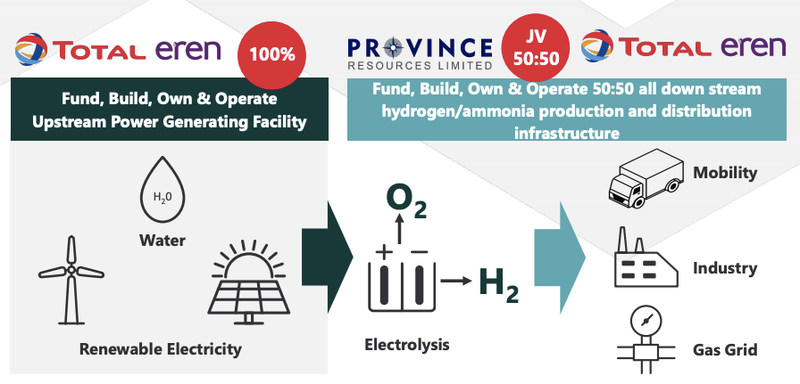 New to PRL? Here is our commentary on PRL's journey so far:
On the 17th Feb, PRL announced to the market the acquisition of their Zero Carbon Hydrogen project, the first of its kind in Australia.
Less than two weeks later PRL initiated data collection for their feasibility study with the state of the art Fulcrum3D SODAR Machines collecting solar and wind data at the project.
After some digging we noticed that Australia's Richest man Andrew "Twiggy" Forrest (mining magnate and self appointed green hydrogen ambassador) applied for land tenements right next to PRL's HyEnergy Project.
We highlighted PRL's new board hire, Ms Kylah Morrison, and provided commentary on PRL's doubling of its project land area.
After signing an MoU with Total Eren, a key milestone in the project, we announced PRL as our Small Cap Pick of the Year.
As the year progressed, PRL made significant headway with the Shire of Carnarvon - read the commentary here.
Andrew "Twiggy" Forrest's FMG Resources Pty Ltd proceeded to peg every single bit of land surrounding PRL's proposed green hydrogen project - and more beyond - read it here.
Then PRL strengthened its board adding an ex-chief of staff to the WA treasurer and VP of corporate affairs at Woodside who we reckon has all the key ministers on speed dial - read it here.
The next 6 weeks of our expected PRL milestones are highlighted below: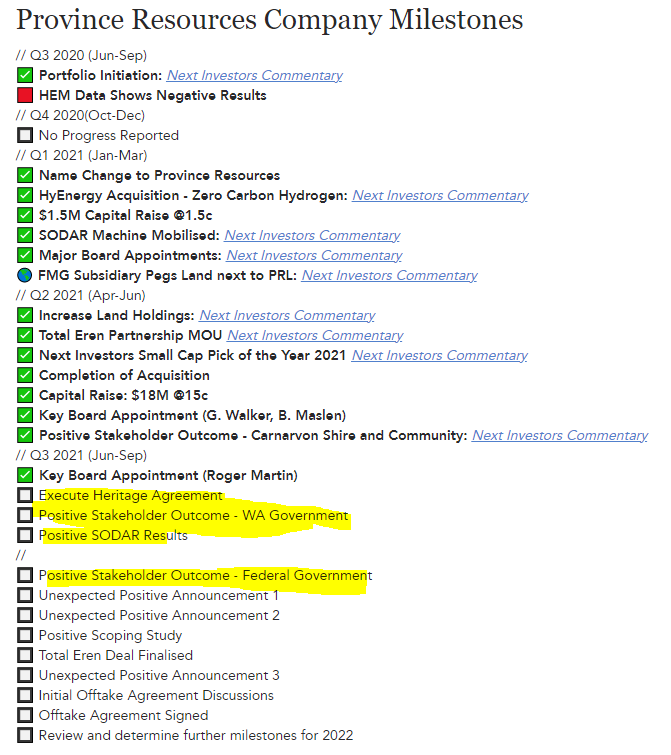 Here is what we are expecting from PRL later this year:
Scoping Study – underway now, completion in the coming months.
Finalisation of Total Eren deal – assuming the Scoping Study is positive, we would expect PRL to execute a full development agreement with Total Eren.
Feasibility Studies – these are the next stage, and will build off the Scoping Study
Initiate offtake discussions – PRL to start discussions with potential buyers and the owners of the Dampier-Bunbury Natural Gas Pipeline.
PRL is our 2021 Small Cap Pick of the Year
Our other Picks of the Year include:
2019 Tech WHK currently up 162%
2019 Energy EXR currently up 451%
2020 Small Cap VUL currently up 4,875% (probably more now... it literally just hit $11)
2020 Energy IVZ currently up 268%
2021 Tech ONE currently up 576%
VUL was our 2020 Small Cap Pick of the Year because we liked Zero Carbon Lithium.
PRL is our 2021 Small Cap Pick of the Year because we like Zero Carbon Hydrogen.
---