Reporting back from the WA Green hydrogen conference panel...

Share price when sent: $0.145
Our 2021 small cap Pick of Year, Province Resources (ASX:PRL) is aiming to develop Australia's first "Green Hydrogen" project in partnership with energy super major Total.
We were super keen to see Total Eren MD Kam Ho's presentation last night hoping that something would be revealed about their scoping study with PRL...
Province Resources Ltd
ASX:PRL
We watched the entire session and while nothing hugely noteworthy was revealed, Total Eren MD Kam Ho gave an interesting presentation that DID include PRL on one of his slides, but he was generally very tight-lipped about the project.
In question time, one of the crowd asked him "how is your scoping study with PRL going?" (great work whoever you are! Please reach out to us if you read our emails). But, very professionally, Kam Ho batted away the market sensitive question as would be expected from a seasoned executive.
There were five interesting presenters beforehand and we learned a lot about building hydrogen plants, types of electrolysers, economics of green hydrogen, wind farms etc.
Now the good news is...
...that PRL seems to be emerging from its "quiet execution phase" with Managing Director Dave Frances appearing a few times on the public relation trail with a couple of video interviews in the last 48 hours that we share below.

Now we know that PRL has PLENTY of cash in the bank so they don't need to do a cap raise, so the sudden flurry of videos might signal PRL is about to emerge from its quiet execution phase and start dishing out the news. We will see over the coming weeks.
Sorry this note is a bit late in the day but we have spent most of the morning staring at our screen with our mouths open hitting refresh and watching one of our other picks of the year that we promised not to talk about so much break through the $13.50 mark. After we first invested, we held this stock for almost 12 months before the share price really only got going in the year AFTER we called it our Pick of the Year.
This is very similar to what happened with 2019 energy Pick of the Year Elixir Energy (ASX:EXR) — remember it takes time for companies to really deliver and execute on their plan enough to significantly re-rate the share price. 2020 pick Invictus Energy (ASX:IVZ) took its sweet time before its big run too.
AND also with our tech Pick of the Year 2019 Whitehawk (ASX:WHK) that really got moving earlier this year but is having a soft patch right now. We still hold and believe and are patient! Give us an announcement Terry!
We are very excited about our most recent small cap Pick of the Year PRL and they have only been working on their green hydrogen project since February this year - just a tiny 6 months.
Yes, there have already been some excellent gains with PRL. But in our experience with some of our 2019 and 2020 portfolio companies, the best gains come with long term holding and waiting out boring quiet bits while the company has their heads down executing. This is what PRL have been doing over the last few months.
This strategy works for us but make sure you have a plan that works for you.
Here are the videos of PRL MD Dave Frances talking all things green Hydrogen and PRL:
PRL Coffee with Samso
00:00 - Introduction
01:28 - Why have we not heard of the Hydrogen business ?
02:17 - Hydrogen 101
03:59 - Is Hydrogen Hydrogen?
05:59 - How is the journey for the Efficiency of Hydrogen?
07:56 - What will Province produce?
08:49 - Are you specific to a type of Hydrogen?
10:13 - What is the business for Province and how does it work?
11:43 - The Hydrogen Royalty debate?
13:23 - Green Tariff will drive the Green Hydrogen business
14:54 - The ESG pushing this sector.
15:28 - What is the money people saying about this Green Hydrogen business.
17:17 - The Importance of ESG parameters.
18:21 - The business plan for Province Resources Limited.
19:38 - Why Carnarvon?
20:55 The Total Eren Factor
22:21 Total De-risking
23:59 - Be careful of the use of the word Hydrogen....
24:36 - How Green Hydrogen fair with Cost vs. Scale of business.
26:18 - Making the entire supply chain to be Green.
27:56 - The path that needs to be taken.
28:24 - Has the value of the shares over?
28:54 - The reasons why investing in Province is still in the early stage.
29:35 - When should investors come in? More reasons for investing in Province.
30:15 - What can break this business?
31:07 - Conclusion
Interview with Bell Direct
New to PRL? Here is what you need to know
PRL's project is located in Carnarvon, Western Australia - a place with lots of sun and wind, perfect for renewable energy generation.
PRL is intending to use this abundant renewable energy to split water into hydrogen to supply domestic and Asian markets.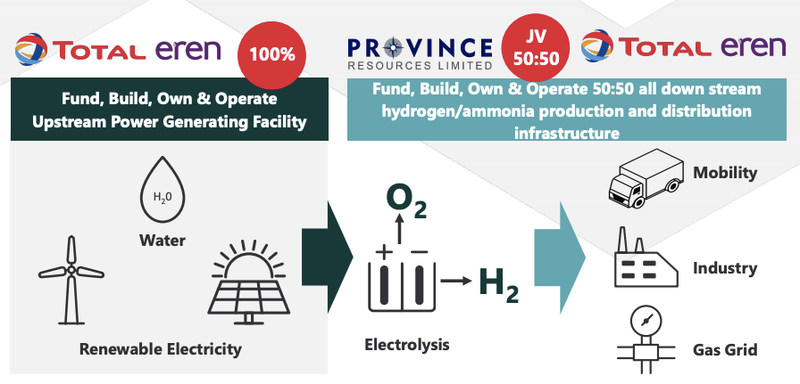 New to PRL? Here is our commentary on PRL's journey so far:
On the 17th Feb, PRL announced to the market the acquisition of their Zero Carbon Hydrogen project, the first of its kind in Australia.
Less than two weeks later PRL initiated data collection for their feasibility study with the state of the art Fulcrum3D SODAR Machines collecting solar and wind data at the project.
After some digging we noticed that Australia's Richest man Andrew "Twiggy" Forrest (mining magnate and self appointed green hydrogen ambassador) applied for land tenements right next to PRL's HyEnergy Project.
We highlighted PRL's new board hire, Ms Kylah Morrison, and provided commentary on PRL's doubling of its project land area.
After signing an MoU with Total Eren, a key milestone in the project, we announced PRL as our Small Cap Pick of the Year.
As the year progressed, PRL made significant headway with the Shire of Carnarvon - read the commentary here.
Andrew "Twiggy" Forrest's FMG Resources Pty Ltd proceeded to peg every single bit of land surrounding PRL's proposed green hydrogen project - and more beyond - read it here.
Then PRL strengthened its board adding an ex-chief of staff to the WA treasurer and VP of corporate affairs at Woodside who we reckon has all the key ministers on speed dial - read it here.
The next 6 weeks of our expected PRL milestones are highlighted below: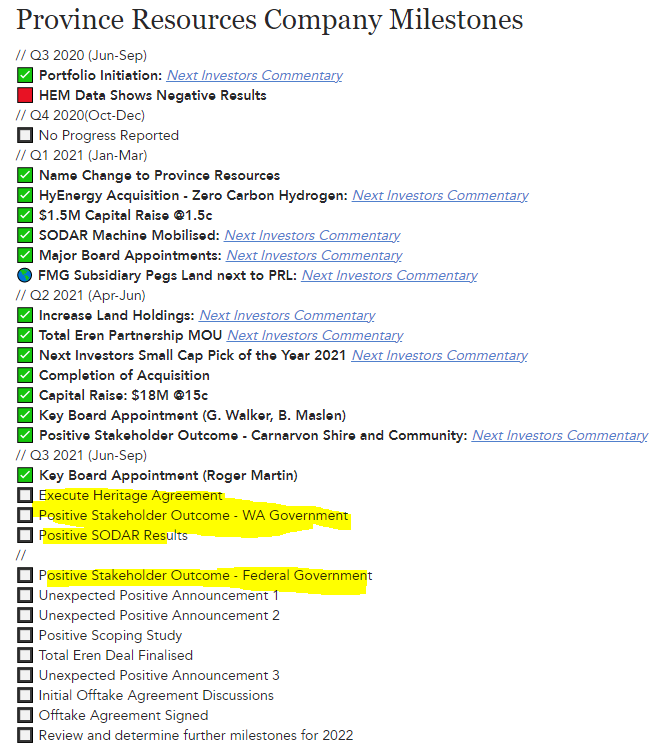 Here is what we are expecting from PRL later this year:
Scoping Study – underway now, completion in the coming months.
Finalisation of Total Eren deal – assuming the Scoping Study is positive, we would expect PRL to execute a full development agreement with Total Eren.
Feasibility Studies – these are the next stage and will build off the Scoping Study
Initiate offtake discussions – PRL to start discussions with potential buyers and the owners of the Dampier-Bunbury Natural Gas Pipeline.
Our investment plan for PRL: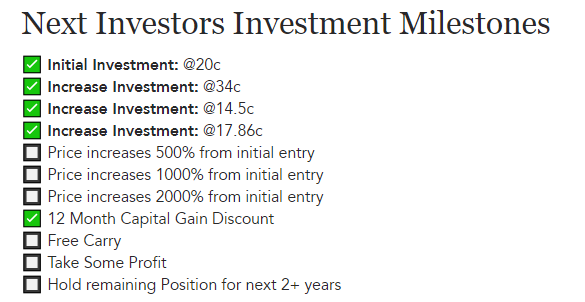 PRL is our 2021 Small Cap Pick of the Year
Our other Picks of the Year include:
2019 Tech WHK currently up 131%
2019 Energy EXR currently up 451%
2020 Small Cap VUL currently up 6,800% (we can't even keep up anymore)
2020 Energy IVZ currently up 282%
2021 Tech ONE currently up 533%
---