Our WA Gold Pick: Wedged Between $1BN Greatland Gold Discovery & 32Moz. Telfer Mine
With gold cracking US$2,000/oz and forecasters tipping a rise to US$3,000/oz within a year, we've been eager to select an early stage Australian gold explorer, one with huge potential upside compared to the rest.
Today we announce our investment in a small cap ASX gold stock that is now the fourth largest holding in our long term portfolio.
This ASX company has secured a prime landholding just 20km from Greatland Gold (AIM: GGP), and it is capped at just $12 million.
GGP might just be the biggest Western Australian gold exploration success story of the last 12 months, but in Australia the London-listed explorer has flown under the radar.
Without an ASX listing, the company — and its spectacular exploration success story — has largely bypassed Australian investors, all the while our friends in the UK are enamoured with it.
GGP rose from 1.50p in November last year to 14.10p today — a monster 840% gain over nine months and is now capitalised at more than half a billion pounds (almost A$1 billion).
GGP's run is attributable to its recent Havieron discovery in the Paterson Province of WA, a deep, high grade gold and copper deposit, located just 45km from Newcrest Mining (ASX: NCM)'s aging, 32M oz. Telfer Mine.
Newcrest, the $28 billion Australian gold heavyweight, liked what GGP had discovered at Havieron, and in 2019 struck a farm in agreement that will see NCM earn up to 70% by spending up to US$65 million.
The exceptional drill results to date demonstrate potential for a large, underground mining operation. A maiden resource is due later this half.
Rio Tinto (ASX: RIO) also made a high tonnage copper discovery in the Paterson Province in 2017 – the Winu discovery, and has spent ~ $80M in exploration here, including 110,000m of drilling. Rio just released a maiden Inferred Mineral Resource at Winu and is now set to take the leap into gold mining in WA.
With all that has come before it in recent years, the Paterson Province is now one of the hottest addresses in Australia for gold exploration.
We were recently introduced to a tiny company that acquired quality exploration ground, before the rush into the region, and before the gold price went on its current bull run.
Here at the Next Small Cap we have taken a very large, long term position in this $12 million capped company — it's our fourth largest holding — and we see significant upside ahead.
This company's 75km2 Pascalle Project is wedged neatly between GGP's Haverion discovery (20km away) and the 32Moz Telfer Mine (14km).
Based on the early work to date, Pascalle looks highly prospective for Telfer, Havieron and Winu style gold-copper deposits.
This is early stage exploration, but already eight untested drill targets exist and all the right geological conditions are there to host the region's next major gold discovery.
The company's geophysics have identified ''bullseye'' magnetic anomalies which have been indicators for regional discoveries, including Havieron.
In addition to its gold project, today's company is also the new owner of a nickel project in the Fraser Range Nickel belt — the Gnama Nickel Project.
Arguably just as hot as Paterson Province gold, WA's Fraser Range is attracting renewed interest, especially now that Elon Musk is tweeting about how much nickel he wants to buy.
The Gnama Nickel Project is located at the southern end of the Fraser Range, host to numerous nickel discoveries including Sirius Resources' Nova-Bollinger, which is now in the hands of IGO Ltd (ASX: IGO) following a $1.8 billion 2015 deal.
The Gnama project was identified by Sirius in 2010 when it intersected a zone of nickel, copper and cobalt. However, Sirius first moved to drilling the Nova target – and well, the rest is history there. Sirius discovered billions of dollars' worth of nickel at Nova-Bollinger, so Gnama was not followed up and the ground lapsed, leaving major exploration potential.
Sirius' loss is our company's gain.
The resurgent interest in the Fraser Range has been fuelled by Legend Mining's (ASX: LEG) Mawson discovery in December 2019 that tripled the junior explorers' market cap on the day of the news and sent it up fivefold in a matter of months.
With exposure to two premier West Australia metals provinces, a tiny $12M market cap, $2.9 million cash in the bank at June 30, and high impact exploration work set to commence shortly, we introduce you to the latest addition to our high conviction, long-term portfolio:

Share Price: 2.4¢
Market capitalisation: $12 million
Cash position: $2.9 million (at 30 June 2020)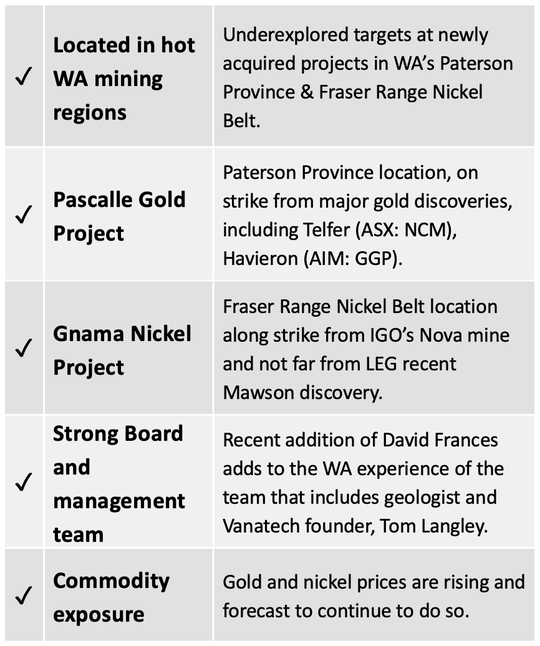 Don't let the name fool you, while it is still in possession of its European vanadium assets, ScandiVanadium (ASX: SVD) is gearing up for exploration programs at its newly acquired WA gold and nickel projects.
In light of its revised focus, SVD has appointed Mr David Frances as Executive Chairman. Mr Frances led Mawson West (TSX: MWE) from 2006-2012 where he completed the world's largest base metals capital raise and IPO in 2010 when it listed on the TSX with a market cap of approximately $250 million. He also has previous exposure to the Fraser Range as Managing Director of Windward Resources which was acquired by IGO in 2016.
The current bull market on metals is playing right into SVD's favour.
Gold is on a tear, driven by the combination of government stimulus, low yields, and market volatility, while nickel is rising in response to low stockpiles and its value in the manufacture of electric vehicles.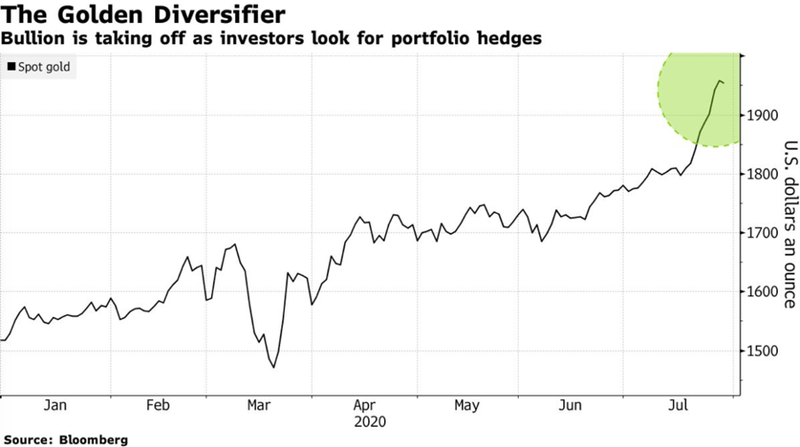 SVD only just completed the acquisition of its WA assets in June and exploration is yet to commence. So, it's understandable that SVD is not yet making the frontpage news. Add in the fact that "ScandiVanadium" doesn't exactly speak to the revised company direction, and you can see why the stock isn't yet on investors radars...and why we were so quick to add it to our portfolio.
The Next Investors long term portfolio
With 20 years' experience in small cap investing we have seen market cycles come and go and have built a core group of trusted advisors that help with our stock selection.
Small cap investing is risky and we don't get it right every time, but we have spent years building up a great team that points to an increased chance of success.
On that note, if you've been following our long term portfolio you may have noticed that our long term portfolio picks Galileo Mining (ASX: GAL), Vulcan Energy Resources (ASX: VUL), GTI Resources (ASX: GTR), MyFiziq (ASX: MYQ), Tempus Resources (ASX: TMR), WhiteHawk Ltd (ASX: WHK), and Titan Minerals (ASX: TTM) have each gained from 200% to 650%.
It's worth noting Galileo Mining (ASX: GAL) — a pure play Fraser Range nickel explorer, another of our WA exploration favourites, that's highly leveraged to exploration success.
We have been tracking GAL since March when it was trading at 15¢. Since then it's been up as high as 160% and is now trading at 34.5¢.
We continue to hold GAL, and our position in SVD complements our exposure to Fraser Range nickel discoveries.
You can read all about GAL here.
Now, while it isn't without risk, by identifying small caps with big potential at such an early stage — the likes of SVD — we best position ourselves for outsized returns. Just remember to only invest what you can afford to lose when it comes to speculative ASX small cap stocks.
SVD enters the Paterson Province – surrounded by much larger peers
SVD's newly acquired, 100%-owned Pascalle Gold Project is located in the heart of the Paterson Province — now one of the most sought-after exploration districts in Western Australia, where renewed exploration in recent years has resulted in some major discoveries.
The 75km2 Pascalle Project is within 20km to the east of Newcrest's 32Moz Telfer Mine and processing plant and 14km west of Greatland's Havieron Project (which has consistently delivered spectacular drill results including 275m @ 4.8g/t Au and 0.6% Cu).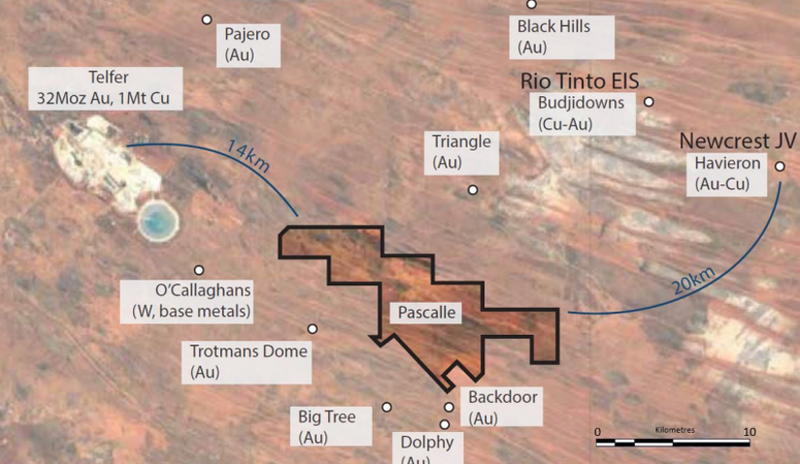 Let's dive a bit deeper into each of the players in the Paterson Province, as they highlight the quality of the neighbourhood and the potential opportunity in SVD.
Rio Tinto
Rio Tinto is accelerating the development of its Winu copper-gold project further to the north of SVD (with drill results including 681m @ 0.49% Cu and 0.33g/t Au), where it recently disclosed a resource.
The Inferred Mineral Resource, reported at a 0.2% copper equivalent cutoff, is 503Mt at 0.45% copper equivalent (Cu Eq). This includes a higher grade component of 188Mt at 0.68% Cu Eq at a cutoff grade of 0.45% Cu Eq.
Rio has also revealed the discovery of a new zone of gold dominant mineralisation approximately two kilometres east of the Winu deposit.
Initial drilling results and the proximity of Rio's tenements to Newcrest's gold operations, have led it to believe that its Paterson Province tenements could support multiple gold and copper mines.
Rio say that its Winu discovery will be developed into a mine, meaning there will be at least two new mines (with Havieron) in the Paterson Province.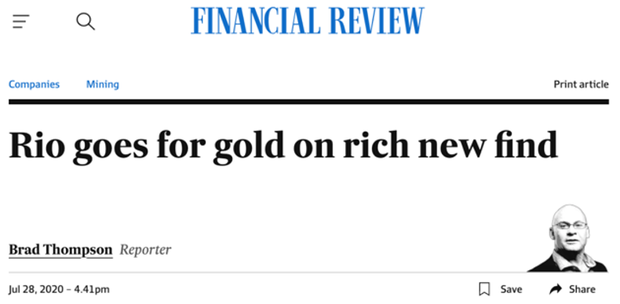 Both Newcrest and Rio are now farming back into regional licences that they had dropped in the past. IGO is also becoming very significant player in the region, having also recently announcing a number of farmouts.
Fortescue (ASX: FMG) is also present in the province, looking to acquire some significant land packages a little further north.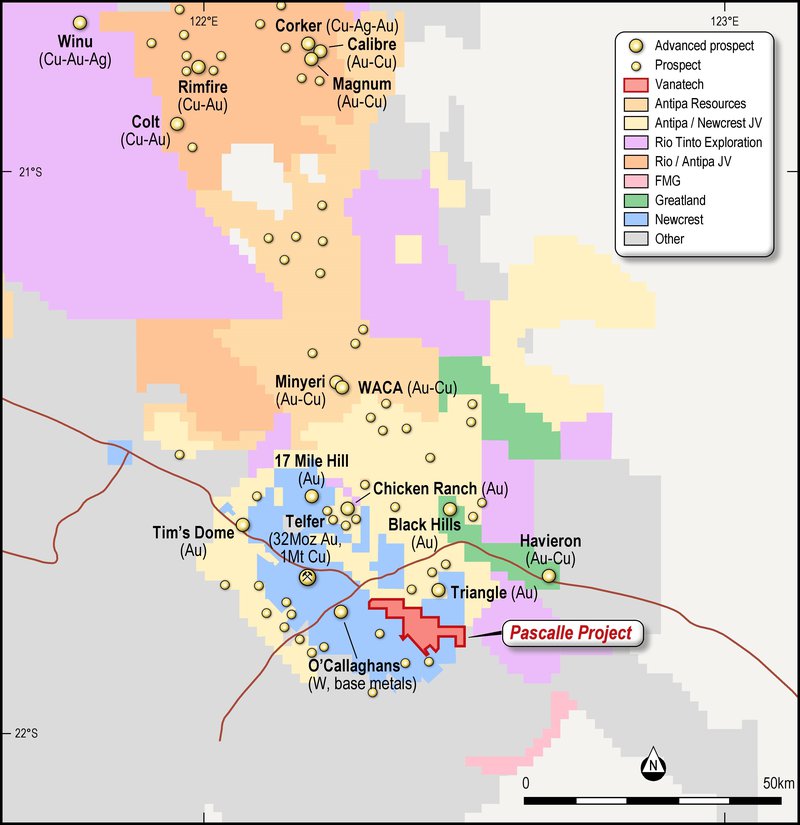 Greatland Gold
The significance of Greatland Gold's Havieron project became apparent in November 2018, when an intercept of 275m at 4.8g/t gold and 0.6% copper was released to the market.
Havieron is 45km from Newcrest's Telfer gold-copper mine which produced 452 koz of gold and 15.0 kt of copper in FY 2019 — with SVD's Pascalle located between the two.
Newcrest signed a farm-in agreement last year to earn up to 70% of the project and has since drilled 71 kilometres. It is now undertaking a number of studies with the aim of rapidly accelerating to production in two to three years.
While there's no resource on the project yet, it will be the next major feed into the Telfer mill.
Newcrest's involvement was exceptionally well received by Greatland Gold shareholders, with its market capitalisation now at £530 million (~A$970M), with just a 30% interest in the project.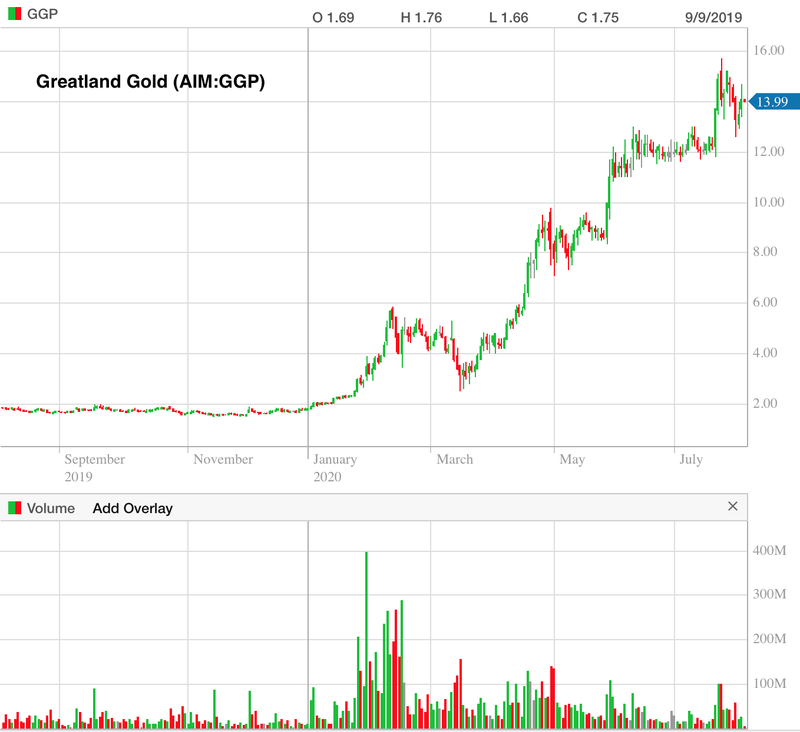 Antipa Minerals
Another major landholder in the Paterson Province is Antipa Minerals (ASX: AZY), which has a considerable land package, of which the vast majority is farmed out.
Its most recent deal came on 9 July, when IGO signed an exploration farm-in agreement to explore gold-copper tenements in AZY's ground.
Newcrest is also joining forces with Antipa Minerals, set to spend at least $6 million on exploration at the Wilki copper-gold project as part of the partnership.
The group also has JV agreements with Rio Tinto, and given its vast resources, AZY still has land that remains 100% owned too.
Like Greatland Gold, AZY's Paterson Province success has been reflected in its share price: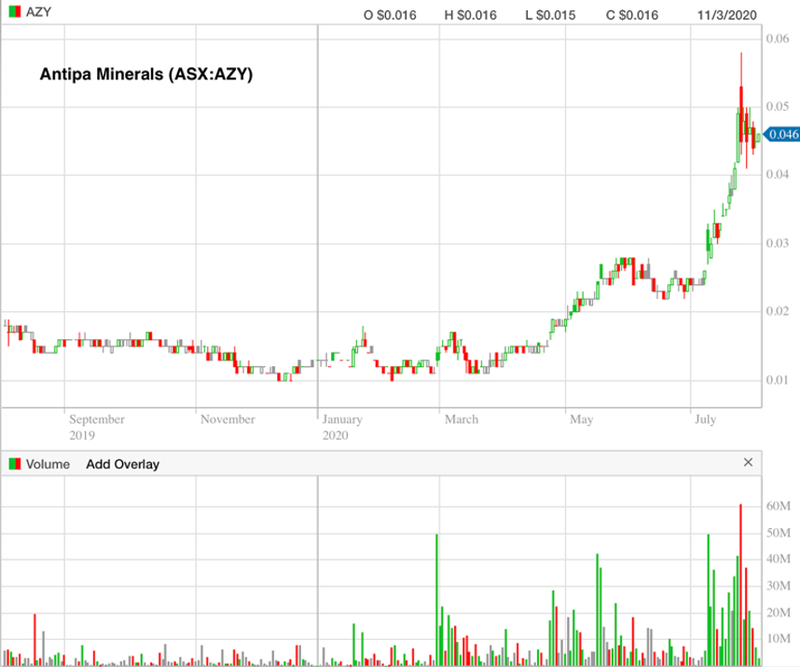 While not yet approaching the $1 billion mark, AZY is now capped at $112 million — almost ten times the size of SVD.
SVD's Pascalle Project
The Pascalle tenements were held by Newcrest Mining until 2017 and have been subject to only regional geological and geophysical study.
Since the 1970s, Newcrest held a huge amount of ground in the area, yet given the size and statue, unless they hit something really big, NCM didn't follow it up.
However, the recent exploration success at Havieron, identified through deep drilling on a discrete 'Bullseye' geophysical target, has demonstrated that sizeable discoveries can be made where there is little or no geochemical signature at surface.
The Telfer deposit and Havieron discovery show strikingly similar characteristics, with SVD's Pascalle ground situated roughly equidistant between the two.
Further, the Pascalle Project targets incorporate geological similarities to both Telfer and Havieron: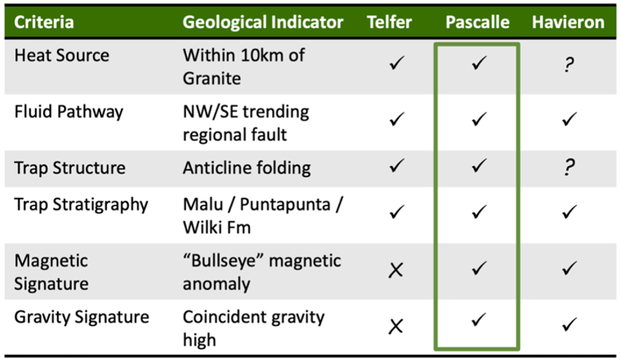 No doubt, it's early days for SVD, but with a market cap of just $12 million there is significant leverage here to future drilling success.
The project area has a number of key geological similarities with other major discoveries in the region, and the processing of geophysical data has identified a number of prospective targets for follow up investigation.
Significant exploration expenditure has resulted in an enhanced understanding of geological controls on mineralisation over the last four years and encouraged new concepts in exploration.
Here is the location of five of the exploration targets at Pascalle: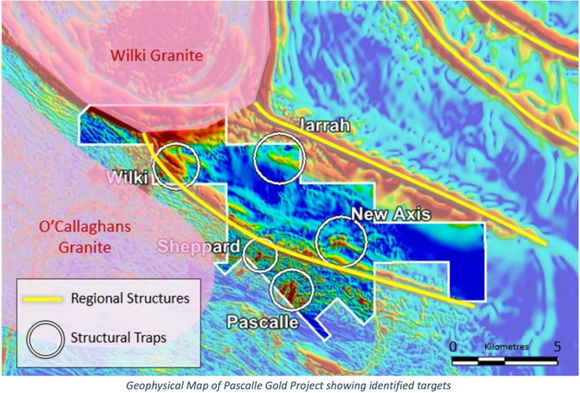 A lot of the anomalies are supported by magnetic data that were then strengthened after further review of gravity data, and more anomalies were also identified.
SVD now have eight targets at Pascalle beneath shallow cover, having both characteristics — magnetic high and gravity high — similar to the Havieron style deposit.
Pascalle: 2.0km x 2.0km 'Bullseye' target bisected by N-S trending structure, similar in nature to geophysical footprint of Havieron.
New Axis: 1.5km x 1.0km 'Horseshoe' target along interpreted dome fold axis.
Sheppard: 1.5km x 1.0km 'Horseshoe' target adjacent to O'Callaghans Granite.
Wilki: 2.0km x 1.5km 'Magnetic Break' target at junction of regional fault and Wilki Granite.
Jarrah: 1.5km x 1.0km discrete 'Linear' target along interpreted fold axis.
The additional Wilder, Holyfield, and Fury targets, as seen on the map below, have been identified since completion of the acquisition.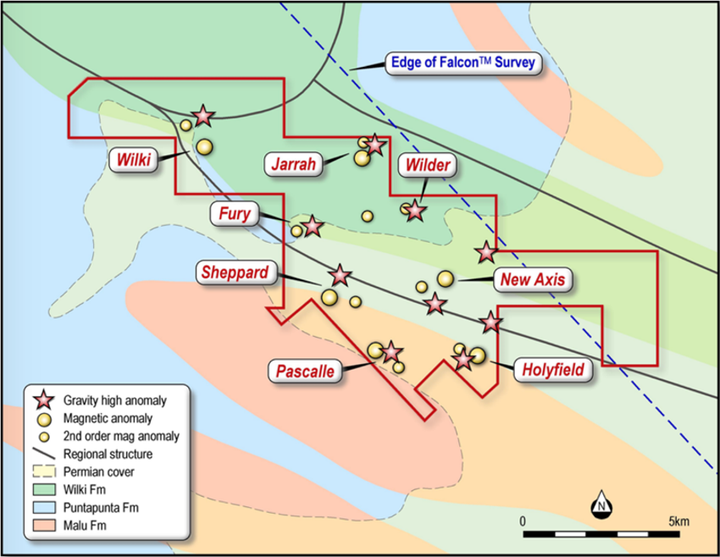 Geological map of Pascalle Gold Project showing target areas in relation to identified magnetic and gravity anomalies. The survey was conducted West of the blue dotted line
The recent discoveries by Rio Tinto at Winu and Greatland Gold at Havieron have demonstrated the importance of geophysical surveys in aiding discovery of tier one gold copper prospects in the region — SVD is now following the same process.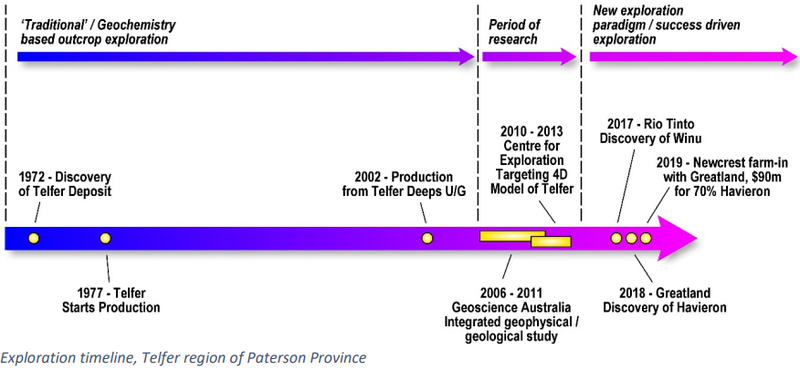 As seen in the timeline, areas under Permian Sandstone cover left underexplored by 'traditional' methods are most likely to benefit from new geological approach.
Exploration was different back then — Telfer was just outcropping followed at depth, while at Pascalle next to no drill holes were completed down more than a couple of metres into fresh rock.
The recent exploration successes are the result of academic study developing targeted exploration through Permian sand cover.
Here you can see the SVD's Pascalle target (below, left) and Havieron (below, right) showing 'Bullseye' magnetic target with coincident gravity-high highlighted.
The difference in resolution is due to the difference in depth, with Havieron occurring at greater than 450 metres, whereas, at Pascalle, cover is only between 20m and 50m across the vast majority of the licence area (up to 120m maximum).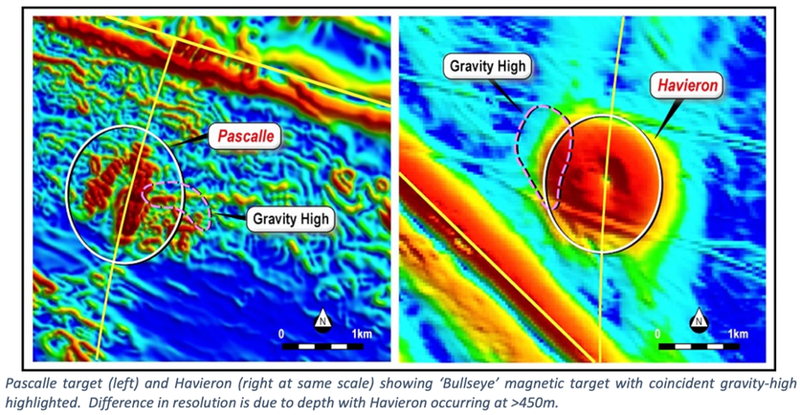 So, while the Havieron Bullseye target was a phenomenal target and fantastic hit, drilling had to extend through 400m of cover to get to it.
Not only has Pascalle got limited cover, but it is in the right area geologically, and SVD has multiple targets to test.
Pascalle drilling in sight
Management is now forging ahead with its exploration plans at the 100% owned Pascalle Gold Project.
SVD intend to commence phased exploration over Pascalle and is preparing to commence a high-resolution helicopter electromagnetic (HEM) survey over Pascalle from mid-August 2020.
In this first phase, the high-resolution geophysical surveying will provide detailed geological information and allow three-dimensional modelling of targeted anomalies.
This leads into the design of a maiden drill program which is expected to commence in the coming months.
Gnama Nickel Project, Fraser Range
SVD's Gnama Nickel Project is located in the Fraser Range, ~20km along strike from IGO's Nova-Bollinger Mine, and from Legend Mining's recent Mawson discovery.
The 61km2 project is located at the southern end of the Fraser Range, host to numerous recent nickel discoveries including Nova-Bollinger, that was discovered by Sirius before being acquired by IGO for $1.8 billion in May 2015.
Renewed interest in the Fraser Range has been fuelled by Legend Mining's (ASX:LEG) Mawson discovery in December 2019, where drill intersections include 12.8m @ 2.8% Ni, 1.4% Cu and 0.14% Co from 235m.
Highlighting the prospectivity and value in the Fraser Range, today LEG is capped at $340 million — an impressive valuation for an explorer with no resource yet.
Both Nova Bollinger and Mawson were identified by an anomalous nickel and copper signature at surface with nickel sulphide source at depth.
Gnama was identified by Sirius Exploration in 2010 when RC holes drilled to test a soil geochemical anomaly intersected a zone of nickel, copper and cobalt enrichment in the oxide zone above mixed mafic and ultramafic rocks.
That historic drilling indicated that mineralisation in shallow oxide included:
- 16m @ 0.6% Ni, 0.14% Cu and 0.13% Co from 36m, and
- 20m @ 0.57% Ni, 0.17% Cu and 0.08% Co from 28m.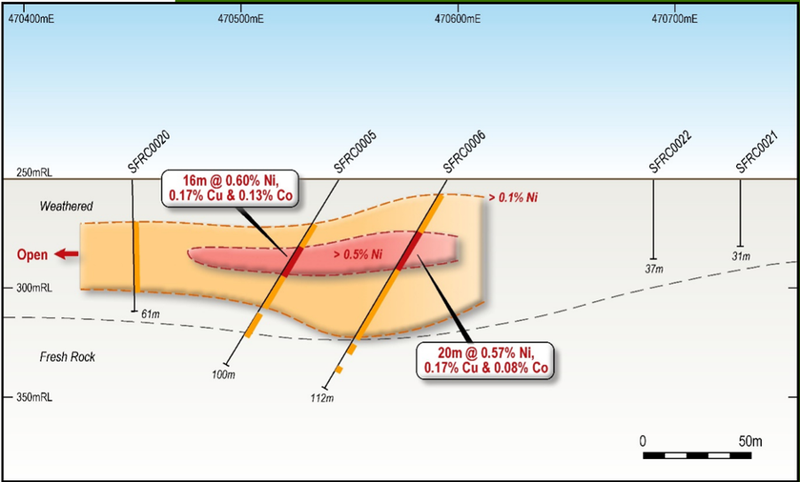 Sirius remarked at the time, "Whilst the elevated levels of nickel and cobalt could be explained by lateritic enrichment, the presence of copper suggests that the underlying rocks may contain sulphide mineralisation."
As Sirius moved on to drilling at the Nova target, the potential at Gnama was never followed up and the tenement was allowed to lapse.
However, the project has huge potential — the oxide cap indicator is similar to exploration indicators at LEG's Mawson discovery, Creasy Group's Sliver Knight, and at Nova-Bollinger.
This isn't surprising as Gnama is on strike from these discoveries...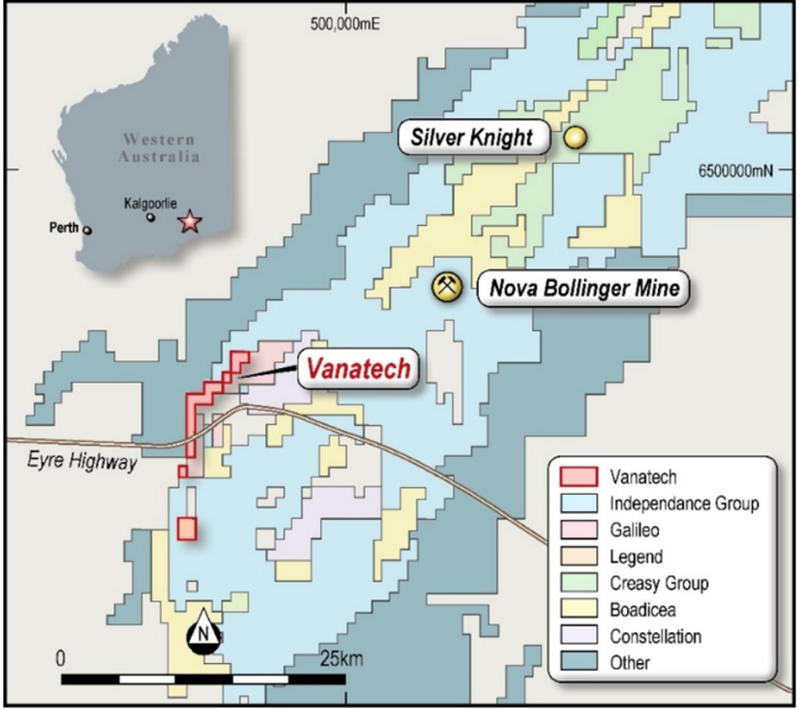 SVD's Gnama Nickel Project in the Fraser Range (in red, Vanatech is now a 100% owned subsidiary of SVD)
New Chairman reflects the quality of the portfolio
In a major coup for the company, Mr David Frances was this week appointed Executive Chairman, a move that strengthens SVD's Board and management team and is representative of the quality of the assets now in its portfolio.
Mr Frances brings a new level of West Australian and gold experience to the Board and positions the company well for future growth.
The Perth based, international mining executive has a 30 year track record of transacting, discovering and developing assets in Australia and Africa.
Mr Frances led Mawson West (TSX: MWE) from 2006-2012. This included acquiring and recommissioning the Dikulushi copper-silver mine in the DRC and relisting on the Toronto Stock Exchange with a market capitalisation of ~$250 million — completing the world's largest base metals capital raise and IPO in 2010.
Mr Frances has previous experience with both ASX gold and nickel in the Fraser Range, having served as Chairman and Managing Director of ASX-listed Tawana Resources and at Windward Resources, which was acquired by IGO Ltd (ASX:IGO) in 2016.
What's ahead for SVD?
With a maiden drilling program to commence later this year, SVD is likely to continue attracting the market's attention.
Here are the Next Small Cap we've taken a sizable investment in the company ourselves, adding SVD to our long term portfolio.
The Pascalle Project is located close to major discoveries in the most sought after gold exploration province in WA, has the key geological indicators for success, with geophysical signatures yet to be tested, and its relatively shallow Permian cover will enable rapid testing of targets.
The underexplored licence area is set to benefit from new exploration paradigm, while the strong gold price environment and heightened interest in the Paterson Province also support accelerated exploration.
It's very early stage exploration here, but at current prices, there's not a lot of downside.
And the best bit is that drilling is still ahead of us. The gold price is expected to remain strong, suggesting a buoyant market for ASX gold explorers with quality assets.
Further, the acquisition of the Gnama Nickel Project in the Fraser Range comes right as nickel prices are on the rise in a region that hosts multiple major discoveries. Here there's an opportunity to locate the sulphide source of previously drilled near-surface oxide intersections.
The company's swiftness in moving to exploration at Pascalle, along with management's decision to employ high-tech surveying equipment, reflects its confidence in the project and its prospects.
All up, SVD have in its hands two projects in the two hottest exploration provinces in Australia — all at a $12 million market cap.
---