Game Time for GAL: WA Nickel Explorer Set to Drill Advanced Targets
After 18 months spent building a pipeline of nickel prospects at its Fraser Range Project, Galileo Mining (ASX:GAL) is now set to start drilling at the project's most advanced targets.
The time is now for GAL. Drill targets are finalised, it has cash in the bank, and there's a highly buoyant market for under the radar WA nickel explorers on the ASX.
The Next Mining Boom are long term holders of GAL, having invested for the upside potential on genuine exploration success.
With the upcoming RC and diamond drilling program the company is targeting a significant nickel discovery, which could prove to be catalyst for the share price.
That's certainly been the case for other WA-focused nickel explorers in recent months.
Chalice Mining (ASX:CHN), for one saw its fortunes turn on a nickel discovery at its Julimar Project in WA, sending the company's share price up six-fold in the month from mid-March to mid-April 2020.
Legend Mining (ASX:LEG) is another example of the type of excitement that a WA nickel discovery can generate.
An initial discovery hole in December at LEG's Mawson Prospect — just 50km along strike from GAL — saw LEG's share price immediately double to 8.1¢ and it has since reached 21.5 cents.
LEG is now capitalised at $353M; CHN at $358M. Both those companies are almost 10 x the size of GAL.
Our view is that Galileo, with a market cap of just $39M (and ~$9M cash in the bank), has all the elements required for a significant kind of share price run on drilling success in the coming weeks and months.
GAL is at an earlier stage but has striking similarities and comparable ground to LEG in the Fraser Range, which is slightly further along in its exploration pursuits.
LEG and GAL both share an extremely tight capital structure and two major, strategic shareholders on the register — Mark Creasy, and IGO Ltd (ASX:IGO).
Creasy made a fortune discovering the Nova nickel deposit (14.4Mt, 2.3% nickel) — the deposit that first put the Fraser Range on the map and was eventually sold to IGO Ltd for a lazy $1.8 billion.
Mark Creasy holds 26.1% of GAL, and IGO has 8.9%. Beyond that there isn't a lot of free float to go around.
These two entities are in this game to identify multi-billion dollar nickel resources — pure and simple, and ­­will be watching the upcoming drilling with keen interest.
Creasy has spent years privately accumulating positions in the most attractive parts of the Fraser Range, and in LEG and GAL he has placed some of the most highly prospective ground.
GAL's upcoming drilling programs will allow for a much clearer comparison of the two projects and could see GAL follow the same growth trajectory as LEG on discovery.
GAL is on track to commence RC drilling by the month end at its Lantern Prospect and will immediately follow up with a diamond core drilling program. First assay results are anticipated in August.
It's not just about the coming months though. GAL has assembled a pipeline of prospects primed to target with the drill bit. Given its solid cash balance we expect to see a steady stream of newsflow until the end of the year.
Whilst nothing is a guarantee when it comes to highly speculative metals exploration, there is a high level of confidence around the nickel mineralisation of GAL's tenements.
And along with that of LEG, GAL's location in the Fraser Range is right there with a number of other major discoveries.
The project has similar host rocks to those at IGO's Nova nickel mine, which is just 100km from Lantern. In fact, the more than two kilometres of untested strike length where GAL is exploring contains mineralisation similar to Nova-style nickel deposits.
GAL's exploration team is no stranger to the Fraser Range or Mark Creasy. MD Brad Underwood came from the Creasy Group and was trained in the region under Mark Creasy himself. And it was the GAL team that helped Creasy Group discover another major deposit in in the Fraser Range, the Silver Knight deposit — a 4.2 Mt @ 0.8% nickel, 0.6% copper, 0.04% cobalt Resource.
The first ever RC drilling at GAL's Lantern Prospect earlier this year discovered disseminated nickel-copper sulphide mineralisation and each of GAL's identified targets have been carefully assessed and are known to contain features indicative of nickel mineralisation.
The Next Mining Boom first covered this emerging WA nickel explorer back in early March 2020, when it was trading at around 15¢ per share. A lot has happened since then (including a global pandemic), but crucially for GAL, it was able to secure $5M in funding at $0.22 per share, giving it plenty of cash to deploy on high potential drill campaigns over the coming months.
GAL has now nudged 29¢ — a 90% gain since our first coverage.
With around $8.7 million cash today, on completion of the upcoming drill programs at Lantern, this should leave GAL with ~$6.5 million at year end for further exploration activities.
This is ground that has never before been explored for nickel. So while there are certainly no guarantees, it presents a significant chance for a high value discovery.
It all begs the question: is the sub $40M capped GAL on the cusp of exploration success?

Share Price: $0.275
Market Capitalisation: $39.35 million
Cash Position: ~$8.7 million
Here's what I like about Galileo Mining: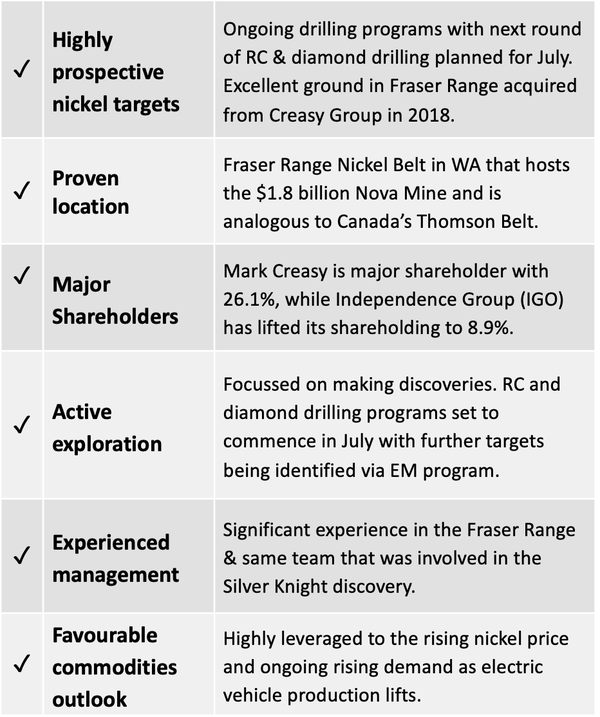 Fraser Range Nickel
Located south-east of Kalgoorlie in Western Australia's Fraser Range Nickel belt, Galileo's Fraser Range Project sits within a mining location with major untapped potential.
Galileo's tenements over its 602km2 landholding are surrounded by LEG and IGO.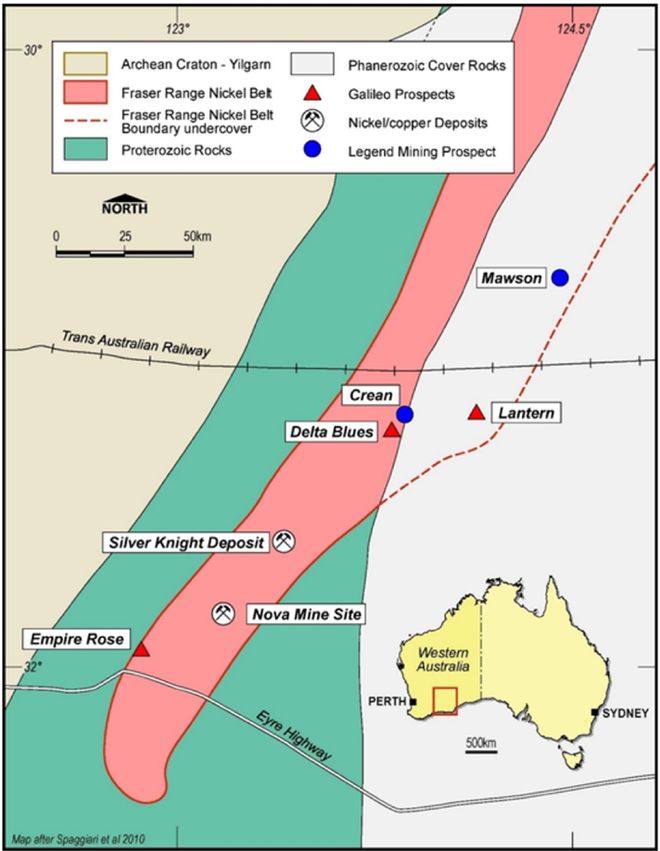 Galileo Prospect Locations in the Fraser Range Nickel Belt
Nova Mine owner, IGO continues to aggressively explore in the Fraser Range with a $24 million regional exploration budget and a $26 million Nova near-mine exploration budget. IGO has also invested in GAL, presumably on good knowledge of the area and in preparation for the depletion of Nova in coming years.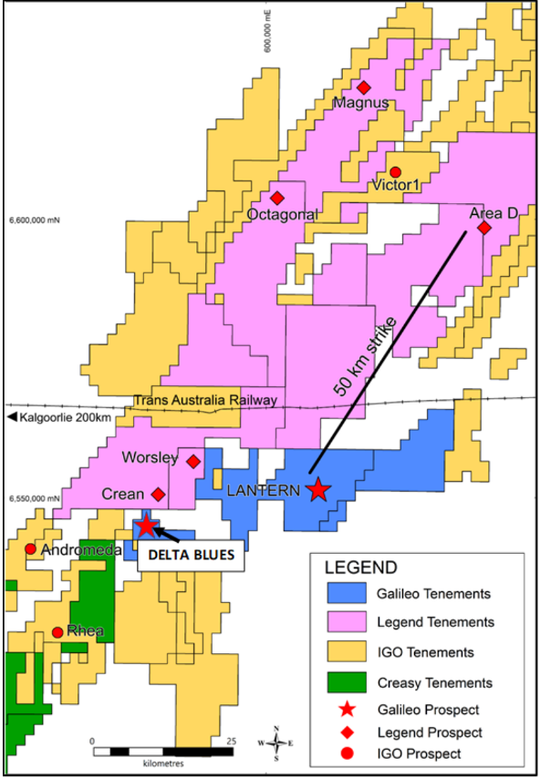 Galileo tenements (blue) surrounded by Legend Mining (pink) and IGO (yellow) tenure
As I mentioned, LEG's share price went on a run earlier this year, rising 4¢ in December to as high as 21.5¢ in just five months.
LEG has since settled at around 14¢ per share for with a market value of ~$350M and given LEG's 70% ownership in its project, this equates to an asset value of circa a half billion dollars.
Galileo, meanwhile, whose tenements lie alongside that of LEG, has largely moved in synch with LEG this year, as you can see below.
That was at least until recently when GAL began stealing some of LEG's limelight ahead of its now imminent drill program. And with LEG trading at almost ten times that of GAL it's not surprising that the market is recognising the leverage potential in GAL.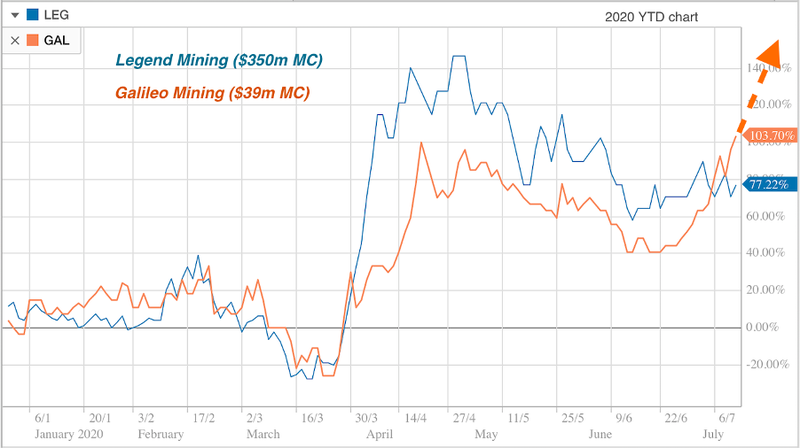 Lantern: drilling imminent
Drill targets have now been finalised for upcoming drilling programs at the Lantern Prospect at GAL's Fraser Range Project in WA.
Having built a pipeline of prospects over the past 18 months at Fraser Range, GAL will now start drill testing the most advanced targets.
These high priority nickel targets — surrounding the previously reported sulphide mineralisation — will be tested with a combination of RC and diamond core drilling.
Following the RC program, a 500-metre diamond drilling campaign is scheduled to for August. The RC drilling will establish pre-collars in preparation for that diamond drill core testing.
The diamond core drilling will test the electro-magnetic conductor along strike from Lantern South (renamed Lantern East).
These diamond core results should arrive in early September.
Core drillholes are planned at each of the three target locations to provide the best quality sample for test work.
Three priority zones will be tested:
- The area around existing mineralisation,
- A structural target 200m northwest, and
- An EM conductor 1.5km along strike.
All targets have been carefully assessed and contain features indicative of nickel mineralisation.
Here are the location of three drill targets for the upcoming drilling campaigns: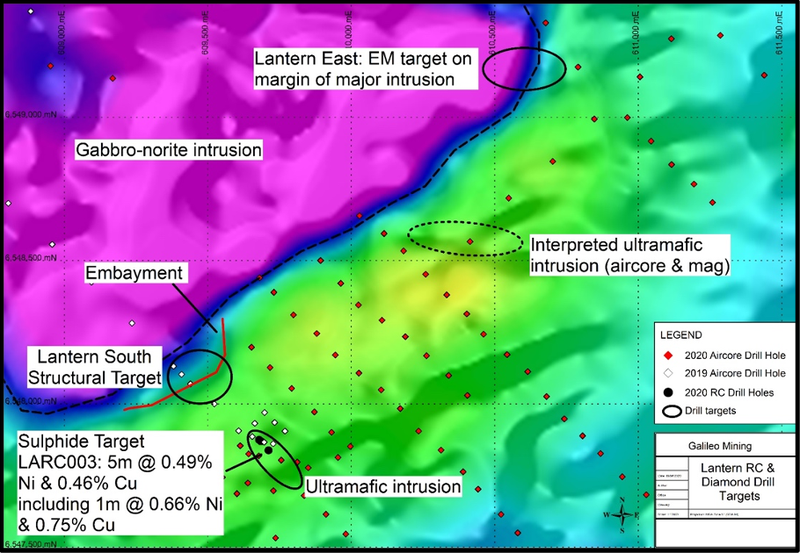 Drill targets at Lantern South & Lantern East Prospects (TMI-1VD Magnetic Image)
An RC drilling company has been contracted to undertake approximately 1,500 metres of drilling with a separate diamond drilling company to undertake the core drilling.
The ultramafic unit at Lantern South has near surface dimensions of 260m x 100m with sulphide mineralisation occurring on the margin of the unit.
The first RC drilling program, completed in March 2020, intersected mineralisation.
That sulphide mineralisation at Lantern South (LARC003) included:
5m @ 0.49% Ni & 0.46% Cu from 126 metres down hole, including
1m @ 0.66% Ni & 0.75% Cu from 127m
This will be followed up with RC drilling immediately along strike and down dip.
Drill spacing will be approximately 40 to 80 metres from the known sulphide zone with the aim of identifying further nickel and copper sulphides associated with the ultramafic intrusion.
A structural and geological target 200 metres northwest of the sulphide mineralisation will be tested with a combination of RC and diamond drilling.
This location is considered to be highly prospective as it occurs on the margin of the large gabbronorite intrusion at an abrupt lithological change. The magnetic image at this position shows an embayment which may be related to post emplacement modification of the major intrusion associated with a mineralising event.
EM surveying over this zone showed some evidence of a conductive body at an estimated depth of 200 metres.
The previously reported EM target on the margin of the major gabbronorite intrusion occurs 1.5km along strike from the mineralised ultramafic unit at Lantern South. This target has been renamed Lantern East to better reflect its position relative to the major intrusion.
The conductor is oblique to the strike of the margin of the intrusion and may represent a separate pulse of magma, similar to the ultramafic unit at Lantern South, which also crosscuts the regional magnetic fabric.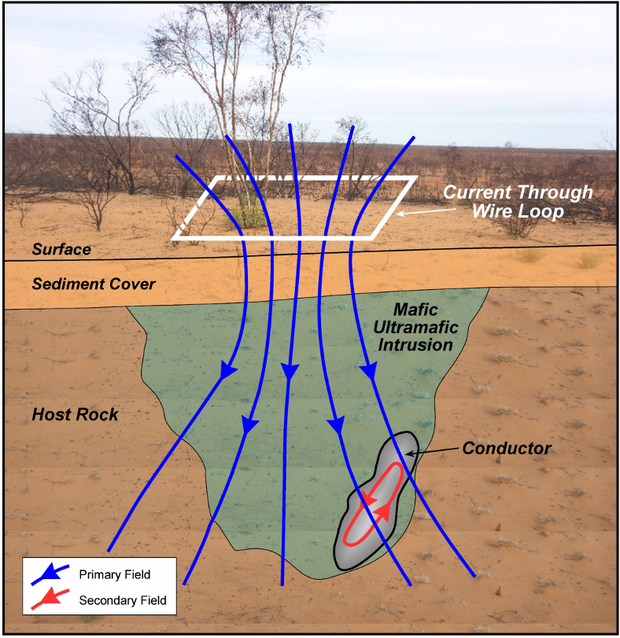 New Nickel Targets
In May, GAL announced the development of three new nickel targets in the highly prospective Fraser Range region of WA.
Petrographic rock description of samples from reconnaissance aircore drilling combined with detailed magnetic data shows the presence of three new intrusions, which have been named Think Big, Backwood and Green Moon.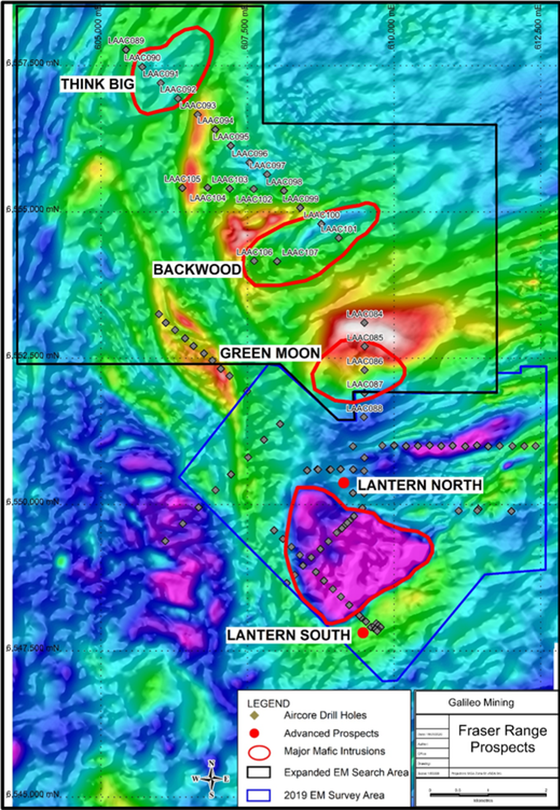 Three New Prospects (Think Big, Backwood and Green Moon) in the Fraser Range Lantern Area with Magnetic Background Image (TMI)
The following article explains more on GAL's expanded exploration plans:

Plenty of newsflow ahead
Given the upcoming RC and diamond drill programs set to take place at the Lantern prospect, along with exploration work at the additional three newly identified targets, we can expect plenty of newsflow ahead from GAL over the coming weeks and months.
Drilling is contracted to commence in late July with a 1,500 metre RC program. Results from RC drilling are expected in August with diamond drilling results to follow in early September.
In the meantime, the ongoing EM program is building up news targets that will be drilling in October and Novermber.
To summarise, the upcoming work programs planned across the company's Fraser Range Project include:
RC and diamond drill testing of targets at Lantern South and Lantern East nickel sulphide prospects;
First pass moving loop electro-magnetic (MLEM) survey on the southern side of the major Lantern gabbronorite intrusion;
First pass moving loop electro-magnetic (MLEM) surveys over the Think Big, Backwood and Green Moon mafic-ultramafic intrusions;
Petrography and detailed interpretation of aircore drilling results.
The exploration of not only the targets in the upcoming drilling program but future exploration across the wider project area is further reason for confidence that GAL's long-term potential is yet to be reflected in the market.
All up, this makes for a busy second half to the year and should deliver plenty of newsflow to keep the market's attention, along with major potential for some nice share price gains.
As shareholders in the company, the Next Mining Boom will be tuned in to see what this means for our portfolio.
---