Is this Mark Creasy Backed ASX Stock the Most Highly Leveraged to a Nickel Discovery?
Sirius Resources shot to fame in 2012, when it discovered the Nova nickel deposit in the Fraser Range south-east of Kalgoorlie in WA.
The stock rocketed ~10,000% in a matter of months as Sirius went on to hit not one, but two mammoth nickel deposits. Sirius was trading at 5.7c the day before the discovery, before it rose to 99¢ in just days, then surging to $5.00 in the months to come.
The Nova discovery single-handedly brought the Fraser Range to life, and triggered the stunning share price rise that saw Sirius go on to reach a $1 billion market capitalisation by March 2013.
Just over two years later and Sirius rounded out its success story and was acquired by Independence Group (ASX:IGO) for $1.8 billion.
Sirius' original discovery is now the Nova nickel-copper-cobalt mine, a 14.4Mt @ 2.3% Ni, 0.9% Cu resource.
The Nova mine area was first pegged by famed prospector, Mark Creasy, in the 1990s, who maintained a 35% interest in Sirius once it took the project on and today remains major shareholder of IGO — the now owner of the Nova mine.
The Fraser Range has a lot of catching up to do when compared to the Thomson nickel belt in Canada – The Fraser Range has just 18 Mt of total known resources with less than eight years of mining – compare that to Thomson's total known resources of 146 Mt over 50 years of mining and exploration.
The Fraser Range's second significant nickel-copper-cobalt discoveries to date — Silver Knight — also belongs to Mark Creasy as part of his privately-owned Creasy Group.
Since it is privately owned we don't know the exact size of the discovery, although two years ago it did publicly disclose a 4.2Mt @ 0.8% Ni, 0.6% Cu resource.
We do know, however, that Brad Underwood played a key role in the discovery of the Silver Knight nickel-copper deposit.
While working at Creasy Group he found crucial rocks on the ground and went on to design core holes and worked to prove up the discovery.
We are only just beginning to scratch the surface at the Fraser Range, and experienced geologists that are working the region know this.
It could well only be a matter of time before another multi-billion dollar resource is discovered.
Mark Creasy seems to be picking up all the prime real estate in the area via both privately owned vehicles and some public.
One such publicly listed company is the extremely tightly held Galileo Mining (ASX:GAL).
Underwood is the current managing director of GAL, of which Mark Creasy is a 31% major shareholder.
Independence Group – the same IGO that owns the Nova Mine, also hold ~ 5% of GAL – obviously a nickel producer in the region would want to keep an eye on future nickel supply.
Back in 2018, Galileo acquired it its Fraser Range tenements from the Creasy Group.
The company has circa $5.4M in the bank (at Dec 31st 2019), and it is now drilling its highly prospective tenements in the Fraser Range Nickel Belt.
After 18 months of exploration GAL has narrowed down the best parts of its prospects in Fraser Range and is entering a phase of heightened exploration activity and news flow over the coming months.
It has three drilling programs (RC, aircore, diamond drilling) planned, with the first having kicked off today.
We saw back in December how Legend Mining (ASX: LEG) catapulted to a $200M market cap on their own Fraser Range nickel exploration drilling – once again ground connected to Mark Creasy.
With today's company's tiny sub-$20M market cap and little free float available, given its 1/10th the size of LEG, we think it represents the highest leverage to a nickel discovery right now.
It is in the exploration game for an outsized, Nova style nickel discovery – and given the track record of this company's major shareholder and its geologist management team – would you doubt it has one of the best chances in the region?

Share Price: $0.15
Market Capitalisation: $18.05 million
Cash Position: $5.4 million (at 31 December 2019)
Here's what I like about Galileo Mining: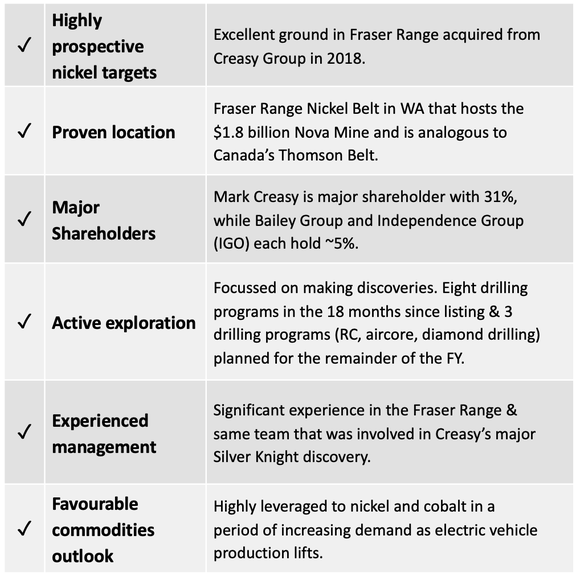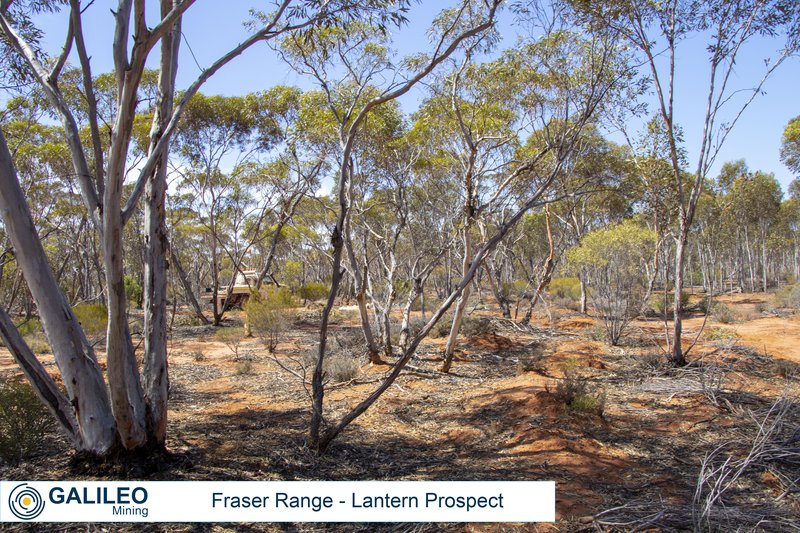 The Fraser Range is seeing a resurgence, but why now?
After Creasy's discovery of Nova in 2012, the Creasey Group had all of the best ground in the Fraser Range, so much so that there was none available for anyone else.
That's not surprising as Mark Creasy has always held the best ground in the Fraser Range.
In fact, there hasn't even been a hint of a discovery that Mark didn't own at some point.
For 20 years, he has dominated that entire area.
That said, in the midst of the hype around Nova, the lack of "good ground" didn't stop juniors rushing in and getting hold of whatever ground they could. It was a bit of a flash in the pan for a while as these juniors rushed into the region after the Nova discovery.
But that all changed in 2015 when Legend Mining (ASX:LEG) picked up some prospective quality ground from the Creasy group that had been earmarked for LEG.
After LEG got their ground, the Creasy Group then carved up the rest which had various levels of prospectivity.
Brad Underwood knows this personally, as a fact. He was managing that ground while working at Creasy Group.
Underwood is a geologist with over 18 years' experience in exploration, prospecting and mining. Most importantly, he has ten years' experience in the Fraser Range much of that spent working alongside Mark Creasy.
With that knowledge, Underwood, now as Chairman and managing director of Galileo Mining (ASX:GAL), picked up the last remaining good ground in the Fraser Range in 2018 for GAL. In fact, this was some of the best ground that Creasy had been holding on to for all of that time.
Up to that point, Underwood had worked with Mark Creasy for 10 years so was able to pick up some of the best ground for GAL, which the company is now drilling.
Here is Underwood speaking to The Pick last week:
Galileo now has 656km2 of prospective ground in two zones, the Lantern nickel prospect, and the Empire Rose nickel and gold prospect.
Nearby are the Nova and Silver Knight deposits, while Legend's Mawson prospect is just 50 kilometres along strike.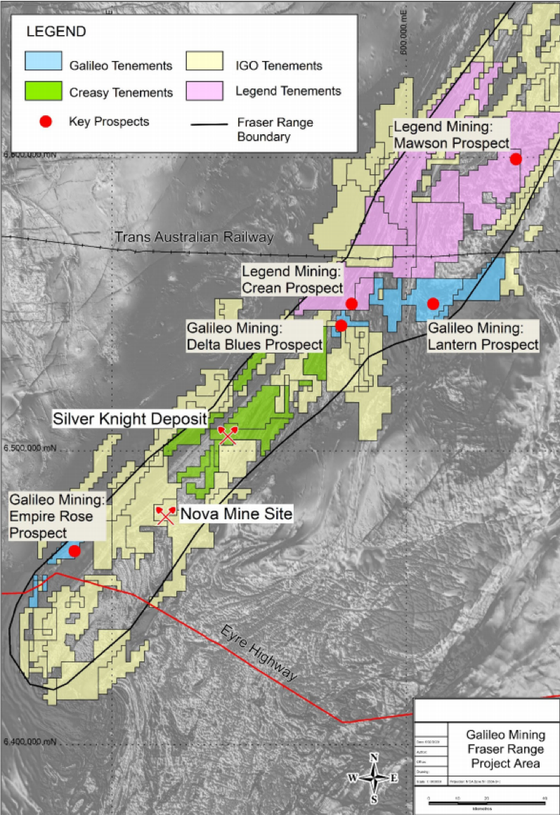 Legend Mining soars 100%
Just 50 kilometres along strike from Galileo's Lantern Prospect is Legend Mining's (ASX:LEG) Rockford Project.
Working with the Creasy Group to explore its Fraser Range tenements, Legend Mining in December 2019 unearthed a massive nickel sulphide-copper discovery at the Rockford Project's Mawson Prospect.
That find drew attention as LEG's Mawson prospect possibly being the region's "next Nova discovery" which sent the company's share price up almost 100% in a single session.
Like GAL, Legend also acquired its ground from Creasy Group, albeit a few years earlier, while Creasy is also a major shareholder of LEG.
Legend managing director Mark Wilson described the discovery as "a watershed moment for the company and for all of the Fraser Range".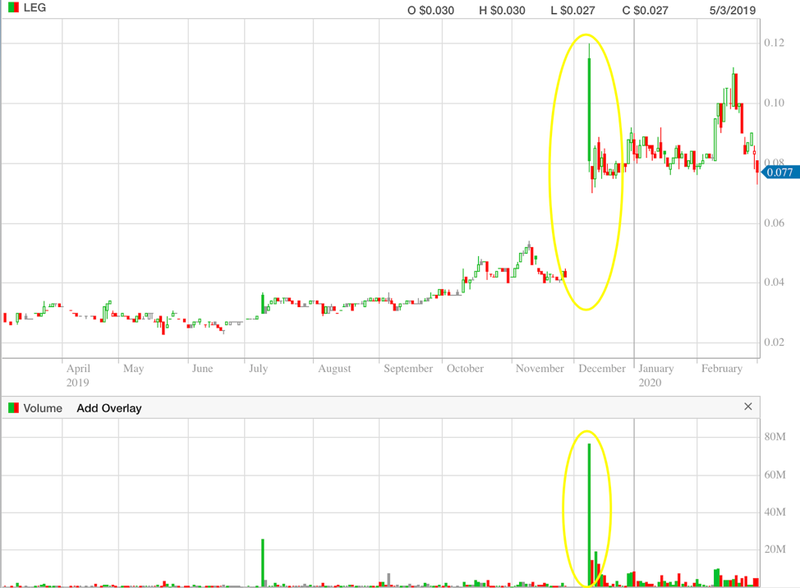 Legend Mining (ASX:LEG) - 1 year chart
The news was widely covered...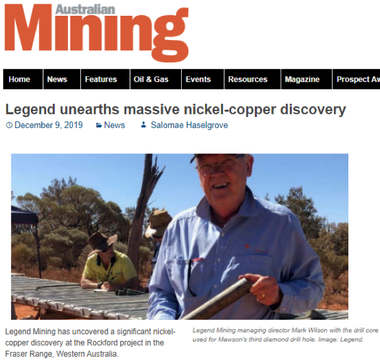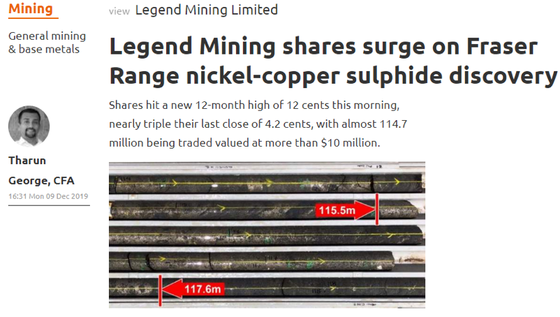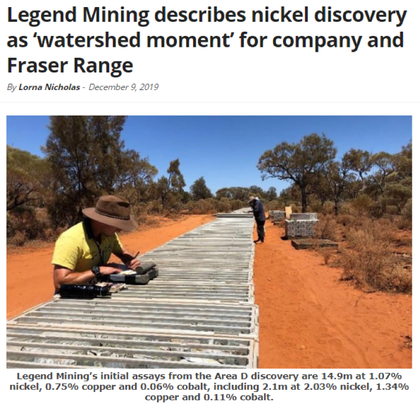 Given the proximity to Legend's discovery, Galileo's shares also spiked on news of the discovery, prompting a please-explain from the ASX.
Exploration in the Fraser Range Nickel Belt
Today, the region's best ground is in the hands of active junior explorers — Legend and Galileo — of which Creasy, interestingly, has 27% and 31% shareholdings respectively.
Creasy is also IGO's largest shareholder with 16%, while IGO are a major shareholder of Galileo.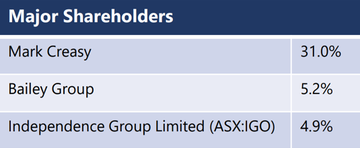 Galileo major shareholders
A few other juniors do remain in the region, however, even if their ground happened to be prospective, they are not actively exploring it.
This leaves Independence Group, Legend Mining, and Galileo Mining as the Fraser Range's only active explorers.
And of these, Galileo offers by far the most leverage to upside.
GAL has a market capitalisation of just $18.05 million, yet given that drilling is happening now that could soon change.
Let's speculate for a moment...
"Good drilling results" could see GAL have a similar sized market value to that of LEG of around $182 million.
This is not unlikely as GAL's AC drilling results were similar to that at LEG's Mawson prospect.
"Outstanding results", meanwhile, if a Nova style discovery, could deliver a Nova scale valuation of ~$1.82 billion.
If you don't think that a major discovery like Nova can happen again in the Fraser Range, I'll draw an analogy to another nickel bearing Proterozoic aged province - Canada's Thomson Nickel Belt.
Canada's analogous 146Mt Nickel Belt – Fraser Range has just 18Mt to date.
Canada has three world class nickel mining centres, each of which is located on the margin of the Archean aged Superior Province. Located in a similar geological environment in WA, the Fraser Range is on the margin of the Archean aged Yilgarn Province.
Canada's Thomson Nickel Belt is particularly analogous to the Fraser Range.
The Thomson Nickel Belt has a more than 50-year history of exploration and mining and hosts more than 10 deposits over 100km of strike length with total known resources of 146Mt.
The Fraser Range Nickel Belt, which has seen less than eight years of mining, has only two deposits over its 150km of prospective strike length and total known resources of 18Mt — just 12% of that of the Thomson Nickel Belt.
The difference comes down to the time and effort put into exploration in Canada with the extent of the Fraser Range Nickel Belt still to be realised.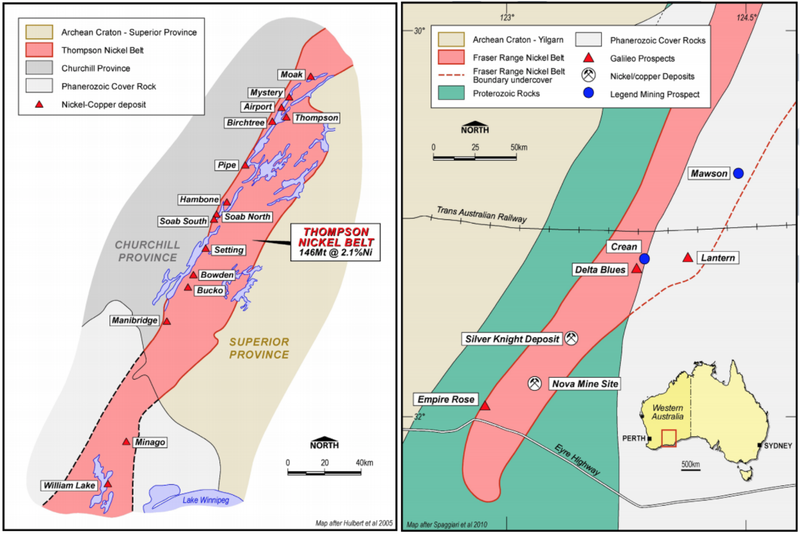 Canada's Thomson Nickel Belt (left) and Western Australia's Fraser Range (right)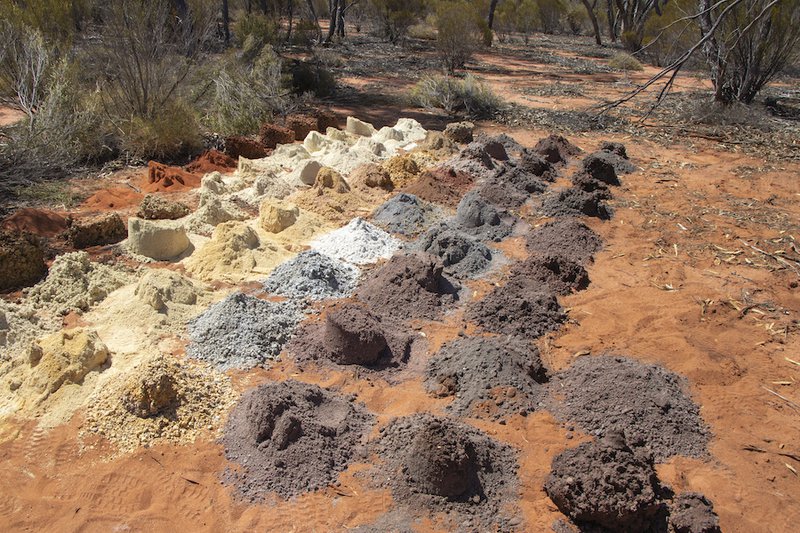 Galileo's Lantern Prospect - drill material
IGO is now planning to spend A$51 million on exploration this financial year, two thirds of which will be spent in the Fraser Range. If successful we can expect a similar carry over for Galileo and shareholders, as was the case with Legend's discovery last year.
Galileo commences RC drilling
GAL today announced that it has commenced the first ever Reverse Circulation (RC) drilling program at the Lantern nickel target.
This RC drilling is one of three fully funded drilling programs that the company will complete by the end of June this year.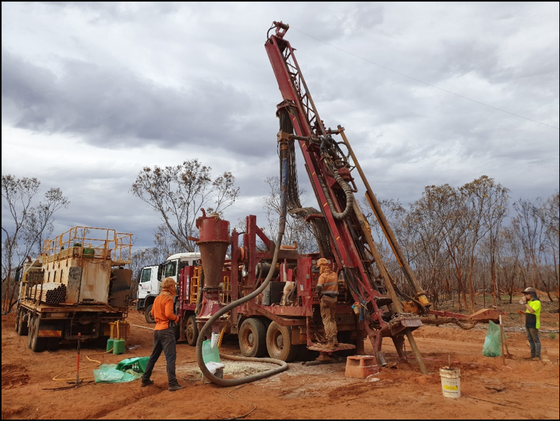 In this first RC drilling program, GAL is focusing on zones that showed the greatest potential from earlier work and plans to drill to depths beyond the range of the aircore drilling completed to date.
The company have planned for 1,400 metres of drilling with initial laboratory assays expected within two weeks of drilling completion.
A number of high-quality drill targets have now been developed at the Lantern prospect which is approximately 40 km along strike from Legend Mining's Mawson Prospect.
Galileo's aircore drilling results are being followed up with the RC drilling to test the source of the nickel and copper anomalism. A separate EM anomaly, centred over a highly prospective mafic contact rock unit, will also be targeted in the current drilling program.
The objective of the RC drilling above the EM conductors is to provide geochemical and lithological data and to allow the completion of downhole EM surveying. GAL will integrate this information to provide the targets for planned diamond drill hole testing of the most prospective parts of the conductors.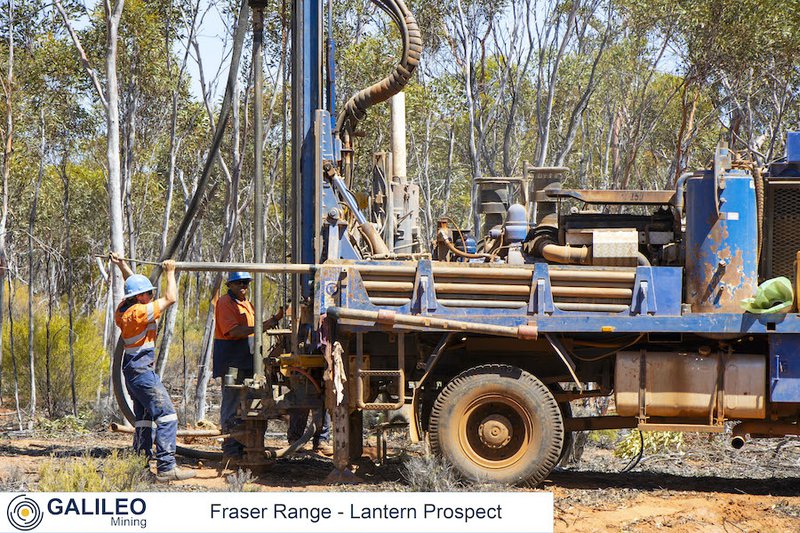 Galileo in 2020...
It's fair to say that the Fraser Range nickel belt has major untapped potential.
In fact, it is unlikely for there to be only one billion-dollar discovery in the Fraser Range.
Considering that the region has only undergone eight years of exploration it would be unusual if all the major discoveries had been made by now.
If Canada's nickel belts are anything to go by, the Fraser Range could be holding multiple multi-billion dollar discoveries.
Galileo is squarely focused on unlocking the value at Fraser Range.
The company is undertaking extensive drilling programs involving high levels of in ground expenditure. These targeted drilling campaigns greatly improve GAL's chances of discovery.
All up, Galileo has a better chance of success than its peers owning to the following factors:
Its tenements have come from Creasy Group
Management has many years' experience in the Fraser Range
Undertaking large amounts of active exploration
Exploration results to date are encouraging
Solid cash position and 3 fully funded drilling programs planned before June 30
Low market capitalisation provides major opportunity for leverage
With RC drilling now underway, results could prove to be a major catalyst as attention returns the Fraser Range.
In the event that Galileo makes a discovery, the payoff to shareholders will be multiples of any gains that Legend Mining or even Independence Group would make from a similar discovery. This has much to do with its tiny market capitalisation in comparison to the upside on offer.
Capped at less than $20 million, exploration success could replicate or exceed that of Legend or Sirius — and GAL has three drilling events to come over the next four months.
---