A deeper look at Galileo Mining (ASX: GAL)
Disclosure: S3 Consortium Pty Ltd (the Company) and Associated Entities own 2,161,544 GAL shares at the time of publishing this article. The Company has been engaged by GAL to share our commentary on the progress of our Investment in GAL over time.
Do you remember Jimberlana?
We don't blame you if you don't...
Because after the whirlwind run from 20c to a high of $1.95 that our Investment Galileo Mining (ASX:GAL) delivered after its Palladium-Nickel discovery at Callisto, it was hard to focus on anything else.
GAL felt the same, and spent the last 12 months focused on drilling out its Callisto Discovery - which is the main story and still getting bigger - we are expecting more drill results in the coming weeks.
Jimberlana was GAL's other high potential target that hasn't been worked on for 12 months.
Jimberlana is where GAL clipped the edge of a shallow massive sulphide structure... with a little aircore drill.
Massive sulphides typically host high grade nickel/copper and PGEs, so understandably the prospect was about to become the main focus for GAL in early 2022.
It's very unusual to hit shallow massive sulphides with an aircore drill, additional follow up RC drilling was going to be very interesting.
See our note on this massive sulphide intercept at Jimberlana (from November 2021) here: GAL hits unexpected massive sulphides in shallow aircore drill program
Jimberlana was just about to become GAL's main story and value driver, until...
A few weeks later, GAL's Callisto discovery and the resulting share price run took all attention.
Over a year later, while we are waiting for the next drill results at Callisto, GAL has announced it is finally planning to have a crack at making an entirely new discovery at Jimberlana where the shallow massive sulphides were hit with the aircore drill.
GAL is planning a 4,000m RC drill program at Jimberlana and Mission Sill (another set of very interesting nearby targets).
This drilling is expected to start late June/early July and take one month to complete.
Despite GAL's discovery at Callisto, continuous outstanding drill results, excellent initial metallurgy work, and near term JORC resource, it hasn't been immune to the small cap sell off over the last 12 months.
GAL has especially suffered in the May weakness/June tax loss season - here is why we think this has happened: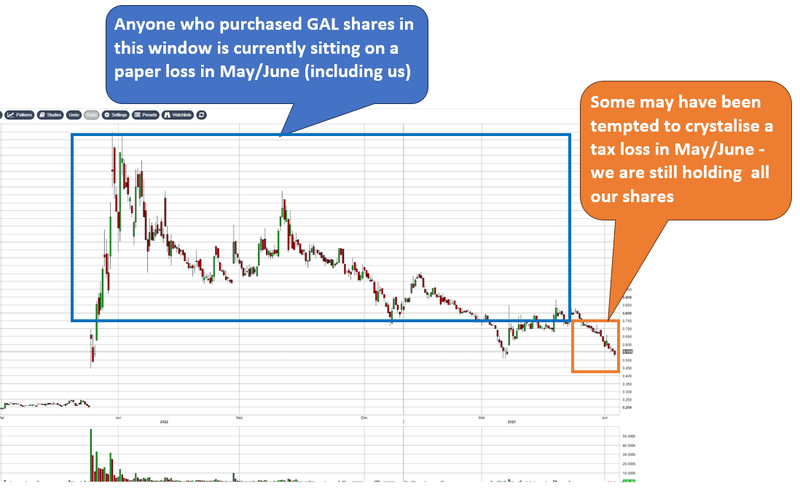 While we held shares in GAL pre-discovery, instead of Free Carrying when the price ran from 20c to $1.95, we instead participated in the GAL placement at $1.20 per share and increased our position... and haven't sold a share since.
We are long term holders in GAL and try our best not to pay attention to the month to month share price fluctuations.
We aren't the only ones who were buying (and holding) GAL shares at a much higher price than its current trading at during this tax-loss June season.
In the months after the Callisto discovery, Nickel exploration billionaire Mark Creasy forked out ~$12M on GAL shares, increasing his existing shareholding in GAL:
~$2.26M for on market purchases at an average share price of ~$1.48 per share immediately after the discovery was made.
$7M in the $1.20 per share placement.
$2.85M on market in September 2022 at an average share price of ~$1.18 per share.
We haven't seen any changes in substantial notices from Creasy so can only assume he has held everything too.
It's no fun showing a paper loss on an Investment, but it's just what sometimes happens when you hold a stock long term, waiting for the news that will deliver a material re-rate.
We hope that once this June tax loss washout finishes, combined with some positive results from Callisto and Jimberlana drilling, GAL can move back in the right direction.
We think an entirely new discovery at Jimberlana in the coming weeks might do the trick.
Of course, this is small cap exploration investing, and anything can happen. It's possible drilling finds no economical metals discovery.
GAL still has about $17.6M in the bank according to the last quarterly, so we think a cap raise in the near term is highly unlikely.
Time for another discovery?
After making its first discovery ~12 months ago at Callisto, GAL is planning a 4,000m drill campaign targeting a new discovery nearby at Jimberlana this month.
A second discovery would be a game changer on its own, when combined with what GAL already has, it could start to show district scale potential.
If any of the results come back even remotely close to GAL's Callisto discovery (or daring to dream... even better), then it could easily be the catalyst for the company's next re-rate.
Deeper Dive: Why do we like GAL's Jimberlana drill targets?
Before GAL's Callisto discovery that captured everyone's attention, we were most excited about two other prospects the company was drilling...
The Jimberlana and Mission Sill prospects, which sit ~6km to the southeast of Callisto.
Finally, after almost a year, GAL is going back to drill these targets again.
In last week's announcement, GAL confirmed it would be running a 4,000m RC drill program expected to start in late June/July and take one month to complete.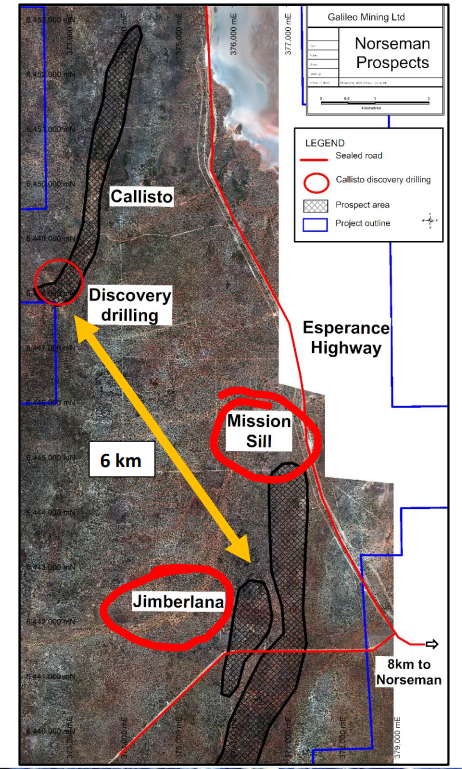 Beginning in November 2021, we covered the drill programs leading up to the company's eventual Callisto discovery.
We were most excited about the unexpected massive sulphide hits the company made at its other prospects (Jimberlana and Mission Sill) early in November.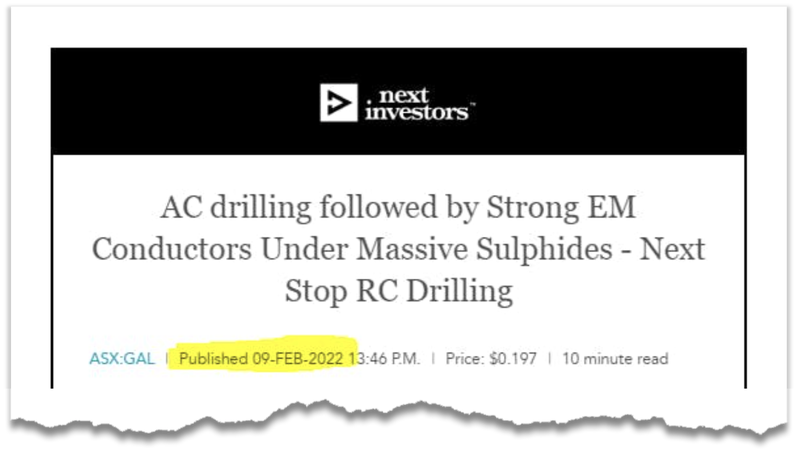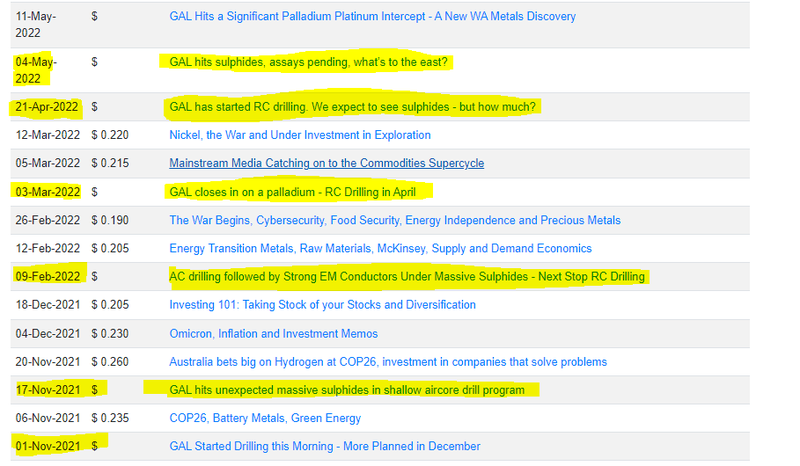 Readers and GAL investors who have been following us since back in 2021 will know that the Jimberlana and Mission Sill targets were the targets GAL had just started drilling before making the Callisto discovery.
Attention quickly turned away from them in favour of the Callisto discovery but at the time, we knew that the Jimberlana and Mission Sill targets had:
Aircore drilling in November 2021 started - the aircore program delivered some strong PGE grades from shallow depths... an unexpected win and a reason to go back in and drill more on its own.
Massive sulphides clipped with the aircore rig - this was perhaps the biggest unexpected news. GAL hit massive sulphides with its aircore rig - massive sulphides are usually not found at such shallow depths and rarely ever found with an aircore drill program.
Strong EM conductors founder under the massive sulphides - GAL ran downhole EM and found two distinct EM conductors below.
Massive sulphides are typically the host rocks to high-grade mineralisation (much of the Nova Nickel discovery was hosted in massive sulphides).
Hitting massive sulphides while doing shallow aircore drilling is rarely ever seen, so GAL immediately went back in and started drilling again.
See our note on that massive sulphide intercept (from November 2021) here: GAL hits unexpected massive sulphides in shallow aircore drill program.
The week before GAL announced its Callisto discovery, the company also updated the market on its RC drillholes at Jimberlana and Mission Sill, saying the following:

How did that aircore drill bit break?
It must have been something hard... and metallic... but the source of the massive sulphide unit up to now remains "unexplained"...
After over 12 months of waiting, we won't have to wait too long before we know much more about what is going on at Jimberlana and Mission Sill... GAL expects to be drilling this month.
What's next at Callisto?
Two weeks ago GAL put out drill results extending its discovery ~100m to the north and also confirmed that the company was now moving into the resource definition stage at its Callisto discovery.
A resource estimate is a precursor to working out how much the discovery could be worth in $ terms.

The Callisto discovery took GAL's share price to a high of $1.95 per share and also had billionaire Mark Creasy buying shares both on and off market.
Creasy's shareholding went from 24.6% of GAL pre-discovery to ~27.6% post-discovery.
Since then, the company's share price has come off despite GAL's discovery getting bigger.
(Which we think is partly due to 12 months of general small cap market weakness and May/June tax-loss selling).
This isn't unexpected and always happens with new explorers going from the discovery stage into the resource definition phase.
The euphoria from the discovery starts to die down and the short term investors who were speculating on a big exploration win start to sell out.
That "post-discovery" period is often a place for shareholder registers to be reset with short term investors being replaced by investors who are there for the long run and to see GAL define and potentially develop the project.
Here's how it looks on a "lassonde curve" - an explanation of a mining company's share price versus where the company is at with its project.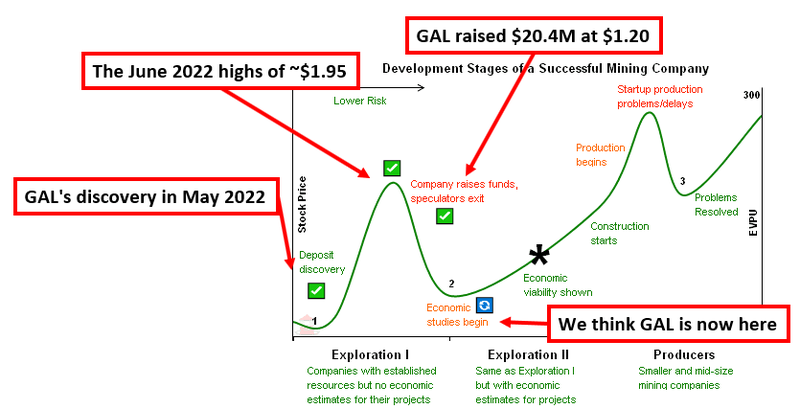 We first Invested in GAL back in March 2020 and kept increasing our Investment for almost two years as the company ran exploration programs and had no luck.
A core part of our investment thesis was based on mining billionaire Mark Creasy holding ~27.6% of the company and $11BN IGO holding the other 8.3% - meaning the company has the right people in its corner to deliver a material discovery.
After all, Creasy made the Nova nickel discovery before selling it to IGO for $1.8BN. GAL's Managing Director Brad Underwood worked alongside Creasy when they made the Silver Knight discovery (before also selling that to IGO).
At a very high level, we kept backing a team that has experience at all stages of an exploration project's lifecycle from discovery to eventual sale (and continue to do so).
After several shots on goal and a bit of luck, GAL made the Callisto discovery.
Now we have GAL taking one of its discoveries into the resource estimation phase while the company goes out and starts doing more high-risk / high-reward exploration, aiming for a second discovery.
As long term Investors, we are obviously hoping that GAL can in fact make additional discoveries and start to show district scale potential for its projects.
Ultimately we are Invested in GAL to see the company discover and define projects of sufficient size/scale to either develop or one day be sold to majors like the company's biggest shareholder IGO.
This forms the basis for our GAL "Big Bet" which is as follows:
Our GAL 'Big Bet'
"GAL increases the size/scale of its Norseman PGE discovery to a stage where the project/company is acquired by major shareholder IGO Ltd (or another major miner) for over $1BN."
NOTE: our "Big Bet" is what we HOPE the ultimate success scenario looks like for this particular Investment over the long term (3+ years). There is a lot of work to be done, many risks involved - just some of which we list in our GAL Investment memo. Success will require a significant amount of luck. There is no guarantee that our Big Bet will ever come true.
To monitor the progress GAL has made since we first Invested, and how the company is doing relative to our "Big Bet", we maintain the following GAL "Progress Tracker":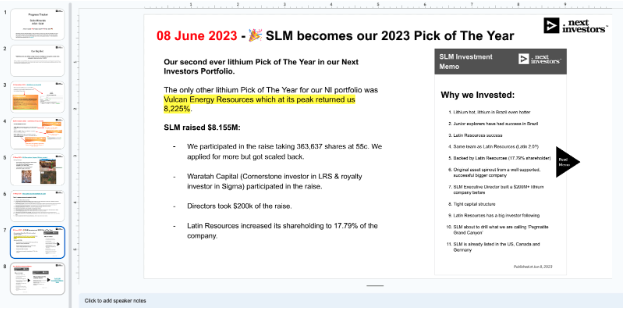 What's next?
Drill program at Mission Sill & Jimberlana 🔄
GAL expects to be on site doing ~4,000m of RC drilling across the two prospects in late June/early July.
Drilling is expected to take ~1 month to complete.
While drilling is ongoing we will be looking for the following:
Bull case = Visual sulphides (bonus if they are massive sulphides).
Base case = Indications of sulphides (needing to be confirmed).
Bear case = nothing found.
After drilling is complete depending on the progress made so far we will put out our bull/base/bear case expectations for the assay results.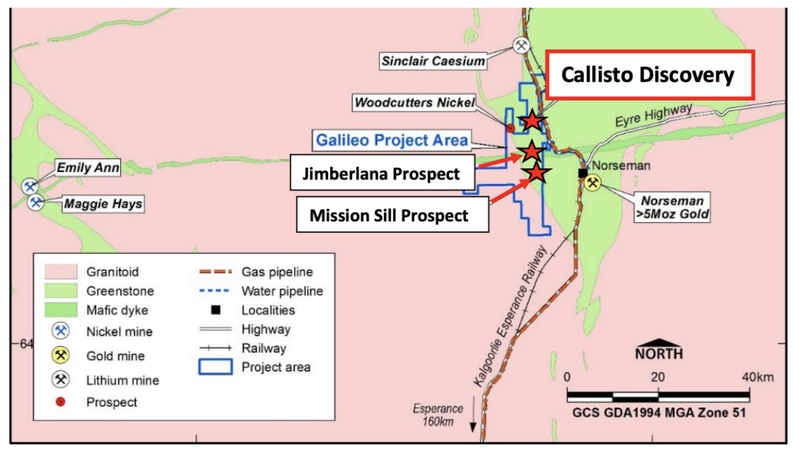 Step out drilling at Callisto 🔄
GAL is still drilling to the north of its discovery using a diamond drill rig.
Here GAL has over 5km of prospective strike to test.
Below is an image showing where GAL is drilling right now relative to its existing discovery.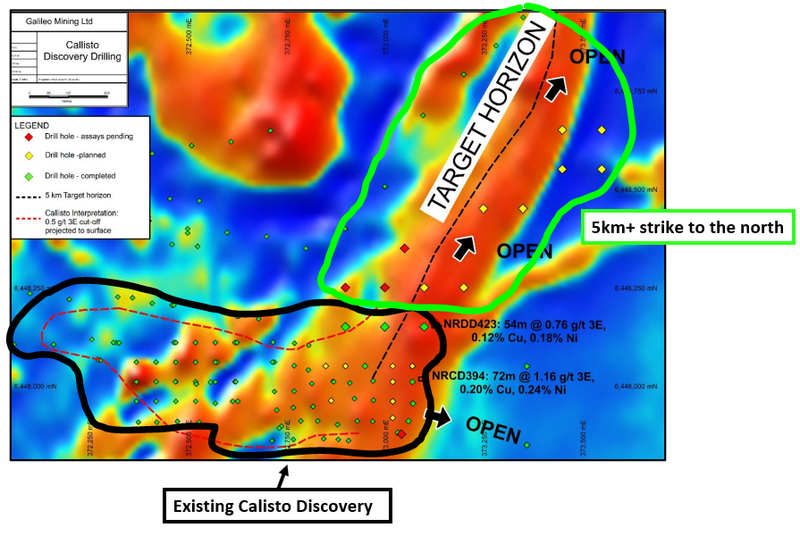 Our GAL Investment Memo
Click here for our GAL Investment Memo, where you can find the following:
Key objectives we want to see GAL achieve
Why we are Invested in GAL
What the key risks to our Investment thesis are
Our Investment plan
---