GAL keeps hitting new mineralised structures - where's the source?
Disclosure: S3 Consortium Pty Ltd (the Company) and Associated Entities own 2,161,544 GAL shares and the Company's staff own 14,000 GAL shares at the time of publishing this article. The Company has been engaged by GAL to share our commentary on the progress of our Investment in GAL over time.
How big is this thing?
And where is the source rock?
That's the two big questions for our exploration Investment Galileo Mining (ASX:GAL).
In May 2022, GAL made a new palladium-platinum-gold-copper-rhodium-nickel discovery (yes that's quite a mouthful - but it shows you how many metals are being found) near Norseman in WA.
GAL is now drilling out the resource to understand how big and valuable it could be.
This morning GAL hit a completely new mineralised structure only 250m to the north of its existing Callisto discovery. It also hit a new lower sulphide zone to the east of the Callisto discovery hole.
This isnt the first time the company has done this since its first discovery hole with multiple separate mineralised zones discovered on the project to date.
GAL appears to be proving out a theory we have held for a while - that its Callisto discovery has district scale mineralisation potential.
It's looking like there are multiple mineralised structures here, all coming together to form a larger discovery.
And GAL still hasn't found the source rock of all this mineralisation.
With over 5km of prospective strike to the north, we are hoping there are more announcements coming like today's, to keep proving out this theory.
Please note - this is just a theory of ours based on the drill hits we are seeing - we won't know of this is true until more drilling is undertaken and assay results are released.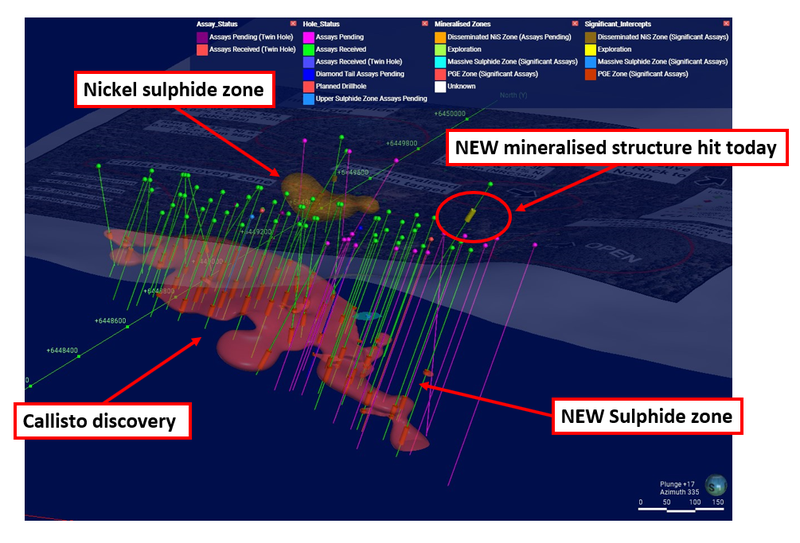 Here is a close up look at the new mineralised structure hit today, without the map overlaid.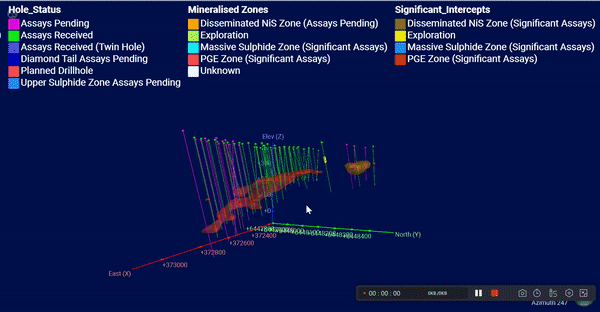 GAL had $20.1M in the bank as of 31 Dec 2022 and is steadily drilling out the discovery, which continues to grow and take shape.
Today we will cover GAL's news of new mineralised zones; what we are looking out for over the coming months from the company; and what we expect will attract increased investor interest over the coming weeks and months.
Galileo Mining
Before we dive deepr into today's news, let's take a quick glance at what is still to come for GAL over the coming weeks and months:
Metwork - first look: GAL hinted at this coming on the horizon in the quarterly. We are looking for GAL to demonstrate that high grade metals can be extracted from the rocks using a simple, cheap process. Ideally no fancy (expensive) processing will be required.
More drilling - Drilling is now focussed on determining the size and grade of the sulphide zones at Callisto, understanding the relationship with the much larger host sill, and looking for a possible source of the discovery to the east. It will continue drill testing highly prospective targets with the opportunity for more discoveries within this newly discovered palladium and nickel province.
More assays from the lab: 14 assays are pending while GAL continues to drill with a RC rig and a diamond drill rig on site. Plus ongoing drilling will generate new streams of assay results to follow. We expect a continuous releasing of assay results as GAL builds out a picture of the resource and tests any new high grade regions.
Beyond that, in the longer term we would expect GAL to eventually pull together a JORC resource that gives some indication of just how big the discovery is. However, as GAL keeps drilling and finding more mineralisation, this might take a little longer - which can be a good problem to have.
Today's update from GAL
GAL today announced that it has identified more new mineralised zones at the Callisto palladium-platinum-gold-rhodium-copper-nickel discovery.
The first is a new sulphide zone in the same geological position as the original discovery, while the second is a new intrusion 250 metres north. GAL also expanded the mineralised zone 400m north of the initial discovery where a second discovery was announced last November.
The mineralisation intersected to date appears to represent what could be just a fraction of what GAL has on its hands here.
Consider that there remains over five kilometres of prospective rocks along strike to the north, with multiple mineralised intrusions already discovered to date. Plus, GAL is yet to find the source of where all the mineralisation that drilling has intersected came from.
Along with the 14 assays that are pending from completed drilling, more assays will become due as drilling continues.
Further, in what could prove to be a major catalyst for the company's share price, we expect the results from metallurgical test work to arrive during the current quarter. If the metwork successfully demonstrates that high grade metals can be extracted using simple processes, we would expect the GAL share price to re-rate.
All up, we expect to see plenty of newsflow out of GAL over the next couple of months.
GAL's New Sulphide Zone
The assay results reported today from drill hole NRCD292, suggest that drilling intersected an entirely new lower sulphide zone that's in the same geological position as the original discovery.
Assay results from this drill hole were:
10 metres grading 2.19 g/t 3E1 (1.84 g/t palladium, 0.31 g/t platinum, 0.04 g/t gold), 0.27% copper & 0.23% nickel from 279m (NRCD292), including
3 metres grading 3.91 g/t 3E (3.12 g/t palladium, 0.68 g/t platinum, 0.11 g/t gold), 0.65% copper & 0.48% nickel from 280m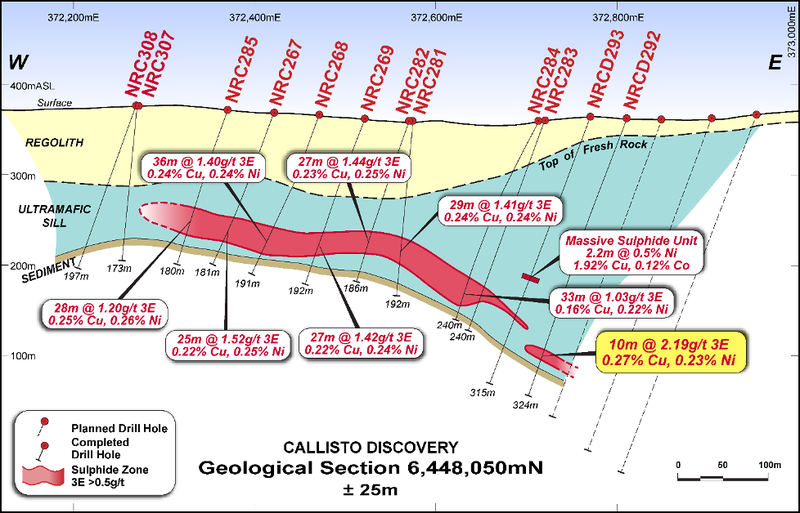 The latest drill hole, NRCD292 (in yellow). Note that 3E represents Palladium (Pd) + Platinum (Pt) + Gold (Au); expressed in g/t.
With this finding, GAL's working model is now one of multiple mineralised zones in the area. The following also helps in confirming that idea.
New intrusion 250m north of Callisto discovery
In today's announcement GAL also said it has identified a new intrusion located 250 metres north of the initial Callisto discovery hole.
GAL is seeing disseminated sulphides with the same pattern of metal distribution and the same mafic/ultramafic host rocks.
GAL plans to follow up the anomalous drill results in this new area with RC drill testing aiming to vector towards higher grade metal zones.
The assays (from drillhole NRC349) showed: 24 metres grading 0.29 g/t 3E, 0.03% copper and 0.10% nickel from 60m.
GAL says this new intrusion will be further tested with follow up drilling.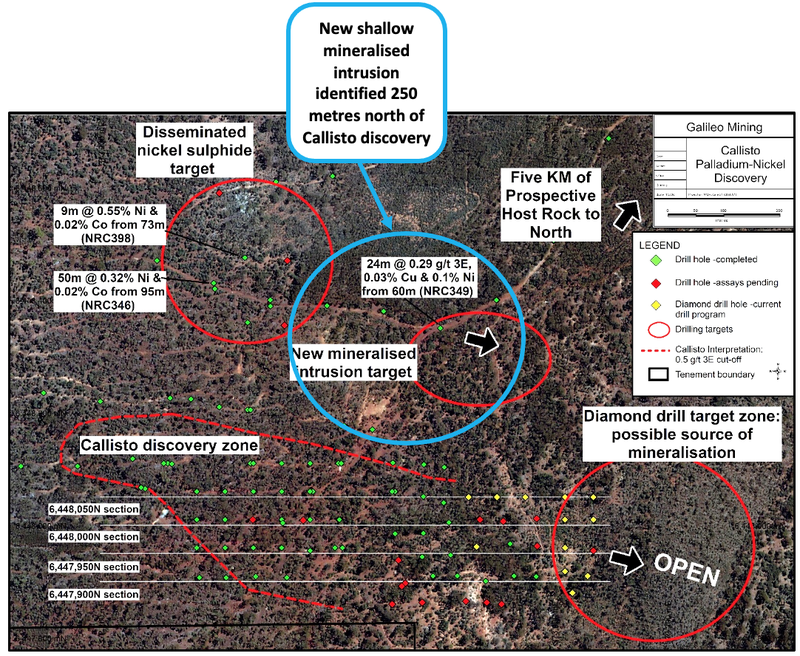 Here's our 3D model to better understand this new intrusion: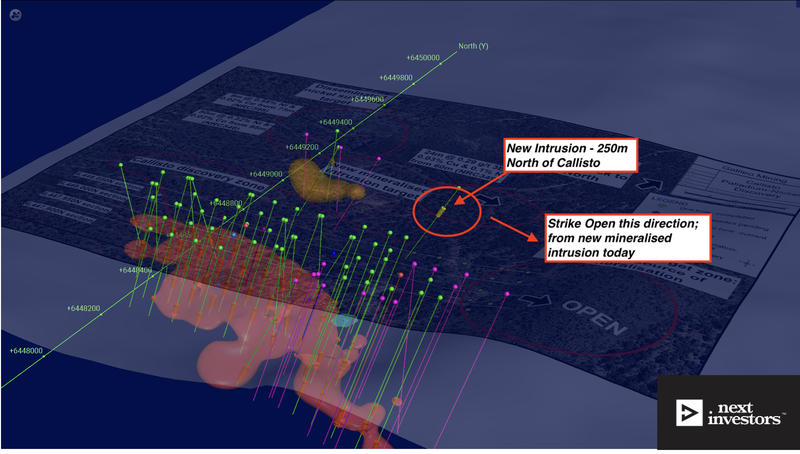 Nickel sulphide mineralisation expands in zone 400m north
GAL has also reported assay results from drilling the disseminated nickel sulphide target, located 400 metres north of the initial Callisto discovery.
These results further expand the nickel sulphide discovery that was reported here in November last year - the second "discovery" at Callisto.
Assays from this latest drillhole, NRC398:
9 metres grading 0.55% nickel and 0.02% cobalt from 73m (NRC398)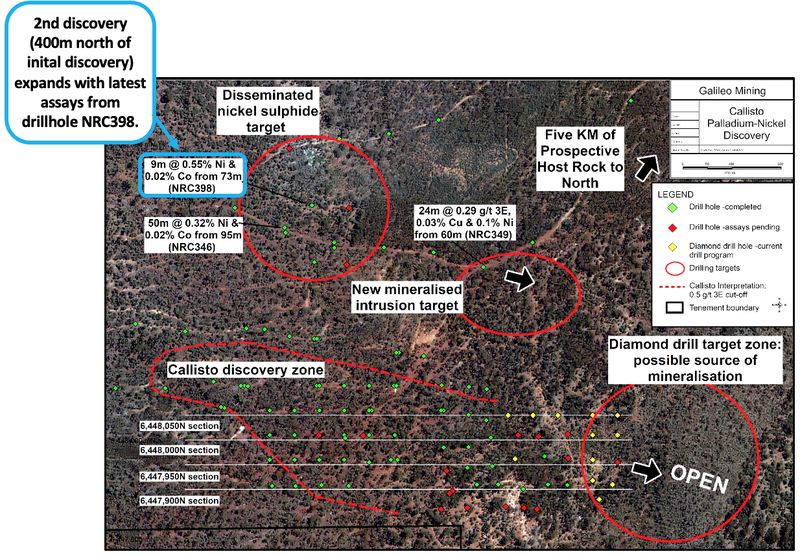 Here's our 3D model to better represent the extent to which the second discovery extends north-ward: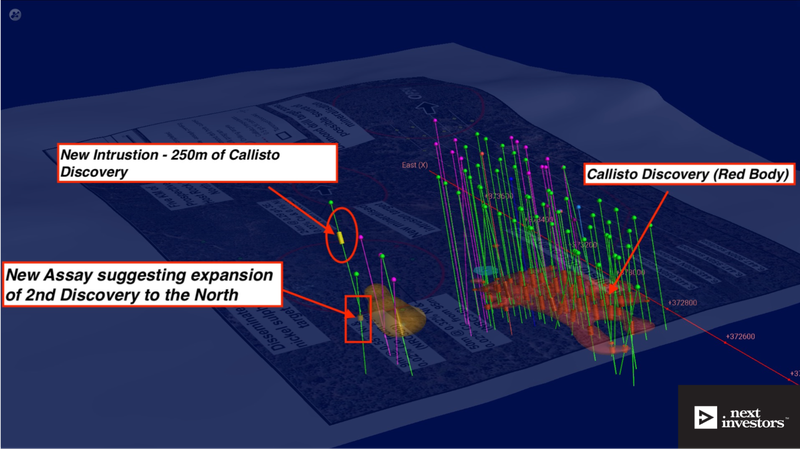 GAL is now drilling to increase the size and scale of its Callisto discovery, this is also the basis for our "Big Bet" for GAL which is as follows:
Our 'Big Bet'
"GAL increases the size/scale of its Norseman PGE discovery to a stage where the project/company is acquired by major shareholder IGO Ltd (or another major miner) for over $1BN."
NOTE: our "Big Bet" is what we HOPE the ultimate success scenario looks like for this particular Investment over the long term (3+ years). There is a lot of work to be done, many risks involved - just some of which we list in our GAL Investment memo. Success will require a significant amount of luck. There is no guarantee that our Big Bet will ever come true.
To monitor the progress GAL has made since we first Invested, and how the company is doing relative to our "Big Bet", we maintain the following GAL "Progress Tracker":
See our GAL Progress Tracker here: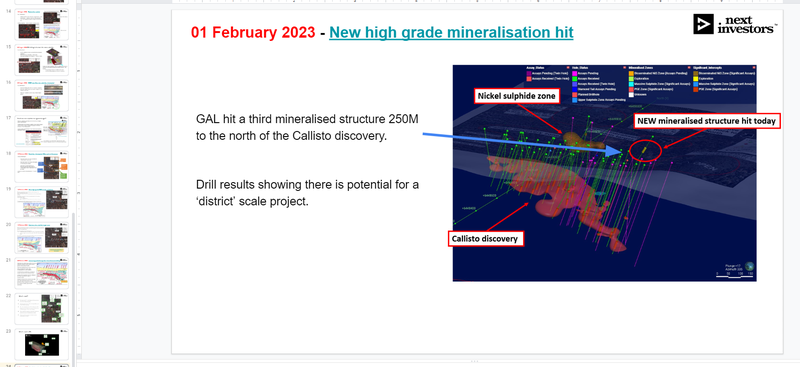 What to watch for... and what we want to see
GAL has already interpreted the mineralisation at Callisto as a broad continuous zone of disseminated sulphides which remains open at depth to the east on all sections, open to the north; and open to the south.
After today's drilling results, GAL is showing more signs that its project is not a single discovery story.
Rather, this could be a much larger district-scale discovery made up of multiple mineralised structures.
With this in mind we are closely watching the following from GAL:
Drilling to the north
Drilling to the east
Drilling to the west
1) Drilling to the north
This is where the company has already discovered two new mineralised sulphide structures — the disseminated nickel sulphide zone, and the new palladium-nickel mineralisation.
Further north, GAL has still over ~5km of prospective rocks, which leaves potential to significantly further grow the known mineralisation.
What we are hoping to see:
An excellent outcome here would be if GAL keeps hitting new extensions to its existing discoveries AND makes more whole new discoveries all along the ~5km of strike.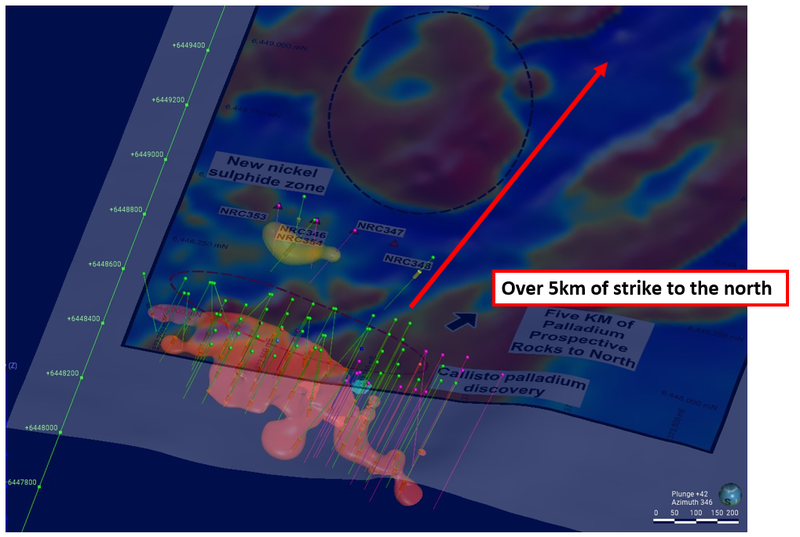 Note that these 3D models are just an interpretation of the publicly released data and assumptions have been made in their creation with no input from the company. They are for illustrative purposes only and should not be relied upon for making investment decisions.
2) Drilling to the east
Diamond drilling here is working towards identifying a potential source of mineralisation at Callisto — 100 metre step out drilling is designed to provide a broad framework of the overall mineralised area.
What we are hoping to see:
An excellent outcome here would be if GAL is able to extend its Callisto discovery with thicker, higher grade intercepts.
As we noted above, the blue sky outcome would be if GAL is able to discover the source rock for mineralisation in the region. We think this would be the biggest catalyst for GAL's share price and would come as completely unexpected to the market.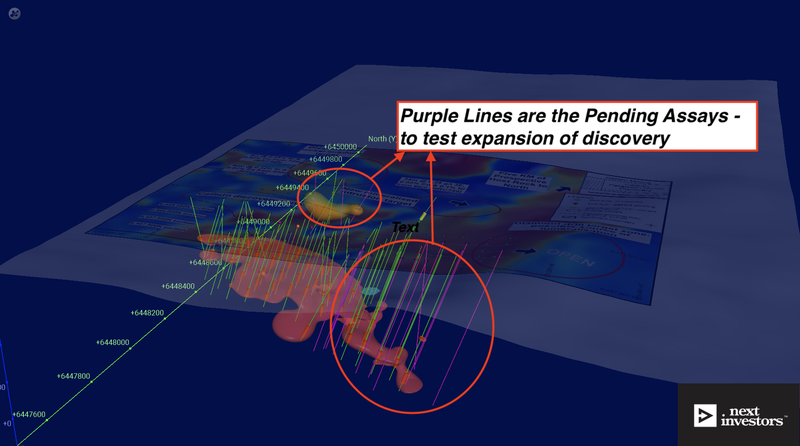 3) Drilling to the west
Here GAL is looking for shallow extensions of the Callisto discovery. Shallow mineralisation is the cheapest to mine and could lead to improved project economics.
We are hoping to see:
To date GAL has hit mineralisation as shallow as ~110m, an excellent outcome here would be if GAL hits intercepts sub ~100m with grades consistently above the 1g/t PGE's mark.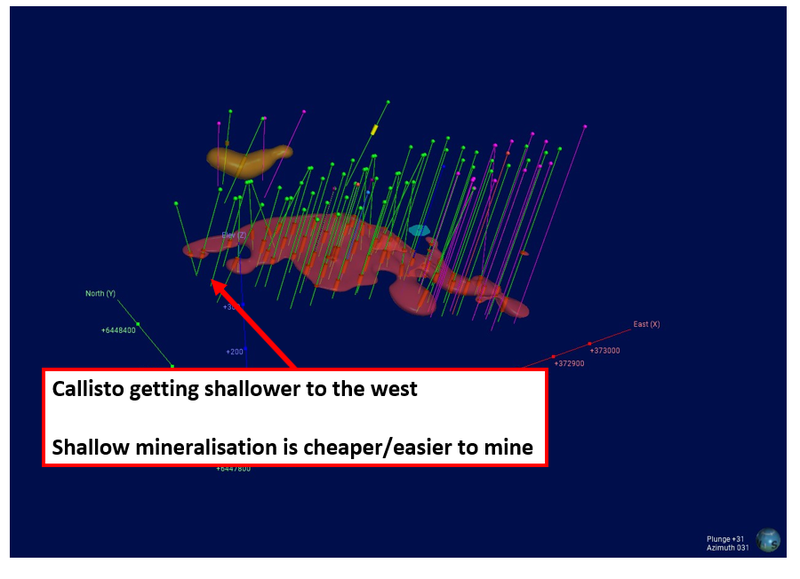 What's next for GAL?
Ongoing metallurgical testwork 🔄
GAL is now running its first round of metallurgical testing on its Callisto discovery.
No matter how large of a discovery an explorer has made, metallurgical testwork is often an important milestone during the resource definition process.
This is what will determine how a deposit is processed and it can make or break a project based on how easy/complex it is to process.
When it comes to metwork, the more simple and boring a processing method used, the better it is for the company.
We think the metwork results could be a major catalyst in the near term with initial results from the program expected before the end of this quarter.
The results will be particularly important because metwork is often seen as a precursor for companies committing larger amounts of capital to a project.
It's effectively a green light that the discovery can be processed economically.
With the metwork, we want to see the ability to use industry standard processing methods - eg typical crushing and flotation processes used all over Australia.
Our bull/base/bear case for recovery rates are as follows.
Bull case = Recovery rates of 80%+
Base case = Recovery rates of 70-80%
Bear case = Recovery rates of <70%
We based these expectations on the recovery rates that Ivanhoe Mines ran for its feasibility studies for the giant Platreef PGE deposit in South Africa.
The Platreef deposits are said to contain over 80% of the world's known platinum group elements deposits and GAL has previously highlighted their similarities to the Callisto discovery and what could be an entirely new palladium-nickel province in WA.
Keeping in mind that the Ivanhoe Mines' metwork on the Platreef deposit started before 2006 and has taken almost 17 years to bring it up to where it is today.
We think that if GAL was to achieve anything even remotely close to the recovery rates below in its first round of testing, we could see a sharp re-rate higher of the company's share price.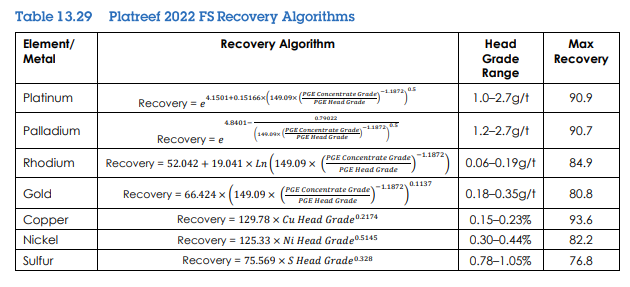 While GAL's project is not identical to Sirius Resources' Nova nickel discovery, also in WA, we have also based our expectations around Sirius' testwork results from back in 2012.
After all, those results were good enough to get IGO Ltd to pay $1.8BN for the project only three years later in 2015.
The absolute outstanding surprise case would be if GAL achieves anything remotely close to Sirius' recovery rates.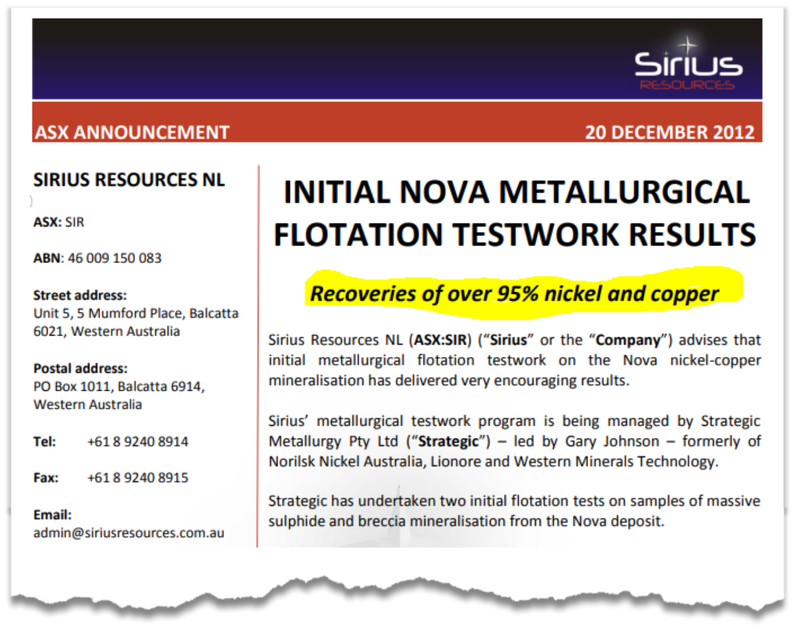 Assay results 🔄
In today's announcement GAL confirmed that 14 assays were pending from both RC and diamond drillholes.
The assays are from holes to the east of its existing Callisto discovery and from the north near its newly discovered nickel sulphide zone (red drillholes in the image below).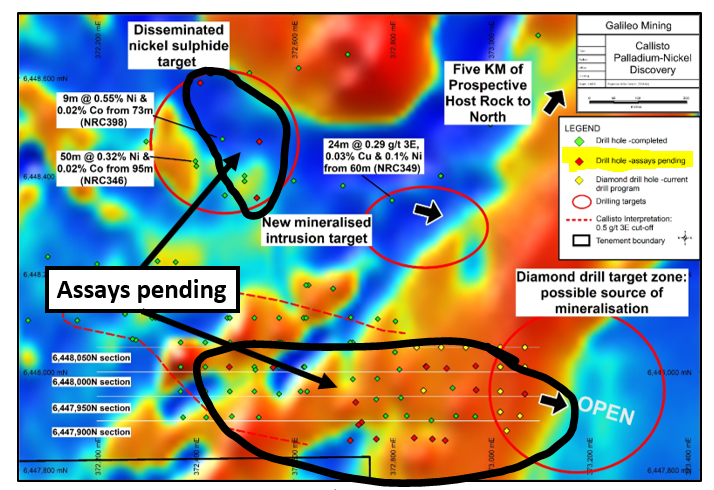 Here is our 3D model overlaid with the Geophysics map above on the mineralised body: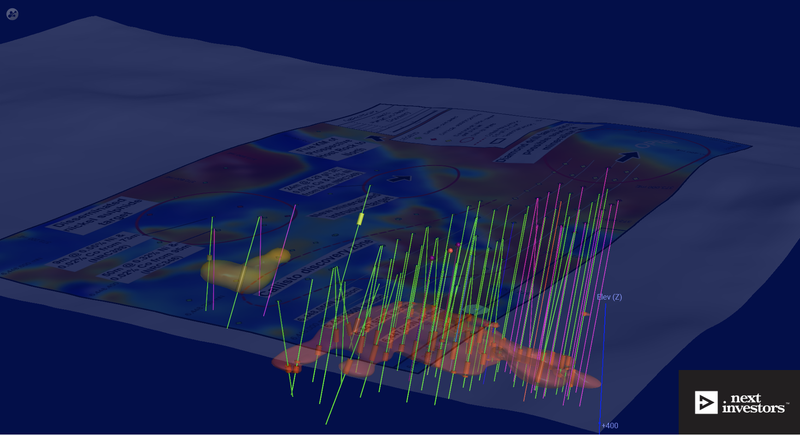 GAL is currently running a diamond drill program to the east of its existing Callisto discovery.
Here GAL is chasing deeper, higher grade mineralisation while also drilling into an area where the company believes the "source rock" to the discovery may be.
From this drill program we could see either:
Mineralisation continues at depth with thickness and/or grades improving.
GAL discovers the source rock to the mineralisation across its project.
Both of these scenarios fundamentally change the game for GAL's project, we are hoping the company is able to deliver on both of the above.
Resource booking 🔄
While not a stated objective of GAL in the short to medium term, eventually we would like to see the company put together a defined JORC resource at Callisto.
A JORC resource, especially in the Indicated category, would make the project instantly more appealing to potential buyers. It would also allow the market to compare GAL's resource to other defined resources of ASX listed companies.
Risks
Of course no investment comes without risk. We've outlined the main risks facing GAL in out Investment Memo: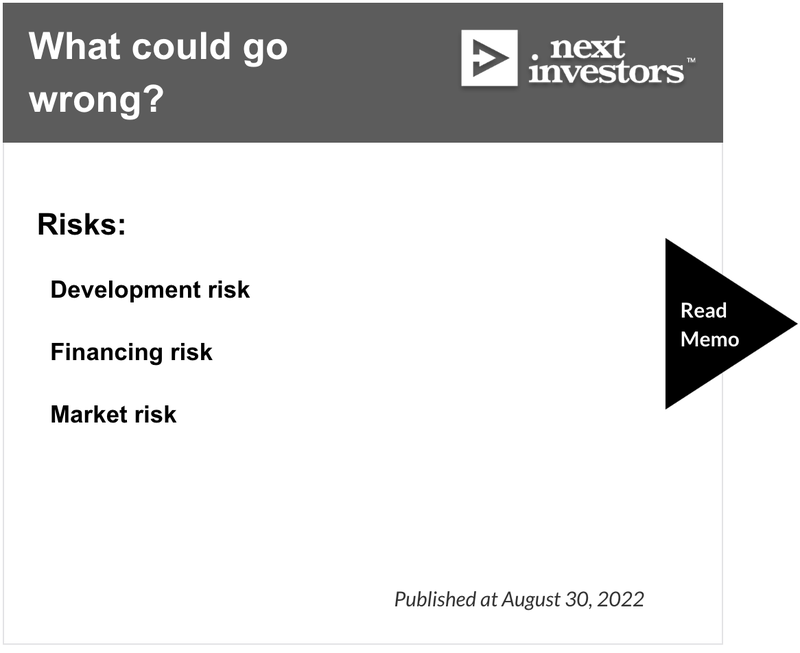 Our 2022 GAL Investment Memo
Click here for our GAL Investment Memo, where you can find the following:
Key objectives we want to see GAL achieve
Why we are Invested in GAL
What the key risks to our Investment thesis are
Our Investment plan
---