GAL lists in the US as American attention turns to critical metals
Disclosure: S3 Consortium Pty Ltd (the Company) and Associated Entities own 2,161,544 GAL shares at the time of publishing this article. The Company has been engaged by GAL to share our commentary on the progress of our Investment in GAL over time.
Can GAL deliver a new discovery in this next round of drilling?
...and grab the attention of US investors?
Our Investment Galileo Mining (ASX:GAL) will soon be drilling to extend its nickel-PGE discovery AND to look for entirely new discoveries across its Norseman project in WA.
We are expecting newsflow on the results of this drilling over the next couple of months.
Last week GAL announced it has listed on the USA markets, opening its doors to a much wider pool of US investors.
GAL's code in the US is OTC: GALMF 🇺🇸.
To track how the company is performing on the OTC - visit here.
The USA has recently put in place laws, funding and incentives to secure access to critical metals (like nickel), not least of which is the US$370BN Inflation Reduction Act.
So critical metals are clearly topical in the USA.
Here is a recording of GAL's presentation and Q&A to "start spreading the news" investors in New York from last week:
Click here to see GAL's latest US market presentation
We are expecting a lot more US-based investor awareness efforts from GAL over the next 12 months.
Hopefully combined with some positive drilling results.
We have been Invested in GAL for a number of years, well before it made its initial nickel-palladium discovery last year that sent it from ~ 18.5c to $2.
We originally Invested based on the impressive track record of its largest shareholder - billionaire prospector Mark Creasy, and the team he installed.
Over the last 12 months the GAL share price has shaken off some of the post initial discovery "euphoria".
During that time GAL has teed up several new potential "blue sky" drilling events we are watching for over the coming months.
More details on these later in this note.
We also note that GAL's founder and biggest shareholder Mark Creasy has recently had a huge win on Azure Minerals...
What do Azure Minerals and GAL have in common?
The biggest recent discovery on the ASX was made by Azure Minerals - also a Mark Creasy backed company.
Azure's share price has gone from 20c to ~$2.96 over the last six months, and is evidence that no matter the general market sentiment, if a new discovery is significant, 10 baggers can and do happen.
Of course at the same time, they are hard to come by - for every 10 bagger success story there are hundreds of failures. Success is no guarantee.
Before Azure lit up the ASX, there was our Mark Creasy backed GAL that delivered a major discovery and 10 bagger.
Mark Creasy has always been a major GAL holder.
After GAL delivered its first discovery back in May 2022, Creasy kept increasing his stake in the company with purchases on and off-market between $1.18 and $1.42 per share.
Mark Creasy shot to fame and wealth in recent years owing to the Nova nickel discovery, which was sold to IGO for $1.8BN in 2015.
Creasy is now one of $10.5BN capped IGO's biggest shareholders, and he looks set for another big win with Azure after last week's takeover offer from lithium giant SQM.
GAL's share register is dominated by Mark Creasy (with 27.6%) and IGO Ltd (with 8.3%) - - together the two entities control ~36% of GAL's register.

(Source)
GAL now trades at an almost 52-week share price low at 44c per share.
The move back down from the $2 peak is typical of the type of price action explorers go through after making new discoveries.
The type of investors who hold pre-discovery generally tend to sell their shares immediately after a company delivers a big exploration win, instead of sticking around and seeing the project through to development.
We think this phenomenon explains the volatility in GAL's share price.
🎓To learn more about this market phenomenon, read: Why do shares go down on good news?
Our approach to Investing in junior explorers is a little different - we like to back a company based on its management team and the potential of its projects. We then hold the majority of our position and let the management execute its plan.
The good times post discovery give the management team an opportunity to raise more capital and drill more holes which increases the chances a company can make MORE discoveries.
If executed well, the discovery > raise > discovery cycle can snowball and take the companies share price higher - albeit with some bumps in the road along the way.
GAL managed to do the first two parts of the sequence after its first discovery - raising $20.4M at $1.20 per share in July 2022.
At 30 June 2023 GAL still had $14.45M of cash and has already kicked off new drill programs chasing the next discovery.
With cash in the bank, we are backing GAL to go and make additional discoveries. We are still holding 93% of our position in the company.
GAL's focus now is on adding to its existing nickel, PGE discovery at its Norseman project in WA.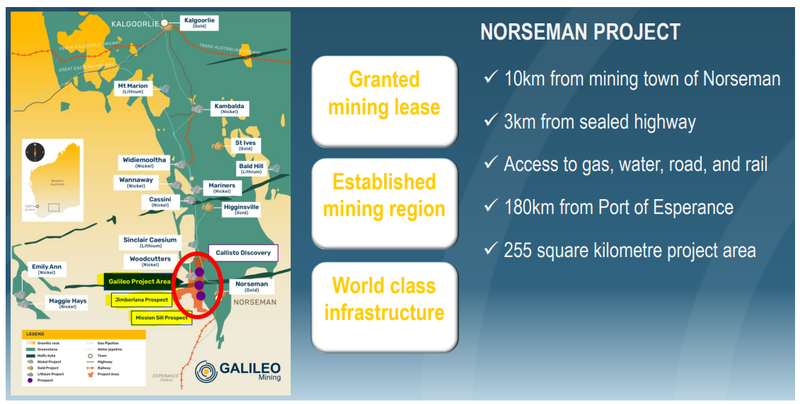 (Source)
What we are looking out for over the next 6 months:
1) GAL's 4,000m exploration drilling - (blue sky)
Just last week GAL hit sulphides from its 4,000m RC drill program across its Jimberlana and Mission Sill prospects.
The results so far have hit our "Bull Case" expectation which was to intercept sulphides.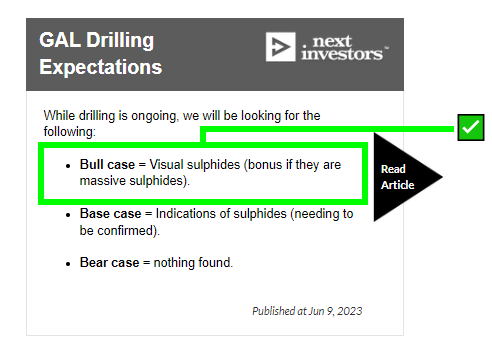 Our expectations for this drill program were to see GAL work out whether or not it was poking holes in the right places.
Sulphides are a good sign GAL is doing just that because they are the type of host rock that most of the world's nickel/copper/PGE is produced from.
So far, the results have been relatively low grade but GAL still has more assays to come from the program.
GAL does now have two priority targets across the projects that we are looking forward to seeing the company drill.
With the next round of drilling the goal will be to find higher grade mineralisation - which would allow GAL to declare another new 'economic discovery'. Below are the two areas we are watching: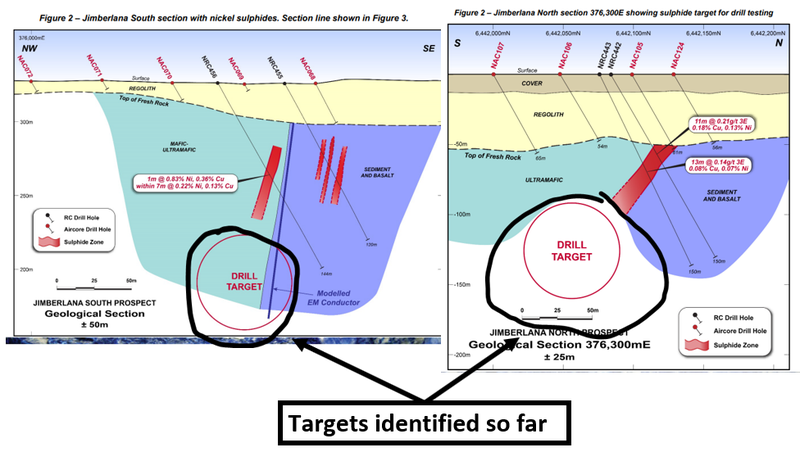 2) GAL's drilling to the north of its Callisto discovery (blue sky exploration)
GAL's next round of drilling at its Callisto discovery is along the ~5km prospective area to the north.
Drilling is expected to start along that 5km corridor this month.
The scale of the target area is pretty well summarised in the image below.
We are hoping GAL delivers additional discoveries from here.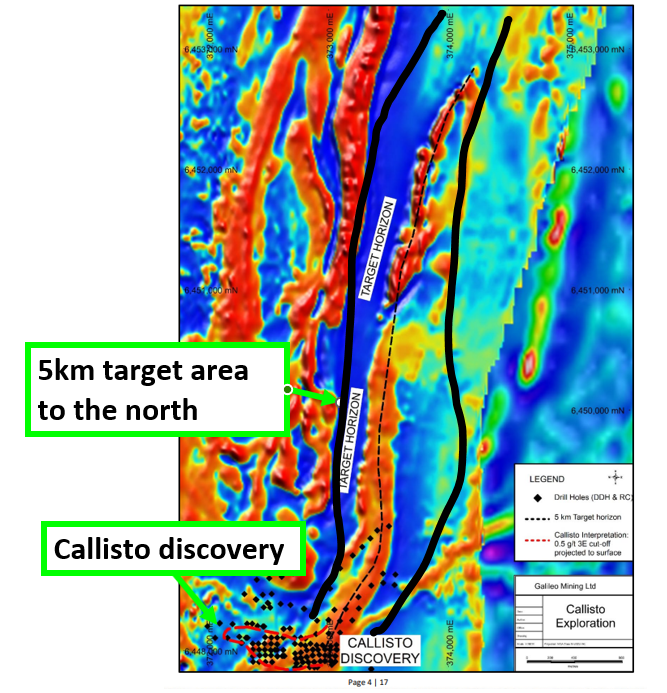 (Source)
3) GAL's drilling at Callisto (resource definition)
GAL is still putting resource definition drill holes into the Callisto discovery at the moment.
We now know roughly the extent of the discovery to the east and to the south, so will be looking forward to a maiden JORC resource on the project.
In the long run for Callisto, we think the results GAL gets from the drilling to the north have the potential to deliver a surprise re-rate in GAL's valuation.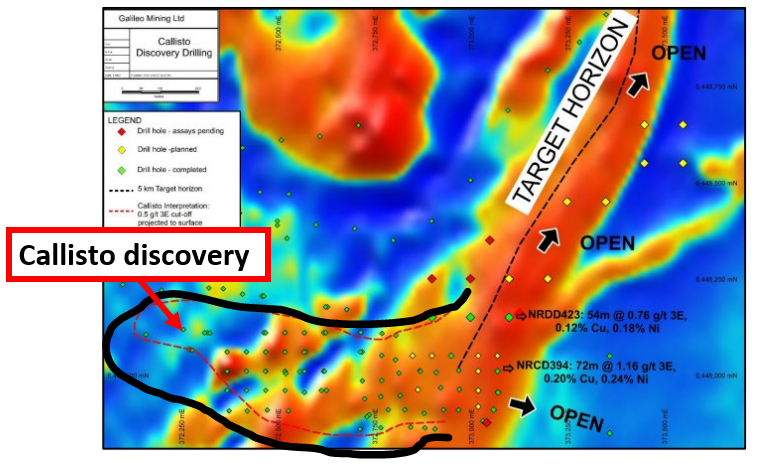 What's happening with GAL's share price?
A way to visualise the share price cycles for junior explorers is to look at the Lassonde Curve.
The graph shows how valuations for junior mining companies change based on where they are at with their projects.
At a very high level it shows how share prices rise immediately after a new discovery is made and then typically comes back down post-discovery before starting its next move higher.
A perfect example is the share price movements off the back of the Oyu Tolgoi discovery in Mongolia: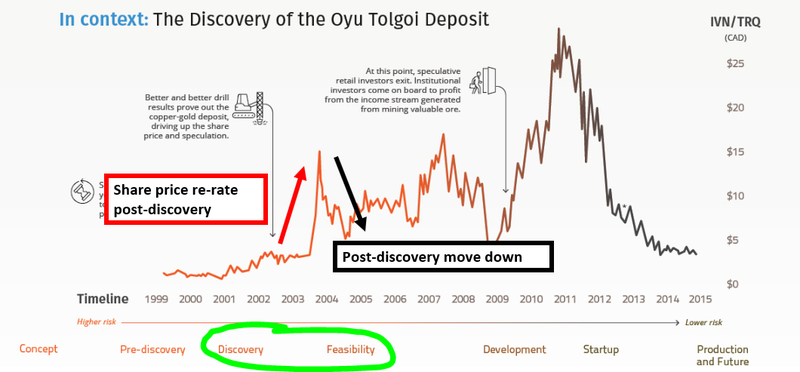 (Source)
Another example in our Portfolio is Latin Resources - one of our best ever Investments which has gone from 1.8c per share to ~40c per share.
Immediately after its discovery, Latin Resources went from ~3.5c to ~22.5c per share - over the months right after the discovery the share price went back down to ~5c per share.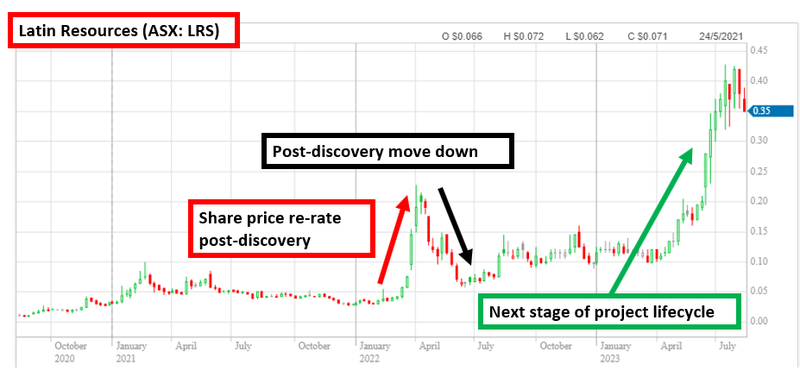 The past performance is not and should not be taken as an indication of future performance. Caution should be exercised in assessing past performance. This product, like all other financial products, is subject to market forces and unpredictable events that may adversely affect future performance.
How does all of this matter to GAL?
We think GAL has experienced a similar post-discovery move lower in its share price.
The euphoria from the initial discovery hole has died down, with short term investors who were speculating on an even bigger exploration win having sold out, off to chase seemingly shiner things.
The share register has had time to turnover and be reset with new investors who are more interested in seeing the company make something of its projects.
We think we are seeing this process happen now.
An example of the type of buying from investors with different timeframes is Mark Creasy's buying in GAL post-discovery.
Creasy increased his shareholding in GAL by ~$12M in the months after the discovery at share prices as high as $1.48 per share - Creasy now holds 27.6% of GAL.
In the short term the move lower is painful for existing long term shareholders like us, BUT it sets up the company's register for long term success, assuming the company can continue kicking goals with its projects.
Here's our impression of key moments of GAL's progress in the last few years superimposed on a "Lassonde Curve".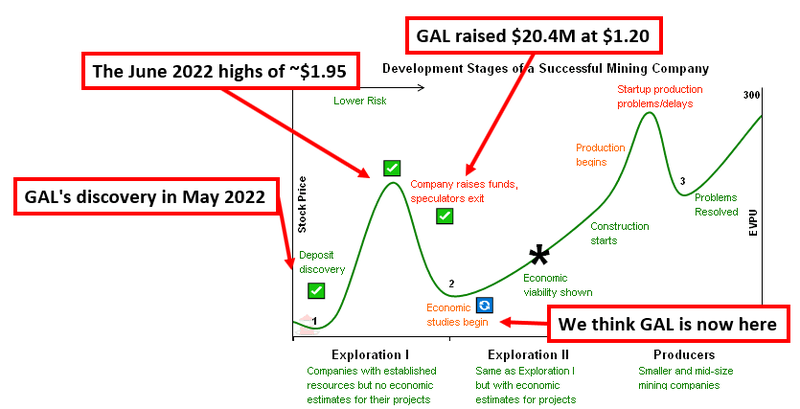 After some churn in the register, assuming GAL can deliver strong newsflow, the company's share price could start to move higher.
This strong newsflow could be GAL delivering new discoveries and/or a defined resource large enough to warrant a higher share price.
If that happens, then we think the company can enter that next stage of the Lassonde Curve.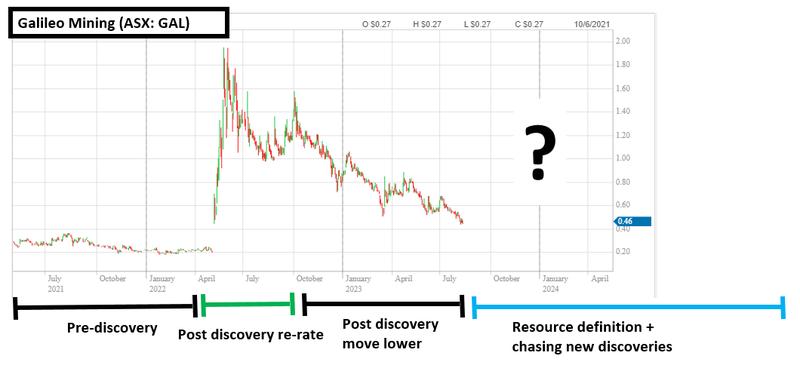 Discovering and defining projects large enough to attract the interest of mining majors forms the basis for our GAL Big Bet which is as follows:
Our GAL 'Big Bet'
"GAL increases the size/scale of its Norseman PGE discovery to a stage where the project/company is acquired by major shareholder IGO Ltd (or another major miner) for over $1BN."
NOTE: our "Big Bet" is what we HOPE the ultimate success scenario looks like for this particular Investment over the long term (3+ years). There is a lot of work to be done, many risks involved - just some of which we list in our GAL Investment memo. Success will require a significant amount of luck. There is no guarantee that our Big Bet will ever come true.
To monitor the progress GAL has made since we first Invested, and how the company is doing relative to our "Big Bet", we maintain the following GAL "Progress Tracker":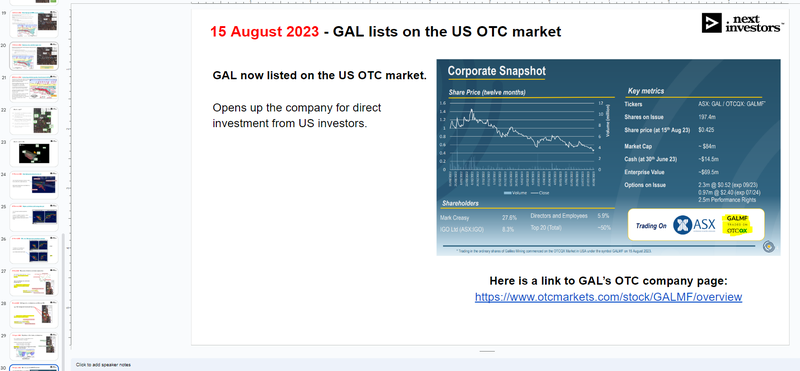 GAL is now listed in the USA
As we mentioned above, last week GAL listed on the US OTC markets.
Here is a link to GAL's OTC company page: https://www.otcmarkets.com/stock/GALMF/overview
The main reason we like the US OTC listing is that unlike here in Australia, the US markets have a fairly small universe of small cap mining companies to invest in, especially when it comes to the critical minerals space.
Since COVID and the Russia/Ukraine conflict commencing, the US markets have started to take an interest in the critical minerals supply chains.
The US government launched the IRA which is investing billions into shoring up US supply chains either domestically or in friendly countries like Australia.
GAL's listing on the US OTC markets means it is now more accessible to investors looking for exposure to this thematic.
Multiple listings also make sense as a company's market cap starts to grow.
By getting onto different exchanges, the company is looking to get exposure to different investor groups.
The ultimate goal is to increase the audience of potential investors for when the company delivers material newsflow.
When that newsflow comes out a bigger audience means there is more potential for new investors to buy into the company.
In the short term we expect the trading volumes to be relatively low but will keep an eye on GAL's OTC listing to see if things change if/when GAL delivers material news.
What's next?
Drilling at Mission Sill & Jimberlana 🔄
Assays from the recent 4,000m RC drill program are still pending.
Results are expected later this month.
GAL then plans to get back on the ground and follow up the identified targets with additional drilling toward the end of this month.
Step out drilling AND resource modelling at Callisto 🔄
GAL is looking to start drilling across the ~5km target area north of its Callisto discovery.
At the same time, GAL is working toward a maiden JORC resource for the discovery. Here is a picture of the modelling GAL has done so far: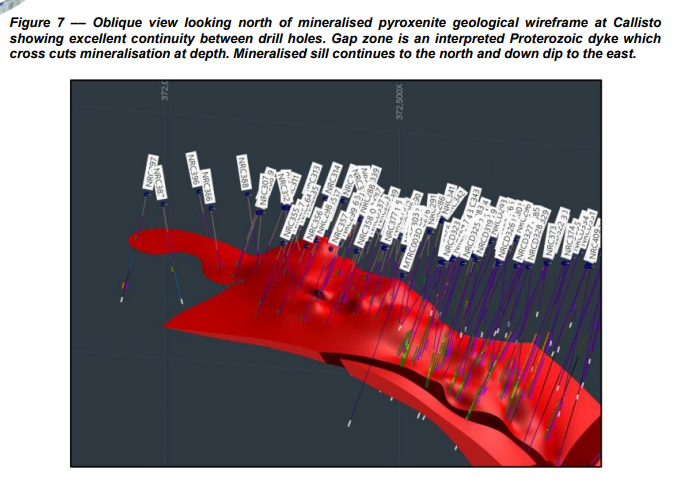 (Source)
Our GAL Investment Memo
Click here for our GAL Investment Memo, where you can find the following:
Key objectives we want to see GAL achieve
Why we are Invested in GAL
What the key risks to our Investment thesis are
Our Investment plan
---